The McCall Winter Carnival has been held since the early 1960's, celebrating the magnificent winter season in Southwest Idaho. McCall's winter festivities were born from an adaptation of the Payette Lake Winter Games in the early 1920's and have evolved into a statewide celebration that draws over 60,000 people each year to this lakeside mountain paradise. Upon visiting you'll have the chance to see the famous snow sculptures, the Torchlight and Mardi Gras Parade, live music, the McPaw's Monster Dog Pull, the Sharlie's Plunge, live comedy shows and art auctions, and much more.
Day 1:
We began in Boise and took the Payette River Scenic Byway, passing through Horseshoe Bend, Cascade, and Donnelly. We pulled over several times along the way to take pictures of the gorgeous river that twists alongside the road. As we drove, the sun was just peeking over the mountains, illuminating the valley and making every snowflake on the ground shimmer and shine. I recommend bringing sunglasses for the drive!
The drive from Boise to McCall is a short two hours, so a coffee and a quick snack before you leave town will do just fine. There are also quite a few rest stops, coffee shops, and eateries in Horseshoe Bend, Cascade, and Donnelly where you can stop along the way if you want to fuel up before the reaching the carnival.
Going to the McCall Winter Carnival and seeing the snow sculptures has been on my bucket list for quite some time, so as soon as we got into town we began our hunt for sculptures.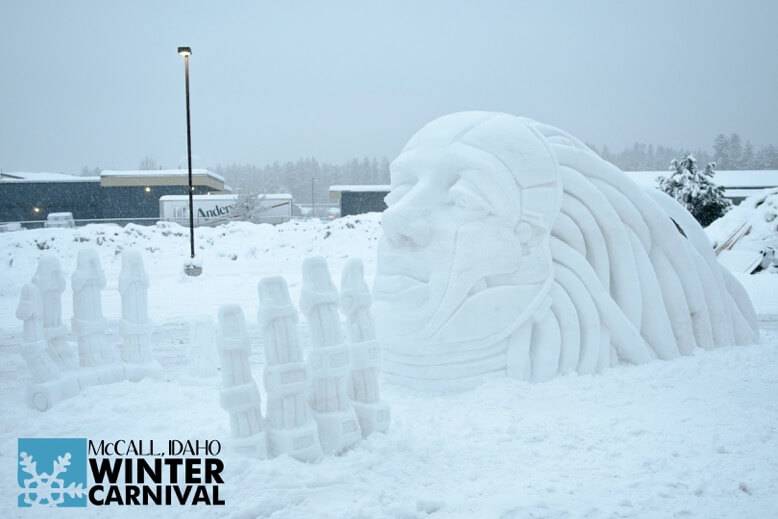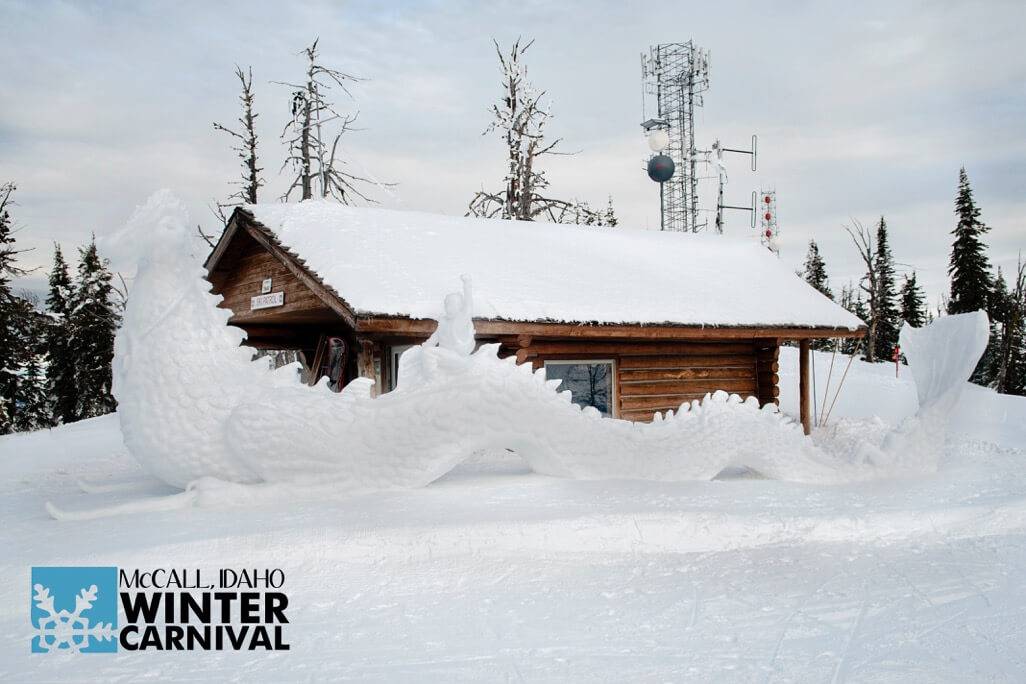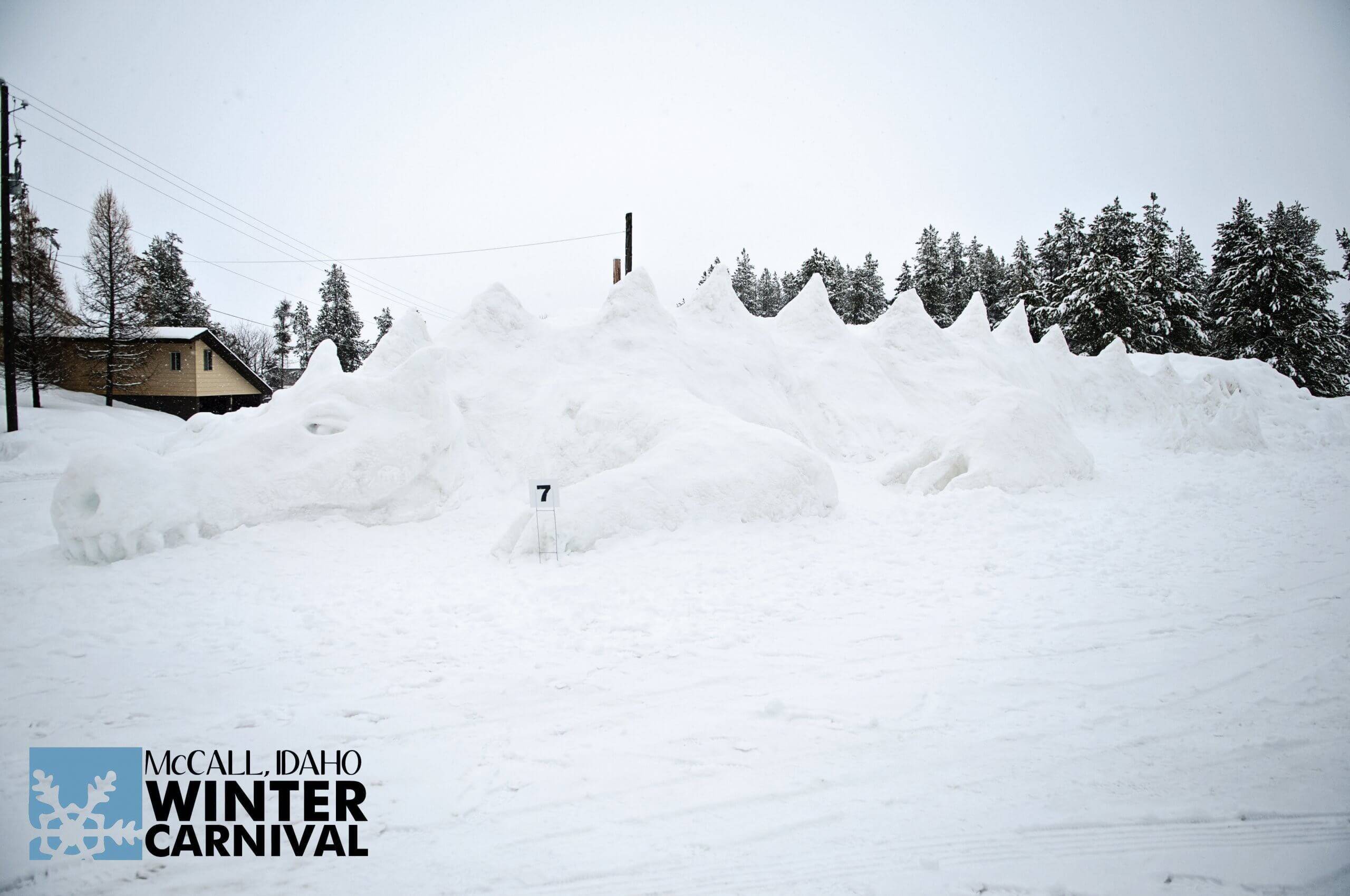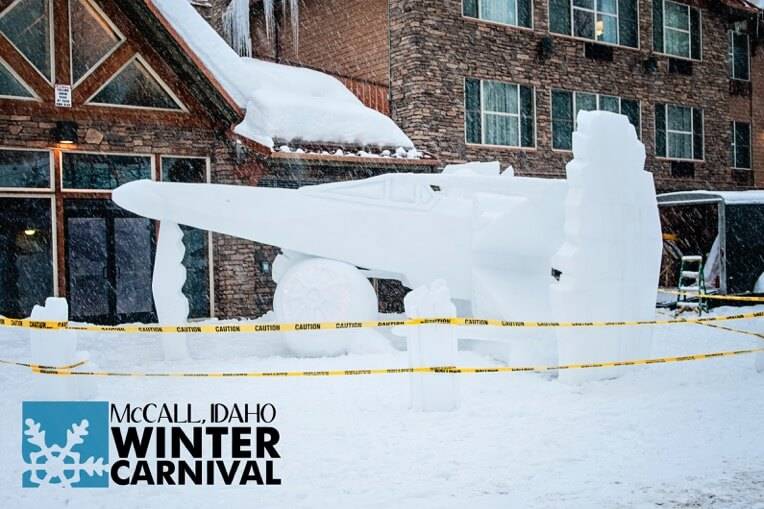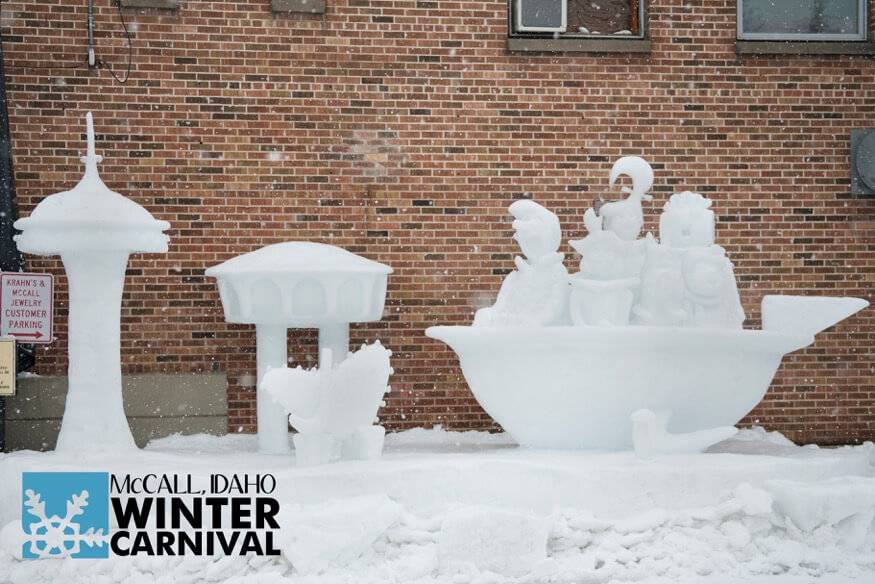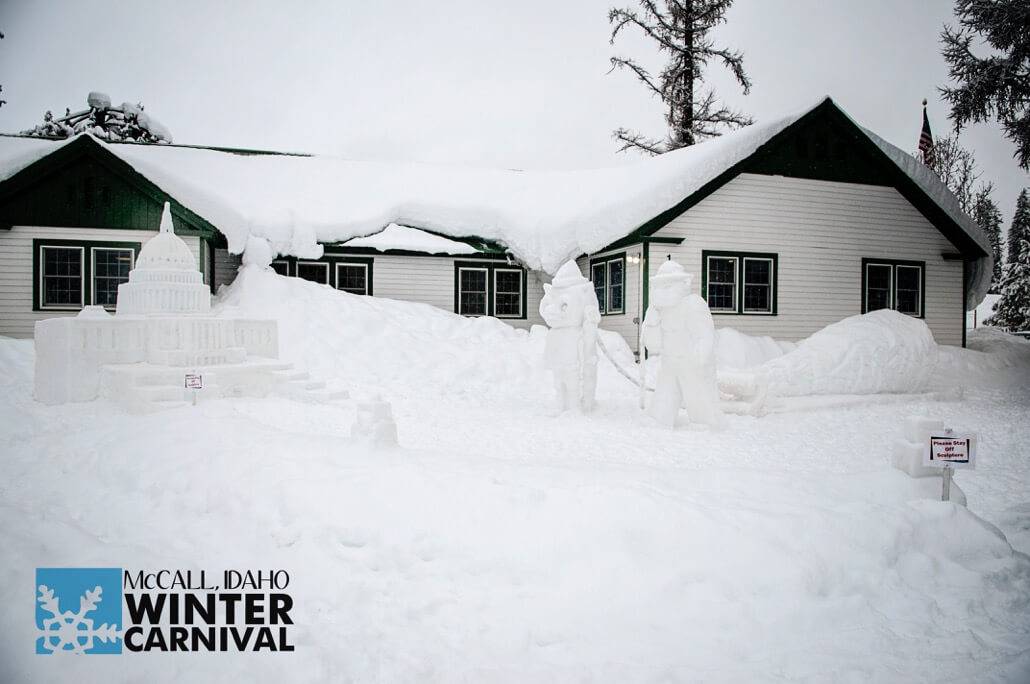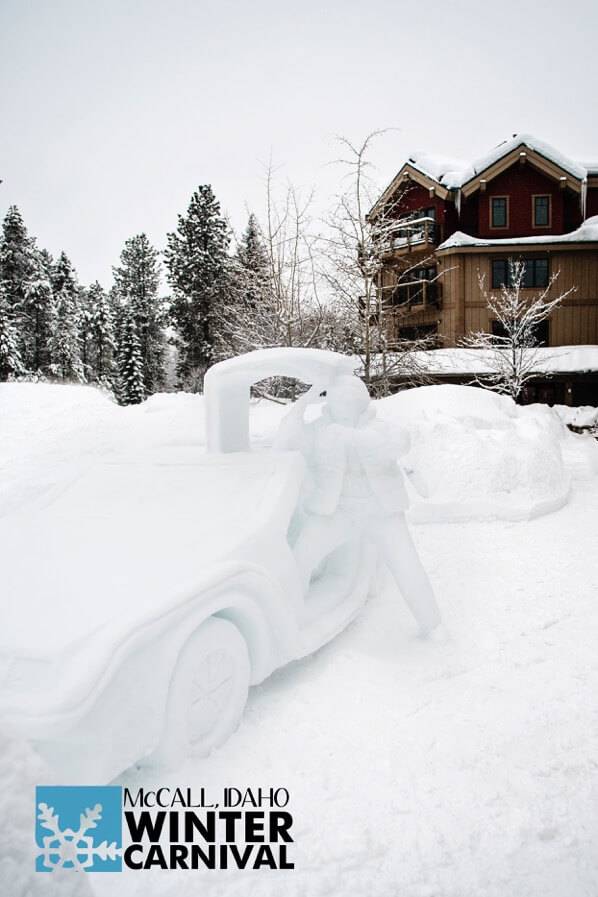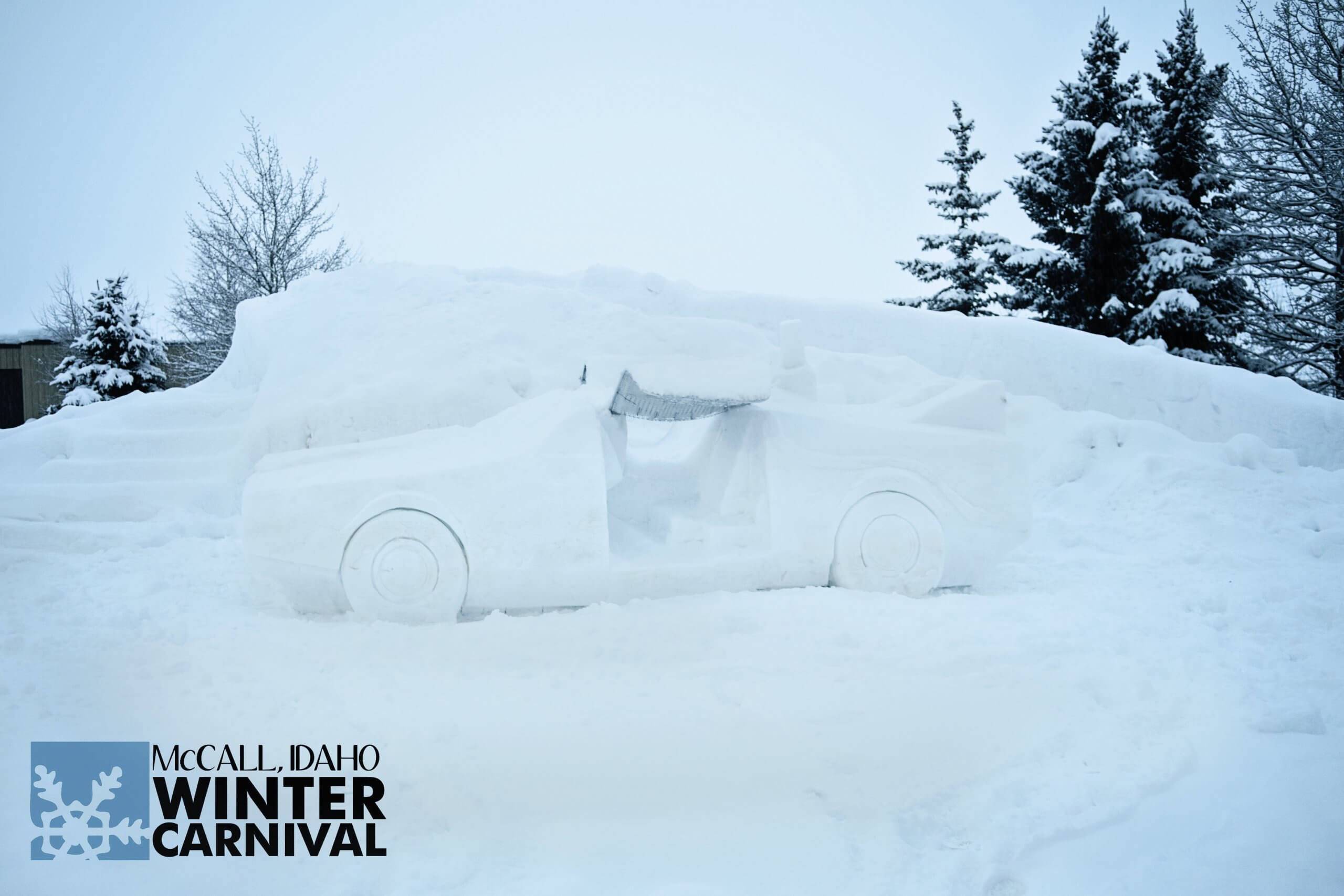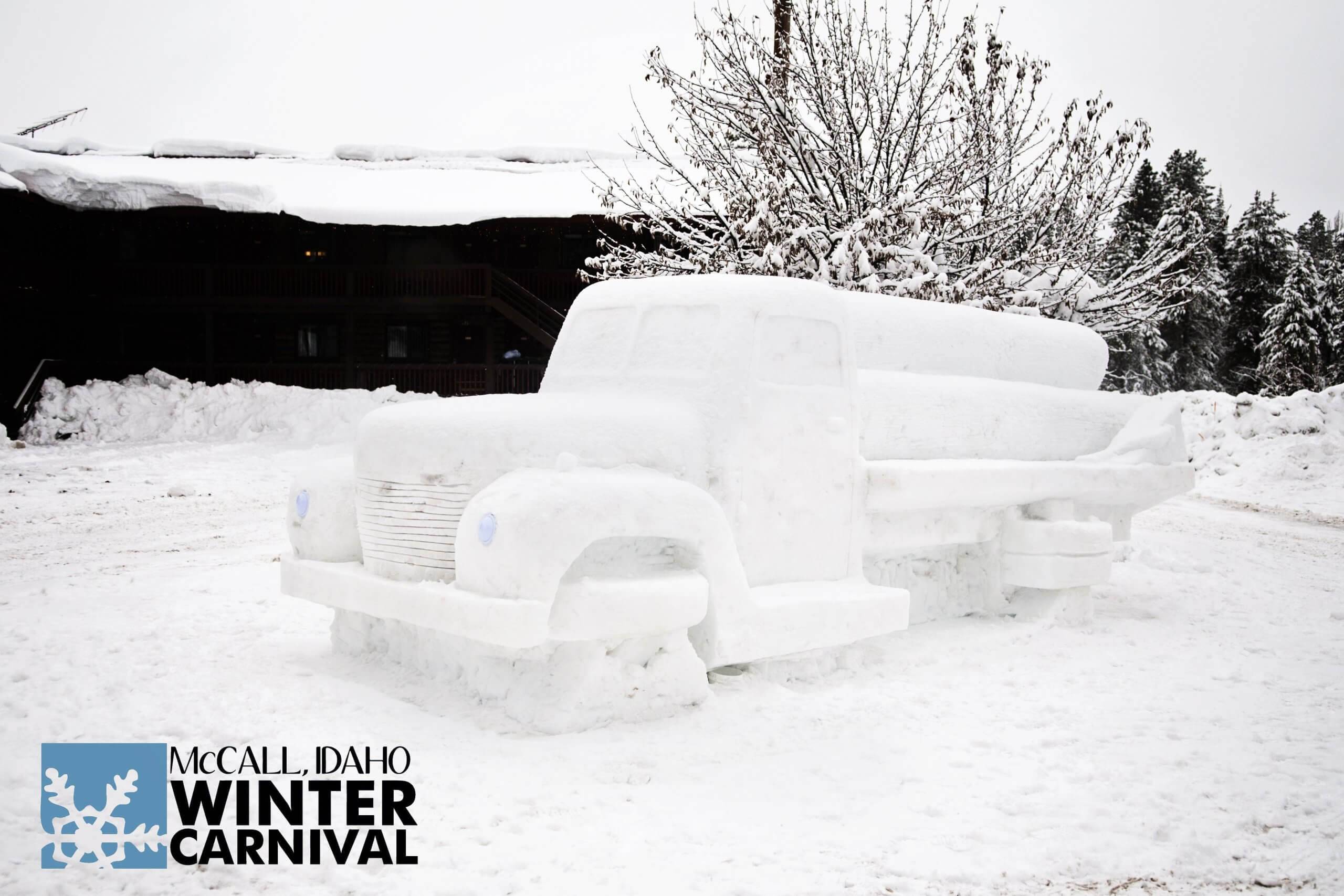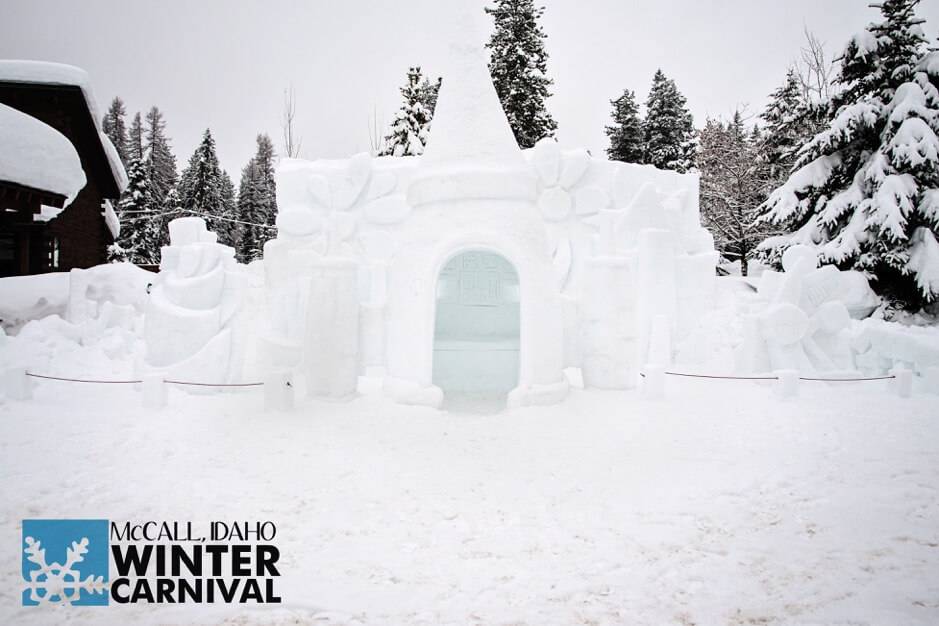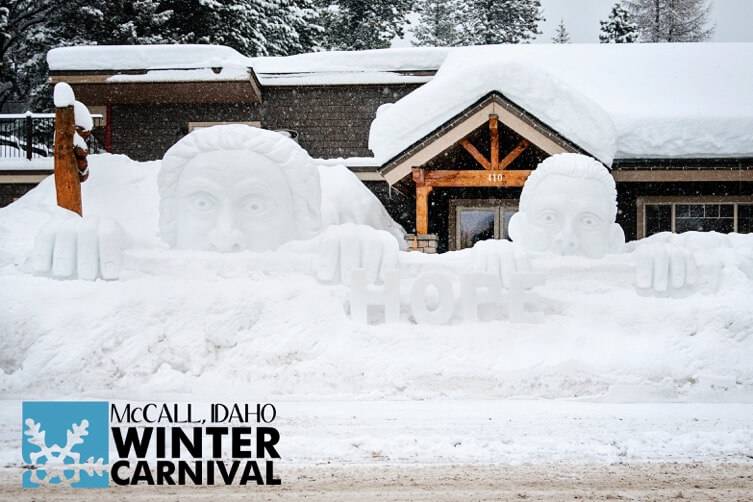 As one o'clock rolled around, we found ourselves a little weary and hungry but we'd only seen about half of the sculptures. We decided to search for a bite to eat and a place to rest up before we continued our sculpture-viewing.
We came across Stacey Cakes, a locally owned pastry shop with highly addictive treats. We got fresh cups of coffee and homemade cinnamon rolls. To say it was delicious would be a huge understatement.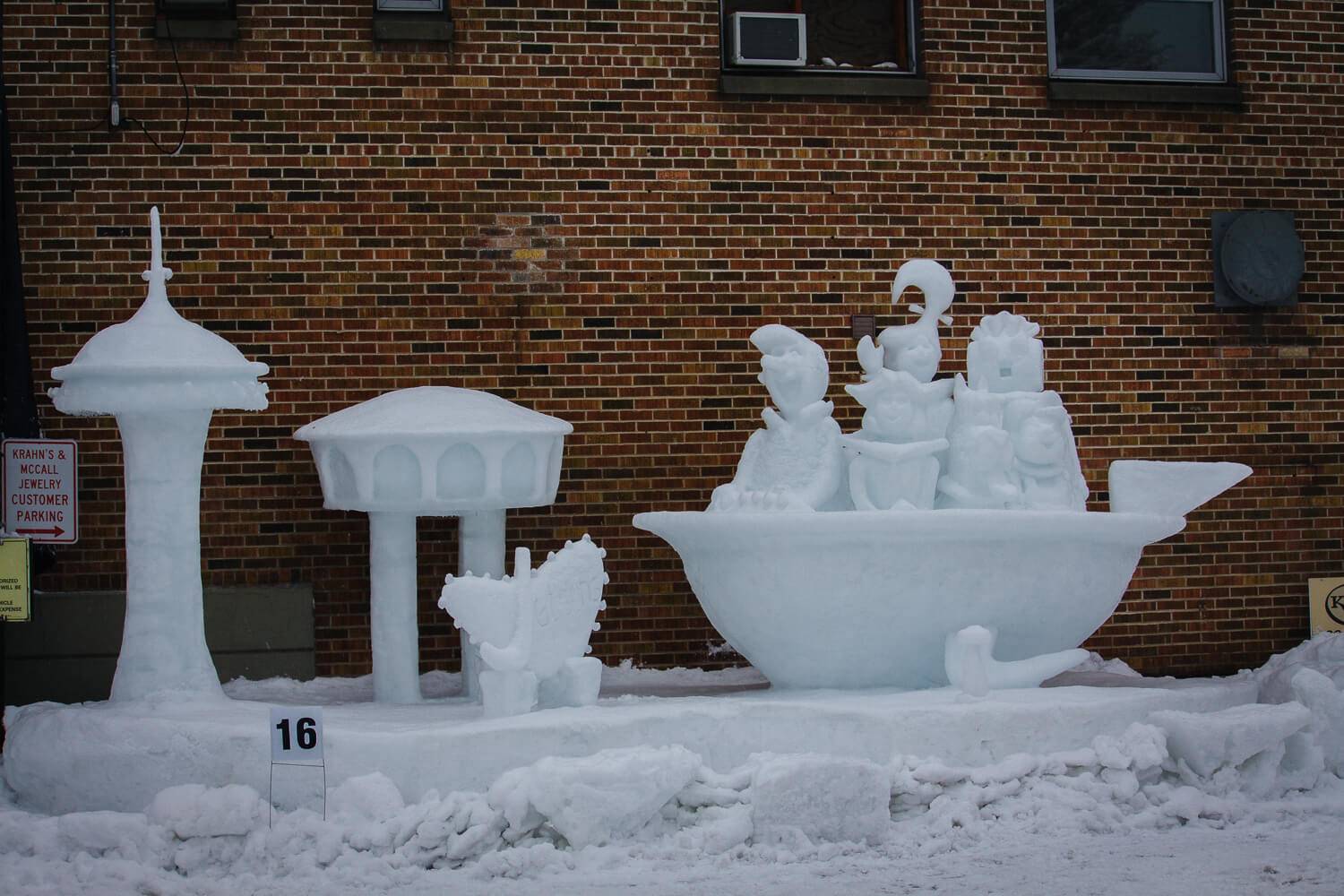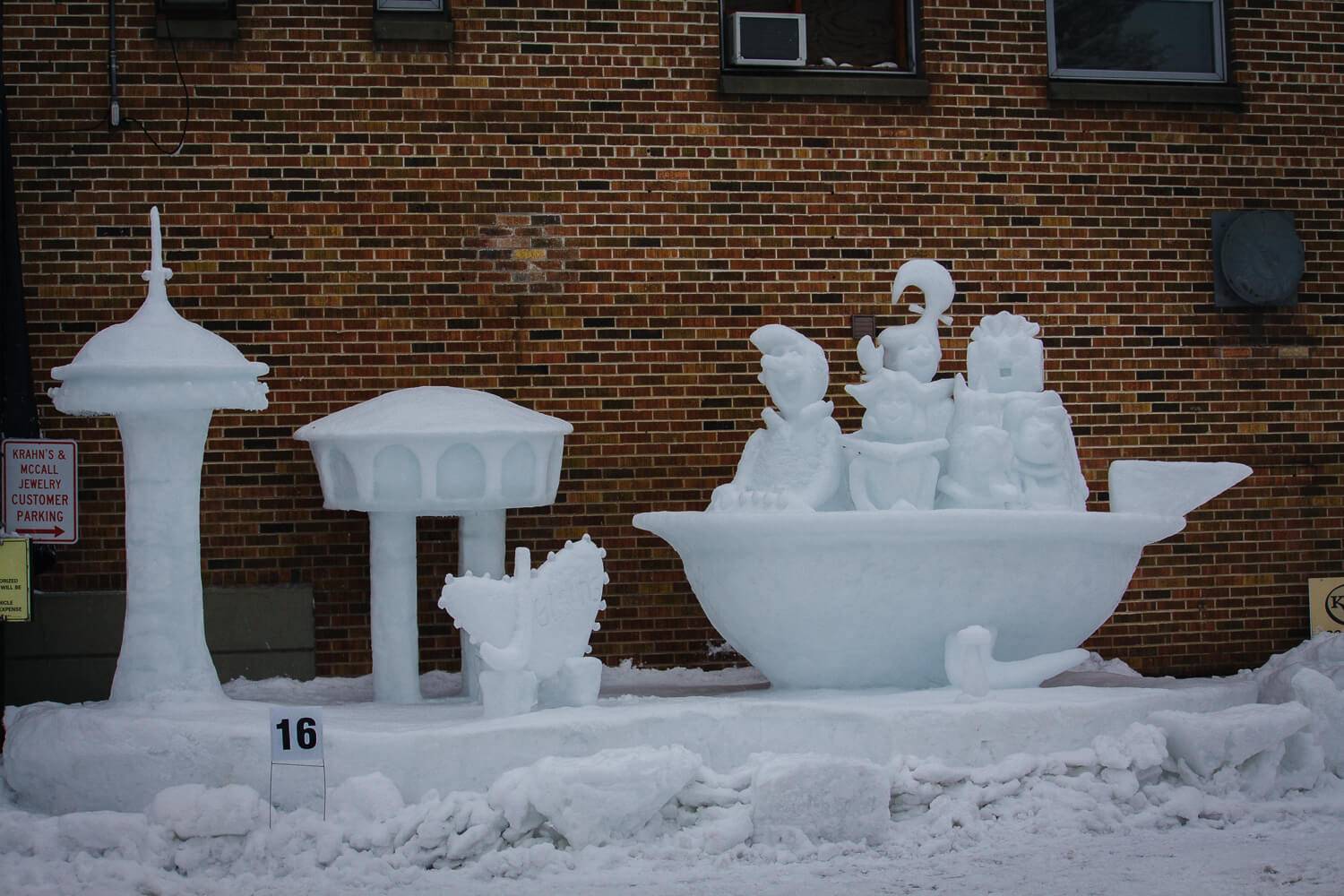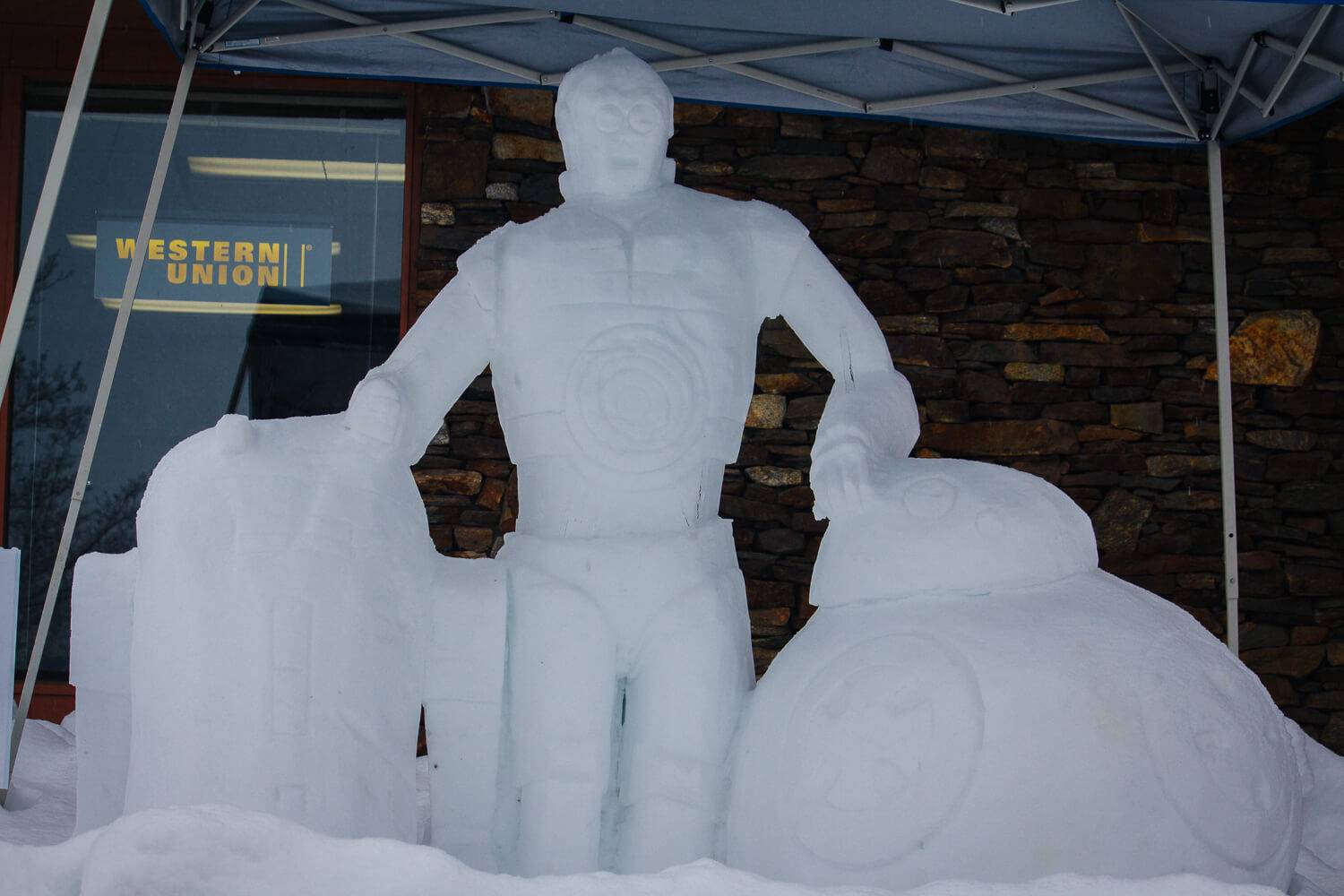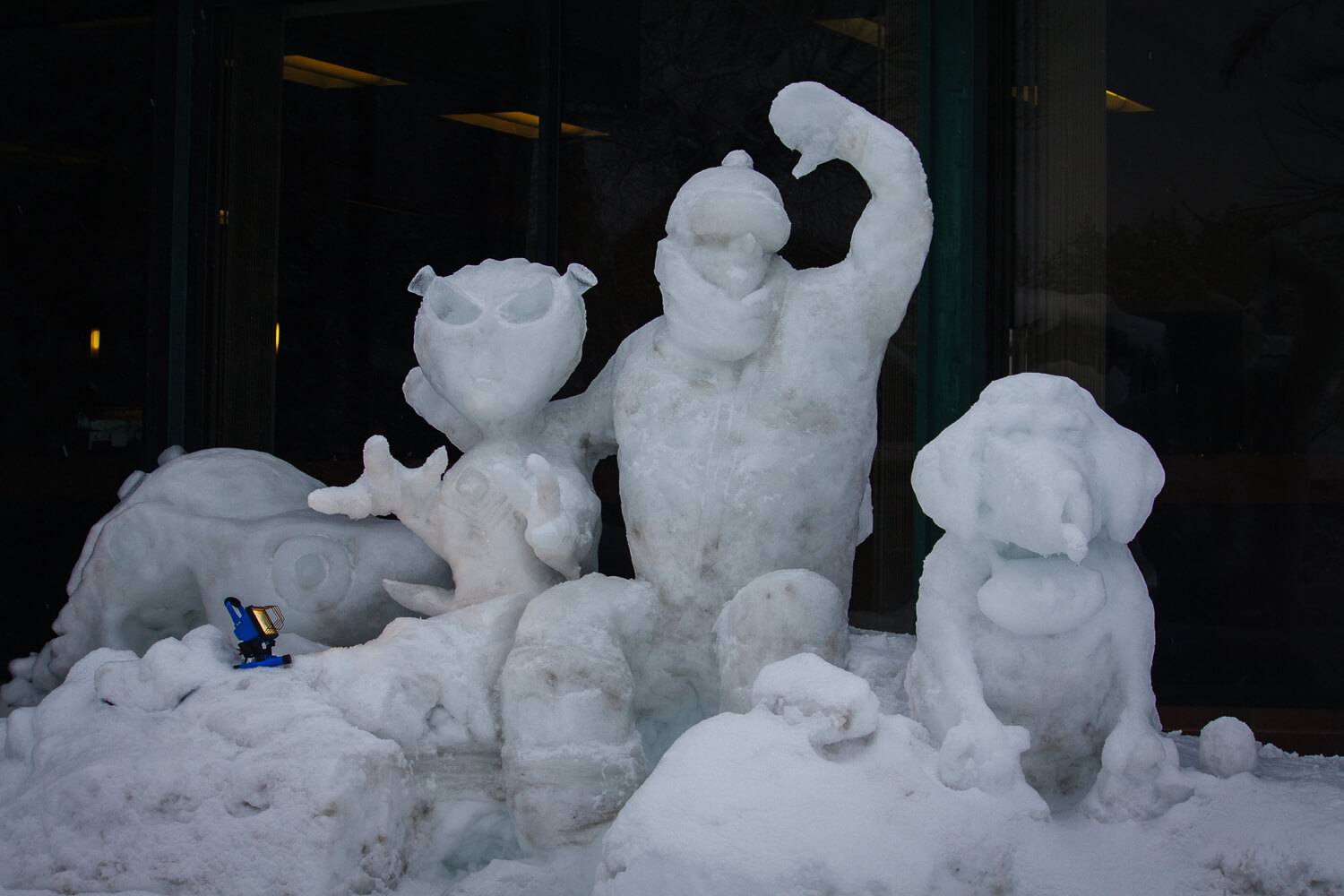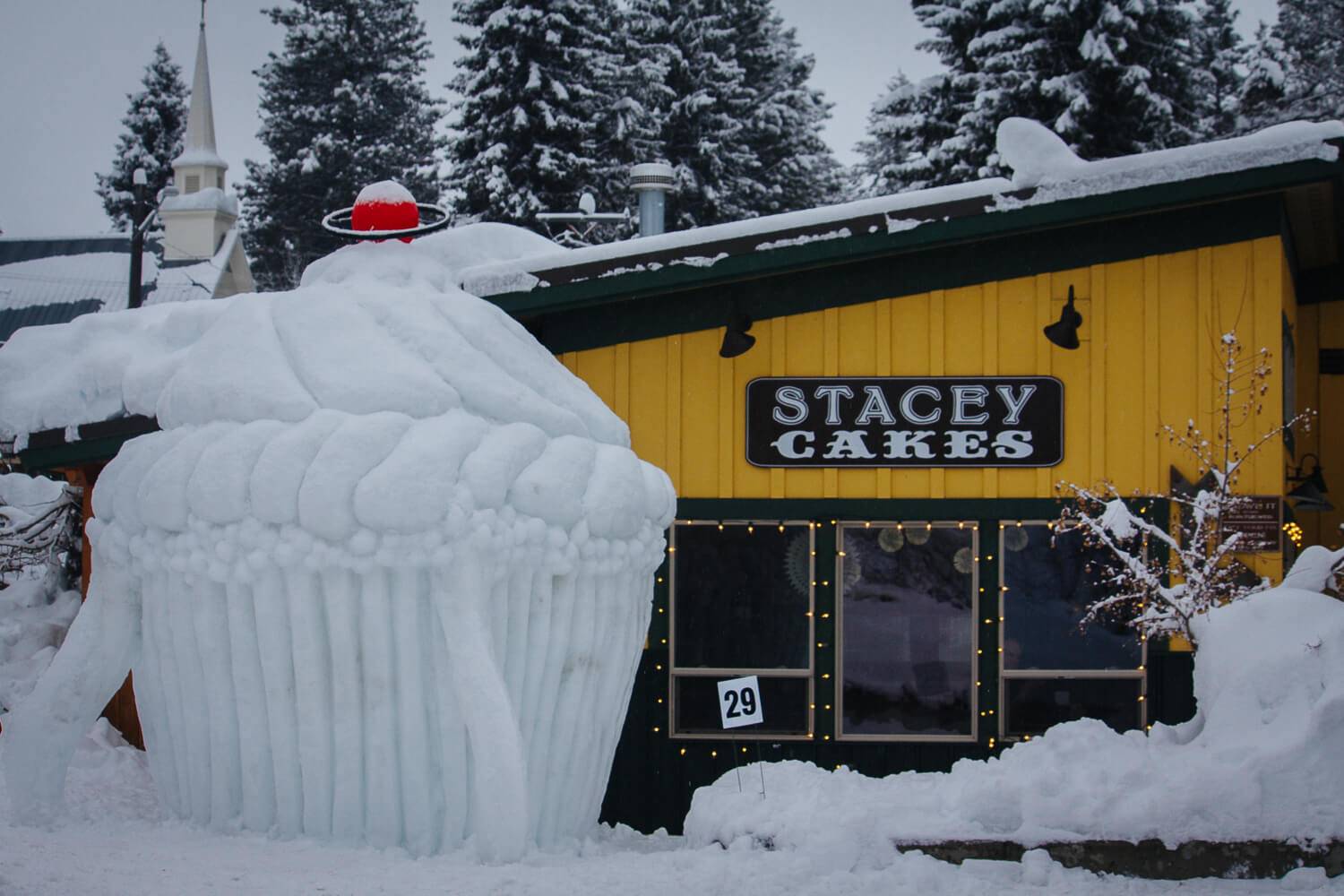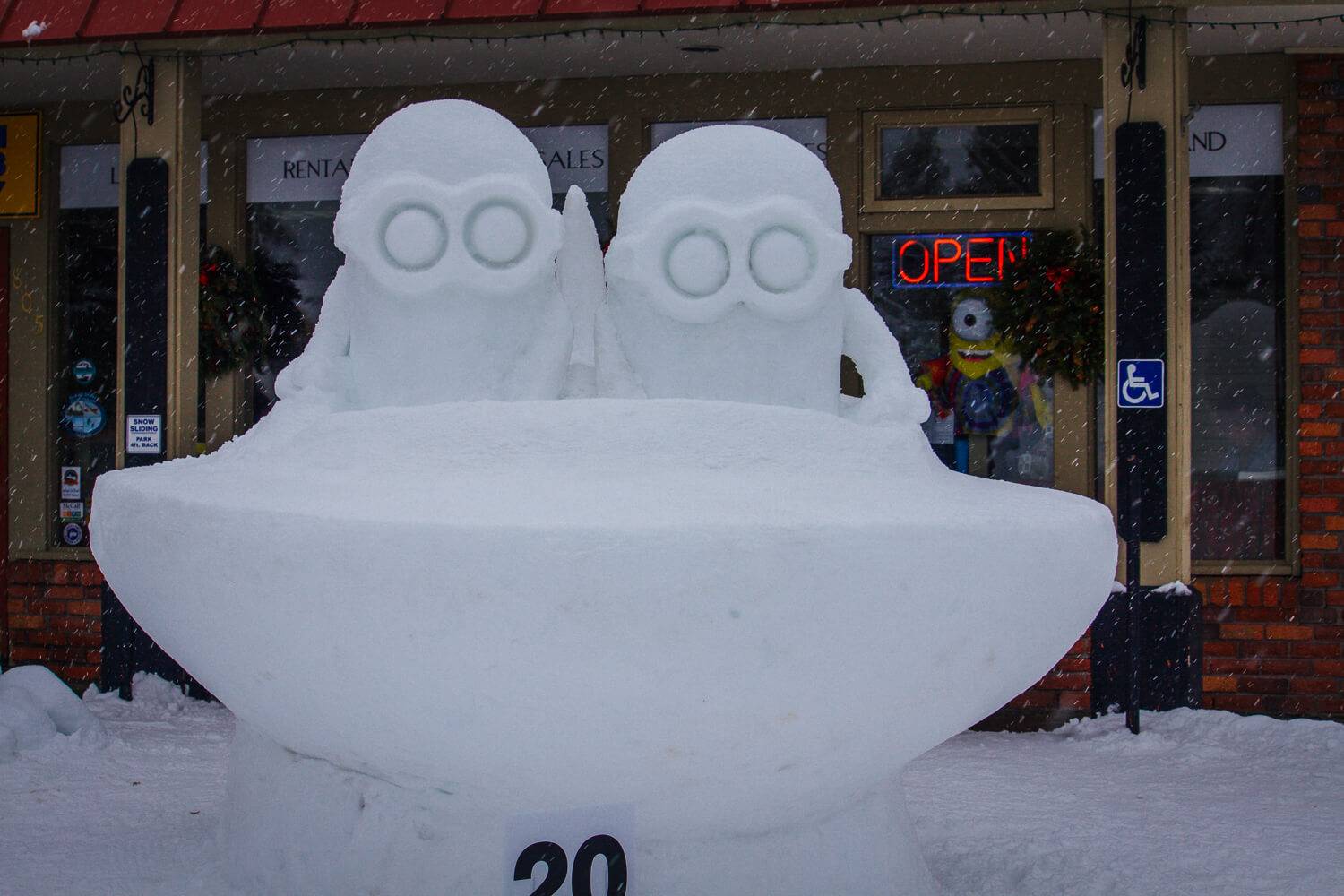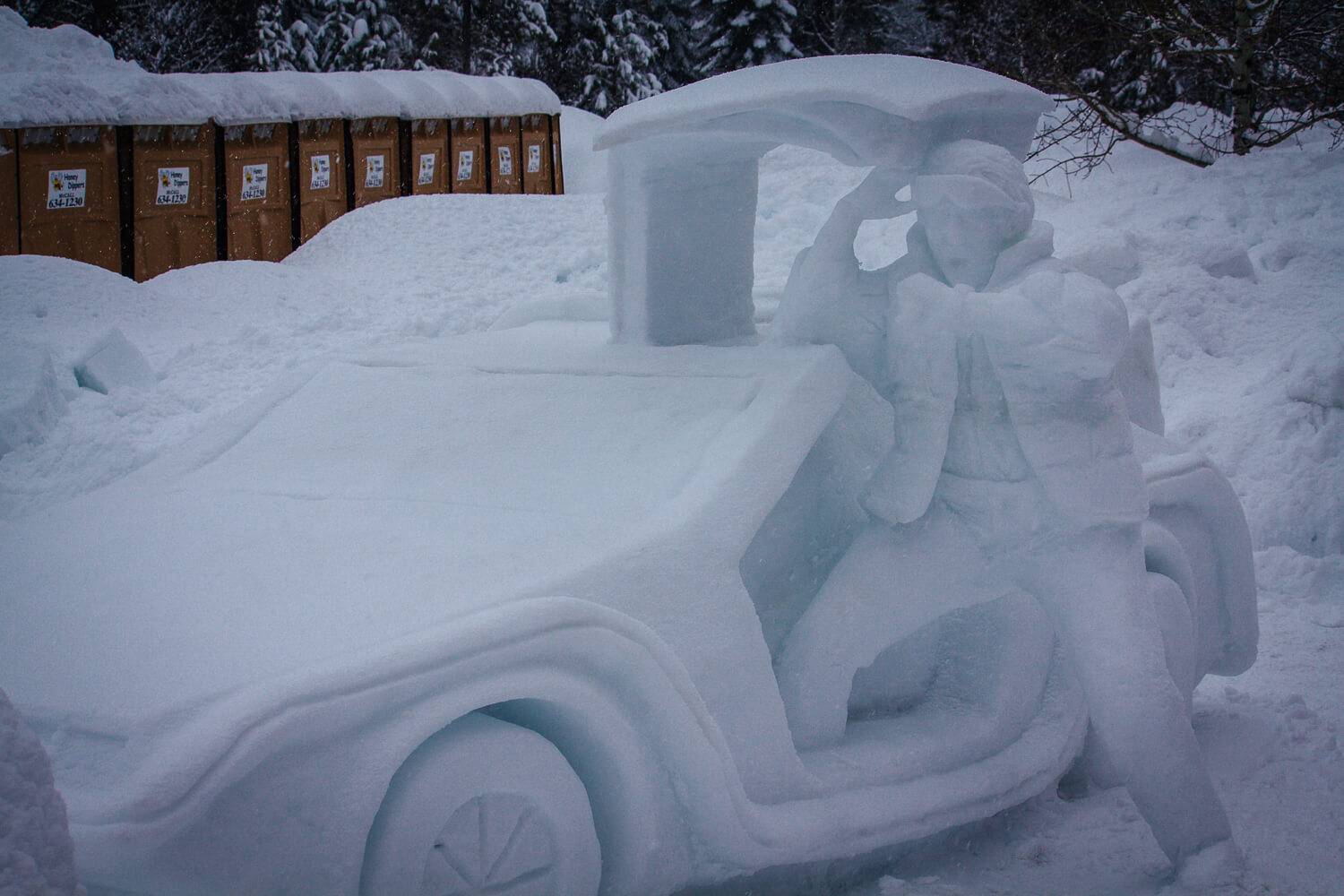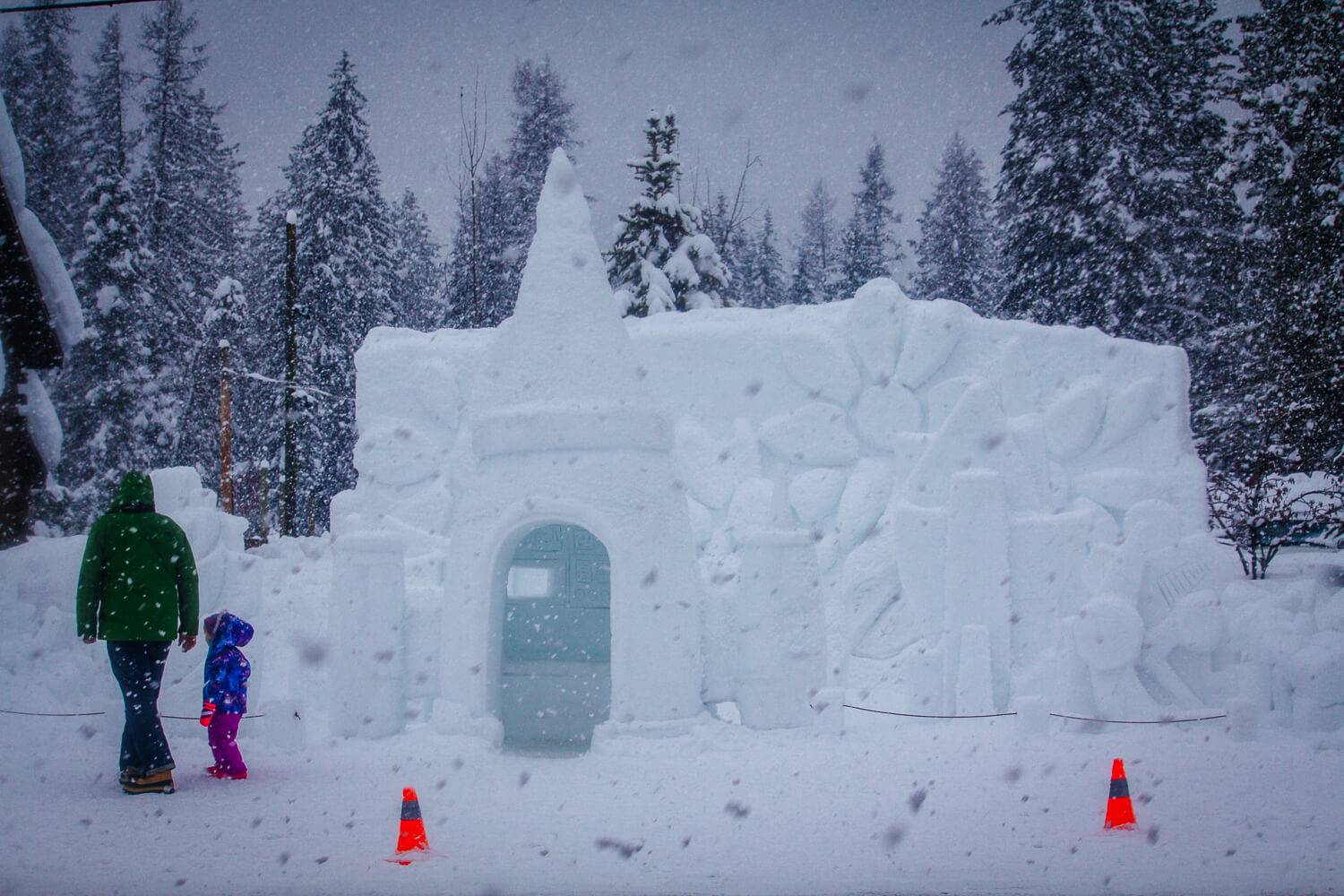 After filling our bellies with warm pastries, we set out to explore the other half of town. We found more unique snow sculptures up near Alpine Village and the Pancake House on the south side of the city.
After we combed over every inch of the town we decided to take a break at McCall Brewing Company. We ordered hot wings and chips and salsa and quenched our thirst with a couple of handcrafted brews. I enjoyed a Lemon Ginger Hefeweizen and my other half ordered a Mackinaw Red.
We left McCall Brewing Company around six o'clock and headed out to see the children's Torchlight Parade that started at six thirty. The parade was a mixture of firefighters, parents, and children all decked out with lit torches, glow sticks, and strobe lights. The parade is a McCall Winter Carnival tradition that takes place right before the massive fireworks show. After we watched the parade we decided to call it a night and headed back to our cabin about ten minutes outside of town to unpack and refuel for the following day.
Day 2:
I woke up on the next morning to sunlight streaming in through my window and walked outside on the back deck to see this…
Nothing beats a warm cup of coffee and incredible views. I stood on the back patio as long as the cold permitted, but when my feet began to hurt I retreated inside to eat a hearty breakfast and get ready for another fun day.
Before heading into town, we decided to explore the area around the cabin for a bit. I brought my German Shorthair, Tilly, along for the trip and thought it would be good for her to stretch her legs. When we had driven in the night before, we weren't able to see the surrounding wilderness but in the morning, the sun was out and the views were spectacular.
After we packed up and headed into town, the scenery only got better. Our cabin was situated west of town near Tamarack Resort, nestled beneath the mountain side. There were acres of pine trees and blankets of untouched powder as far as the eye could see. When you make the trip up to McCall I highly recommend taking a short drive down Whitetail Drive, just west of town. It's some of the most gorgeous country you'll ever see, especially in the winter when there are massive amounts of snow.
When we rolled into town on Day 2, it was hard to find a parking spot. So if you have a large group of people tagging along with you, I recommend using the city-provided parade shuttle. It's free to the public and takes you right into the heart of the action. The Mardi Gras Parade lineup was being introduced and crowds of people began lining the street.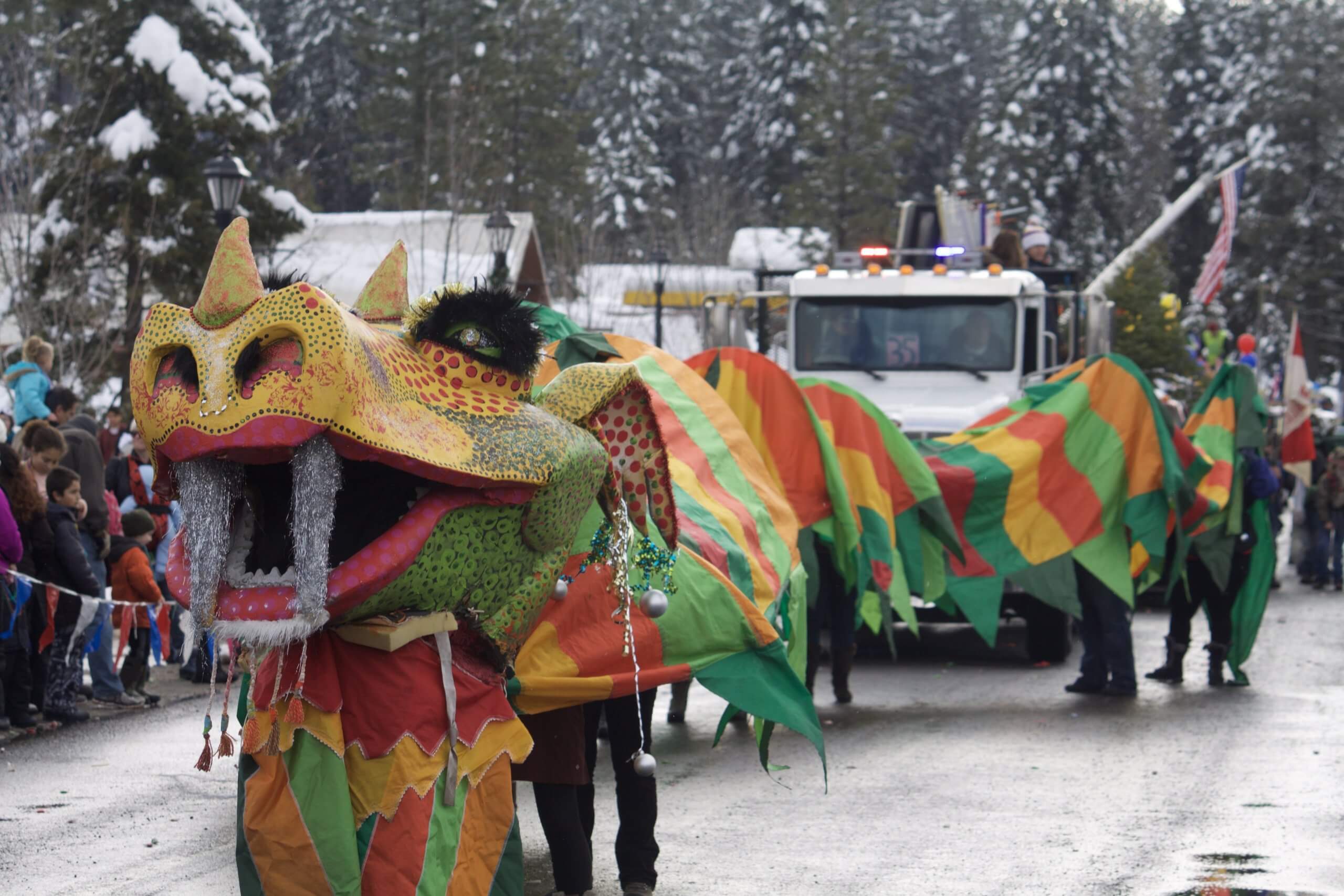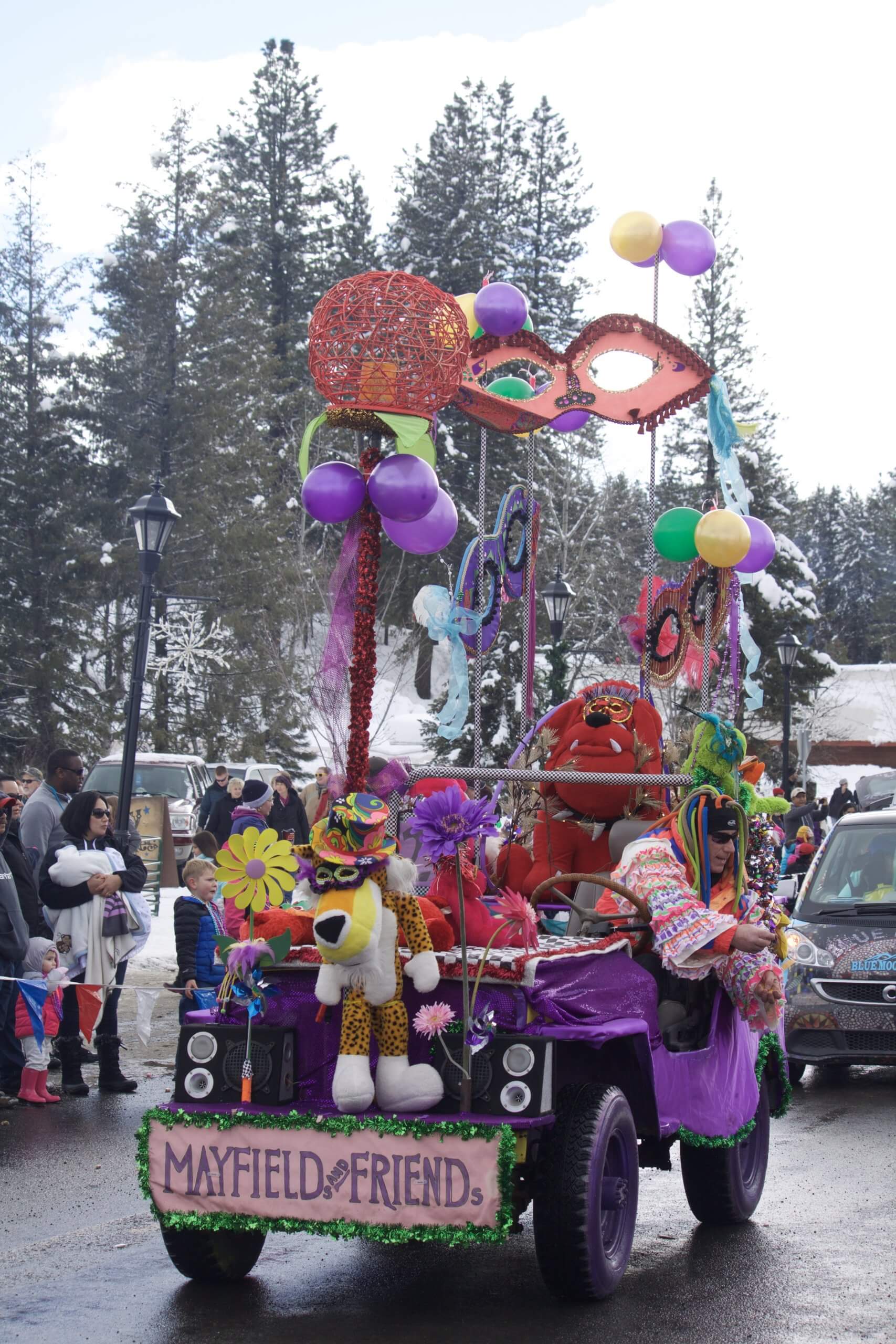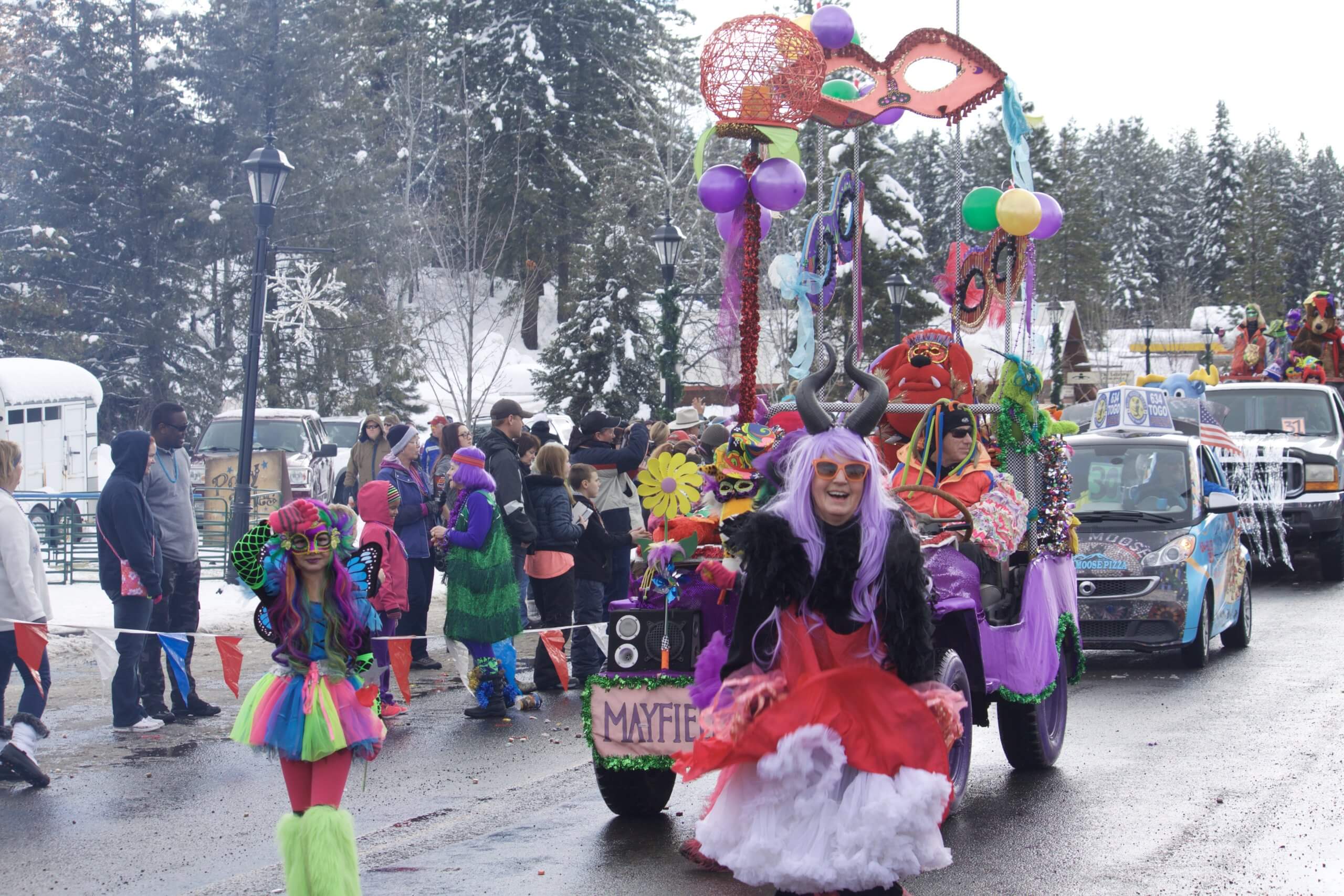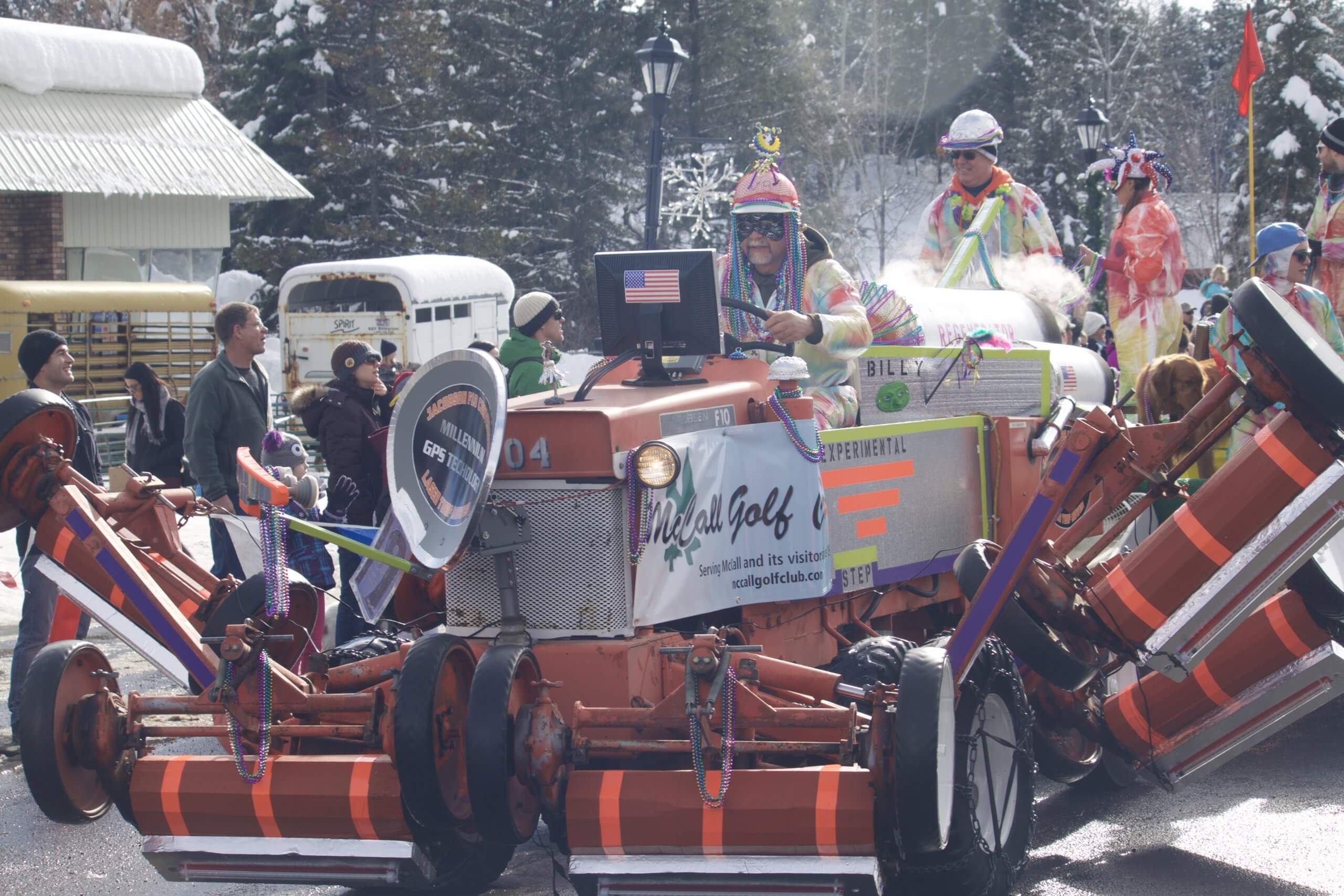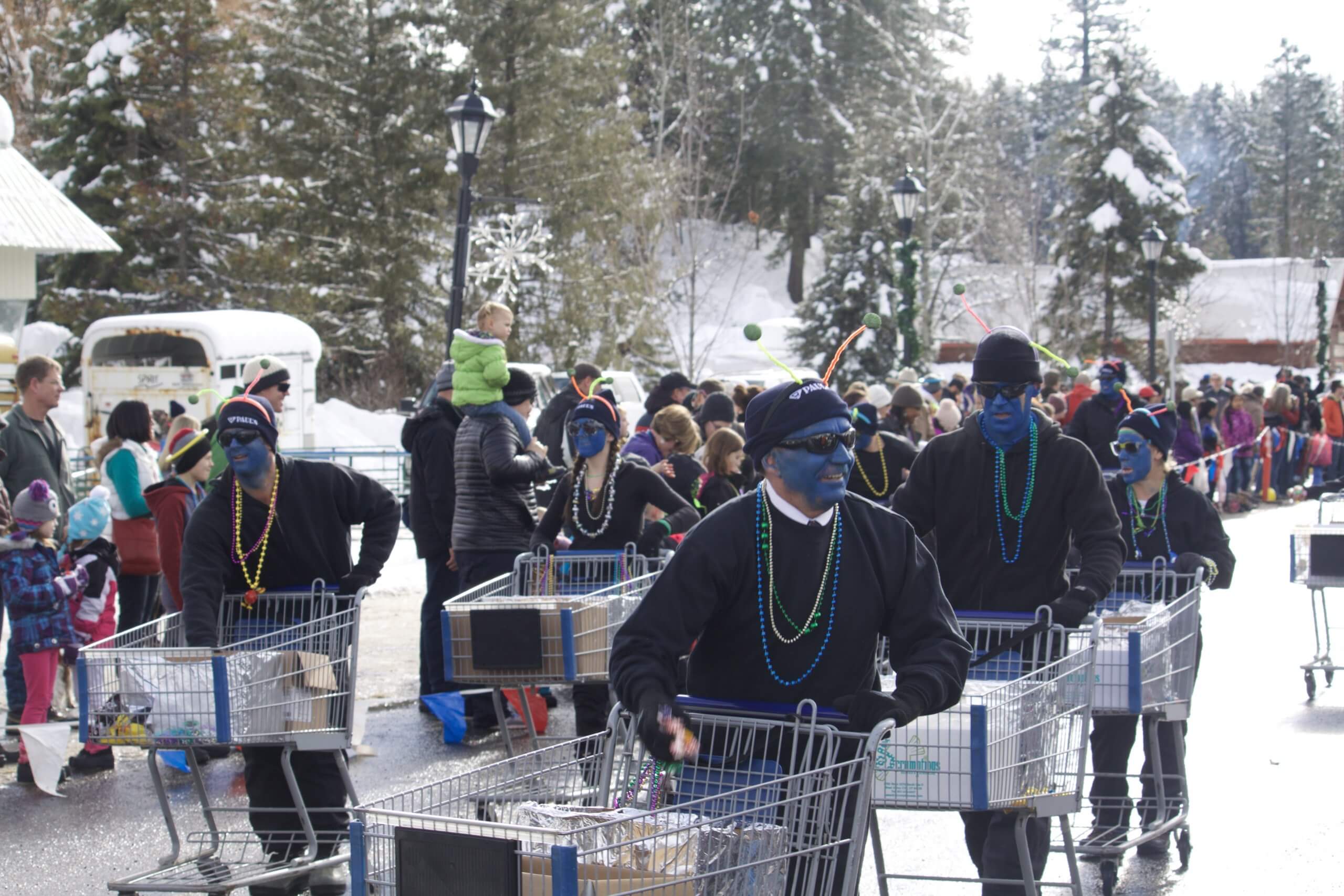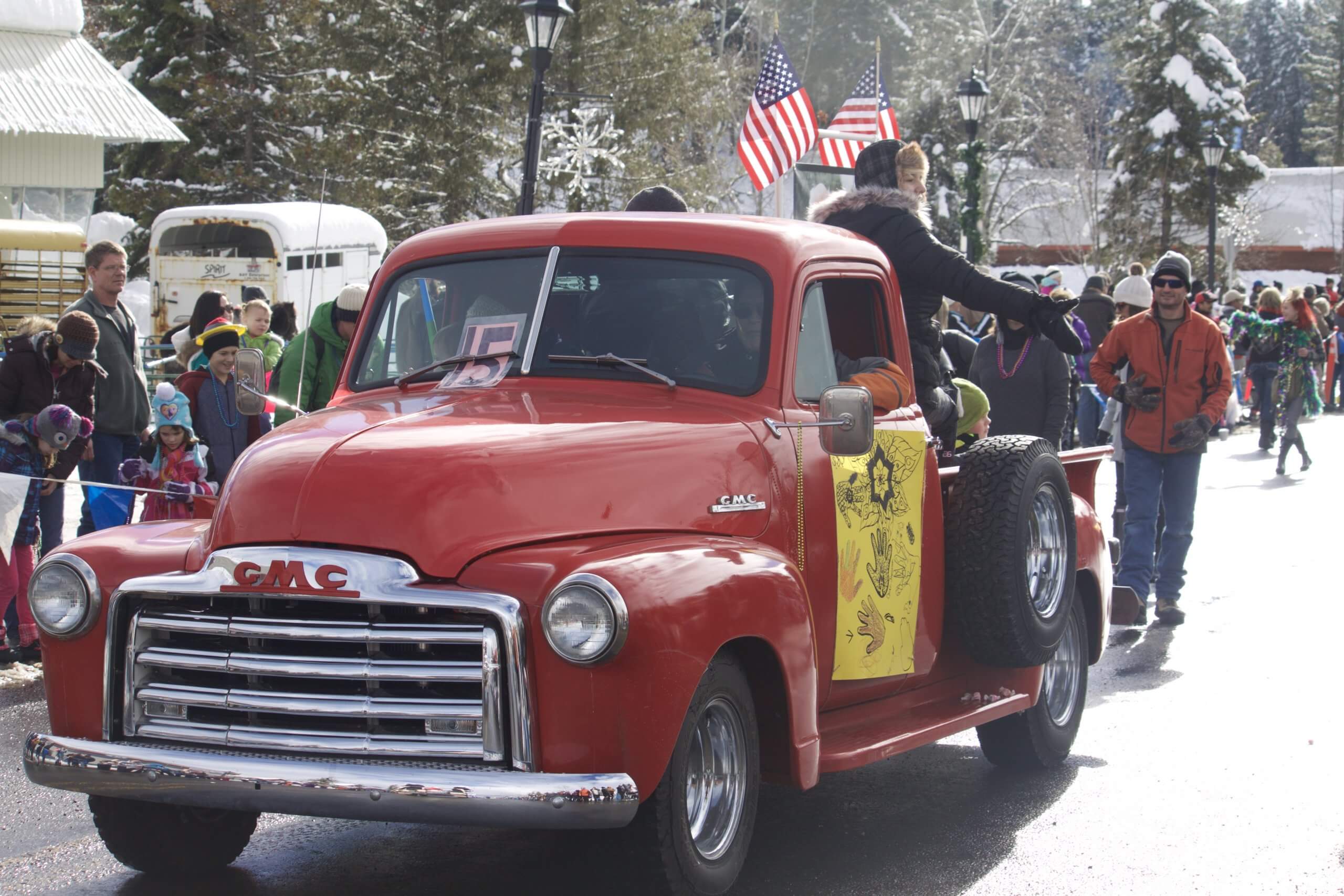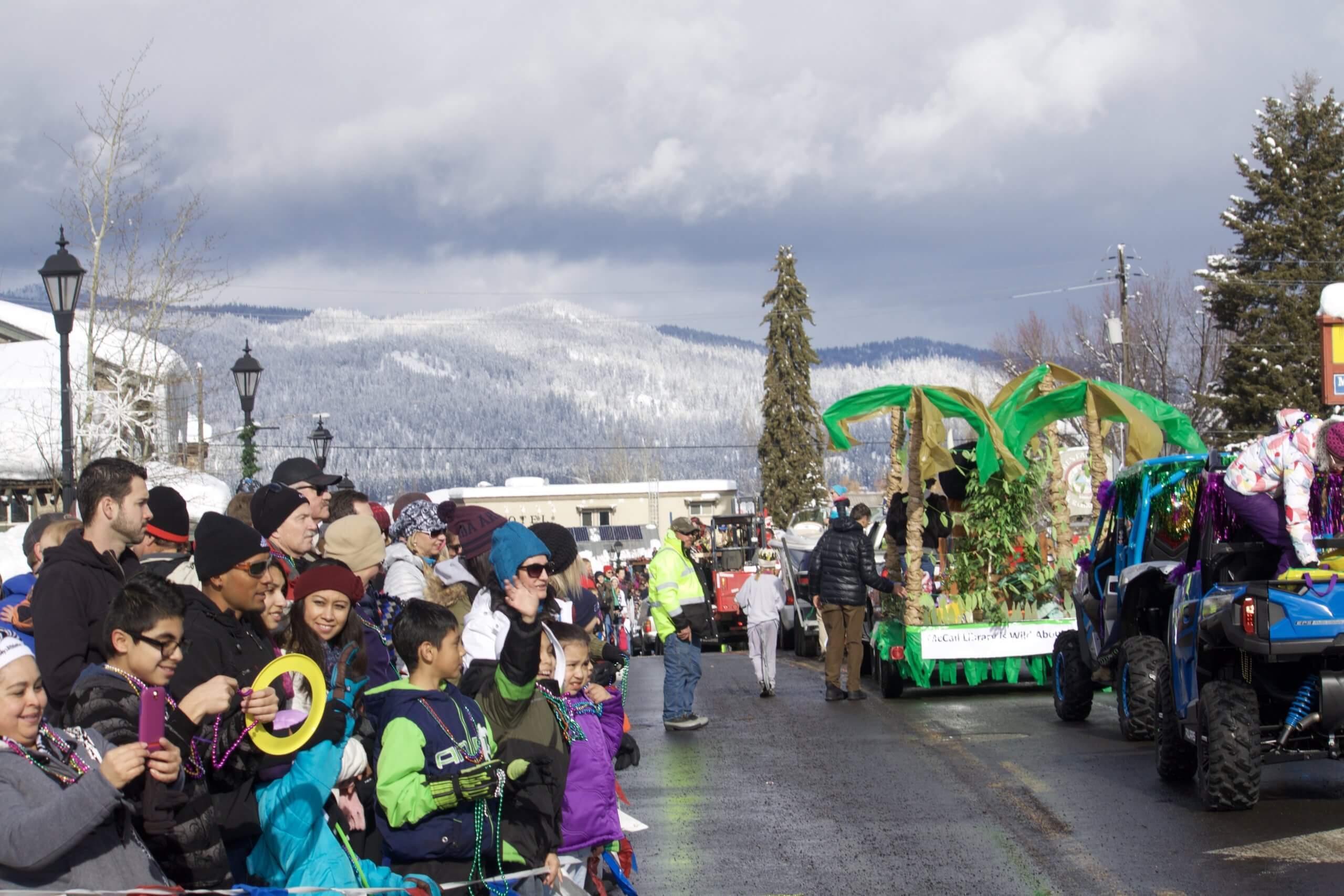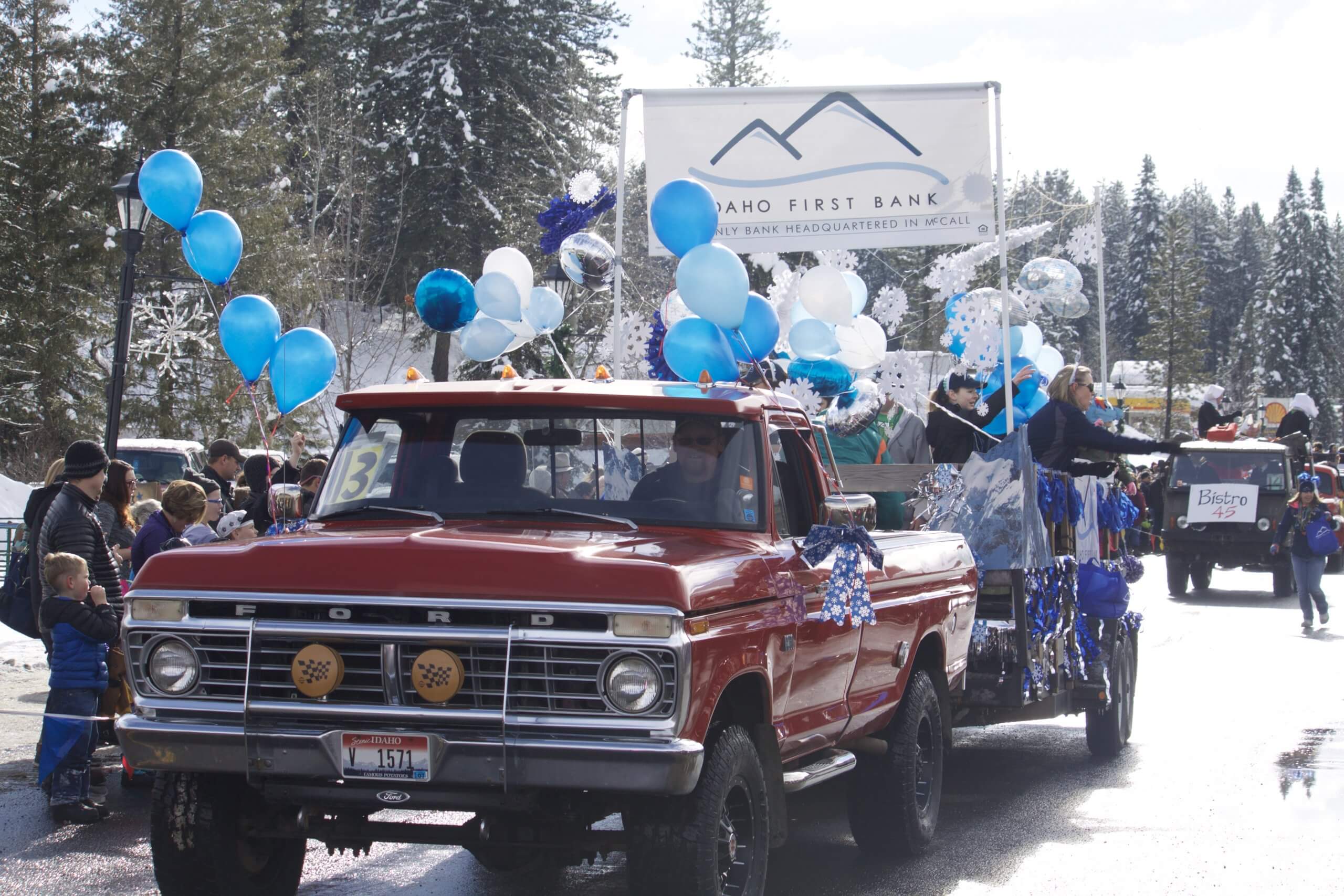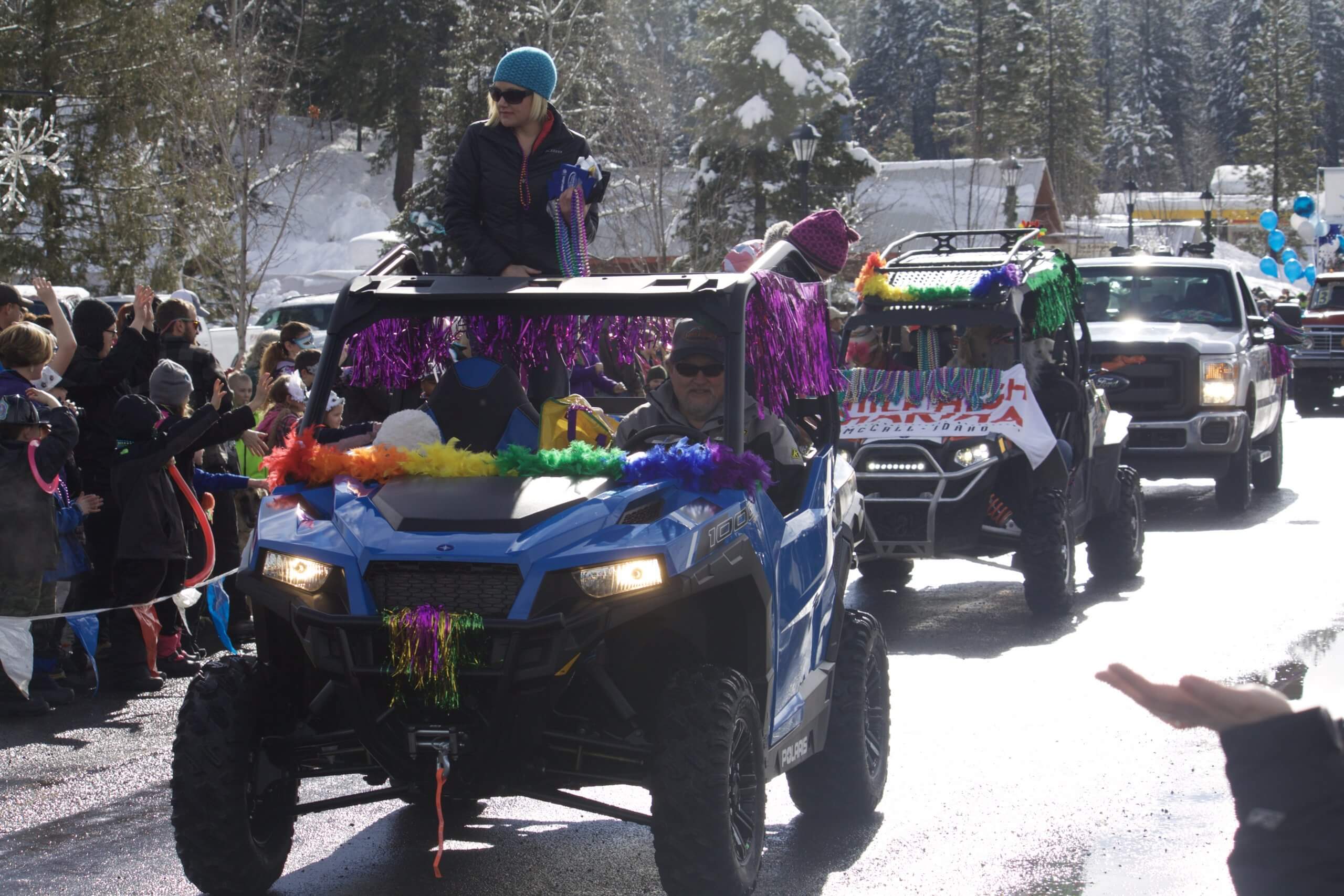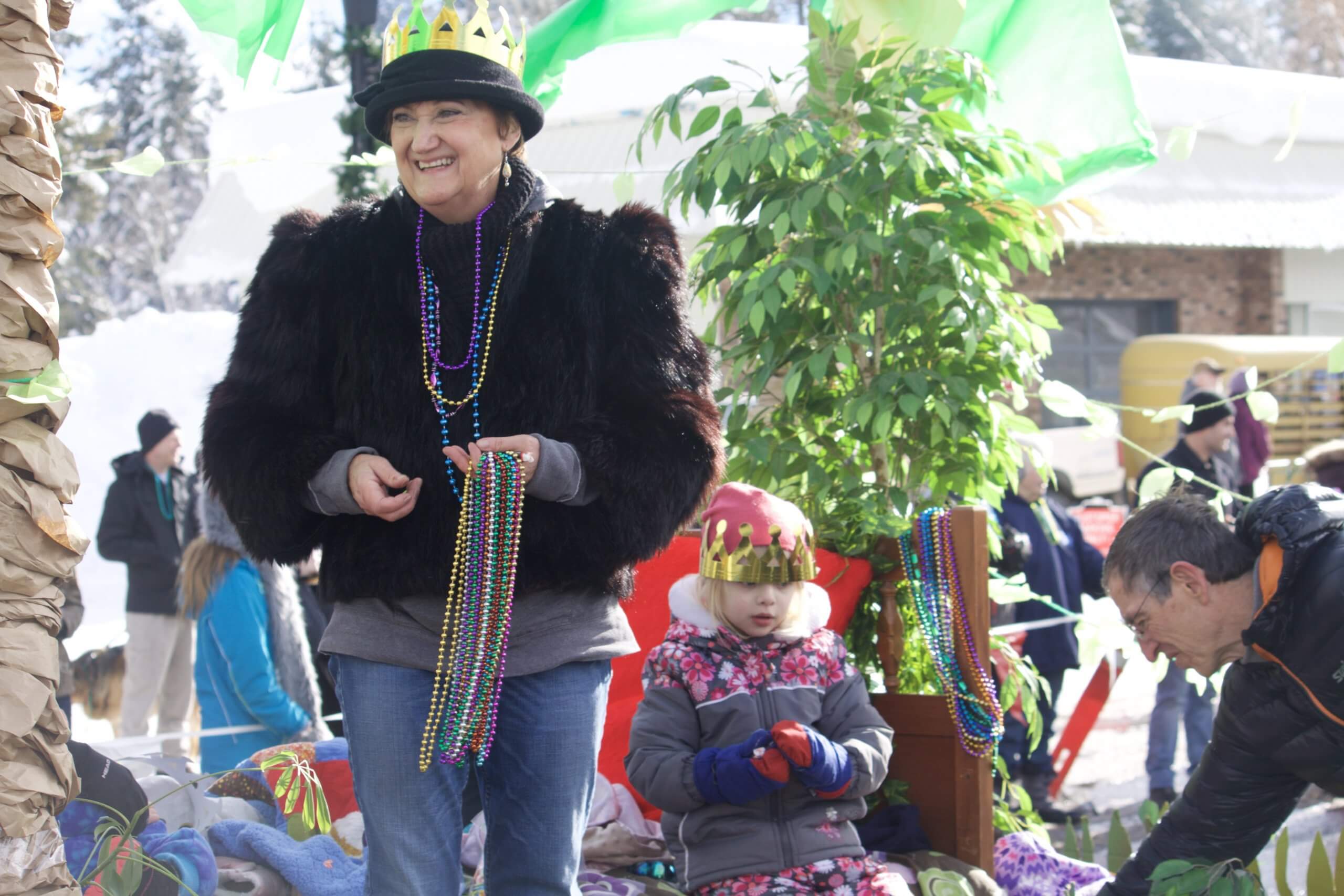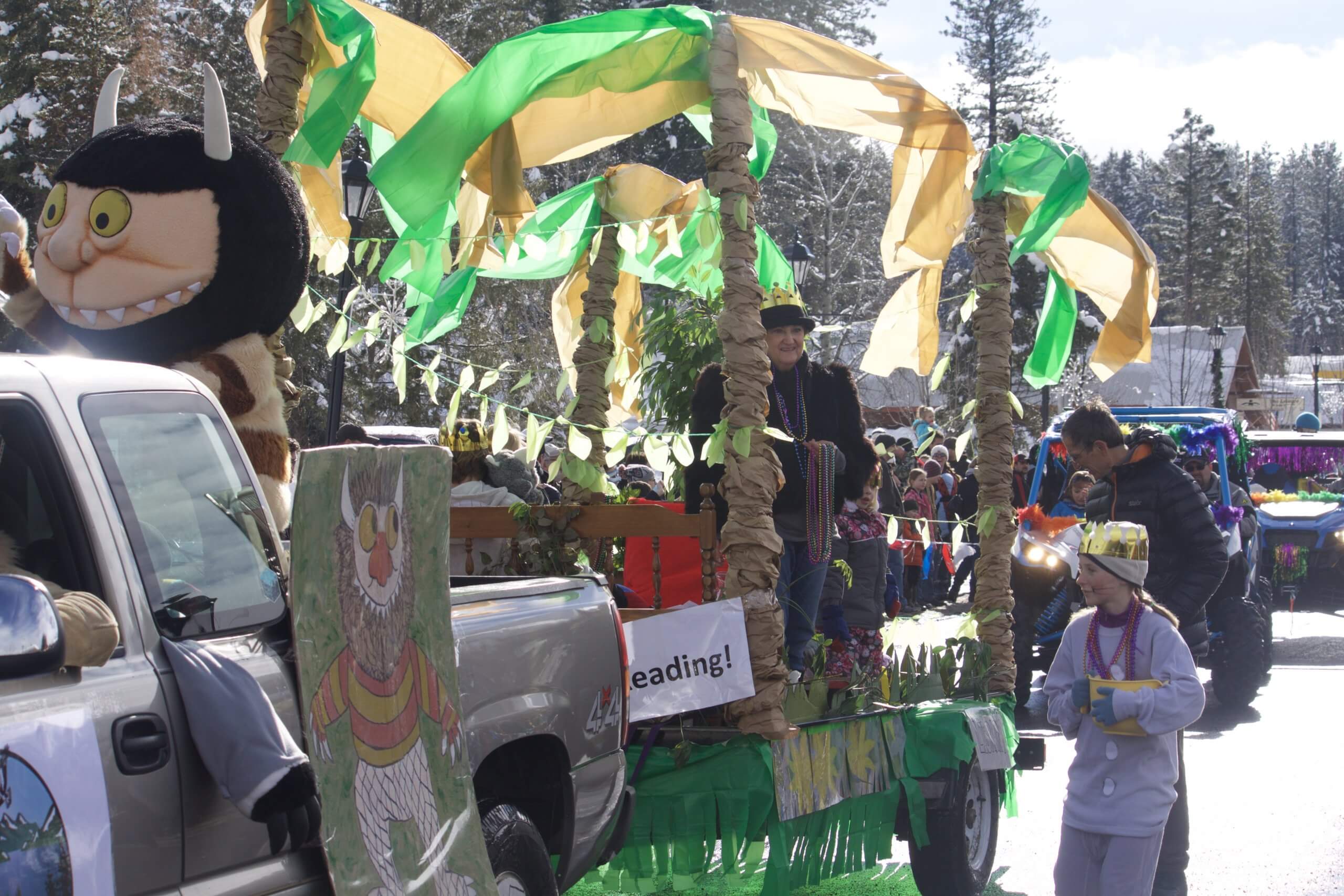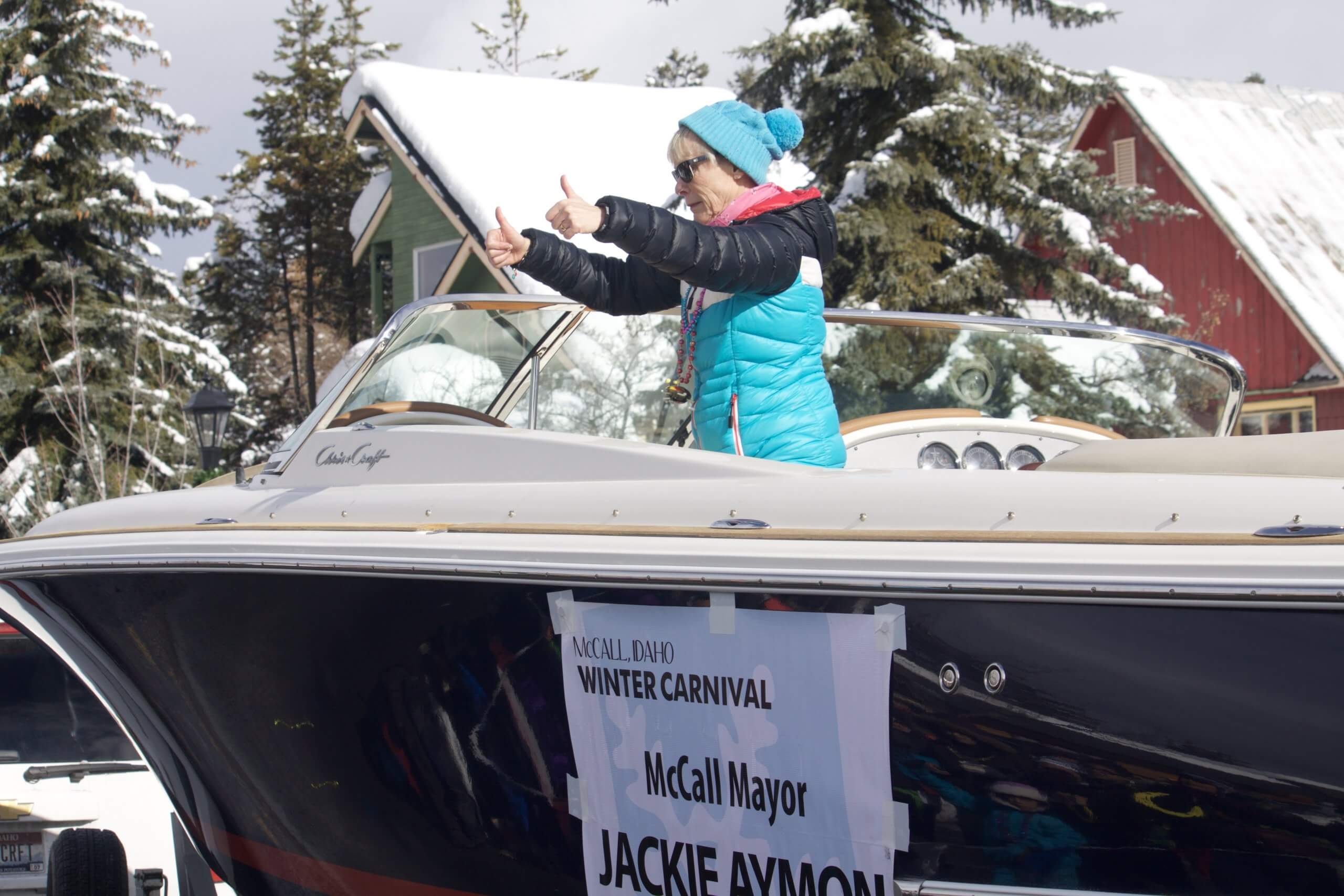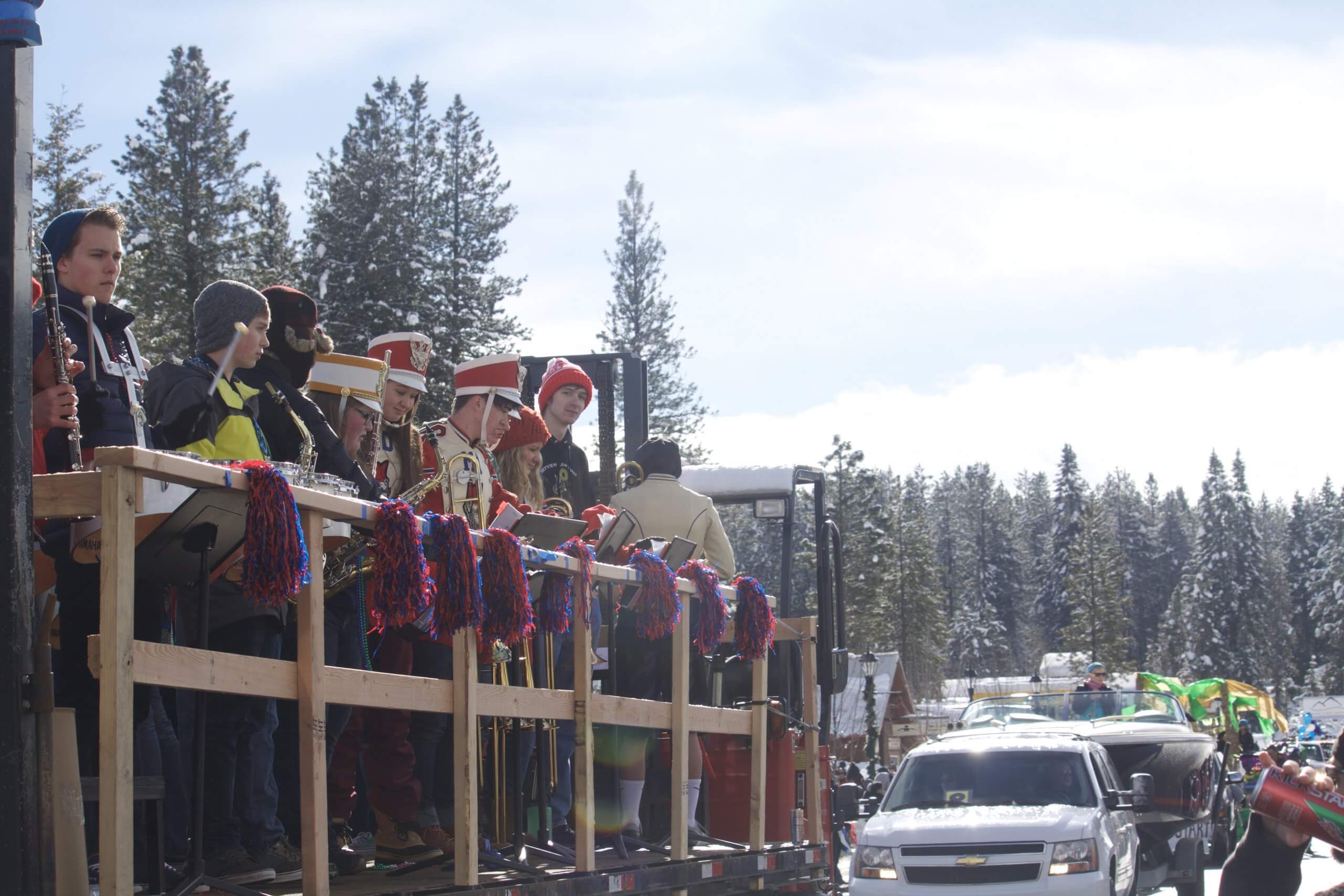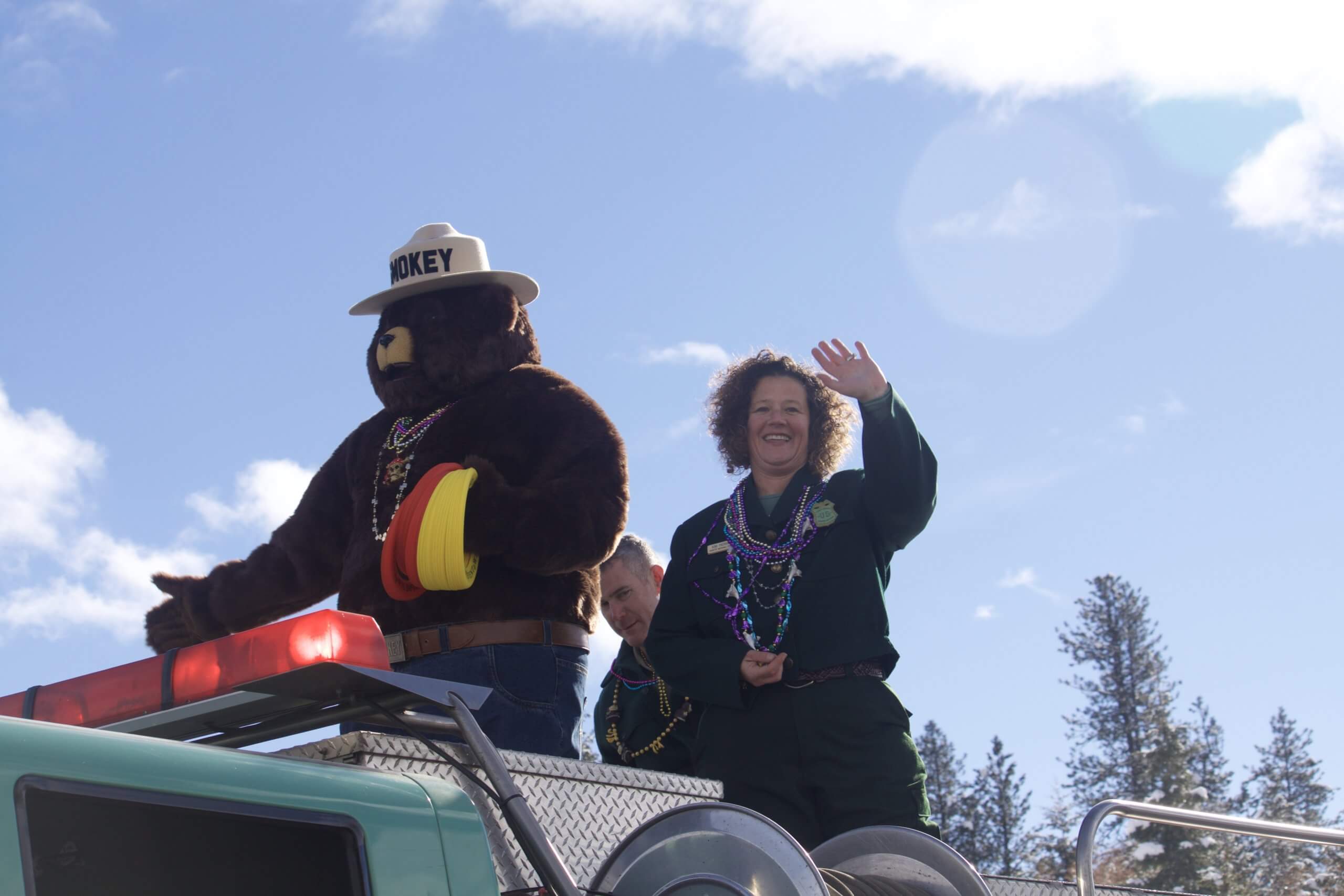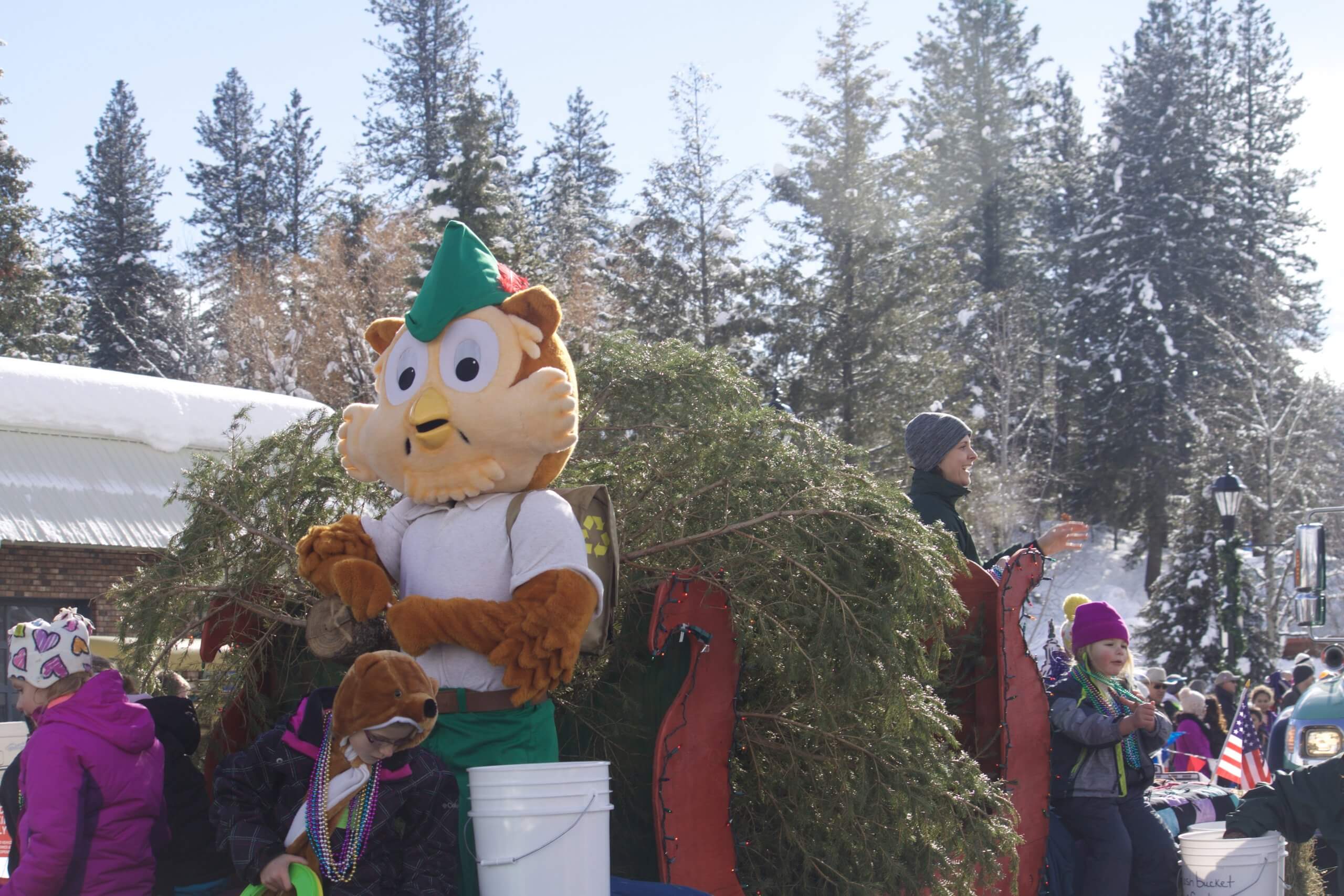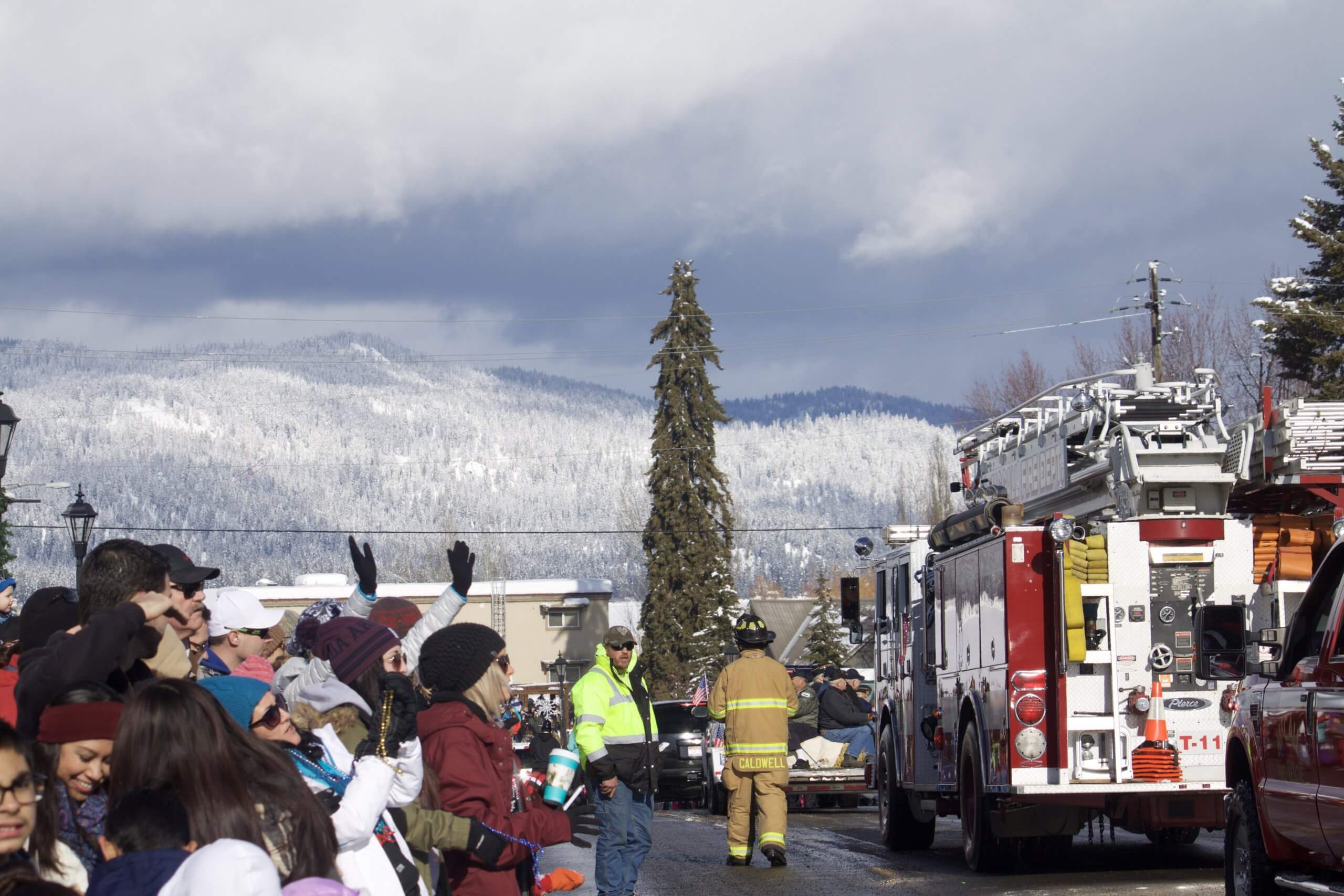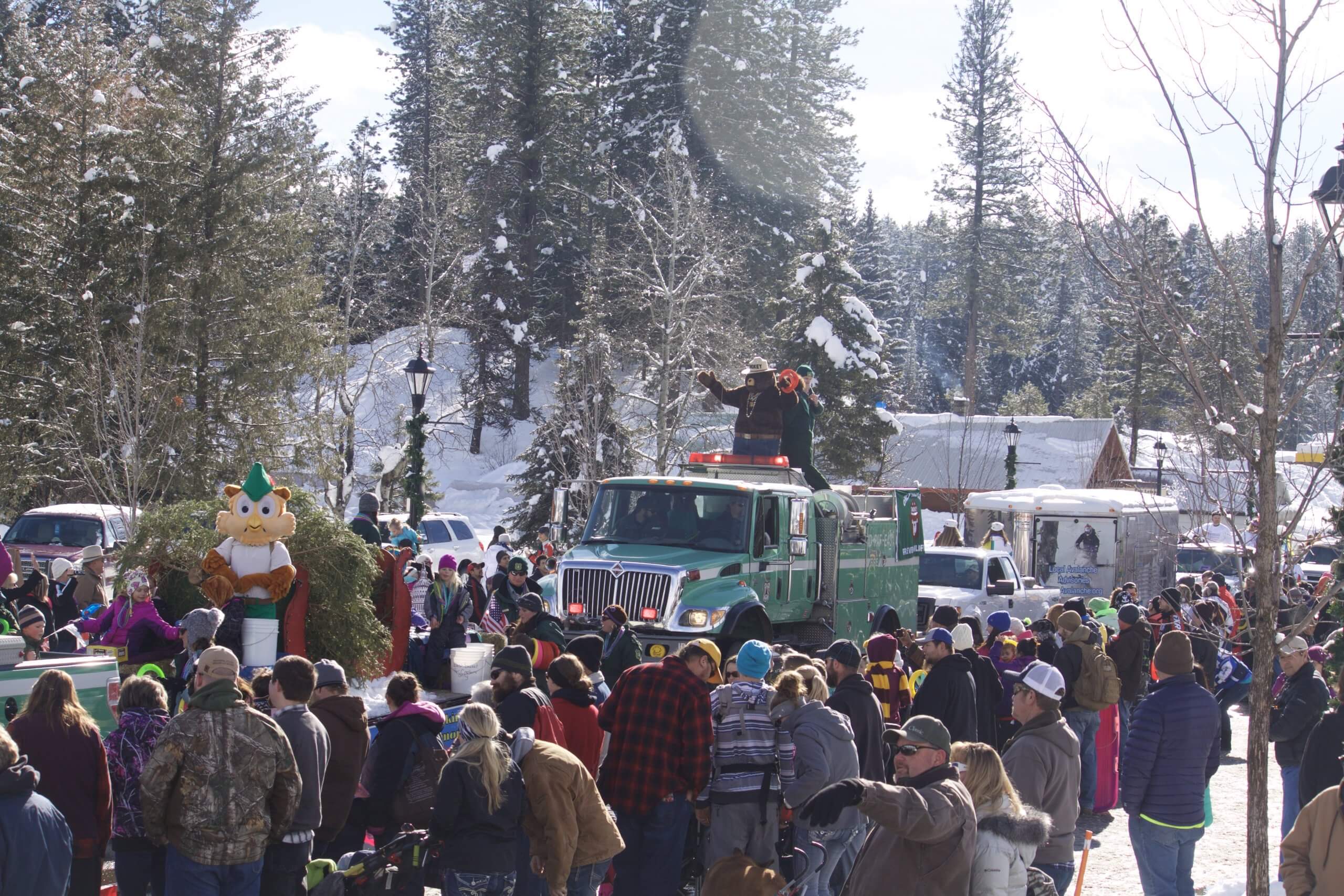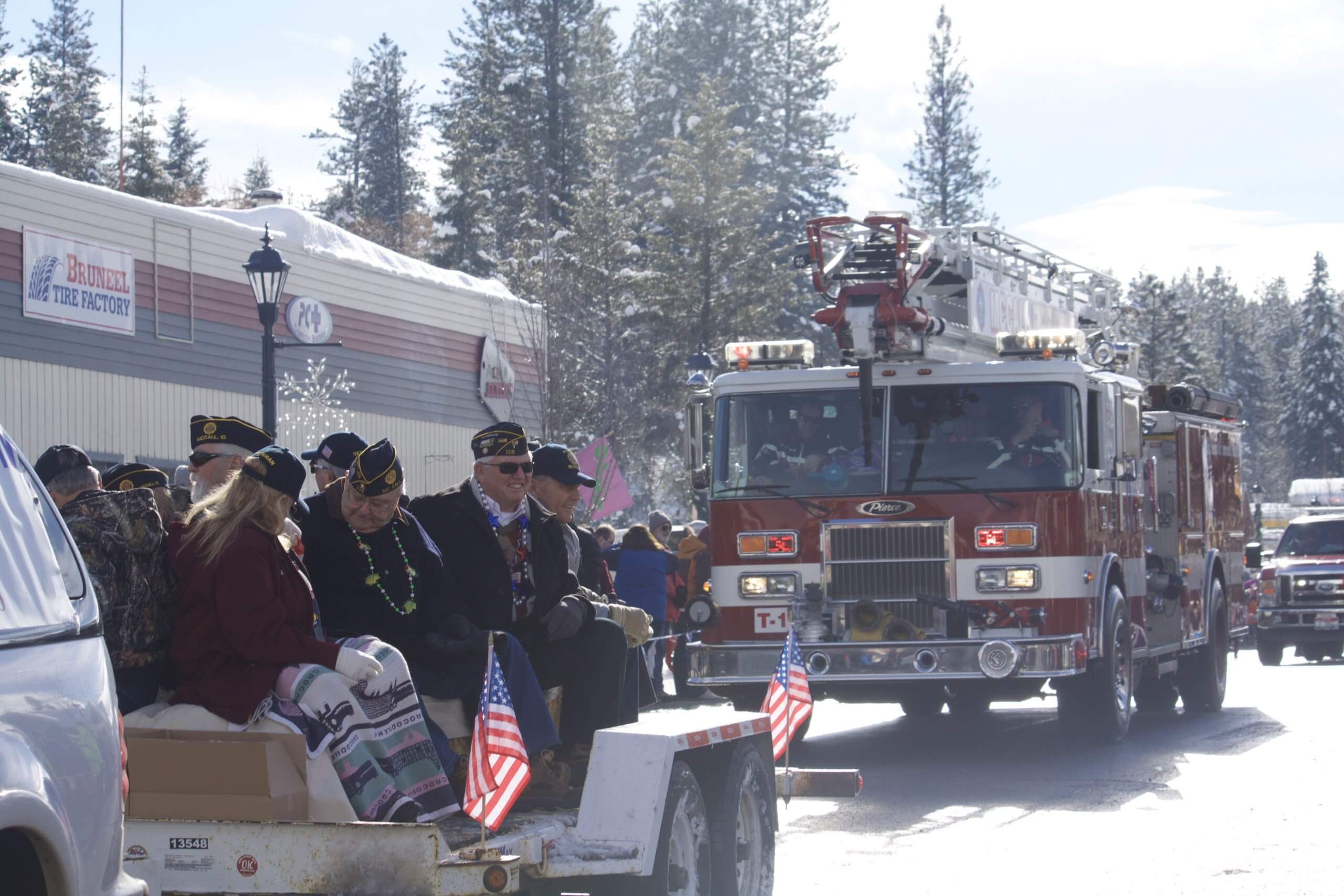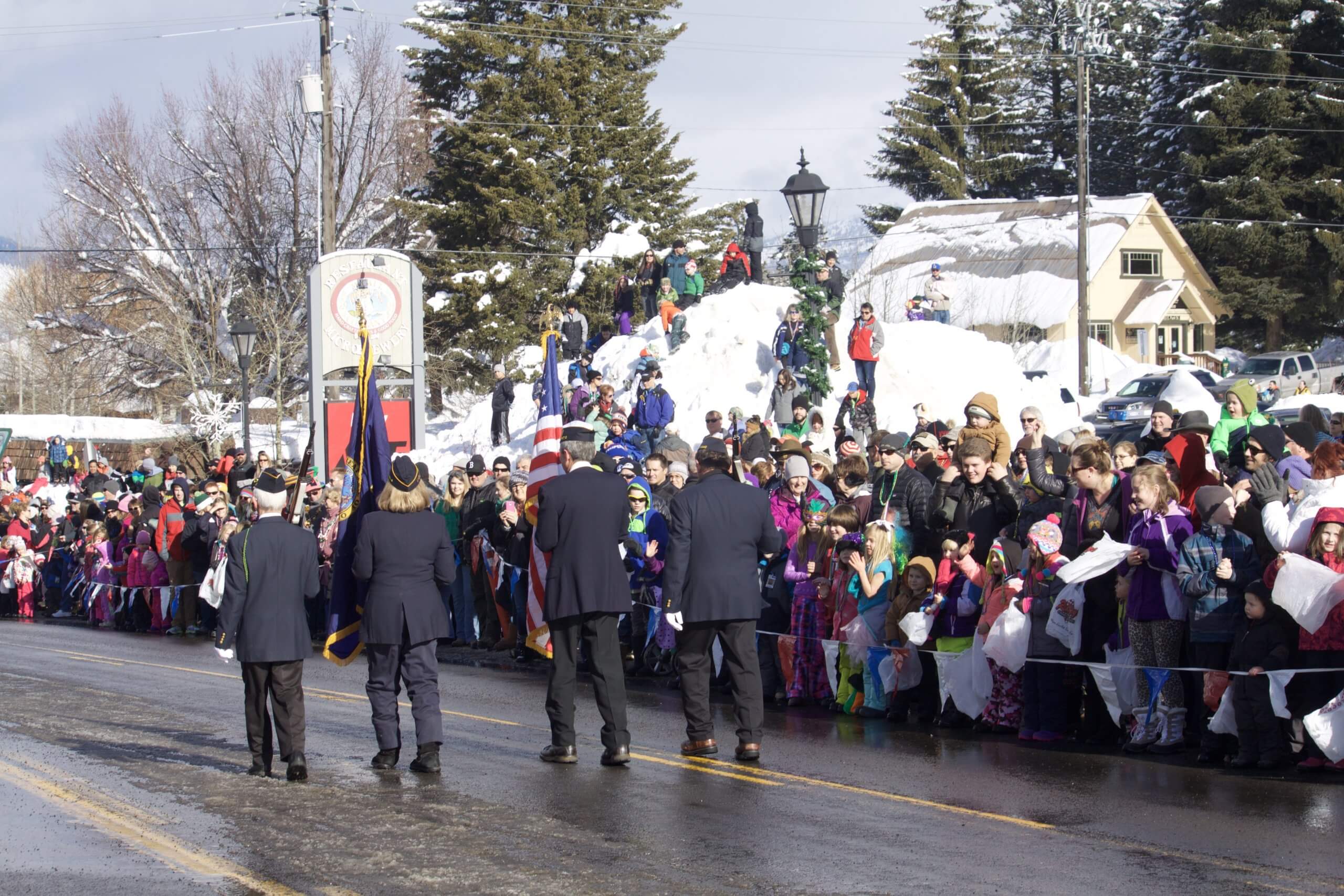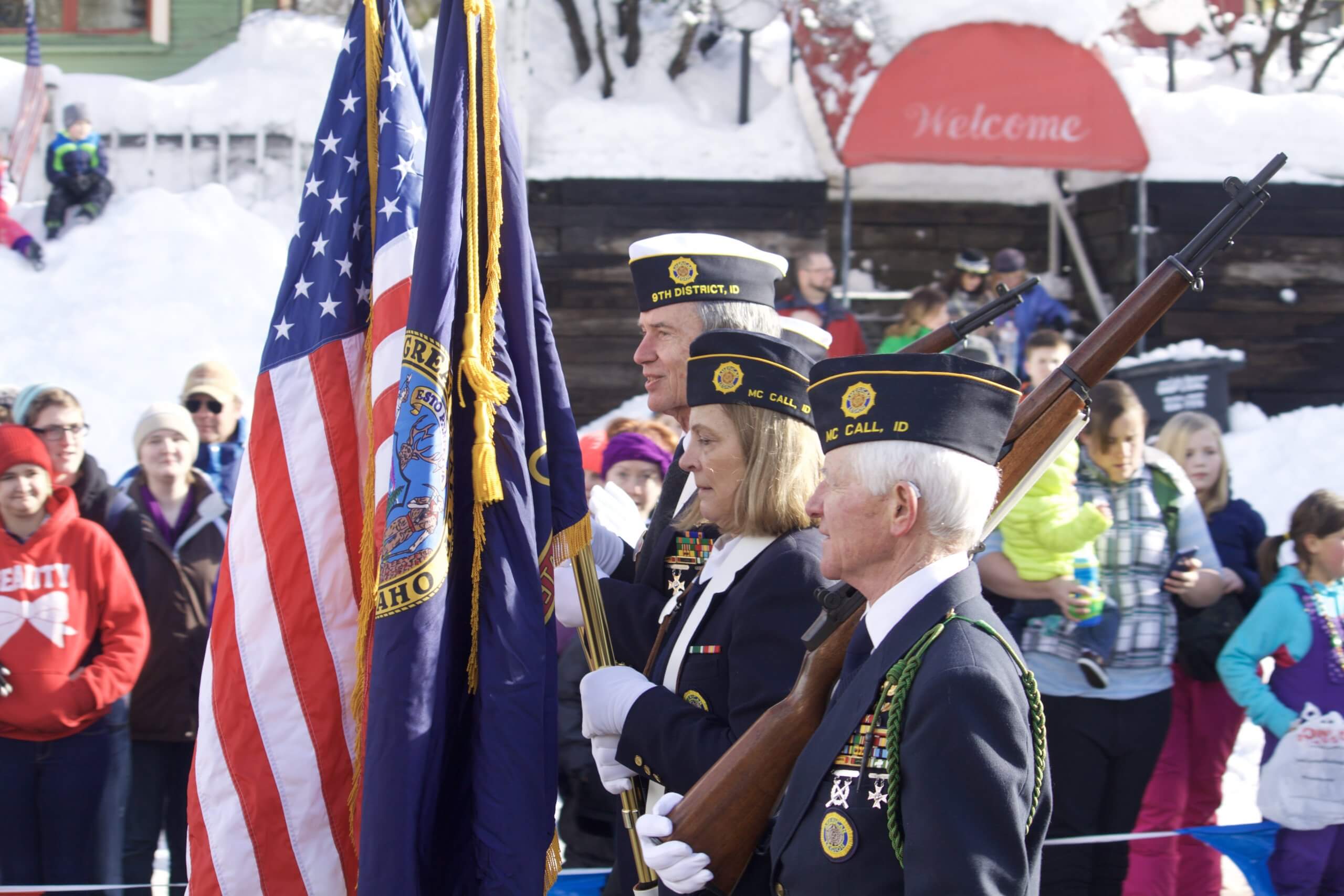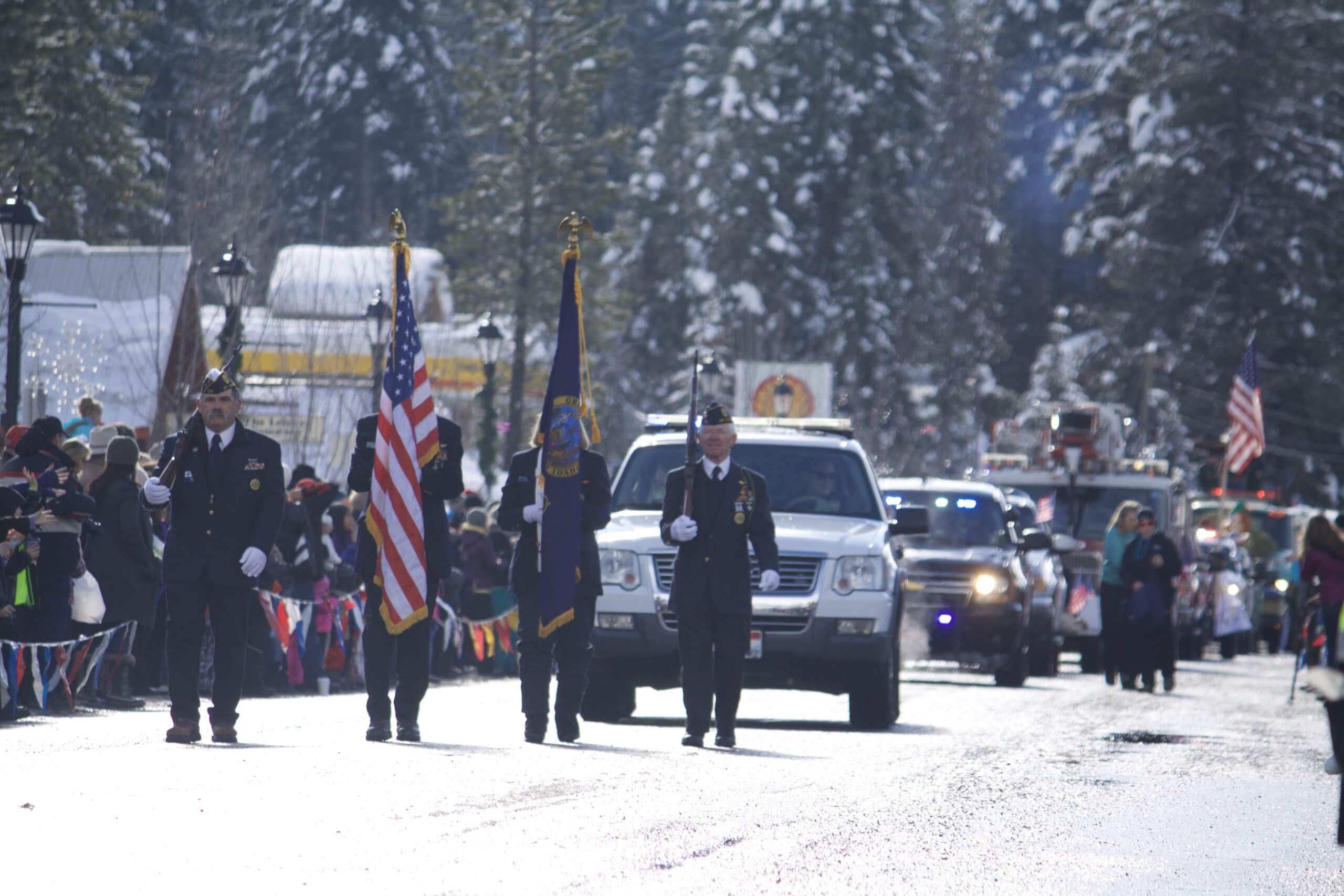 The parade was filled with colorful floats and local celebrities – the McCall Mayor made an appearance alongside Miss Idaho and the Boise State University hockey team.
After the parade, we ran over to Alpine Village where the Sharlie Plunge was underway, it is an event benefiting MYST and the Yellow Couch – two programs that support McCall's youth. We had a lot of fun watching fearless participants dressed in crazy costumes dive into an ice-cold pool!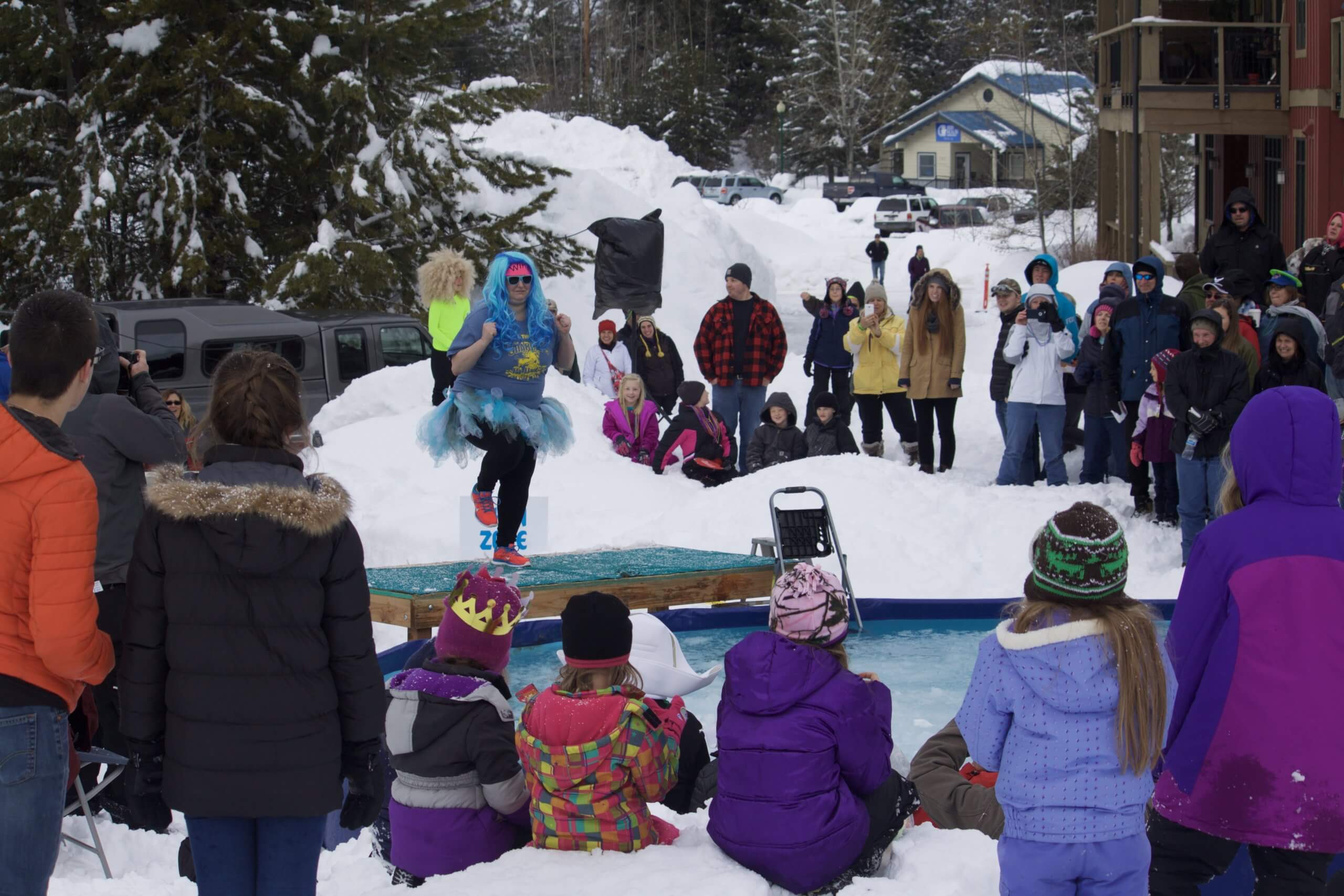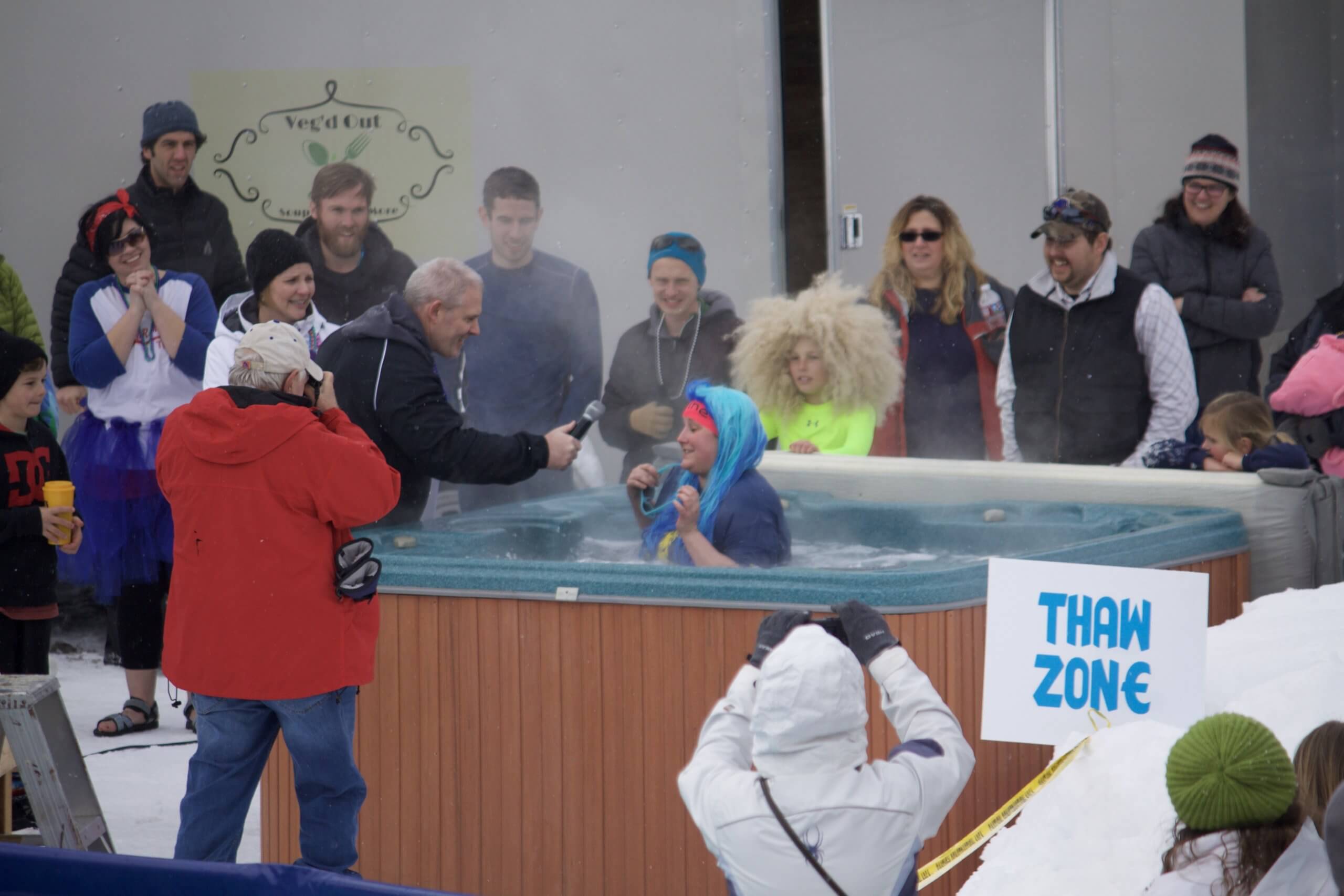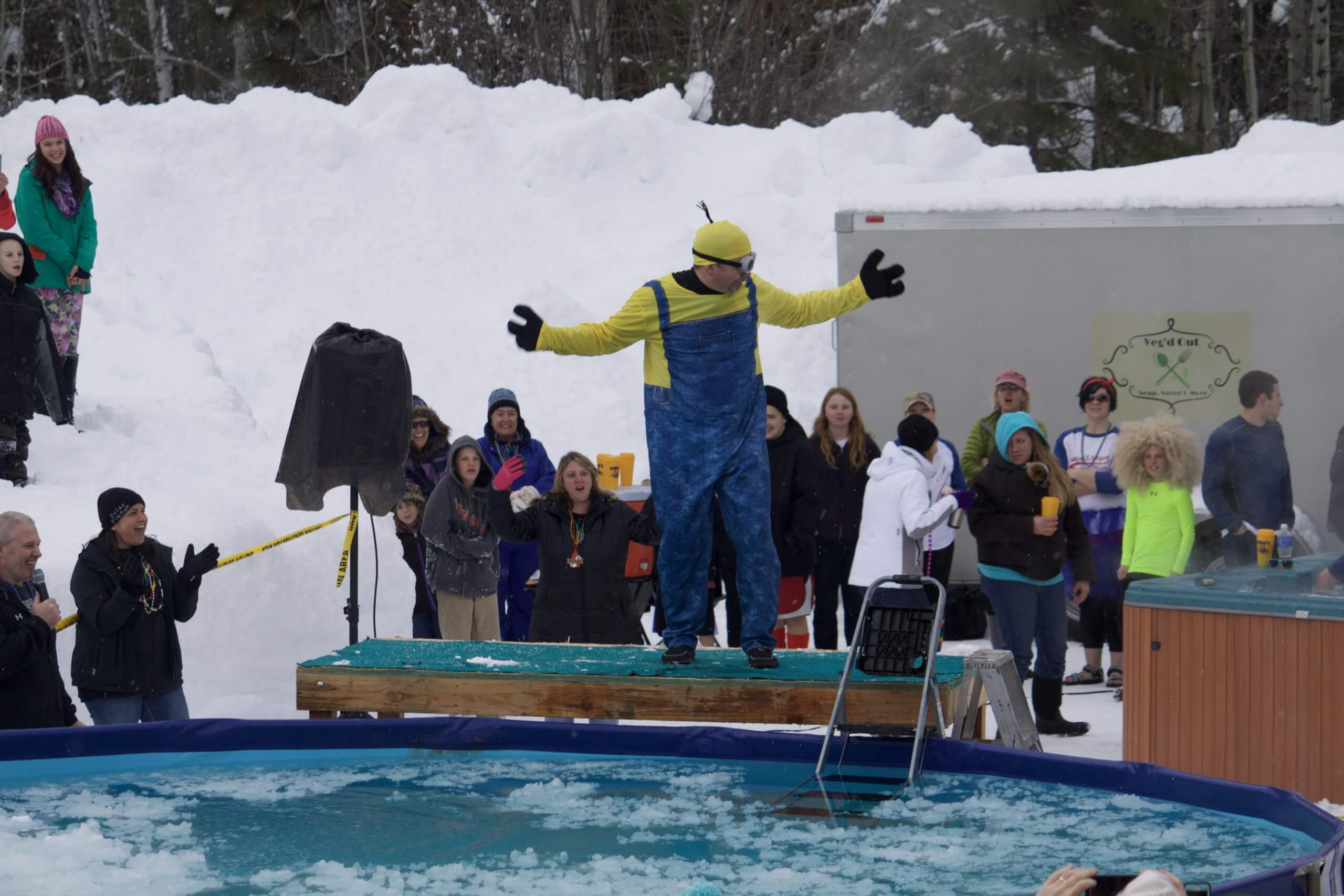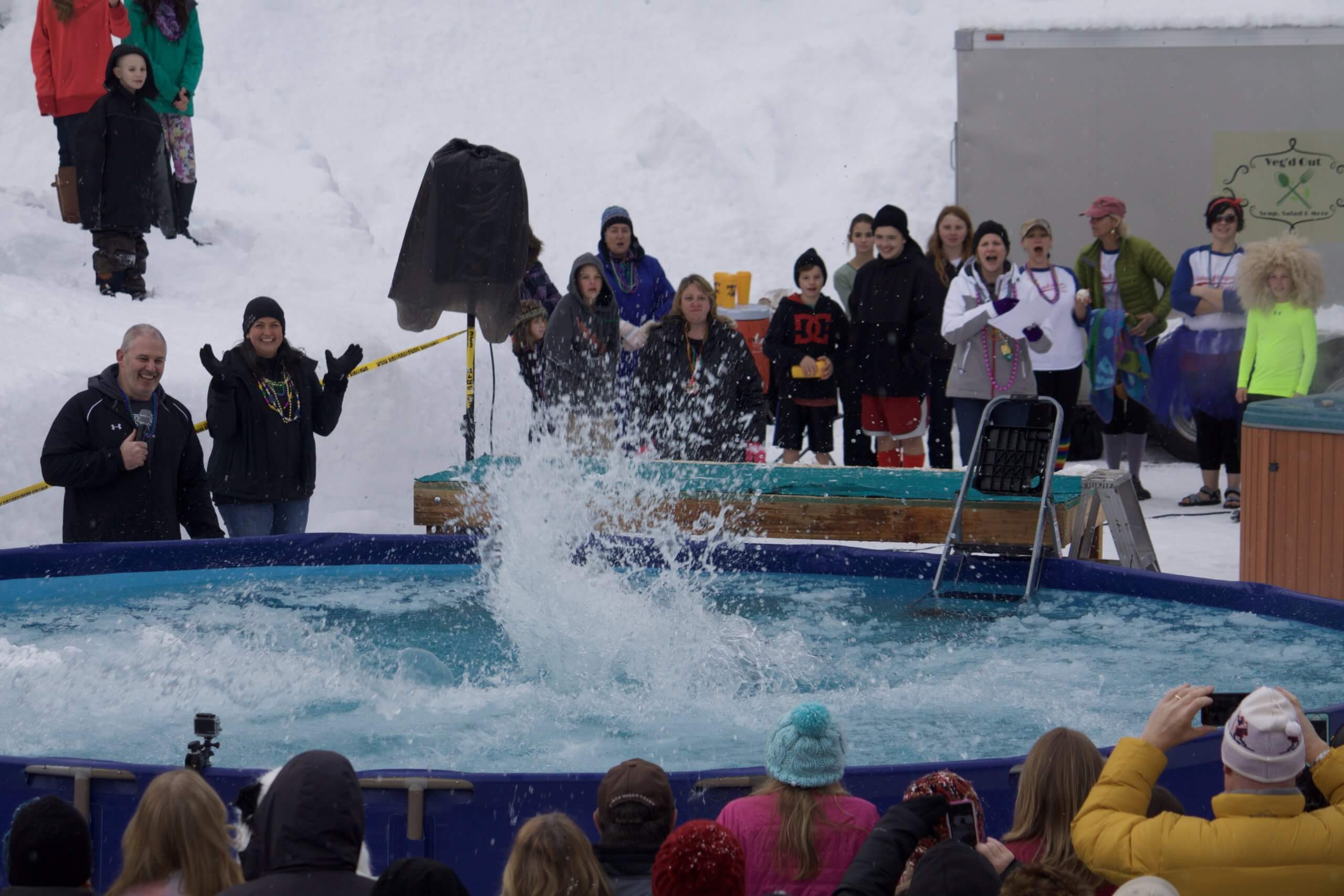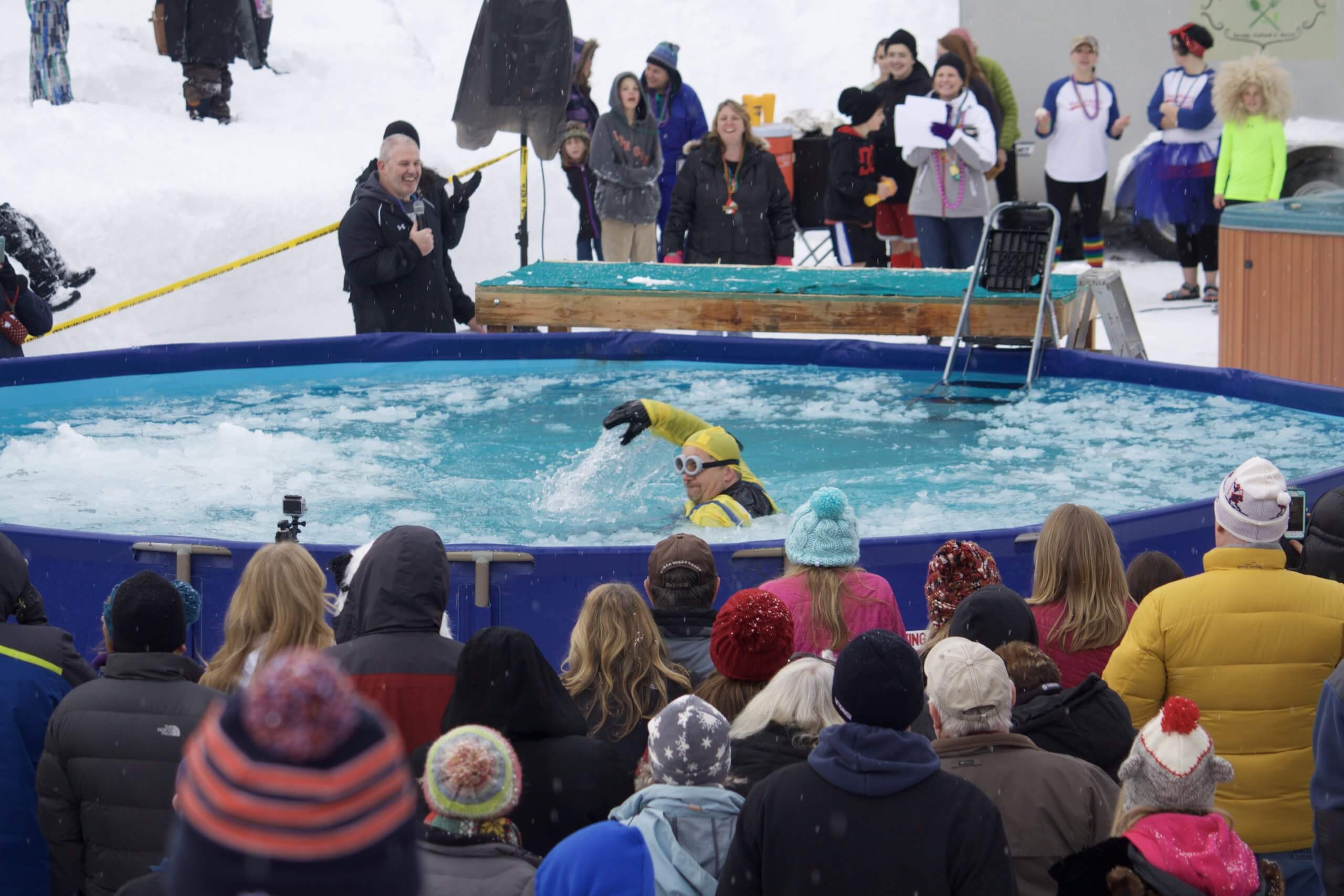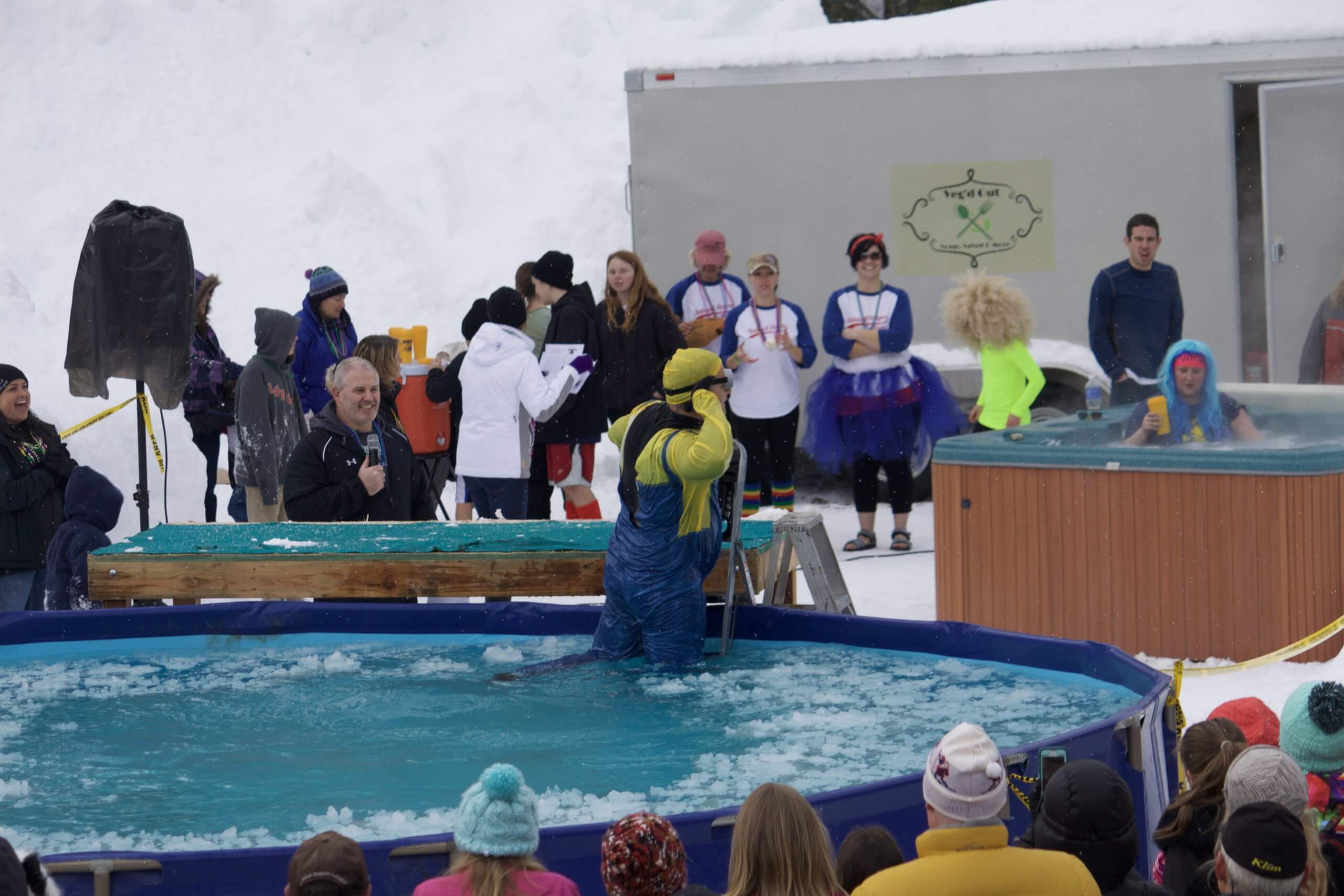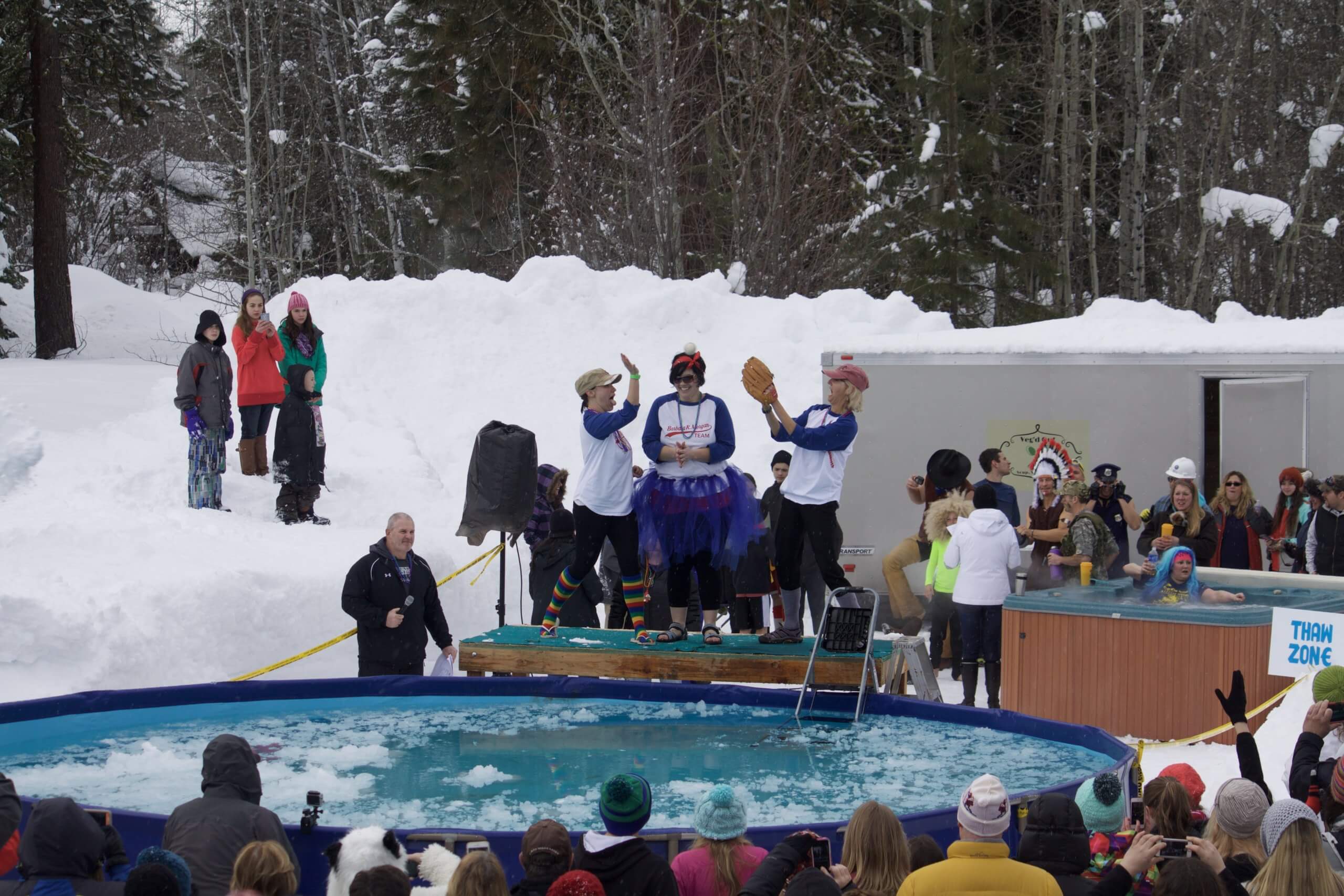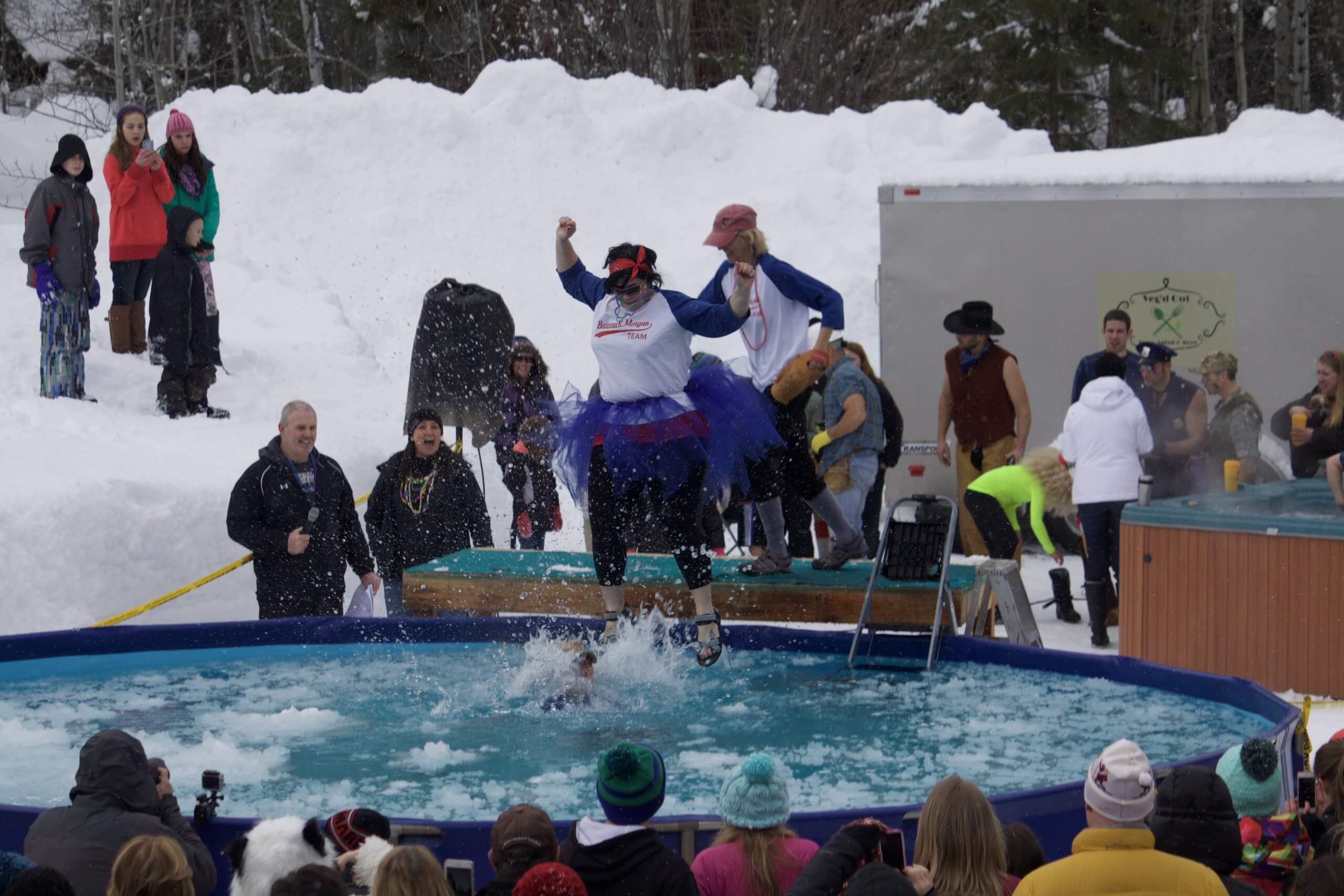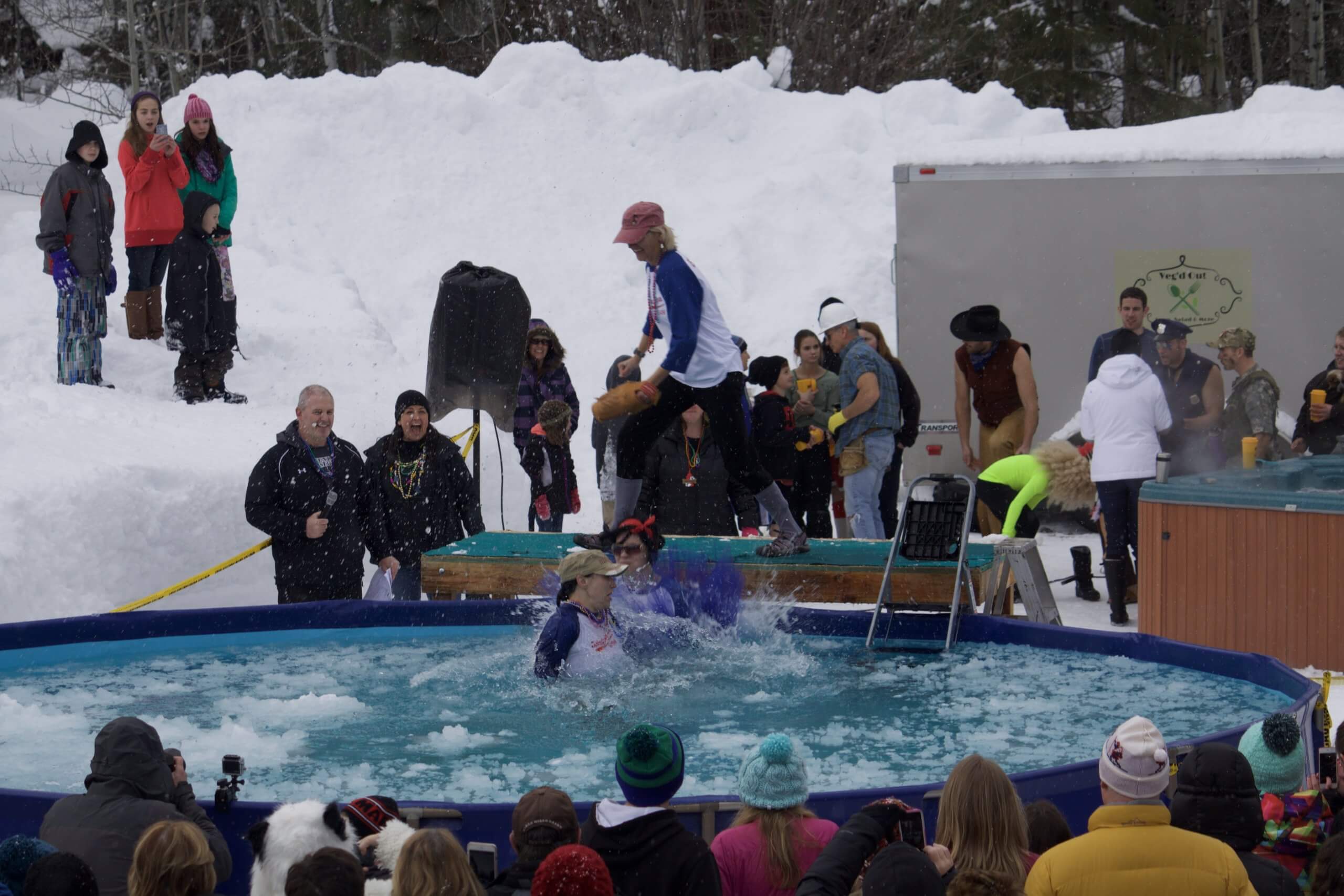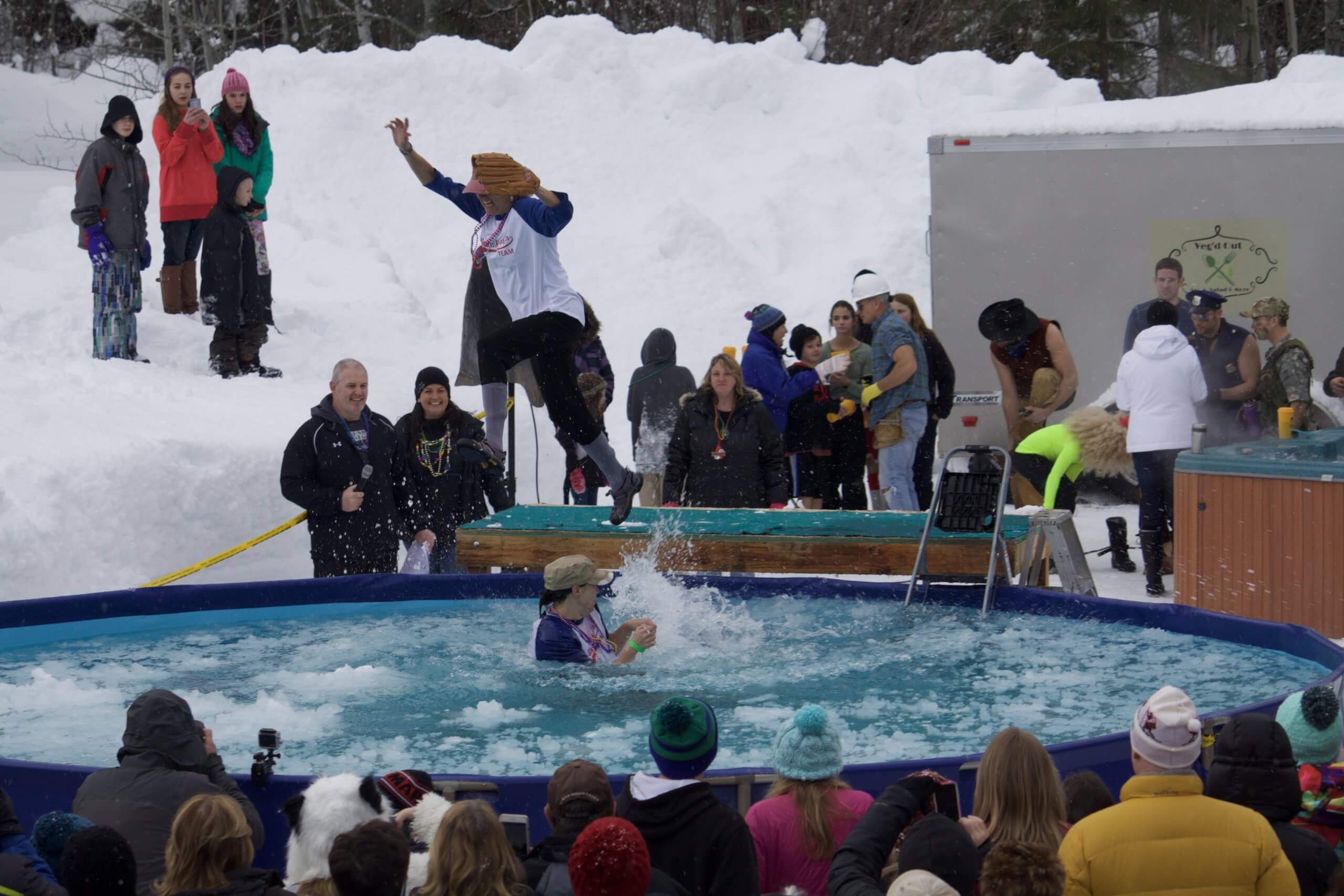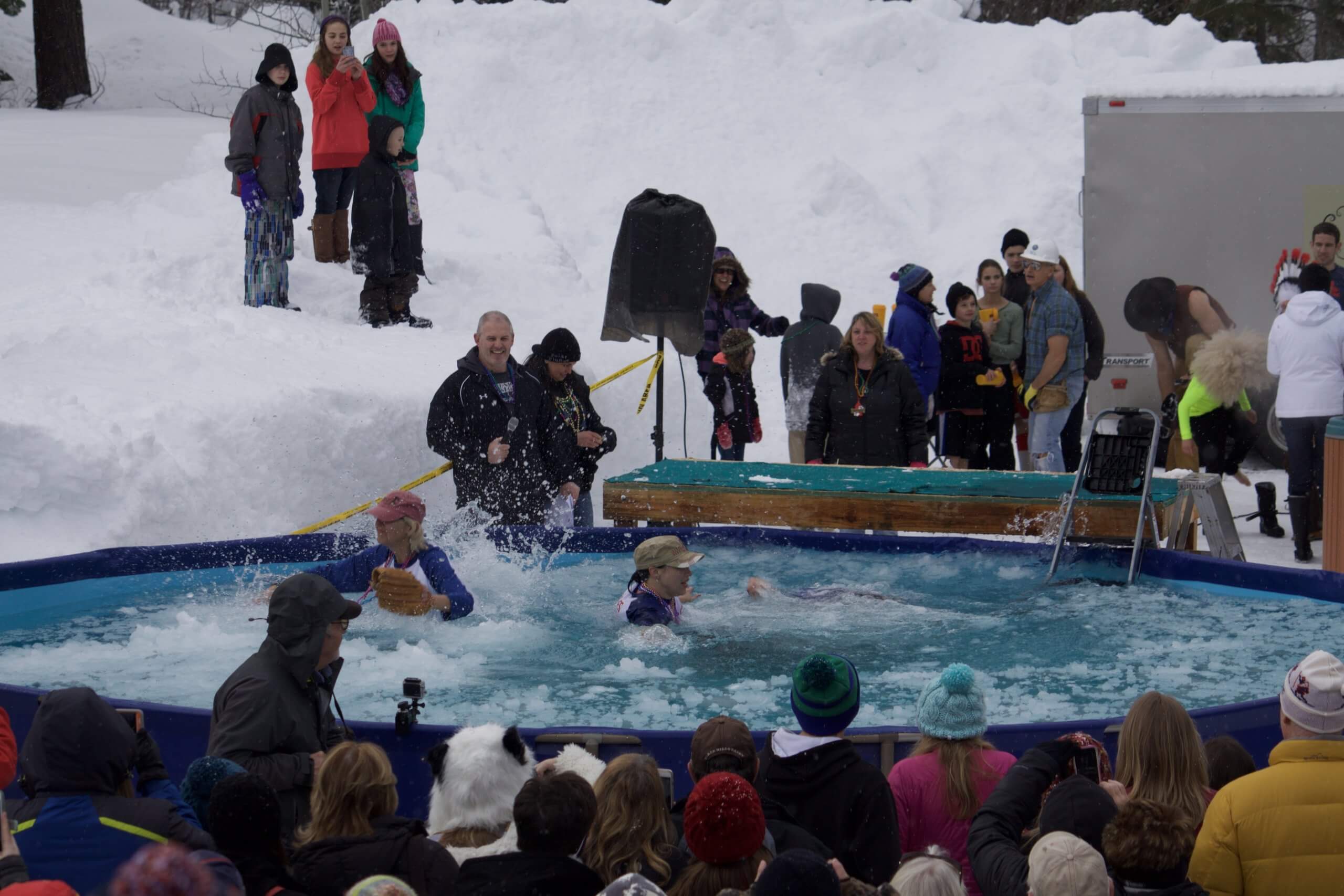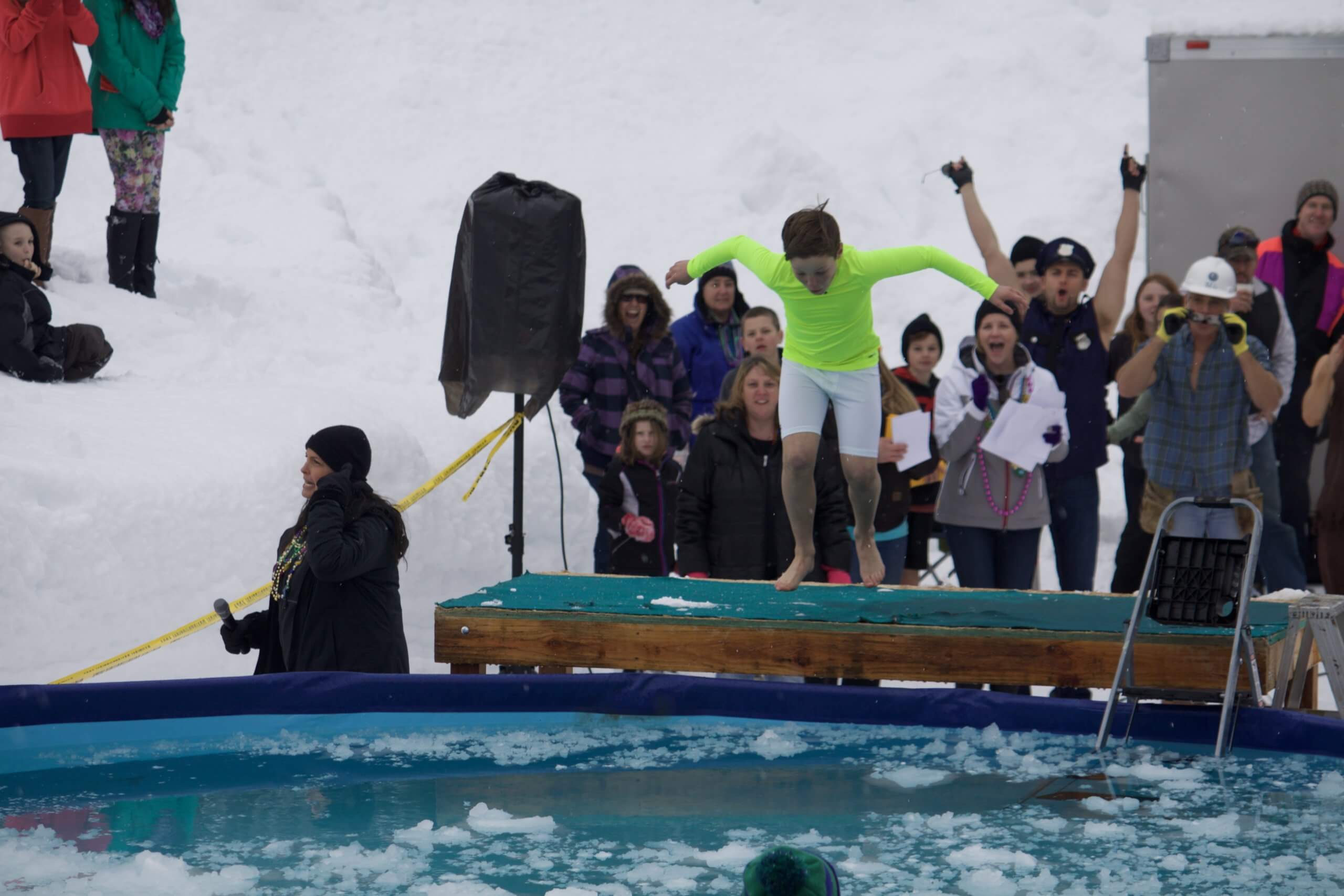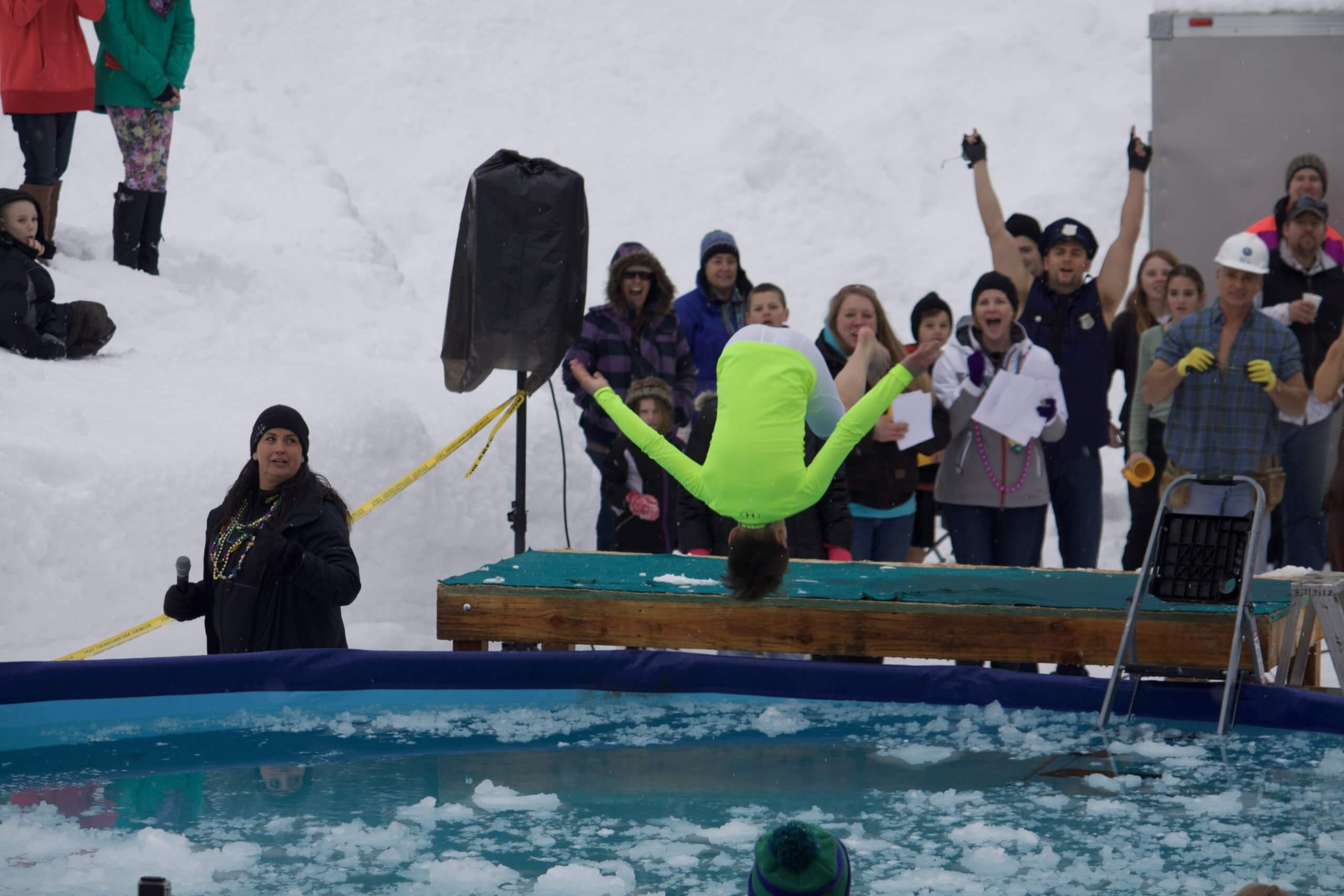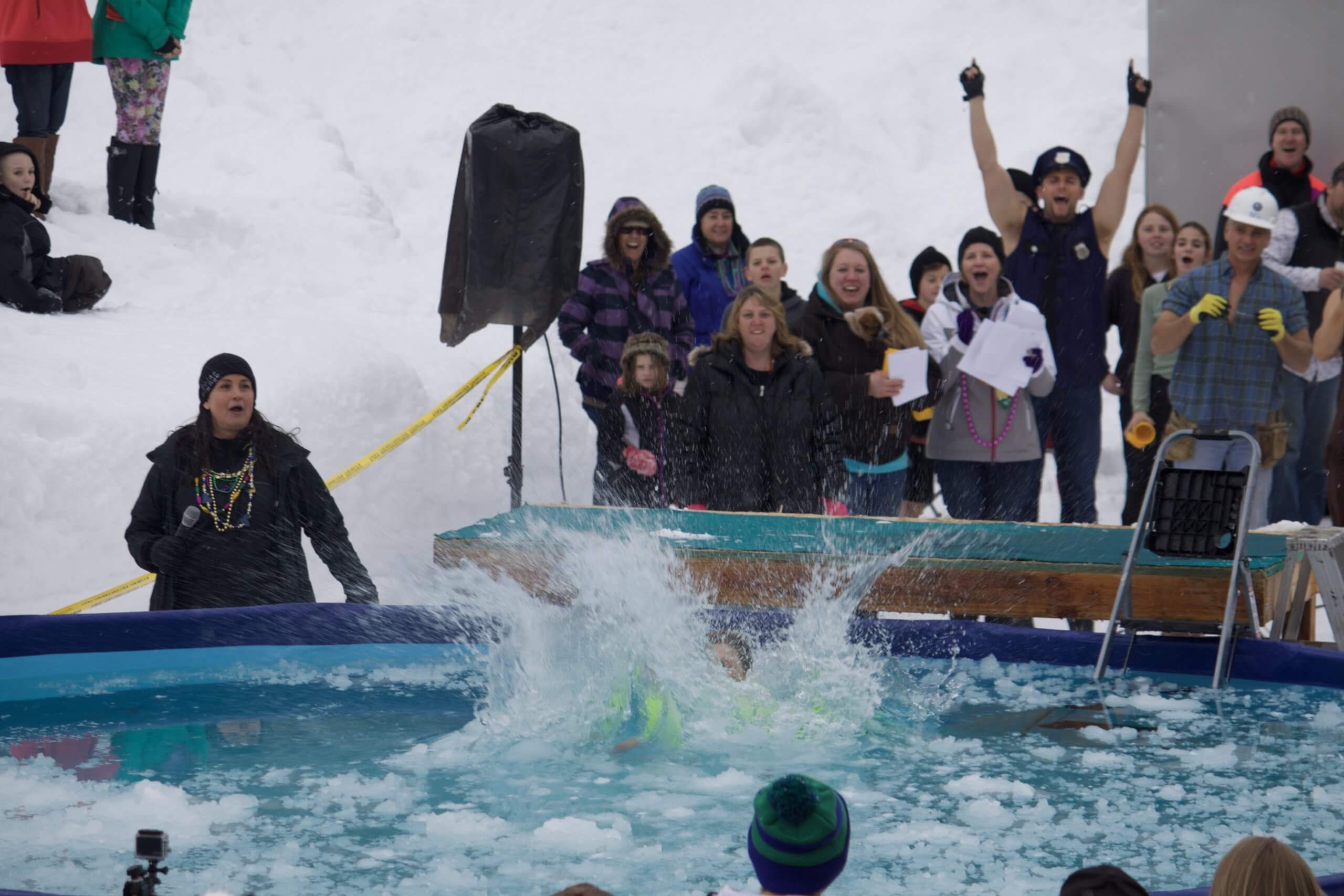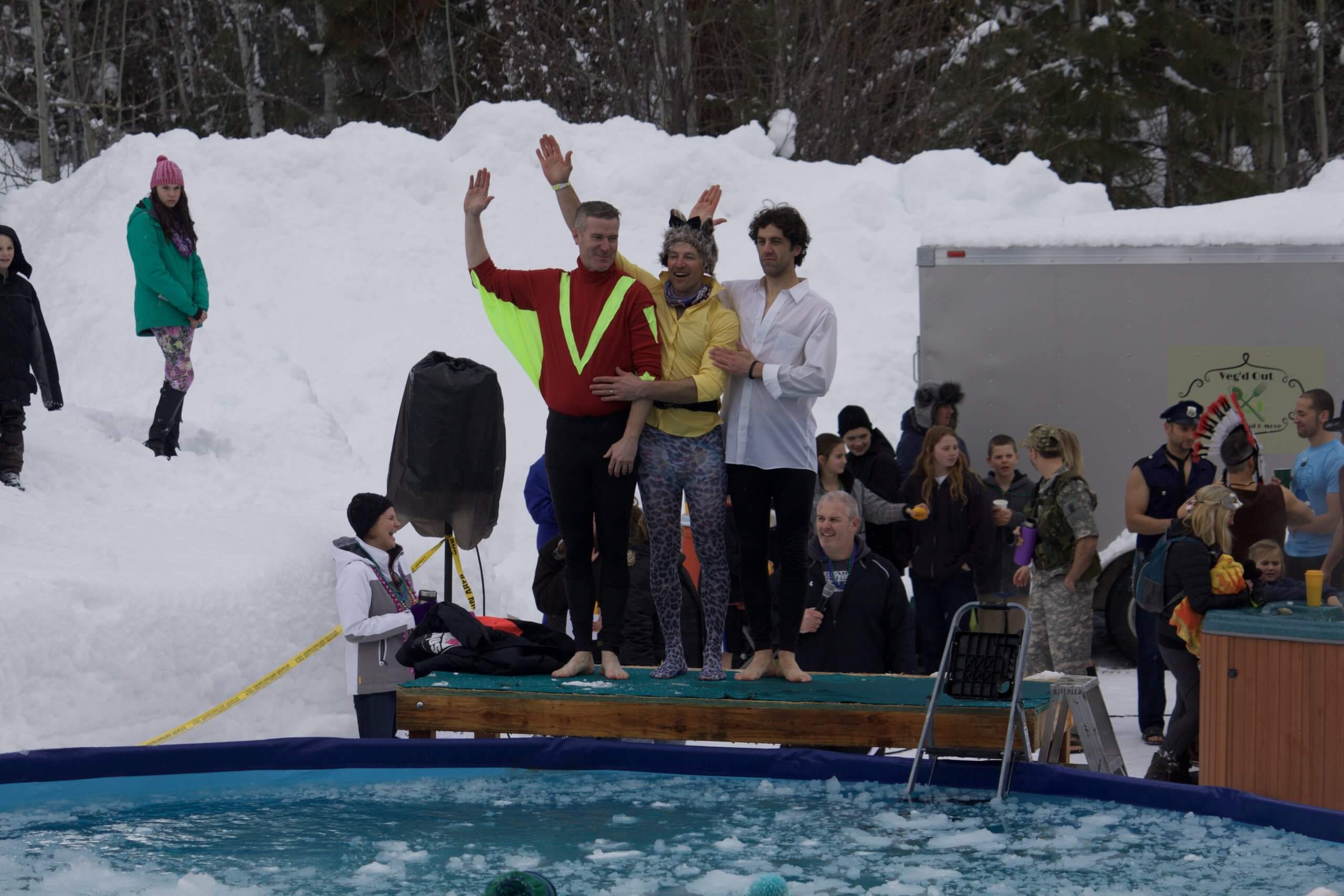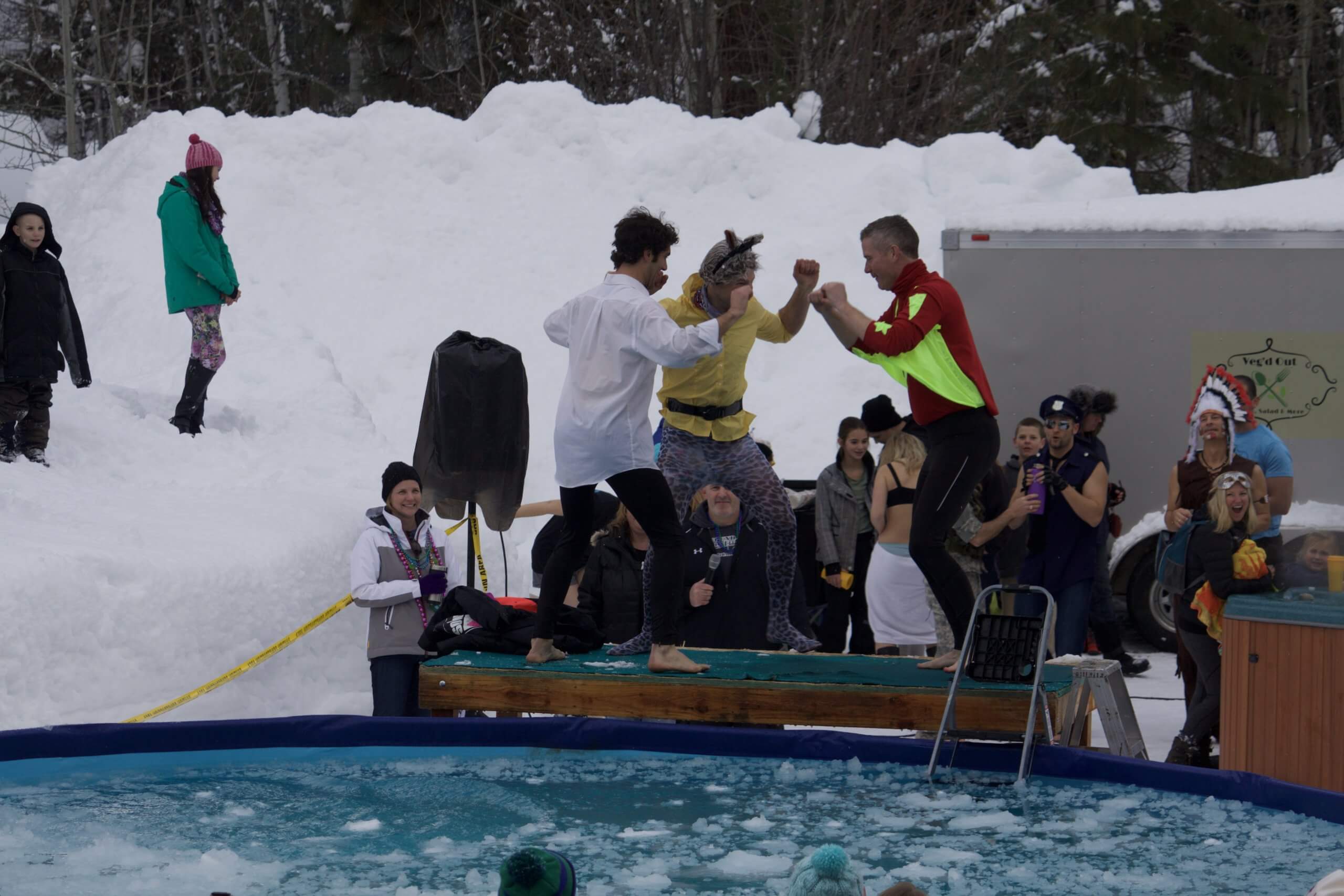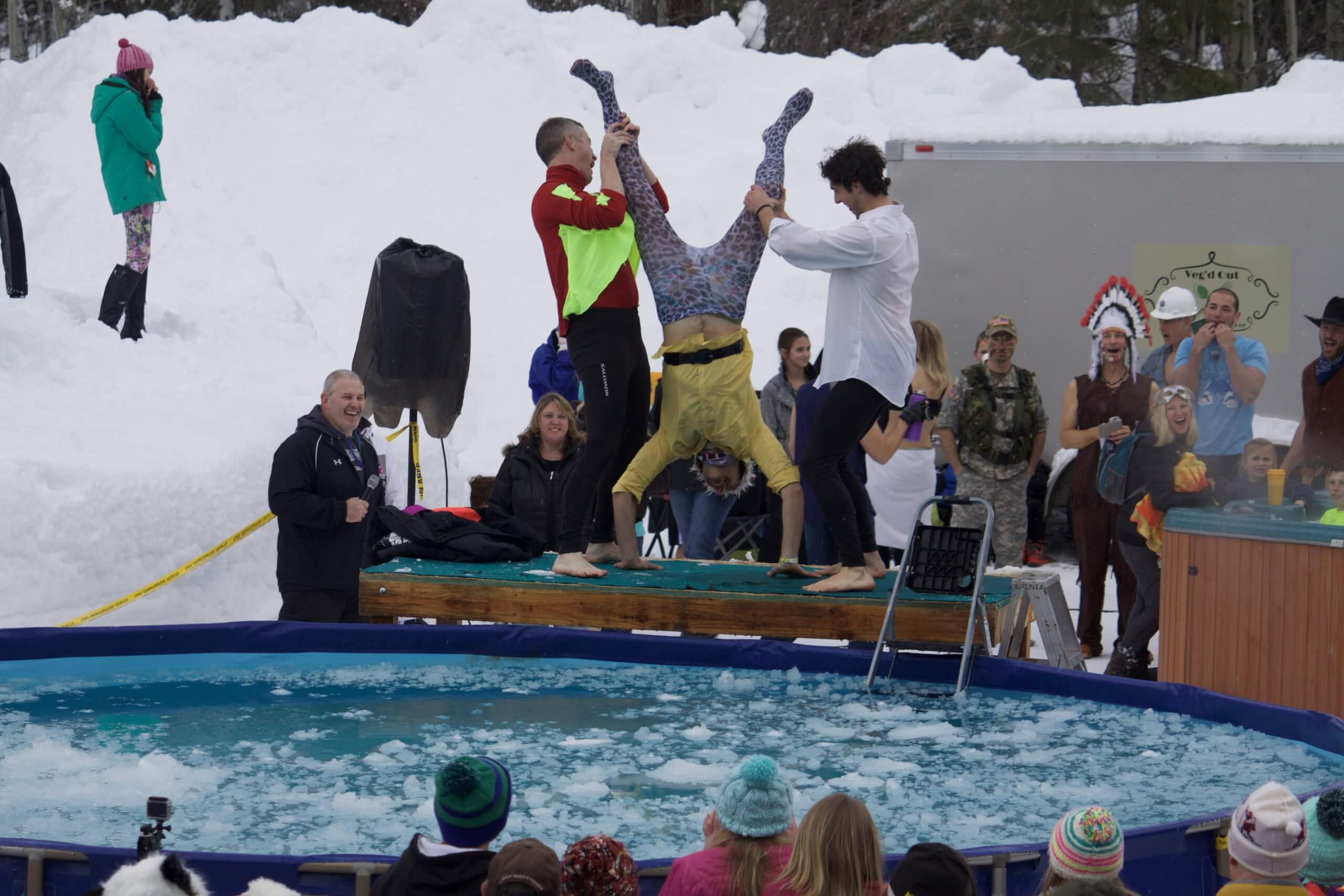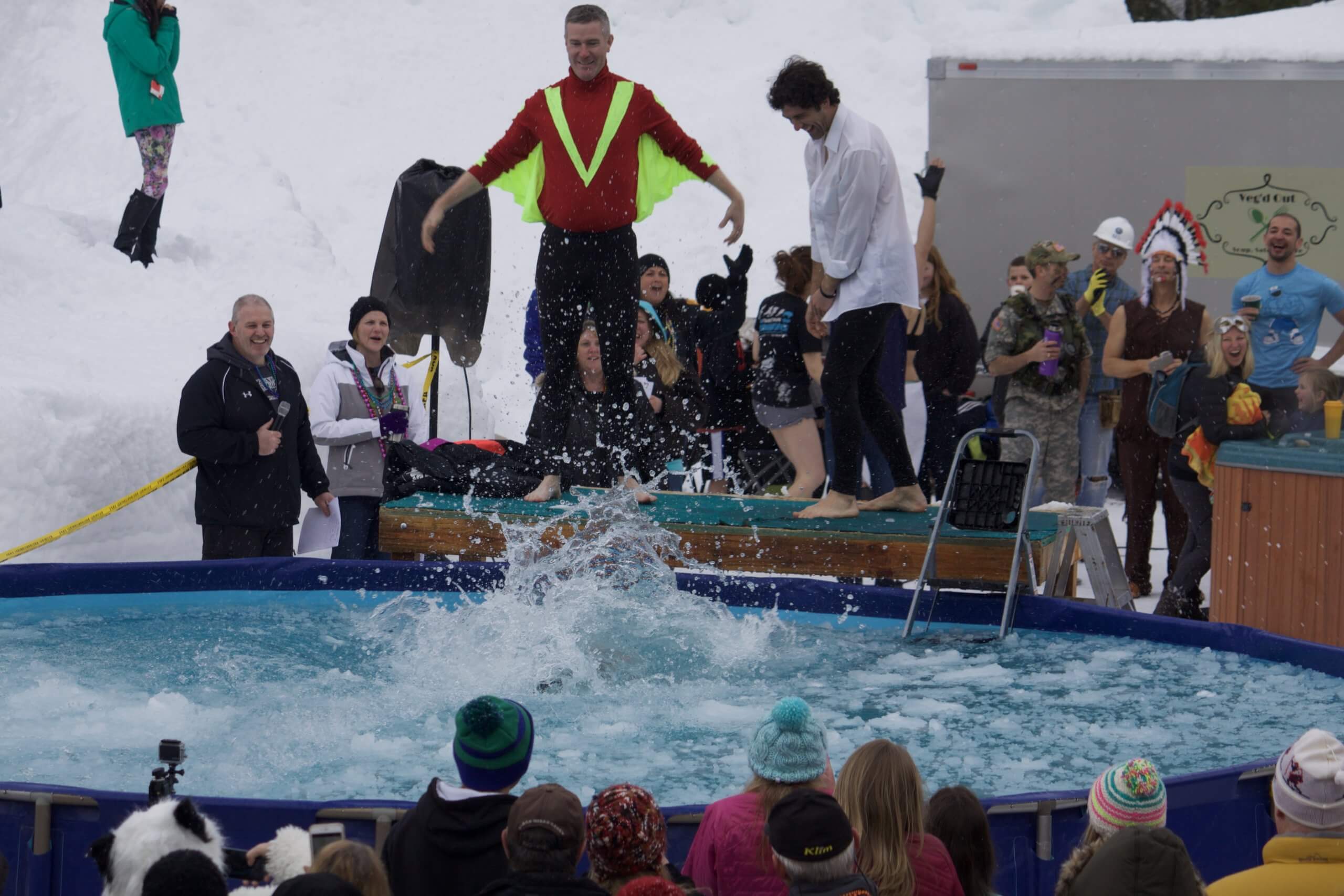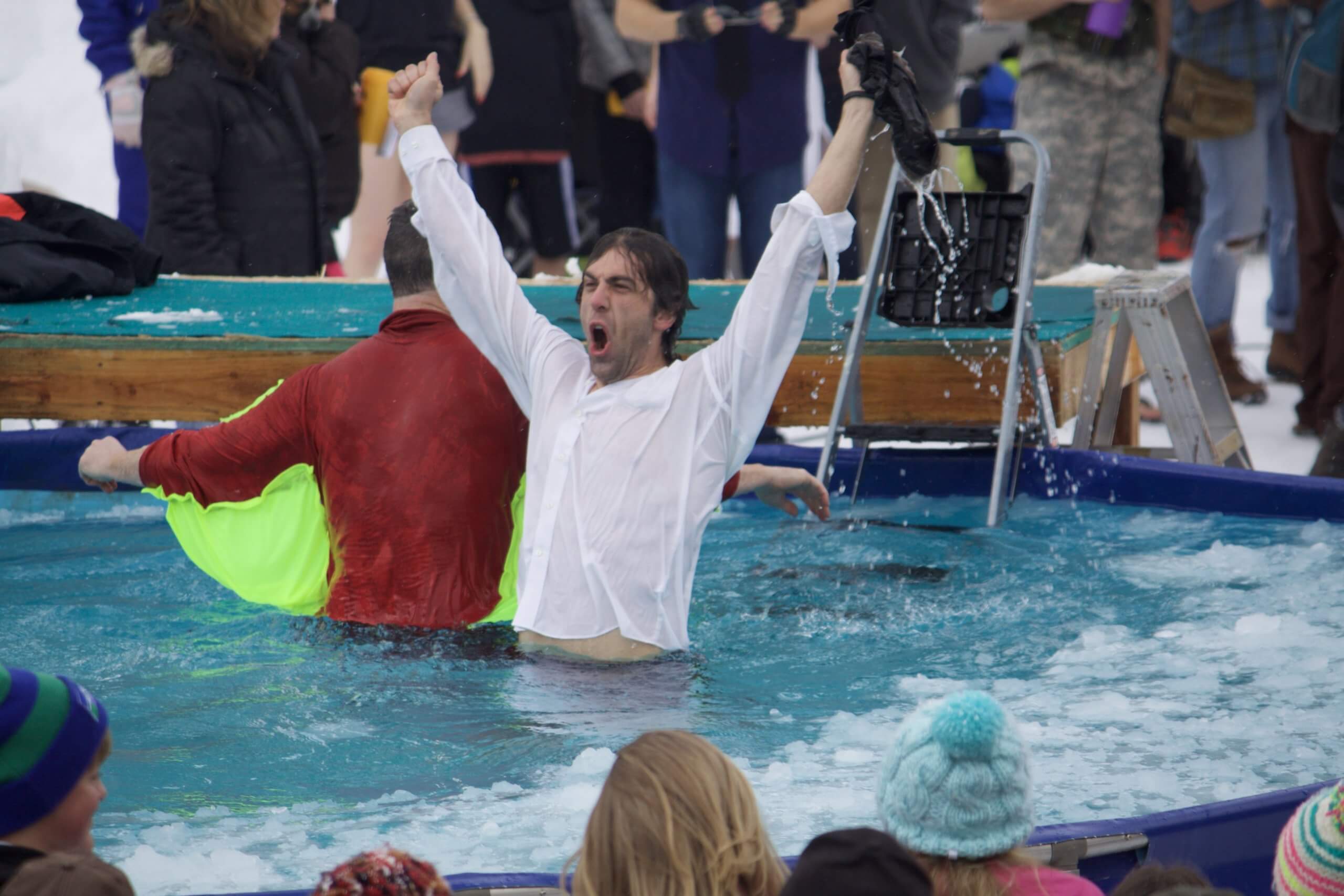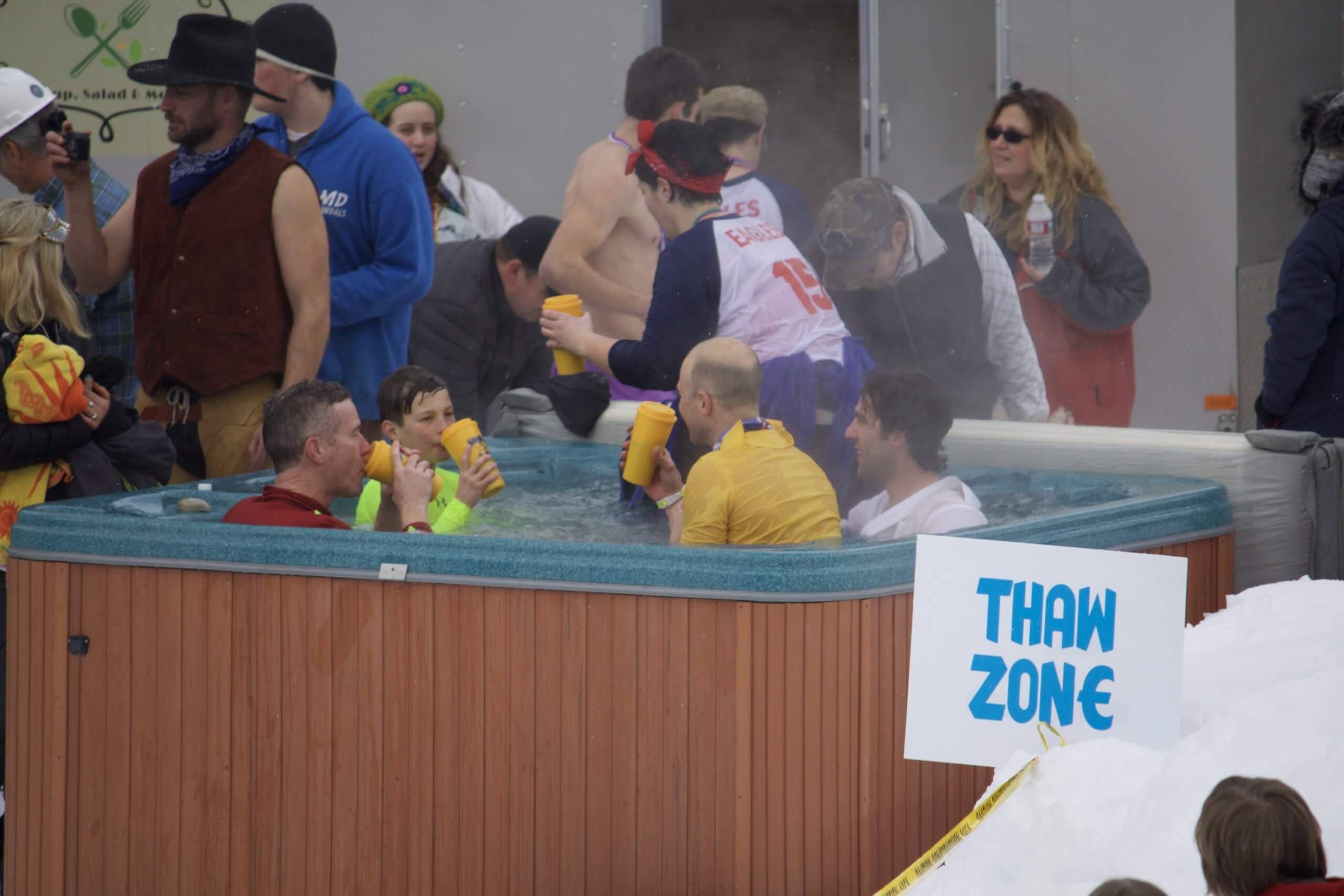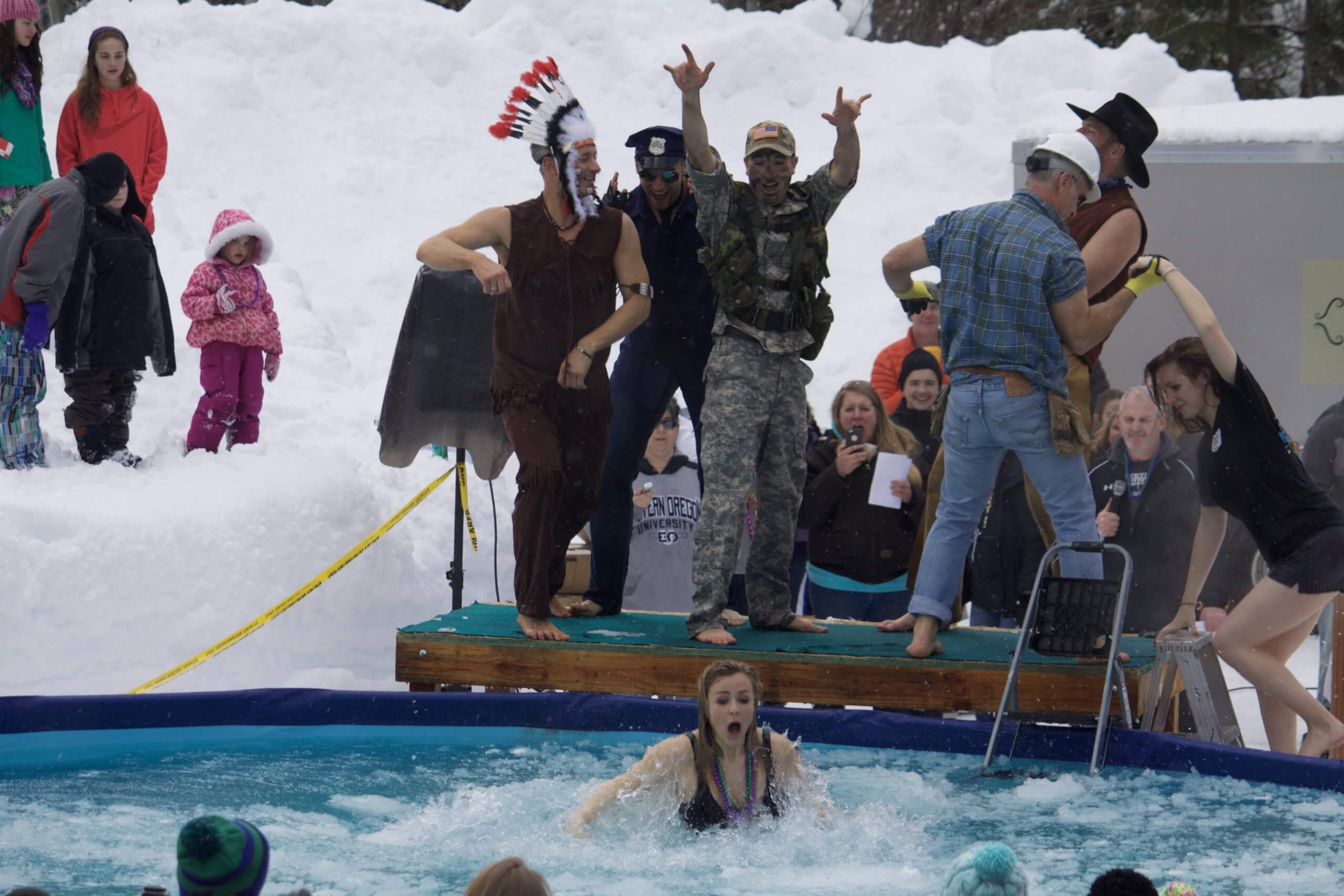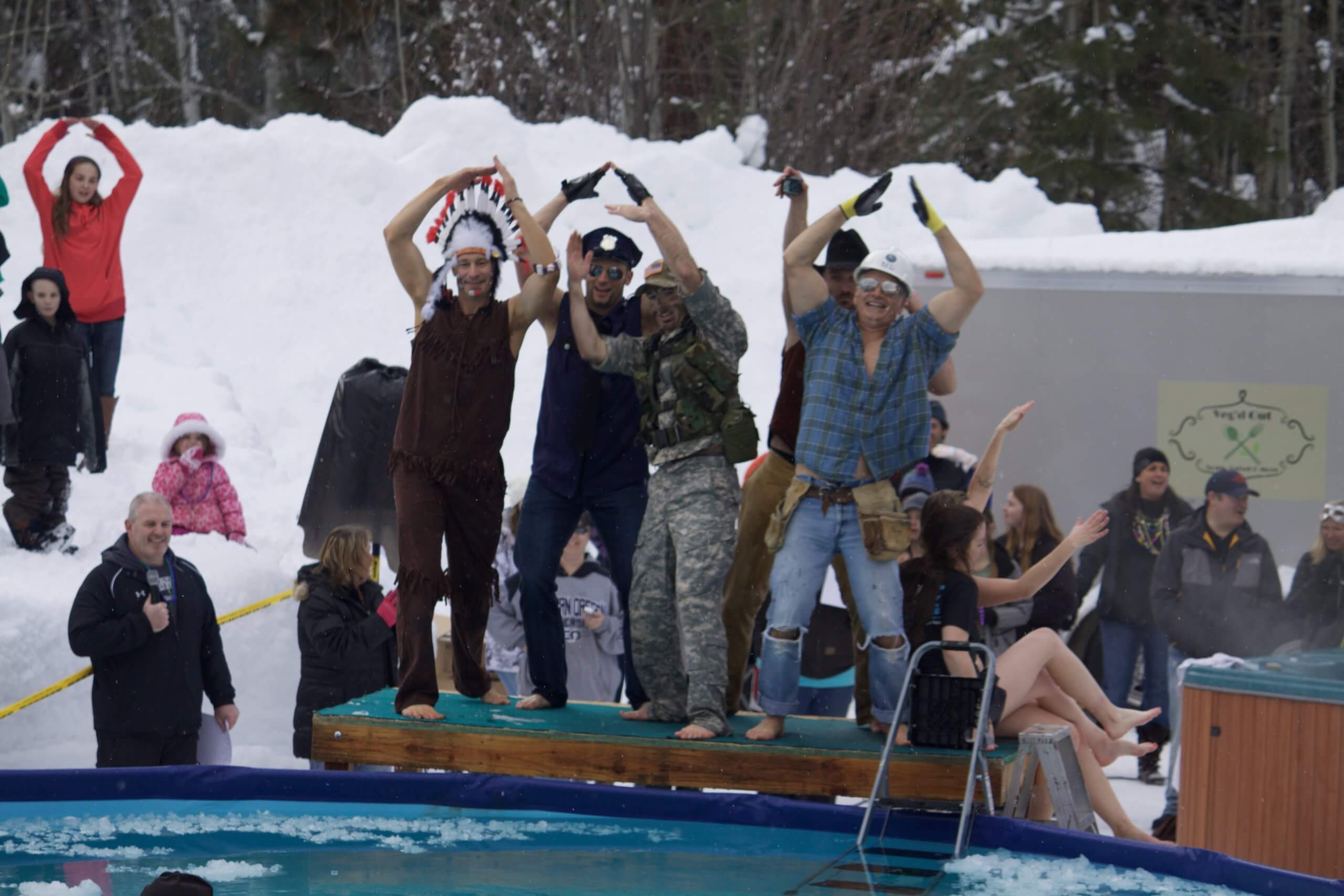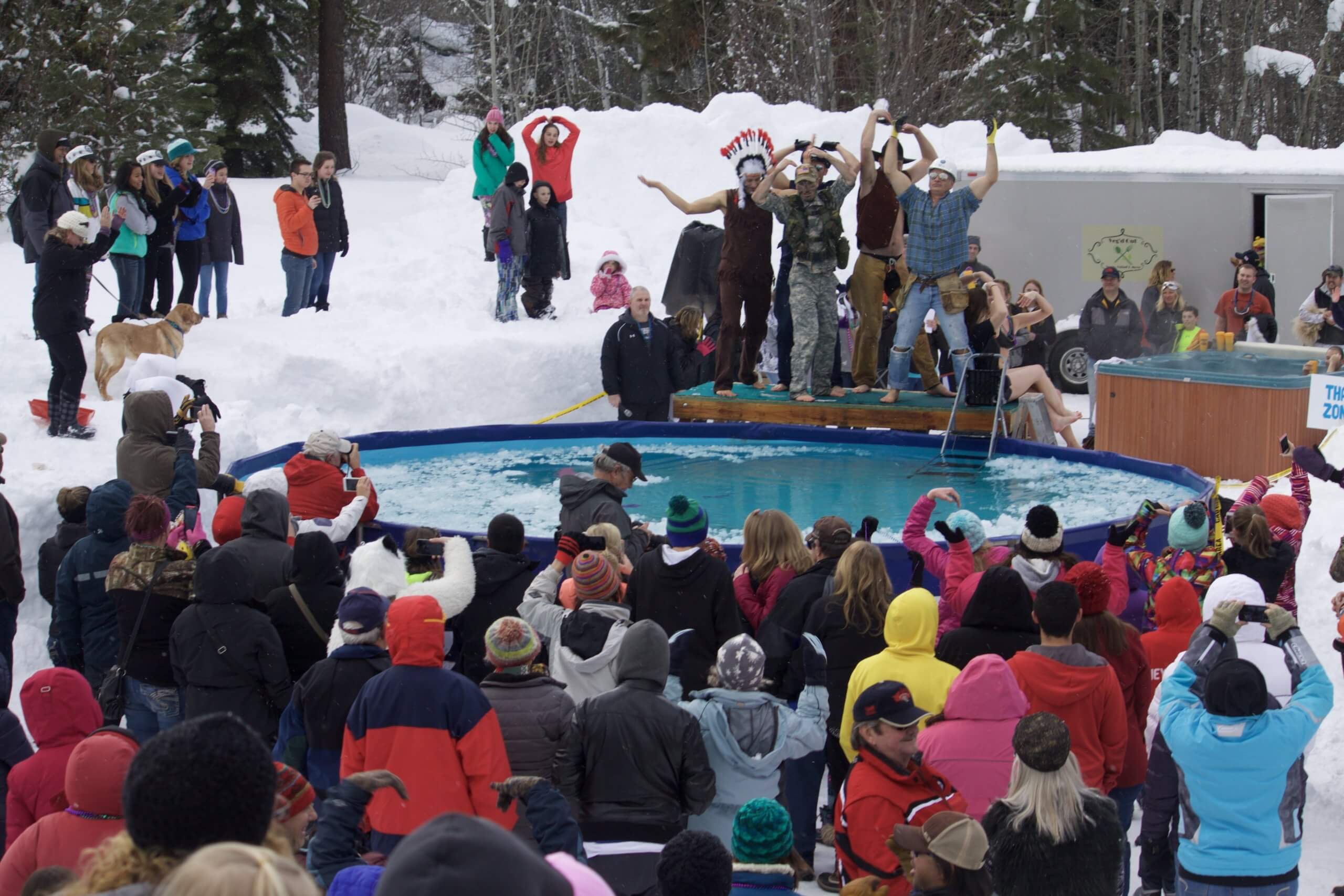 When Sharlie's Plunge came to a close we decided to call it a day. Eight hours exploring is tiring stuff! We headed back to the cabin for a home cooked meal, sat around the fire, and rested our weary feet.
Day 3:
The third day in McCall was easily the best weather we had all weekend long. The sun was out and there were few clouds surrounding Payette Lake.
There was one event I knew I had to see during my trip to the McCall Winter Carnival, and that was the Monster Dog Pull.
The McPaws Monster Dog Pull was intense. Different breeds of dogs raced on a short track while pulling a weighted sled. Dogs competed in different weight classes hoping to be crowned as top dog. Anyone could enter their dog into the event. No experience is necessary, and all equipment is provided – a tiny Chihuahua even competed!
When the McPaws Monster Dog Pull was over, we grabbed burgers, fries, and milkshakes from the famous My Father's Place and took a drive through Ponderosa State Park.
We stayed in our car for most of the backwoods excursion because it was snowing pretty heavily and we didn't pack snowshoes.
The park was stunning. There were at least 4 feet of snow and people were trekking in and out of the forest on snowshoes and nordic skis. Definitely a must-try for next time!
We drove out of the park around noon and decided to head home. We left McCall as the snow fell with coffee and licorice in hand (our go-to road trip snack). It had snowed all night, which made the surrounding valley and mountain tops glisten in the afternoon sun.
This trip was one for the books – I will be back soon, McCall, I believe a snowmobiling trip is in order.
Trip Tips
Be sure to stop in and grab a bite to eat at Salmon River Brewery. Order the Udaho Gold Ale with the Black-N-Blue Elk Burger. It is hands-down one of the most savory burgers you'll ever sink your teeth into.
There are dozens of events going on all day long during the McCall Winter Carnival. Make sure you check out the McCall Chamber of Commerce's Event Schedule ahead of time so you can plan your days and make sure you don't miss out on any of the fun!
If you're looking to get off the beaten path and explore some backcountry, check out the available rentals in the area by clicking here – for all your snowmobile, snowshoe, and skiing needs.
Lodging for Every Budget
McCall has a wide range of lodging options suitable for any budget. Stay in a featured hotel, rent a room at the famous Shore Lodge, or get together with a group a friends and stay in a cabin on the outskirts of town. To view all of McCall's budget-friendly hotel and lodging options click here.
Published on February 11, 2016