Sarah Rohrbach worked in partnership with Visit Idaho to create this Travel Tip.
The 68-mile long Thousand Springs Scenic Byway is the ideal way to explore southern Idaho and find waterfalls, wacky geology, and tasty treats along the way. Here are the stops you can't miss along this route.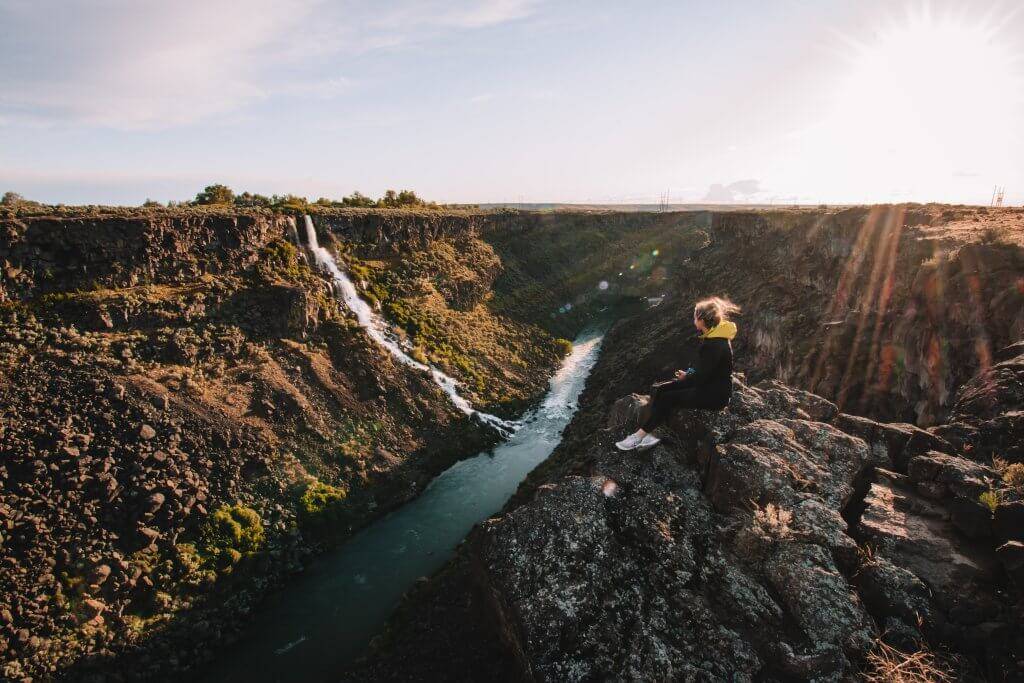 Directions
The Thousand Springs Scenic Byway begins at Interstate 84 near Bliss, and follows U.S. 30 through Twin Falls. At Idaho 50, the drive then heads north on Idaho 50 to Interstate 84. A portion of the route also runs on U.S. 93 from Twin Falls north to I-84.
There are full services like lodging and gas stations in Bliss, Hagerman, Buhl, Kimberly, and Twin Falls. Without stops, this drive will take about 1 hour, 30 minutes. But you'll definitely want to make a few stops.
Hagerman
The first town you'll encounter on the Thousand Springs Scenic Byway is Hagerman. Hagerman is full of history, wildlife, and water access.
Make sure to visit the new Thousand Springs Visitor Center (17970 Highway 30, Hagerman, ID 83332). The center consolidates access to the six units of Thousand Springs State Park – Malad Gorge, Kelton Trail, Billingsley Creek, Ritter Island, Niagara Springs, and the Box Canyon Springs Nature Preserve. It also provides better access to the Hagerman Fossil Beds National Monument, bringing information and interpretation closer to the archaeological site.
Stay at Billingsley Creek Lodge where you'll enjoy cute cabins and a picture perfect creek flowing through the property. Billingsley Creek is also the headquarters for whitewater rafting excursions with Idaho Guide Service. If whitewater rafting isn't your speed, you can rent a SUP, kayak or canoe to explore the beautiful water around this area. There are tables and chairs all along the creek where you can simply kick back and relax.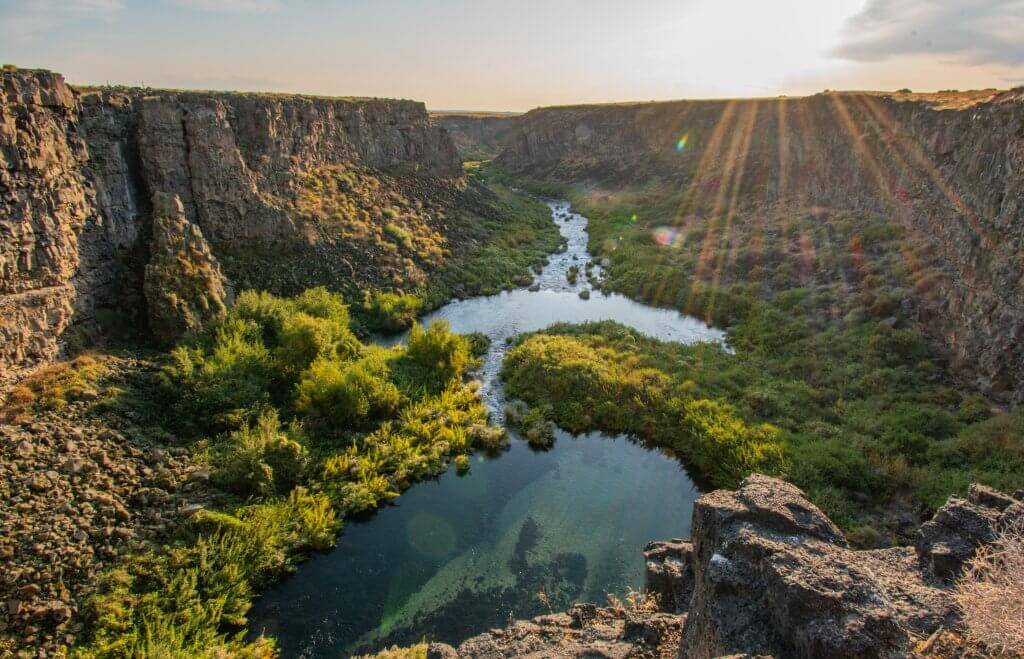 As you continue on this scenic byway, make a stop at Box Canyon Springs Nature Preserve. This unit of the Thousand Springs State Park, is adjacent to the byway, so it's a little bit of a detour but well worth the time. There are two parking areas available. One is at the beginning of the gravel road, the second one is much closer to the overlook which is ADA accessible.
If you have time and are feeling adventurous, try the 1.5-mile hike down to the second set of pools. To access this spot, you'll hike along the edge of the canyon on the mostly clear trail, walk the steep trail down (you'll notice the chains placed in the rock to help you climb), pass a little waterfall and then end at the very refreshing swimming hole.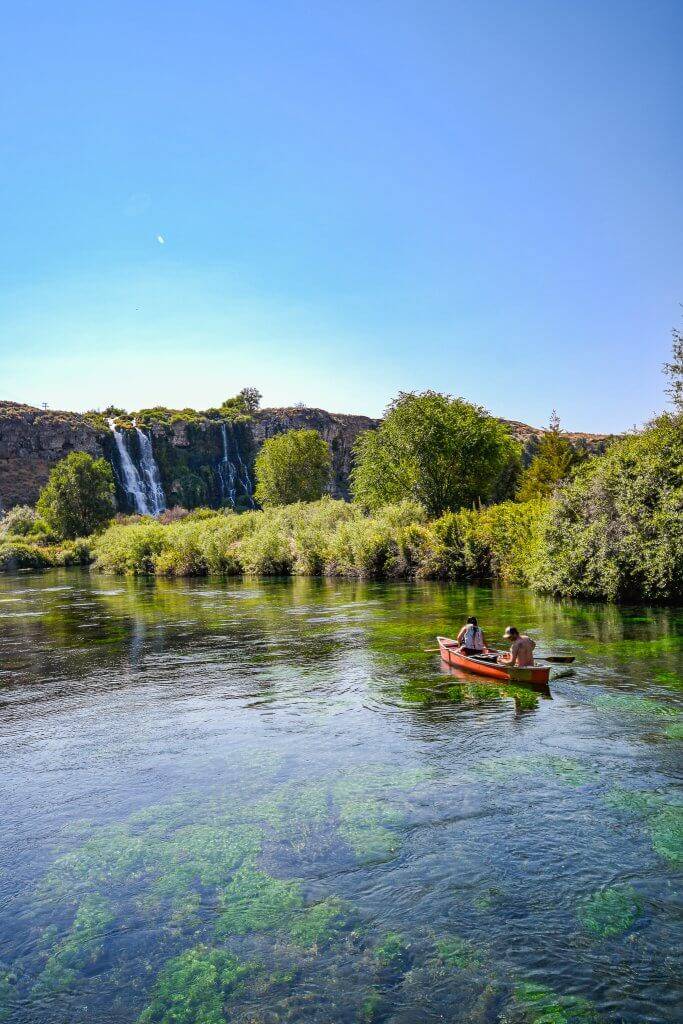 The fun doesn't stop at Box Canyon. Nearby, you'll find Ritter Island, another unit of Thousand Springs State Park. There are waterfalls like Lemon Falls and Mini Miller Springs which are accessible year round on the east side of the island. The west side of the island is only accessible from Memorial Day to Labor Day. You'll also find an historic building, now used as an Airbnb, and a museum.
Buhl
From Hagerman you'll continue on the Thousand Springs Scenic Byway towards Buhl. Buhl is a historic small town with friendly people and fun businesses like the Rustic Nest with creations from local artists. If you're ready for local ice cream you MUST visit Cloverleaf Creamery! Try signature flavors like huckleberry and Cowboy Crunch.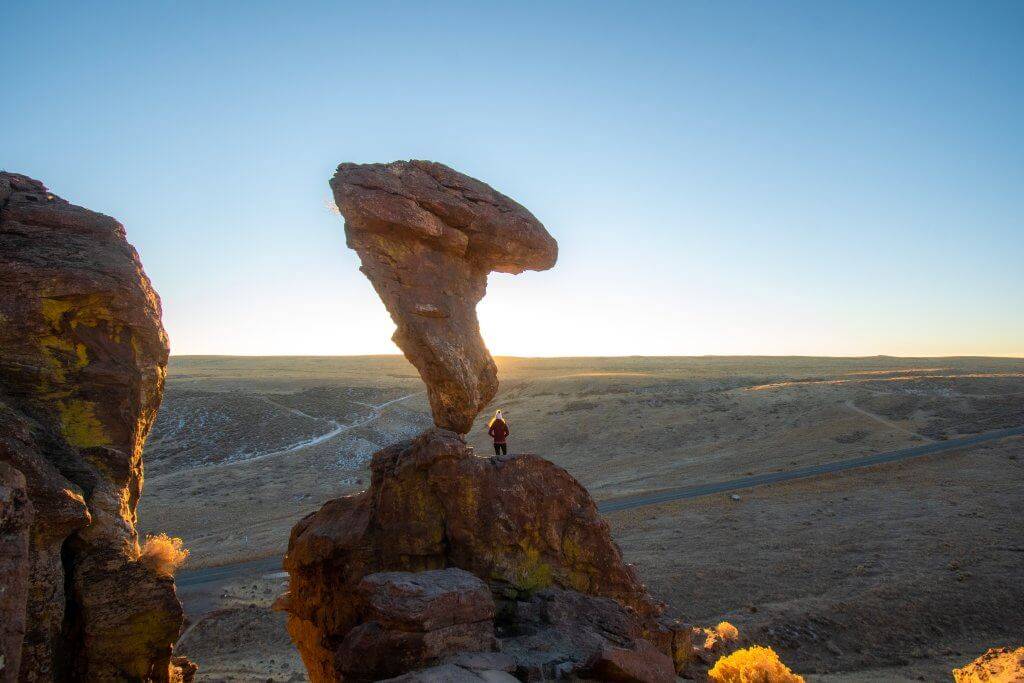 From Buhl, venture about 20 minutes from the main route to Balanced Rock. ​​​​​​​​​​​​​​This precariously stacked rock formation features a 48 foot tall rock standing on a base that is just over three feet wide. Hop back on the highway after you've seen the balancing boulder to finish your road trip in the next city.
Twin Falls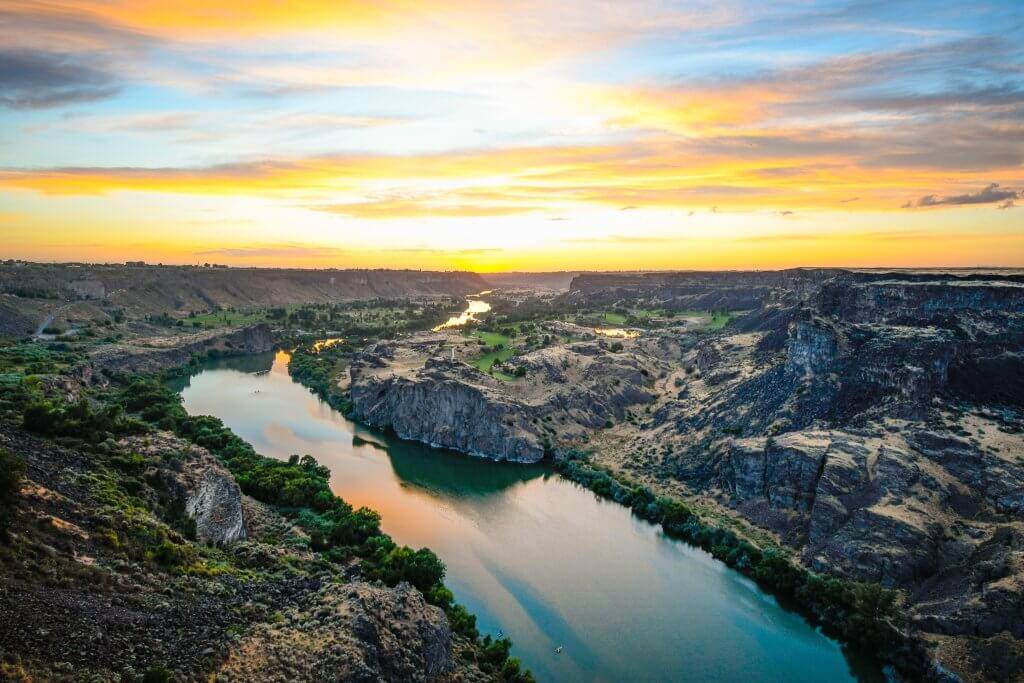 Twin Falls, also known as "The City of Waterfalls," is where Highway 30 comes to an end and hooks back to the interstate. Twin Falls is known for its waterfalls, with more than 30 recognized falls that pour into the Snake River Canyon. Some of the most well known waterfalls include Shoshone Falls, Pillar Falls, Perrine Coulee, Auger Falls, Twin Falls Waterfall and more.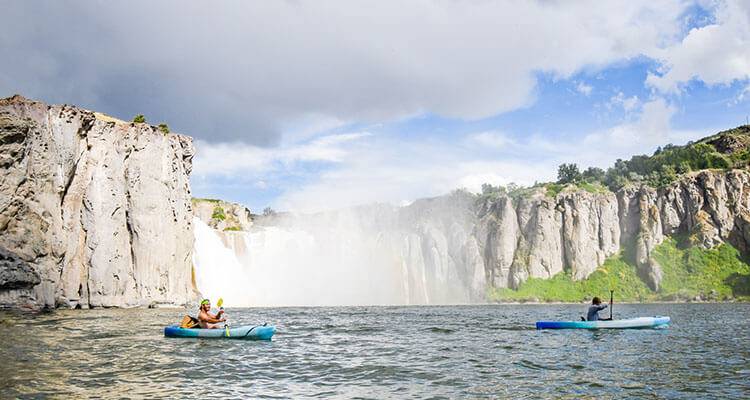 You can also see Shoshone Falls by kayaking instead of visiting the park and checking out the falls from the overlook. The paddle to Shoshone Falls is an eight miles and generally takes about six to eight hours to complete. It starts at Centennial Waterfront Park. You can rent kayaks there with AWOL Adventure Sports or catch a boat ride halfway to Pillar Falls to cut down on the distance you'll need to paddle. ​​​​​​​You can also skip the kayak and take a short walk to Perrine Coulee Falls located on the way down to Centennial Waterfront Park. ​​​​​​​ ​​​​​​​
​​​​​​​If you're looking to spend a night (or three) in Twin Falls check out traditional hotels like the Fairfield Inn and Suites or TownePlace Suites, to boutique hotels like the Fillmore Inn or Blue Lakes Inn, you're sure to find the perfect place to get some rest.
Safe travels on your road trip and enjoy the Thousand Springs Scenic Byway and all it has to offer!
Feature image credited to Sarah Rohrbach.
Sarah Rohrbach is an avid traveler with a passion for capturing her adventures in photographs and words. The hidden gems and diverse nature of Idaho have been her home for the last three years, and she's fallen in love with its beauty. Find Earth to Sarah prints online and read about her travels here.

Published on May 10, 2022