If you like Goldbug Hot Springs, try Skillern Hot Springs
Located approximately 20 miles south of Salmon, Goldbug Hot Springs is one of the most jaw-dropping soaking locations in the state. A steep two-mile hike leads to dramatic pools, but the allure of this soaking spot is well known and can sometimes be crowded. For a similar soaking experience without the potential crowd, head to Skillern Hot Springs, north of Fairfield.
Skillern Hot Springs is accessed by a three-mile hike in (six miles roundtrip). The trail head begins at Big Smokey Road, about an hour north of Fairfield and can be found using Google Maps. There are restrooms and a trail map at the parking lot. Be sure to bring plenty of water and snacks. The trail is clearly marked for the entire three miles leading to the hot springs; but be sure to take the upper trail which follows the mountainside and will keep you above the river.
At the end of the three-mile hike, you'll find the cliffside hot springs, as well as wildflowers and wildlife. As you would with any new adventure, take your time, watch your step and make your way down the rocks to relax in the warm springs and enjoy the fresh mountain air.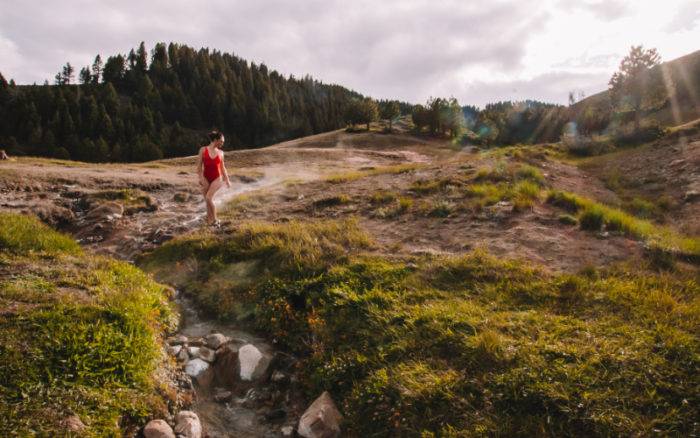 If you like Boat Box Hot Springs, try Worswick Hot Springs
Boat Box Hot Spring is located along Highway 75 just north of Stanley. This hot spring is one of the most photographed locations since visitors can sit in a cauldron-like tub filled with hot, natural spring water while enjoying views of the Salmon River. The popularity and ease of access for this spot means there are generally cars waiting to pull off of the highway. Skip the line and head to Worswick Hot Springs for an alternate soak location.
Worswick Hot Springs is located about 45 minutes north of Fairfield. From Fairfield, follow Soldier Creek Road north until it forks. Take the left fork, Forest Service Road 094, and follow that to reach Forest Service Road 227. That road will take you to the Worswick Hot Springs parking lot, which is visible on Google Maps. The parking lot is right below the hot springs and is just a quick walk from a handful of pools. There are three major pools to sit in, all with varying temperatures. The farther up the hill you go, the hotter the pools will get. Some of the pools are located next to a cold creek, and rocks can be repositioned to adjust the temperature. Worswick Hot Springs is a great getaway with a variety of soaking pools perfect for a solo soak or a day away with friends.
If you like Miracle and Banbury Hot Springs, try Durfee Hot Springs
Miracle and Banbury Hot Springs are two separate developed hot spring destinations just a mile and a half apart along the Snake River in Buhl. Miracle Hot Springs features private hot pools, VIP pools and four general outdoor pools. Banbury Hot Springs, which has been delighting hot springs seekers since 1920, has a large pool along with several smaller individual hot pools. These spots can be busy depending on the time of year, so Durfee Hot Springs may be a great, new option to try.
Durfee Hot Springs in Almo is tucked away near the City of Rocks National Reserve and Castle Rocks State Park. The natural warm spring water feeds two hot tubs, one kiddie pool and one large lap pool. The views from these pools make for the perfect end to an Idaho day.
Leave No Trace
Idaho's hot springs are some of the state's best loved and most visited natural features. In the interest of maintaining their beauty and viability for future visitors, please practice Leave No Trace outdoor ethics. Plan ahead and prepare, if you pack it in, pack it out, and do your best to leave things how you find them. For more information on the seven principles of Leave No Trace, visit: lnt.org/why/7-principles
Discover more ways to enjoy fall in Idaho

Published on August 27, 2020