Thousands of people will look to the sky on Monday, August 21st as a total solar eclipse moves across Idaho, but what are your plans before and after the big event? Dozens of towns across Idaho have organized music festivals, farmers markets, and stargazing parties in celebration of the eclipse. With some events starting as early as Thursday, you're sure to find something fun to keep you busy.
Below, we've listed events occurring in the path of totality, from west to east. For a deeper dive into the area where you plan to be, you can find area-specific eclipse websites here , or view a list of regional and county happenings here , or check out Idaho calendar for a look at various other events.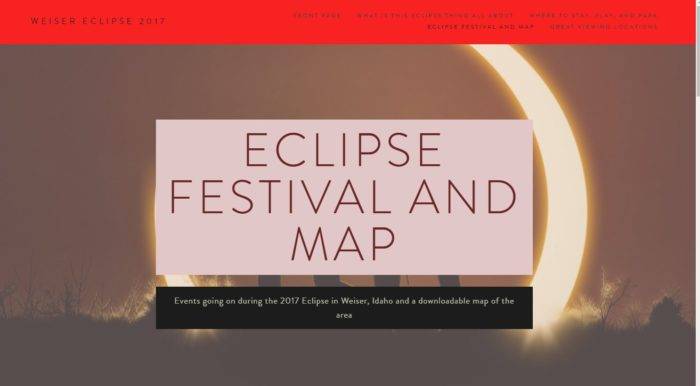 A five-day festival starting on Thursday, August 19th in the heart of Weiser. Enjoy a pancake feed, farmers market, bike show, brunch, fun run and more. Follow the link for full details.
If you'd rather get away from it all while enjoying the eclipse, Triple T ranch might be just your speed. Located nine miles north of Weiser, this ranch offers RV spaces, food vendors, and live music.
Midvale is hosting a city-wide festival beginning Friday with entertainment continuing through Monday. Check out a taco feed at the local VF on Saturday night or explore arts and craft offerings.
Star gazing is the name of the game in Stanley. Team up with astronomers and telescopes for constellation tours from Pioneer Park. You can also check out free lectures on the history of solar eclipses.

Join scientists, photographers, and eclipse chasers at this gathering at Festival Meadow. The festivities kick off on Monday morning and you'll be able to enjoy music, yoga, food and drinks and eclipse activities all day.
Located just outside Mackay on Highway 93, this event will feature food trucks, artists, live music,and disc golf. Designed as a full weekend experienc, you'll need to nab a ticket to enjoy the perks of this event.
The city of Mackay is an official NASA eclipse viewing site. NASA eclipse, Lynn Powers, will be in town that day tracking the eclipse and monitoring pressure and temperature. In addition, visitors can check out local vendors and sky tours throughout the weekend.
This event is exactly what it sounds like -a multi-day music lineup mixed with dirt bike and ATV events. Overnight camping packages and single day tickets are available.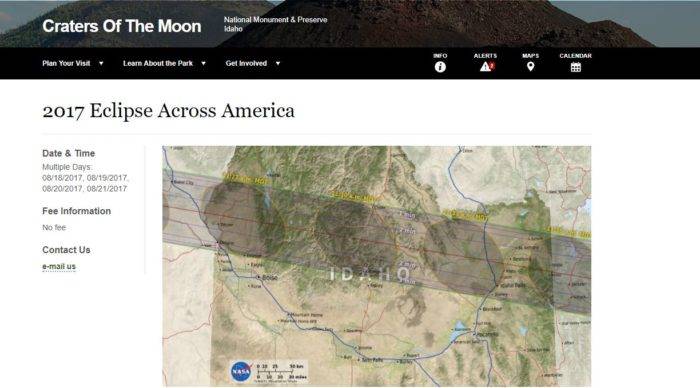 While only partially in the path of totality, Craters of the Moon National Monument and Preserve has partnered with nearby Arco to create a multi-day eclipse-viewing experience. With events starting on Friday and running through Monday, this is a great and unique opportunity for family fun.
Beginning Friday, August 18th and continuing through Monday, the city of Roberts has put together food, drink, live music, and vendors to celebrate the solar eclipse.
Eastern Idaho has a wide range of multi-day festivities, concerts, and eclipse gatherings. For a day by day break down of events, check out the Eastern Idaho Eclipse site. For an overview of events, explore the festivities below.
Saturday, August 19th the Academy of Country Music Awards Vocal Duo of the Year, The Brothers Osborne, will take the stage at Sandy Downs. General admission and standing room tickets are available for purchase.
This family friendly event kicks off at 8:30 a.m. on the day of the eclipse with an outdoor movie, eclipse discussion panels, food, games, and more until 1 p.m. The first 5,000 people through the gate receive a free pair of eclipse glasses. You'll want to bring chairs and blankets to enjoy this venue.
The Museum of Idaho will host events leading up to and during the eclipse and is also a preferred NASA viewing site. You can check out a lecture and film series on space, build your own eclipse viewer or explore other space themed experiences. Entry to the museum is first come, first served.
In honor of the eclipse, this specially crafted corn maze at New Sweden Farms will be open from August 21st – 26th.
With a great lineup of musicians and beautiful scenery to match, this festival is sure to delight. Taking place on August 18th and 19th on the Henry's Fork of the Snake River. Times vary per day with food vendors and activities onsite. Tickets available at the gate. Cash only.
On Thursday, August 17th from 4 p.m.- 10 p.m., visitors are invited to take part in a "home-grown, farm-to-table local music extravaganza." Food, music, and fun await. Tickets are available.
If you'd prefer to explore the local terrain in lieu of events, make sure to check out these trip guides for southwestern, central and eastern Idaho for adventure inspiration. Whatever you decide to do, we hope you enjoy your time and don't forget to share you #IdahoEclipse2017 adventures.
Feature image credited to Miloslav DRUCKMÜLLER.
Published on August 14, 2017