With more than 19,000 miles of trails and numerous ski resorts that cater to mountain bike enthusiasts, you'll find there is no shortage of Idaho wilderness to tame atop a bike. This world-class mountain bike terrain stretches across the state with options available for every skill level. Grab the family, friends, or make it a solo trip. Either way, you'll find the pedal therapy you've been searching for.
Northern Idaho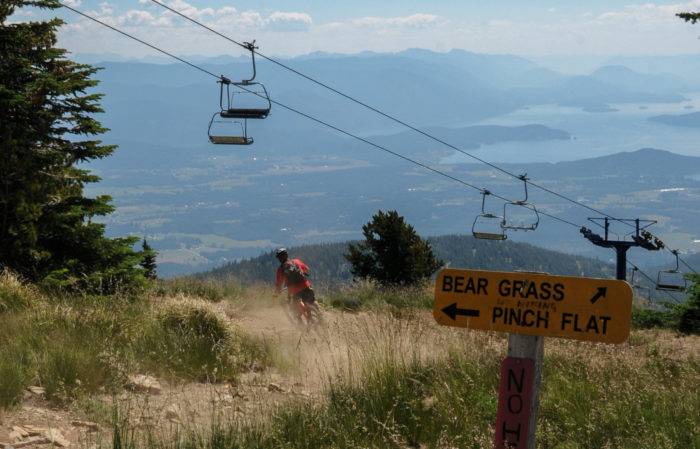 Surrounded by state and national forestlands in the Selkirk, Cabinet and Bitterroot mountain ranges, northern Idaho has countless roads and trails for mountain bikers. Schweitzer Mountain and the surrounding area offer a wide variety of trails with spectacular views for riders of varying levels of skill. If you can't bring your ride with you, you'll find all sorts of options available at Schweitzer's Bike Rentals. Check out this trail guide to see if any of these adventures are calling your name.
Silver Mountain located near Kellogg, Idaho, offers world-class downhill mountain biking with an extensive network of trails accessible by the resort's Swiss-engineered high-speed gondola. The Gondola Village itself serves as a trailhead to the famous Trail of the Coeur d'Alenes, a favorite touring ride along the Idaho and Washington state borders consisting of more than 72 miles of double track and paved path through historic Silver Valley, into the chain lake region, and along the shores of Lake Couer d'Alene. There's even a Ride & Dine option, which includes your lift ticket for the trails and a mountain top BBQ dinner.
West Central Idaho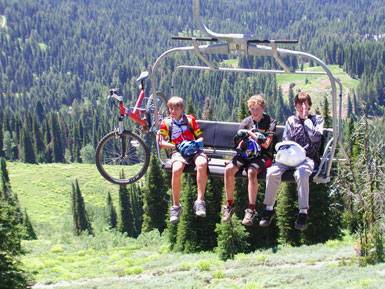 Both Brundage Mountain and Tamarack Resort in west central Idaho offer a plethora of mountain biking opportunities.
With access to hundreds of acres of Payette National forestland, a vertical drop of 1,640 feet, and more than 20 miles of hand-built, single track trails, Brundage Mountain offers a route for every experience level. Beginners can develop skills on the scenic Elk Trail, which gently winds its way down through scenic forests and meadows or work on skills at the Triple Play Skills Park. More extreme thrill-seekers can test their skills on Zorro, a technical route that takes full advantage of the resort's vertical drop.
Tamarack Resort offers 25 miles of premier trails designed by the International Mountain Bicycling Association, as well as access to endless miles of Forest Service trails in the Boise and Payette National Forests. Furthermore, the lower trail system provides smooth-riding single tracks, a technical skills park and big air jumps.
Southwest Idaho

Bogus Basin Ski Resort, located just 16-miles from Boise, Idaho, offers numerous scenic trails through the Boise National Forest. The Lower Nordic Loop, for example, provides a variety of trails for both beginner and advanced riders, and plenty of off-track exploration opportunities for the more adventurous. Mountain bikers can also access the acclaimed Ridge to Rivers trail system, an interconnected network of more than 85 miles of paved, single and double track trails that traverse the scenic Boise foothills. The Hulls Gulch – Crestline trail is a premier ride in the lower foothills that branches into three different trails; a moderately technical upper gulch descends into a smooth-cruising route with picturesque views of the state capital.
Central Idaho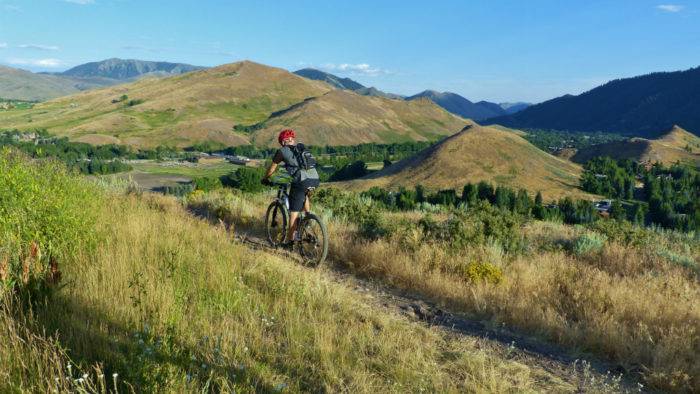 During summer and fall, Sun Valley is home to some of the best mountain bike trails in Idaho. The wide expanse and massive vertical drop of Bald Mountain provides almost limitless downhill options. The Warm Springs trail takes riders through dense forest on the north side of the mountain on 11.2 miles of trail. The Mahoney Loop , located just six miles south of Sun Valley, provides a great ride for all skill levels in mostly shade forest and mountain meadows, while offering breathtaking views of the Smoky, Pioneer and Boulder mountains.
While outlined above are just a few mountain biking hot spots, trail riding throughout all of Idaho is fantastic. Click here to check out more Idaho trail options. Share your favorite mountain biking adventure with @VisitIdaho.

Published on October 8, 2015