Idaho Small Towns Promise Big Memories
Idaho is known for scenic vistas, historic sites and endless outdoor recreation. Quite often these beautiful areas and fun activities are accessed through some of the state's smaller towns. Offering lodging, fuel, groceries, dining and a variety of amenities and services, these rural oases will keep you comfortably supplied and ready for your next adventure. Read on to learn more about some of these towns and the recreation they offer.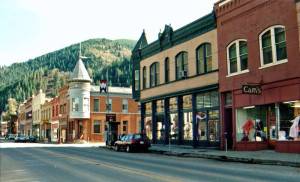 Wallace in northern Idaho.
Gold and silver were discovered in Wallace in 1882 and the Silver Valley area became the largest silver mining region in the world. There are many activities and historical sites to explore.
Museums, including the Northern Pacific Depot Railroad Museum, Oasis Bordello Museum, and the Wallace District Mining Museum tell stories from the past.
Underground gold and silver mine tours and gold panning – see what it's like to mine precious minerals.
Bike the Route of the Hiawatha – 15 miles of tunnels, trestles and stunning views.
Silver Streak Zip Line – Two courses have heights up to 300′ above ground at elevations ranging from 3,349 – 3,773′.
Coeur d'Alene's Old Mission State Park is just 30 minutes away and home to the oldest building in Idaho. It was built by the Coeur d'Alene Indians with assistance and direction from the Jesuit priests, known as Black Robes.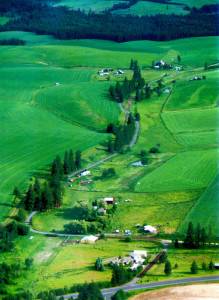 Moscow in north central Idaho.
The eclectic mix of small-town friendliness and college-town energy found in Moscow makes it a perfect vacation destination.
Play a round of golf at the University of Idaho Golf Course.
At the Appaloosa Museum and Heritage Center learn about this noble breed and its ties to the Nez Perce Tribe.
Bike Moscow Mountain or one of the many surrounding trails. Local bike trail maps are available.
Raft the Salmon River or jet boat in Hells Canyon for a thrilling experience that's sure to make memories.
Local wineries include Camas Prairie Winery in Moscow and Colter's Creek in nearby Juliaetta. The farmers market celebrates local farmers, artists, craftspeople and musicians through October.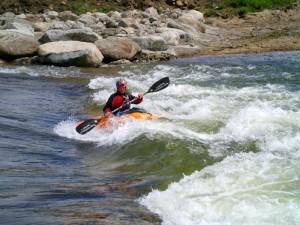 Cascade in southwestern Idaho.
This small town on the banks of Lake Cascade is perfect for those who love fishing, boating and spectacular scenery.
Kelly's Whitewater Park, on the north fork of the Payette River is the perfect place to hone your kayaking or whitewater skills, or just watch and be amazed. Tube and watercraft rentals are available in town.
Camp at Cascade Lake State Park and enjoy swimming, fishing and hiking.
Take in a movie at the newly renovated Roxy Theatre in downtown Cascade. The theatre opened for her first film July 14th 1939. A 2013 upgrade kept many of the original elements intact while adding digital cinema upgrades. This beautiful single screen theater offers great service and first run movies.
Visit Tamarack Resort in nearby Donnelly. Golf the award winning Osprey Meadows golf course, bike and hike the IMBA designed mountain bike trail system, fly on the Tamarack Canopy Zipline tour, play in the water or enjoy the luxurious amenities of the lodge overlooking the lake.
Visit Gold Fork Hot Springs in nearby Donnelly, with five mineral-rich outdoor pools set amidst the cool shade of the pines.
Visit historic Roseberry, a Finnish style ghost town.  Enjoy their many special events and visit the General Store and other historic buildings.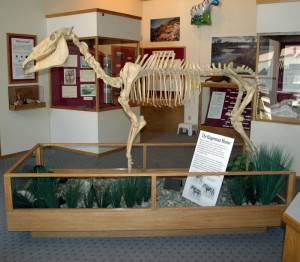 The Hagerman area offers pastoral countryside and a wealth of wonders to discover. Once off the interstate, pause at the viewpoint and take in the captivating vista of the valley that unfolds below. Follow Highway 30 on the Thousand Springs Scenic Byway to continue your journey.
Hagerman Fossil Beds National Monument holds the richest fossil deposits of the Pliocene Epoch, about 3.5 million years ago. Stop at the visitor center to see a replica of the Hagerman Horse and learn about the Minidoka Relocation Center, a National Historic Site.
Natural springs gush from the canyon walls, providing a picturesque and naturally flowing cold water environment for nurturing trout. Visit the Hagerman National Fish Hatchery to learn more.
Visit any of the four units of Thousand Springs State Park: Malad Gorge, Billingsley Creek, Niagara Springs and Earl M. Hardy Box Canyon Springs Preserve, a 350 acre state park with a 20-ft waterfall and crystal clear springs.
The Thousand Springs Scenic Byway leaves the valley floor and emerges at Buhl, a delightful town with a thriving arts community. Just south of town, see Balanced Rock. At 48-ft tall and 40 tons, it is balanced on a pedestal of just 17 x 36 inches. Have a picnic in Balanced Rock Park or soak your bones at Miracle Hot Springs.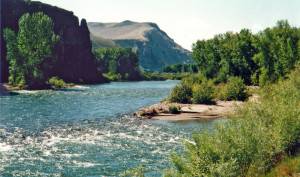 Salmon/Challis area in central Idaho.
Salmon is known as the whitewater capital of the world because of its access to the Main Salmon River, while Challis has a rich mining history and is home to the Land of the Yankee Fork State Park. Together, they offer a world of recreational opportunities.
Visit Land of the Yankee Fork State Park located along the Salmon River Scenic Byway. The interpretive center near Challis has exhibits, a gold panning station, audiovisual programs, and friendly personnel to provide information on local mining history and area attractions. Visit the nearby ghost towns of Bonanza, Custer and Bayhorse. The Yankee Fork Gold Dredge, Custer Motorway and Challis Bison Jump are sites within the park.
The sister cities of Custer and Bonanza were once booming with people set on finding their futures in gold. Beginning in 1870, the area attracted gold seekers searching its streams and mountains. But the gold eventually played out leaving Custer and Bonanza ghost towns by 1911. Today, restored buildings, the tales of the miners and secluded cemeteries are all that remain. A trip to Bayhorse, an 1880s era ghost town will help you understand the trials and tribulations of this historic site.
See the Yankee Fork Gold Dredge, a 988-ton monster barge that searched the gravels of the Yankee Fork for gold as recently as 1952, recovering an estimated $1,037,322 in gold and silver.
The Sacajawea Interpretive, Cultural & Educational Center in Salmon is dedicated to honoring and providing education about America's great historical heroine, Sacajawea, an Agai Dika Lemhi Shoshone, and her role in Lewis and Clark's Corps of Discovery.
At the Lemhi Historical Museum in Salmon, see artifacts with new eyes to better understand the American West and Lemhi County history.
Hiking, horseback riding, rafting, fishing, wildlife watching and hot springs are just some of the activities available in the Salmon – Challis area.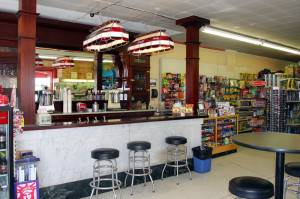 Teton Valley in eastern Idaho.
The communities of Driggs, Tetonia and Victor comprise the less crowded side of the Teton Mountains. The valley is a rural agricultural area perched at 6200 feet in elevation with outstanding outdoor recreation year-round.
Fish the Teton River, Snake River, and the Henry's Fork of the Snake River with or without an outfitter, for exceptional trout fishing.
The Ashton-Tetonia Trail opened in 2010 and extends nearly 30 miles between the two towns. This scenic gravel trail includes five bridges and restored rail trestles. The 8-mile Victor to Driggs Trail connects the two towns with the Teton Mountains in the backdrop.
Explore the Teton Valley Museum on Hwy. 33 and the Warbirds Museum at the Driggs Airport.
Relax and unwind at Teton Springs Lodge and Spa. Enjoy fabulous restaurants, beautiful scenery, relaxing spa treatments, luxurious accommodations, on-site fly fishing and world-class golf at Headwaters Golf Club.
Take a hot air balloon ride with Teton Balloon Flights and enjoy picturesque views of the mountain ranges and forested wilderness.
Mount up for a scenic horseback ride with Dry Ridge Outfitters or Linn Canyon Ranch.
Grand Targhee Ski Resort has special events throughout the non-skiing season and great hiking.
Harriman State Park is a great place for wildlife watching, fishing and historical exploration.
You're just a short distance from Yellowstone National Park…. Use the Teton Valley as your base camp. The new Teton GeoTourism Center is a great resource for the Grand Teton Yellowstone loop.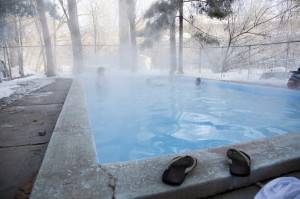 Lava Hot Springs is a popular family-friendly resort town southeast of Pocatello. Once a sacred gathering place for the Bannock and Shoshone Indians, today it is a popular spot for travelers world-wide seeking its soothing waters.
Soak in any of four separate pools ranging in temperature from 104 to 110 degrees. Cool off in the Olympic-sized pool, complete with water slide and kids' fun zones. Or enjoy private soaking pools at area hotels.
Float the Portneuf River on an inner tube. Tube rentals are offered in town.
Feel the thrill with Lava Zipline Adventures.
Enjoy a wagon ride and dinner with western entertainment with Baker Ranch Wagon Rides.
Downata Hot Springs, south of Lava Hot Springs, offers pools, a water slide, driving range, mini golf and more.
Soda Springs, just to the east of Lava, is home to the only captive geyser in the world today. See it erupt, shooting gallons of sparkling water over 100 feet into the air every hour, on the hour.