NEWS RELEASE
Contact:
laurie.mcconnell@tourism.idaho.gov | 208-287-0781
sophiahartsock@redskypr.com | 208-863-2499
Idaho Tourism Launches Travel with Care Initiative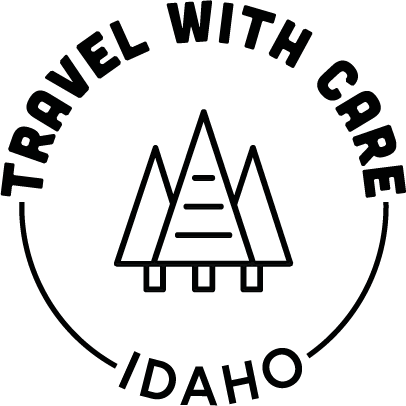 BOISE, Idaho (May 11, 2022) — Idaho Tourism (Visit Idaho) recently launched a three-pillared responsible tourism initiative—Travel With Care—to emphasize the importance of caring for yourself, caring for others and caring for Idaho to preserve the opportunities for adventure in the Gem State for years to come.
"Residents and visitors love traveling throughout Idaho for its many recreational opportunities," says Diane Norton, tourism manager at Idaho Tourism. "We want all travelers to be informed and empowered when enjoying their favorite outdoor activities, whether that be navigating a new trail or knowing the proper etiquette and being kind when interacting with fellow users."
To kick off the initiative, Idaho Tourism held a trail cleanup and maintenance event at Camel's Back Park in Boise on Wednesday, May 4, in conjunction with National Travel and Tourism Week. In partnership with Ridge to Rivers, representatives from Idaho Tourism, the Idaho Travel Council and other outdoor-focused organizations gathered to repair fences, remove weeds and repair hillside areas. While the event was not open to the public, Idaho Tourism and volunteers interacted with fellow park users to share information about ways to care for our beloved outdoor spaces.
To continue the program, Idaho Tourism is encouraging other partners and outdoor-focused organizations across the state to hold Travel with Care events in their respective regions. In doing so, Idahoans can help generate awareness and consideration for preserving the state's many outdoor-recreation areas.
Photos of the event can be found here, and Travel with Care graphics are available here.
To learn more about Travel with Care, go to visitidaho.org/care.
About Idaho Tourism: Idaho Tourism (Visit Idaho) serves to inspire travelers to visit and experience Idaho's diverse, unique beauty, western culture and history and outdoor adventure opportunities through engaging, helpful tips, information, and resources. Tourism is Idaho's third-largest Industry, and Idaho Tourism is committed to growing Idaho's economy through targeted, impactful promotions. Go to VisitIdaho.org to plan your vacation.
###