Sip USDA-certified organic wine at this southern Idaho winery.  It's open year round for intimate tastings, private events and conversations with the winemaker. With only the highest of artistic integrity, Holesinsky Vineyard and Winery creates some of the most versatile flavors and highest quality wines in the Northwest. The wines produced at Holesinsky Vineyards sing songs of passion, creativity, commitment, and a celebration of life and love. In every sip of the wines you can taste the stories of the Holesinsky family.

Things To Know
Open daily or call for tasting events.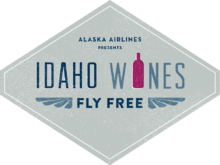 Idaho Wines Fly Free
Now when you visit Idaho wineries, fly all of your favorite wines home with you, for free.
Adventure In Your Inbox
Want more Wineries/Wine Tours adventures like this delivered straight to your inbox? Sign up below for new adventures monthly.