The Mandagies worked in partnership with Visit Idaho to create this Travel Tip.
With the sun in all its summertime glory, it's time to get outside and experience the best of the season! With vibrant cities and hundreds of miles of mountain trails spanning 10 counties, northern Idaho's Panhandle offers an abundance of activities to suit almost anybody. While there are endless activities to choose from, we're here to share the top 10 adventures to take in northern Idaho this summer. So, have you called your friends yet?
1. Climb Around At Tree To Tree Idaho
Tree To Tree Idaho is a new adventure park located within Farragut State Park. There are four self-guided aerial courses that get higher and more challenging (and more fun!) as you continue. It offers a kids course with two different levels, for the little climbers in training.
Each session receives an on-the-ground training course, with explanations of gear, and the ability to test them out on their orientation course. Tree To Tree Idaho provides state-of-the-art climbing technology, which includes belays that eliminate all human error off the ground. In other words, this is one of the safest courses out there!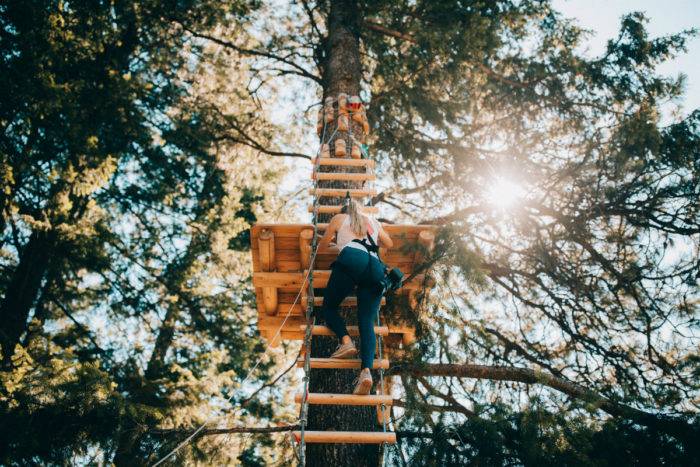 2. Take A Hike Or Swim At Farragut State Park
Farragut State Park is located on the shore of Lake Pend Oreille. Originally a naval training facility, the grounds have largely been turned into a camping and recreation site, used and loved by locals and adventure seekers alike. Here, you can swim at Beaver Bay, visit the Museum at the Brig, play at the disc golf course, go boating, and enjoy the many shoreline hiking trails.
There are over 40 miles of trails in the park alone, which means you can come back time and time again for a new experience!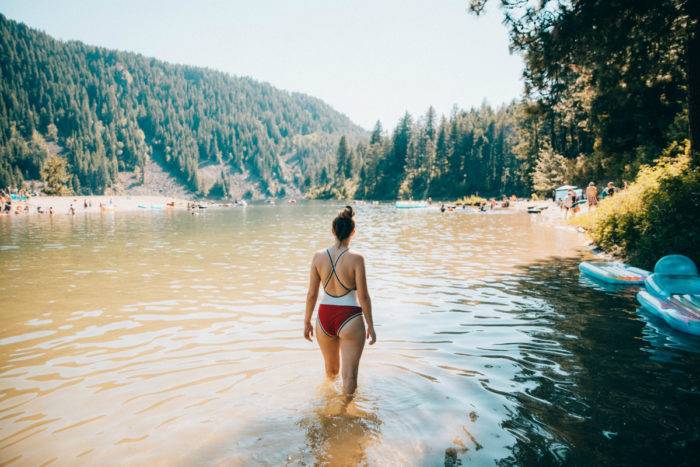 3. Channel Your Inner Cowboy/Cowgirl at Western Pleasure Guest Ranch
Western Pleasure Guest Ranch is a full-immersion, all-inclusive guest ranch experience that gives visitors the ultimate American West vacation! The most common packages are week-long programs with lodging, activities, meals, and more provided. We were lucky enough to go on a two-hour trail ride excursion to see what life was like on the ranch!
We had the pleasure of riding with Danielle, who runs the ranch with her family. We heard incredible stories of how this property has been in her family for generations, and how she was proud to be part of such awesome heritage in northern Idaho. On our trail ride, Danielle showed us the various parts of the property, which included hidden cabins, scenic views, and so much more.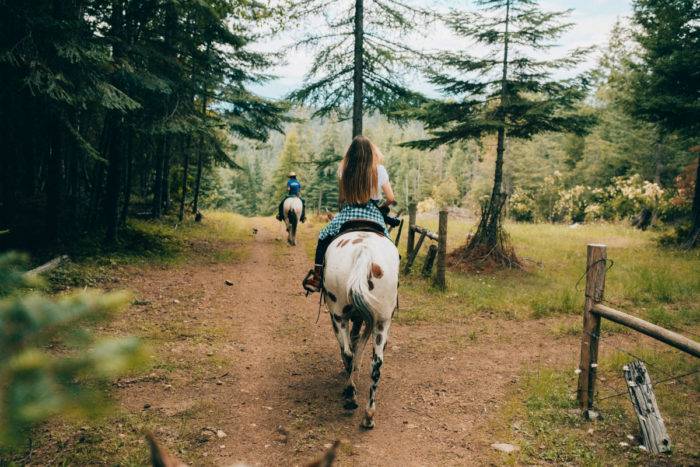 4. Canoe Down The Thoroughfare To Upper Priest Lake
For unique things to do in northern Idaho, spend a few days exploring the vast Priest Lake. This place is incredible all year long, but it really shines during the summertime. Here, you can go camping, fishing, boating, and hiking – and that's just the beginning of the list of activities available here!
On our latest visit to Priest Lake, Berty and I rented a canoe from Idaho Parks and Recreation at the Lionhead campground and paddled through the thoroughfare to see Upper Priest Lake. To reach this beautiful area, visitors have to travel the 2.5-mile channel that connects Priest Lake with Upper Priest Lake. No roads access the lake, so the only way to visit here would be via hiking or boating into the area.
Not only was the journey beautiful, but Upper Priest Lake was pristine and quiet. The water was clear and we observed tons of wildlife on the shores of the water. It was a relaxing trip with calm waters! Once we arrived, we found a secret beach and spent some time swimming and resting before our journey back.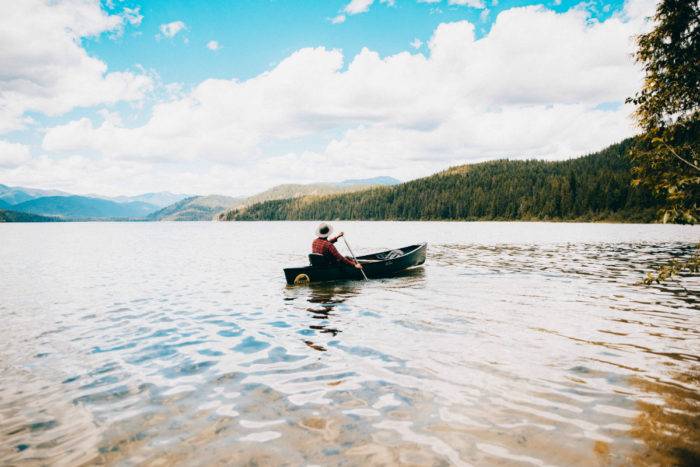 5. Hike Around Tubbs Hill
Tubbs Hill is a 165-acre park in the city of Coeur d'Alene. Located right on Lake Coeur d'Alene, this area provides 270-degree spectacular views of the water. Accessible from both the east and west sides of the park, there are several trails to explore, including a summit trail, water tower, and a trail that parallels the shoreline.
If you find yourself coming on a hot day, consider wearing your swimsuits and searching for cliff jumping spots located on the southwest corner of the park. This is a popular place for thrill-seekers! You can also climb down to the shore on various trails and have your own secret beach all to yourself.
Click here for a printable trail map of Tubbs Hill.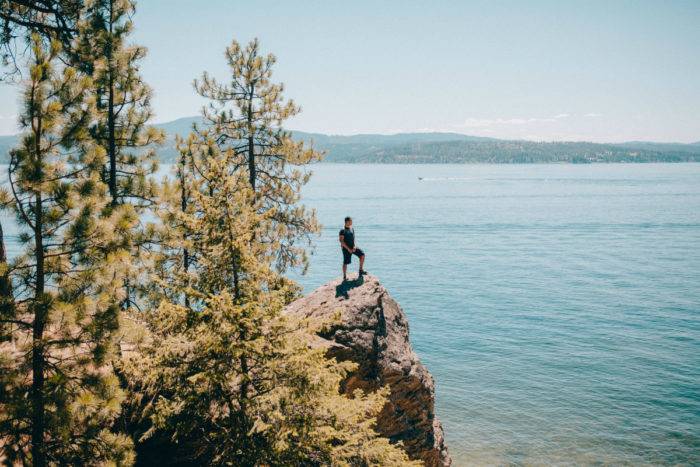 6. Rent Water Gear
One of the most quintessential things to do in northern Idaho would be to rent some water gear and get out on the lake! Grab a canoe rental at Priest Lake, pick up some paddleboards on the Coeur d'Alene docks, or even a few kayaks to experience a classic Panhandle summer.
Our favorite water gear rental places: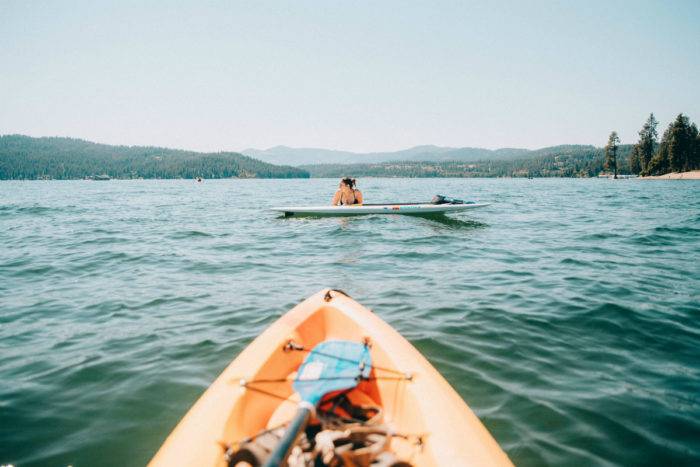 7. Bike The Route of the Hiawatha
The Route of The Hiawatha is celebrating its 20th anniversary this year! This 15-mile bike trail travels through 10 train tunnels, across seven trestles and past many trail markers with interesting facts and history of the route. The trail crosses the border of Montana and Idaho, which is also inside the 1.5-mile long dark train tunnel!
Grab your tickets, bike rentals, and gear equipment at Lookout Pass and then take a quick drive east to the trailhead.
The Hiawatha Bike Trail is a perfect family activity because of the diversity of scenery and the fact that it's all downhill! A shuttle at the bottom of the trail with take you back up to the top, bikes and all, for a leisurely and fun day trip.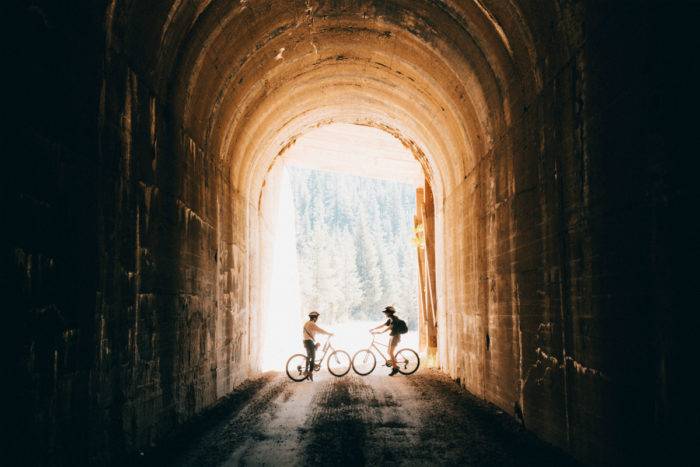 8. Discover The Pulaski Tunnel Trail
The Pulaski Tunnel Trail is an exciting and historical hiking route just outside of the town of Wallace, Idaho. Here on the trail, visitors can learn about the iconic northern Idaho fire of 1910, known as "The Big Burn." "Big Ed" Pulaski's firefighter crew got stuck in the middle of a firestorm and sought refuge in a mining tunnel.
The easy 3.5-mile out and back hike will take you to the mining tunnel where Pulaski saved all but 6 of his 45-man firefighting crew, who ran for their lives and hid inside as the fire blazed passed them. Stop at the interpretive signs along the trail to read about this thrilling escape and the people involved.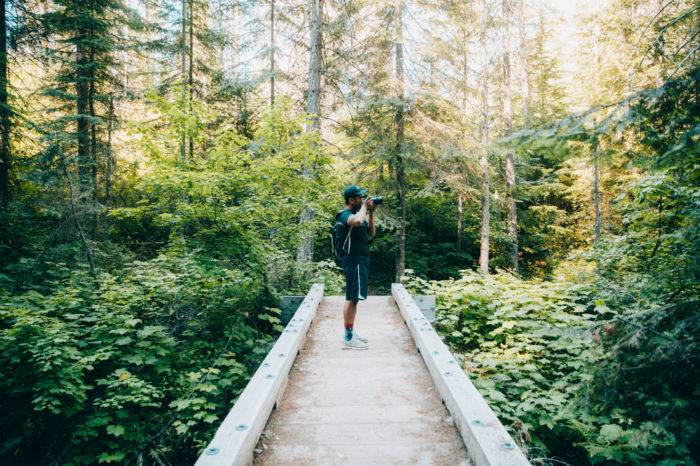 9. Go Ziplining at Timberline Adventures
Timberline Adventures has continually been rated the #1 outdoor activity to do in Coeur d'Alene on Trip Advisor. With 7 ziplines total that vary in heights, speed, and challenge, visitors are in for an exciting afternoon of flying from tree to tree!
Their staff is highly trained, professional, fun, and encouraging! Timberline Adventures makes it incredibly easy – they take care of all the logistics! Visitors arrive at their headquarters near the Coeur d'Alene Resort, get oriented, geared-up, and taken via bus to the adventure park only 12 miles away. After the zip tour, they bring you back to Coeur d'Alene, and even reimburse your parking for up to two hours! This all-inclusive service makes it very easy for a newcomer to northern Idaho to have an incredible experience!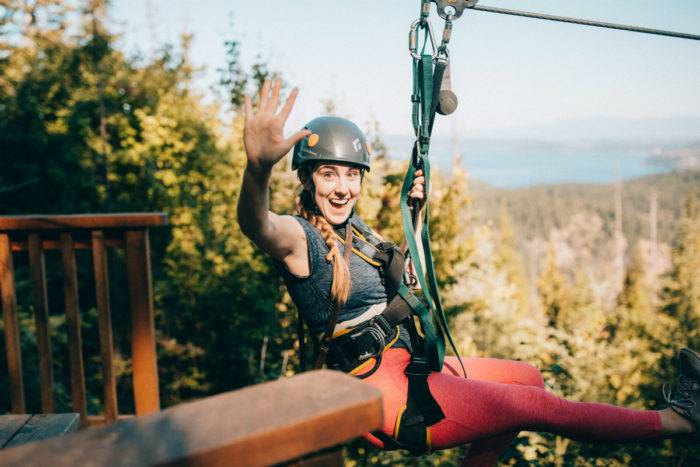 10. Go Thrill-Seeking At Silverwood Theme Park
Ready for a day of laughter, fun, and thrills? Get ready to experience it all at Silverwood Theme Park! It is the largest theme park in the Northwest and is home to two unique wooden roller coasters. With over 70 rides, there won't be a shortage of things to do!
Admission to the adjacent Boulder Beach Water Park is included in the admission ticket, so guests can experience two parks in one! Guests can spend all morning riding the coasters and then cool off during the heat of the day at the wave pools, water slides, and lazy river.
In addition to the rides, visitors can enjoy daily magic shows by resident magician, Nick Norton, classic carnival games, and the biggest "single scoop" ice cream cones Idaho has ever seen at Silverwood's Ice Creamery Shop.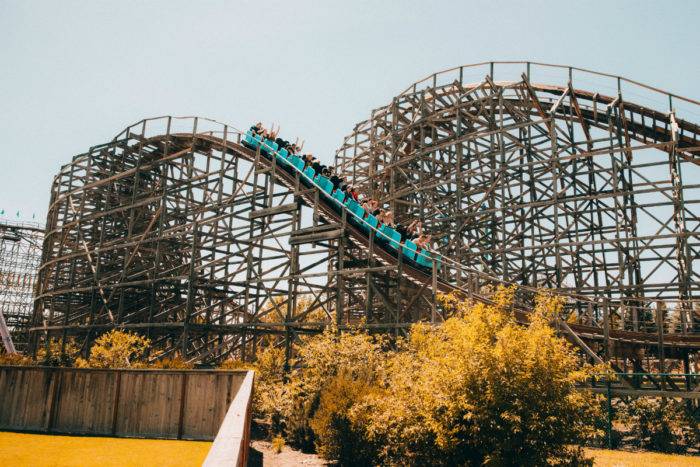 Are you ready to plan your next summer vacation? This list is sure to keep visitors to northern Idaho busy all season long!
Feature image credited to The Mandagies.
A little bit about us: We're Berty and Emily Mandagie, a husband and wife photographer and blogger duo based in the Pacific Northwest! We were invited by Visit Idaho to explore North Idaho and all the amazing opportunities it has for some summer fun. We're excited to share how you can have the best time in Idaho too!

Published on August 7, 2018