There is nothing quite like taking a hike with your four-legged friends. The fresh air and exercise is good for you and good for them. Fortunately, the Sun Valley area is very dog-friendly, and there are hundreds of great options for hitting the trails close to town. Here are just a few of my favorites….
Easy River Walks
Trail Creek – Sun Valley
Length: 1.5 miles roundtrip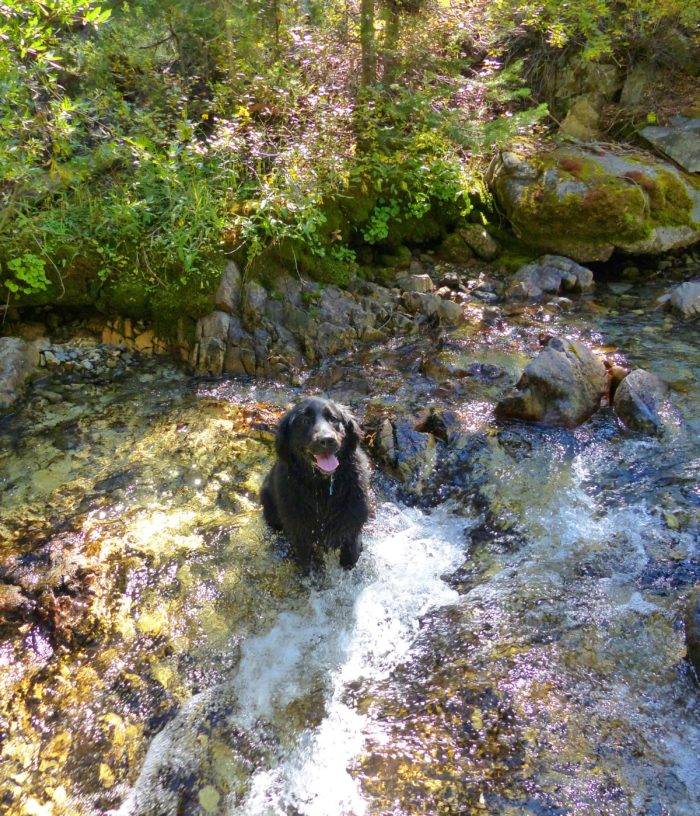 Lovely flat path along meandering Trail Creek, with open views to the Pioneer Mountains to the east. Trail starts just 1 mile west of Sun Valley along Trail Creek Road, just past the campground. Several parking area pullouts available. Great walk in all seasons.
Draper Preserve – Hailey
Length: 1 mile roundtrip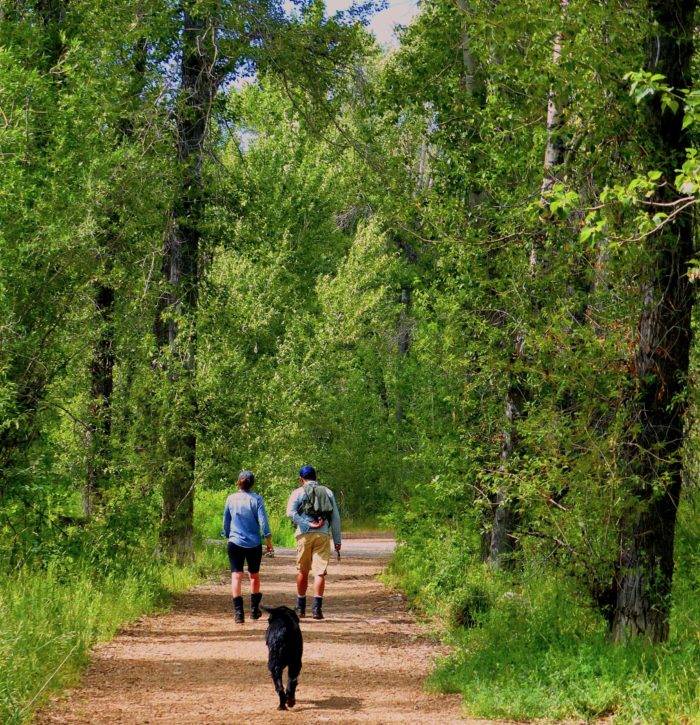 A beautiful, flat wooded foot path along the Bigwood River. Trail starts either at Heagle Park (south) or Lions Park (north) in Hailey. Sticks abound for river fetching. Nice bonus is crossing the uniquely designed pedestrian Bow Bridge and visiting the Draper Preserve wetland viewing area. Wonderful in all seasons.
Adams Gulch – Ketchum
Length: 2.5 miles roundtrip, with other options for much longer hikes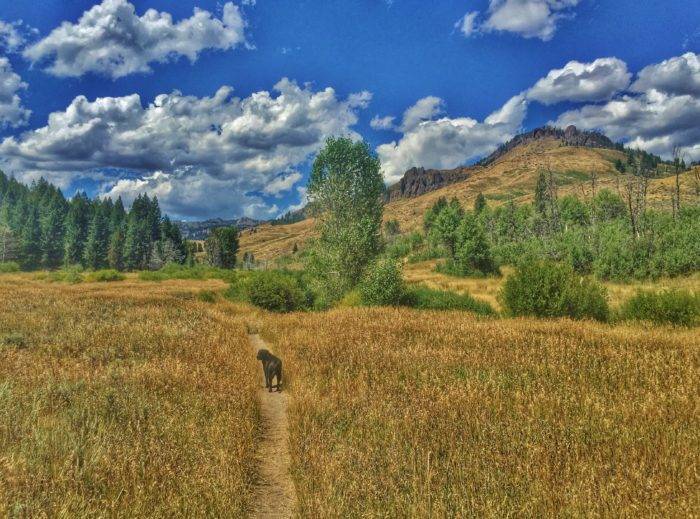 There are numerous trail options in this nearby area, from short to very long. Two pretty and popular short trails are the Shadyside Trail and the Sunnyside Trail which runs right along a small creek. Both are easily accessible in all seasons. Large trailhead area with plenty of parking and restrooms.
Moderate Hikes
Greenhorn Gulch/Cow Creek – Mid-Valley
Length: 2 mile loop
A great loop hike that provides nice views and creek access for a good portion of it. Especially stunning in early summer when the wildflowers bloom profusely in the open meadows and along the river banks. You can also take longer loop hikes in this area as well. Trailhead has plenty of parking and restrooms.
Chocolate Gulch – Ketchum
Length: 4 mile loop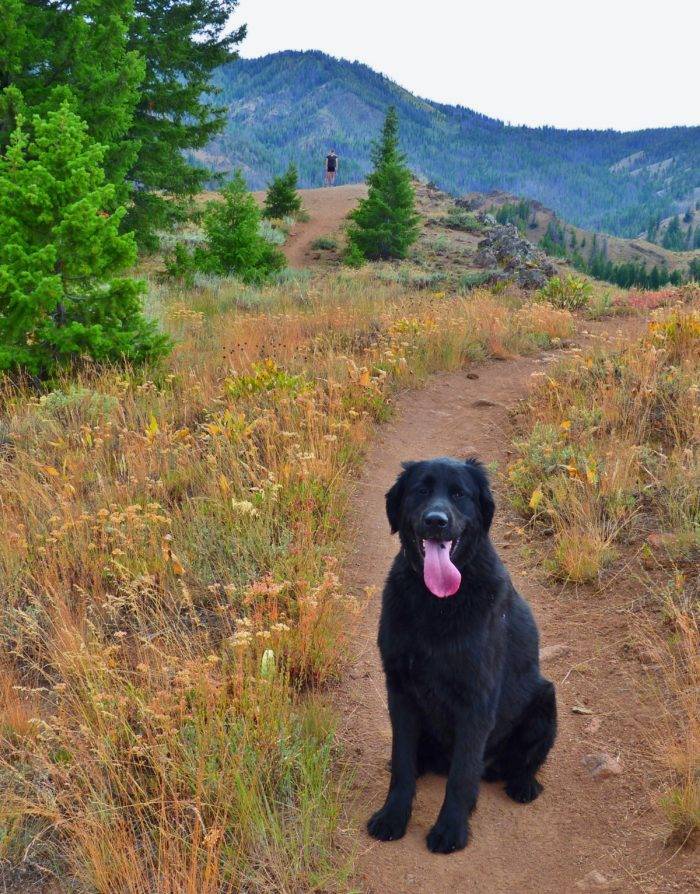 With this hike you get to experience a lot of different terrain and great views in a fairly compact loop. The trail starts along open hillsides and then winds up to the summit through thick alpine forest. The top provides stunning views of the Pioneers and Smoky mountains, then the trail winds down through an immense open canyon meadow, and alongside babbling brooks and the Big Wood River.
Fox Creek Loop- Ketchum
Length: 5 miles roundtrip
This is a very popular hike with a nice bit of elevation gain, varied terrain of sagebrush hillsides and aspen groves and spectacular mountain vistas. Gorgeous in all seasons, part of the trail is groomed for Nordic skiing and walking in the winter. The meandering Fox Creek, Lake Creek and Big Wood River are accessible for a good portion of the hike. Large trailhead parking area and restrooms at Lake Creek.
Colorado Gulch – Hailey
Length: 4 miles roundtrip
This is a steady but gradual uphill walk on a dirt road through a beautiful remote canyon on the west edge of Hailey. It includes a bridge crossing over the Big Wood River at beginning and end, and a small creek trickles adjacent to the road about half of the way. Near the top of the road is a stand of very old aspen trees that have arborglyph carvings on their trunks, made by sheepherders traveling through the area decades ago. A small trail to the left brings you to the very top of a ridge high above the city of Hailey and the valley, or you can continue up the road as it switchbacks to the top of a different ridge that overlooks Croy Canyon.
More Strenuous Hikes
Proctor Mountain – Sun Valley
Length: 4.5 mile loop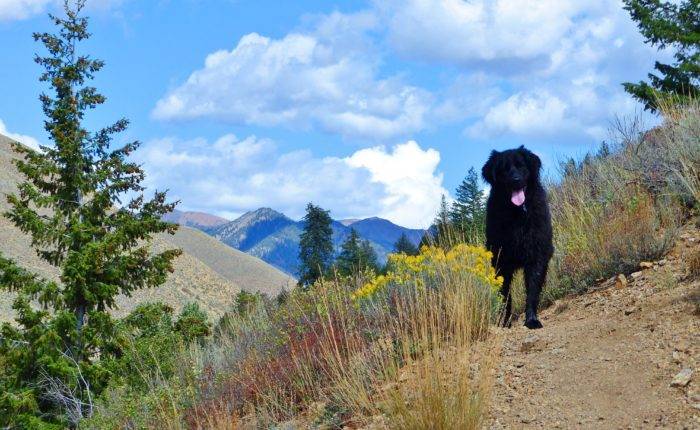 This is a very popular trail for relatively easy access to some great vistas of Sun Valley. The trail has an elevation gain of 1,600 feet and winds across wide open sagebrush slopes, and through forests of pine and aspen. If you start at the Hemingway Memorial off Trail Creek Road you also have the benefit of crossing Trail Creek at the beginning and end of the hike, which your dog will appreciate. This hike is especially dramatic with early summer wildflowers and fall colors, but the views will take your breath away any time of the year.
Taylor Canyon – Ketchum
Length: 4 mile loop
This is one of my all-time favorites for a great workout and spectacular views of the Boulder and Pioneer mountain ranges. It is also often less crowded than some of the trails closer to town. In the early summer the mountainsides are awash in fields of lupine and other colorful wildflowers. There is a small stream at the beginning of the trail but none after, so it is very important to bring plenty of water for both you and your dog. Limited parking area.
Bald Mountain
Length: 9.6 miles roundtrip (with overlook stops along the way)
This is a Sun Valley classic that lets you hike up the side of Bald Mountain (3,390 foot elevation gain) to the summit, or any portion thereof. Views all along the trail are fantastic as you see the charming city of Ketchum continue to shrink in the distance and your vantage point at the top rewards you with a 360° view of the picturesque Wood River Valley surrounded by the Pioneer, Boulder and Smoky mountain ranges. Even going just a portion of the way up is an excellent hike.
Rules of the Trail:
Bring water for you and for your dog.
Pick up after your dog – most trailheads have doggie waste bags and receptacles.
Bring a leash and use it if needed to keep your dog under control. Many of these trails are actively used by mountain bikers and hikers.
Trip Tips:
Sun Valley is 6,000 feet above sea level; remember to acclimatize accordingly.
Always dress appropriately for the weather, with layers. The weather can change quickly here. A hat and sunscreen are also very important.
Pick up a trail map or trail guide book at a Sun Valley area bookstores or sport shops and get more detailed information online at Blaine County Recreation District Trailink.
This is a sponsored post. All photos were taken by Carol Waller.
Carol Waller is a long-time Hailey resident, tourism professional and amateur photographer who tries to make time to hike every day, in every season, with her big, black Newfie-Retriever, Stella, and her camera in tow.

Published on April 7, 2016