Preethi Chandrasekhar worked in partnership with Visit Idaho to create this Travel Tip.
Is Idaho calling your name? While it's still a state that sometimes flies under the radar, Idaho has some absolutely gorgeous off-the-beaten-path destinations that'll make you wonder why you didn't visit sooner. Here is a list of my favorite top 10 things to do in Idaho.
My Top Idaho Attractions
1. Hike in Stanley, Idaho
Stanley, Idaho is one town in the Gem State that tops every attraction list. Stanley is centrally located and is surrounded by the Sawtooth, White Cloud, and Lost River mountain ranges. As a result, the area has become a mecca for the outdoors. In fact, it's one of the best spots if you're an outdoors enthusiast. If you love hiking, backpacking, and rock climbing, then this is the spot for you. Here are my recommendations for where you should go when in the Stanley area.
Interested in hiking in and around Stanley? Then check out the following trails:
This is a 4.4-mile moderately trafficked out and back trail. It's great for all skill levels (and dogs!) and features a river. You'll also get a gorgeous view of the Sawtooth Mountains at the end, which makes it all worth it! I recommend this trail for everyone, including families and beginner hikers.
Overall, the hike is on a fairly flat trail. Just make sure you take plenty of water and protect yourself from the sun if you're going in the summer. The Idaho mountains are no joke (especially if you're coming from sea level), and heat exhaustion is real!
Bench Lakes is another great trail. There are actually four lakes that make up this hike. I only ended up going to lakes one and two as the trail becomes a bit unmarked after the second lake. I also took the Redfish Lake Lodge boat shuttle to the trailhead, which I believe shaved off about a mile for me. Alltrails lists this trail as being 8 miles, but by taking the boat shuttle back and forth, I ended up hiking a total of 6 miles.
The best time to hike Bench Lakes is early morning, especially in the summer. The hike is a steady incline to the top and can be tough if you're coming from sea level and not used to the altitude (1240-foot elevation gain) and the heat. Once you get off the boat, you will come to a small kiosk where you will need to register your name and write down which hike you are going on, since you're in the wilderness. You may also need to cross over some fallen trees, but otherwise, the hike is fairly straightforward. During the hike itself get ready for splendid views of the Sawtooth Mountains and Redfish Lake. Don't forget to pack some snacks and enjoy sitting on the shore of the first and second lakes. While the water might be too cold to swim in, be sure to dip your feet, it feels incredible.
2. Visit Stanley Lake
Wanting to get out on the water? Go to Stanley Lake! I loved visiting Stanley Lake at sunrise and sunset. Both of these times offer gorgeous reflections and the opportunity to observe wildlife. Sunrise, in particular, offers a "show" as McGown Peak is "on fire" for a few minutes. If you want to see this, get there at least 30 minutes before sunrise. Stand-up paddleboarding and kayaking are also both popular here.
3. Breakfast at Stanley Baking Co.
Head to Stanley Baking Co. for breakfast after watching the sunrise at Stanley Lake. The bakery is a quaint little spot amidst the majestic Sawtooth mountains that serves homemade meals. Stanley Baking Co. opens at 7 a.m., but I was shocked to see a line outside, although it moves fairly quickly. There is a wonderful outdoor patio if the inside section is full. I got a steaming cup of Chamomile tea and an order of the Migas (Mexican scrambled eggs minus the tortilla chips), which was absolutely delicious.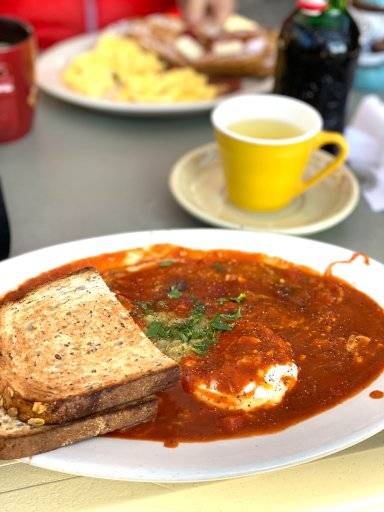 4. Soak in a Hot Springs
After you've been hiking, get your rest and relaxation in! Soaking in the hot springs is one of the best things to do in Idaho after a hike. I discovered Boat Box Hot Springs, a short drive from Stanley, and couldn't have asked for more.
This hot spring is literally by the road set near the river. Once you're inside the "tub" you won't be able to see the road. There's only space for one to two cars in the pullout, so keep this in mind. You may also need to adjust the water temperature in the tub if it's too hot. Simply use the bucket nearby to add cold water from the river until you get your desired temperature.
5. Fly Fishing in Sun Valley
The Big Lost River, outside of Sun Valley, is home to some great specimens of rainbow trout and offers an amazing fishing experience. Fly fishing is a fishing technique that uses a lightweight lure (called an artificial fly) to catch fish. This method of fishing is designed to make it look as though a bug or invertebrate has landed on the top of the water or slightly below the water's surface.
I highly recommend fly fishing with Silver Creek Outfitters. My guide, Brian was amazing. He was not only knowledgeable, but also really patient, and passionate about the sport. Although I had never fly fished before, it was a great experience. I caught some beautiful trout and because we were using the catch and release method, we ended up releasing whatever fish we caught. The sport is meditative and calming and if you've never tried it, this is a top activity to do when in Idaho.
6. Hike the Pioneer Cabin Trail
Sun Valley is a well-known mountain resort town in Idaho. If you've heard of it previously, you probably know it as a great place to go skiing and snowboarding in winter. What you may not know is that it is also a great place to hike and explore in the summer. If you're looking for an epic adventure, I highly recommend the Pioneer Cabin Trail. This trail is a moderately trafficked out and back trail that's used for hiking, running, horses, and mountain biking. It's best from May to October and often features pretty wildflowers during this time.
Rated "difficult" according to Alltrails, this 8.5 mile loop begins at an elevation of about 6,950' at the trailhead, climbing to just about 9,500' at the highest point. The trail climbs steadily up 23 switchbacks with peek-a-boo views of the Pioneers and Sawtooths. Be sure to take lots of water, snacks and start early to escape the heat. Once you reach the top, stay awhile and enjoy the view. It's totally worth it, and you may even see some wildlife like moose. The old 1930's cabin at the top is your destination.
7. Bike the Boise River Greenbelt
You can't visit Idaho without seeing Boise. The city is remarkable, but the Boise River Greenbelt is one of my top 10 things to do in Idaho. The Greenbelt is Boise's is a 25-mile tree-lined pedestrian and biking pathway that follows the river through the city. I don't like biking alongside vehicles, so this was the perfect way to enjoy the city. I also stopped at Esther Simplot and Ann Morrison Parks on the way. It's the perfect way to see Boise if you love being active!
8. Go Wine Tasting
Imagine hopping on your bike and riding to local wine tasting rooms along the Boise River Greenbelt. That's wine tasting in Boise and the neighboring Garden City for you. The wineries and tasting rooms in Boise's urban core make up the Southwestern Urban wine district. Many of the wineries throughout the urban wine district are supplied by vineyards set in rolling hills, just 35 miles outside of Boise. I highly recommend the tasting rooms at Cinder and Telaya Wine Co. Both have incredible garden patios and award-winning wines.
9. Hike Craters of the Moon National Monument & Preserve
Craters of the Moon National Monument is a vast ocean of lava flows with scattered islands of cinder cones and sagebrush. This monument is often described as "wonderfully weird." While in Idaho, I hiked the Inferno Trail, the spatter cones, and the Indian Tunnel. It was an otherworldly place to explore, and I absolutely recommend it as one of the best things to do in Idaho. Just make sure you wear comfortable hiking shoes and pick up a free hiking permit at the visitor center and bring your own headlamp if you plan to explore the Indian Tunnel cave.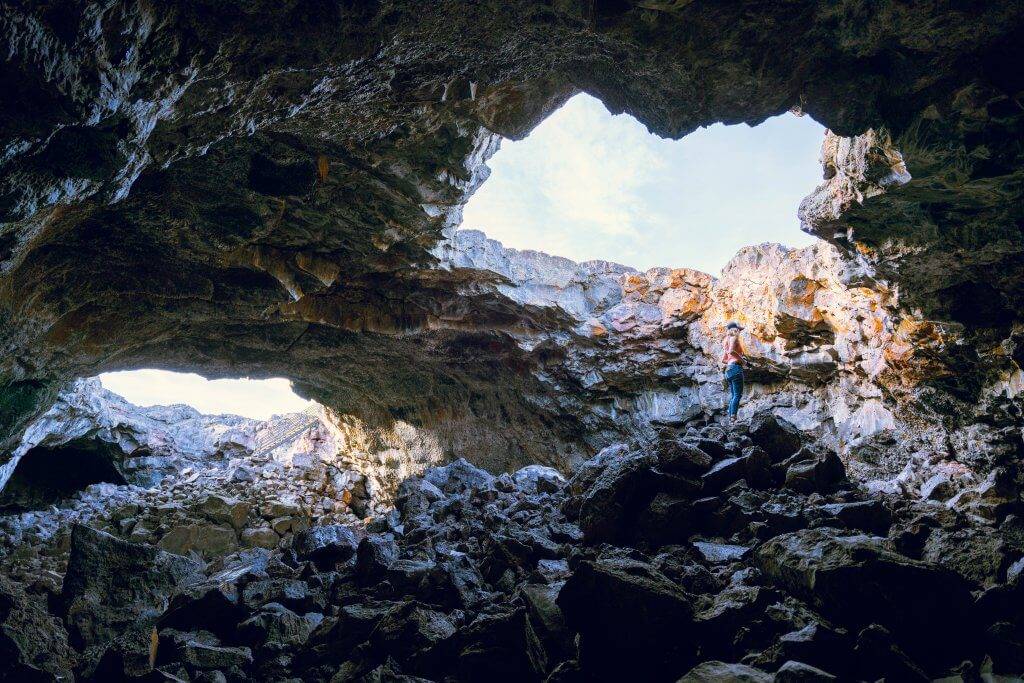 10. Visit the Camas Prairie Centennial Marsh Wildlife Management Area
In South Central Idaho you can visit Camas Prairie Centennial Marsh Wildlife Management Area, which is home to the camas lilies. Camas lilies can be spotted all over the county but one of the best places to view them is at the Camas Prairie Centennial Marsh WMA. The lilies only bloom once a year (typically in late May, early June). If this is something you're interested in seeing, then you'll want to time your visit accordingly. I was lucky to have caught the tail end of the bloom in early June.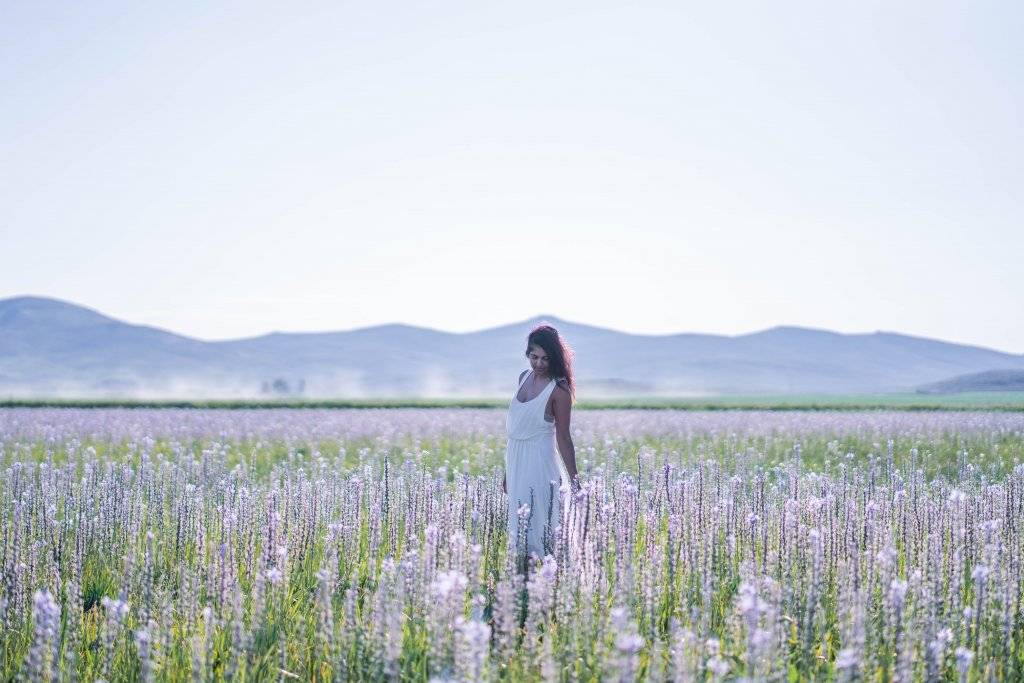 Final thoughts
There you have it — my top 10 things to do in Idaho. Whether you come for three weeks or make it a weekend trip, hitting these top Idaho attractions won't disappoint. Make sure some or all of these top 10 things to do in Idaho, end up on your itinerary on your visit to this beautiful state.
Feature image credited to Preethi Chandrasekhar.
Preethi Chandrasekhar is an Indian American travel writer, photographer and speaker whose goal is to empower women and ethnic minorities to explore the outdoors. She offers destination guides and tips on her blog www.theeagertraveler.com. You can also follow her journey on social media on Instagram @eagertravele.

Published on August 3, 2021