Sara Sheehy worked in partnership with Visit Idaho to create this Travel Tip.
From the moment my toe hit the perfectly clear, gloriously hot water of the Lava Hot Springs hot pools I was hooked. The evening settled around me as children splashed, couples laughed, and the stars winked to life in the darkening sky. Lava Hot Springs is a town designed to delight, with great restaurants, lively attractions, and family-friendly activities. Here is how to spend 36 perfect hours in Lava Hot Springs.
Getting There
Lava Hot Springs is located 11 miles off Interstate 15, and approximately 35 miles from Pocatello. Lava Hot Springs is two and a half hours from Salt Lake City, four hours from Boise, and an hour and fifteen minutes from Idaho Falls. Air service is available in Pocatello.
Day 1: Soak Under the Stars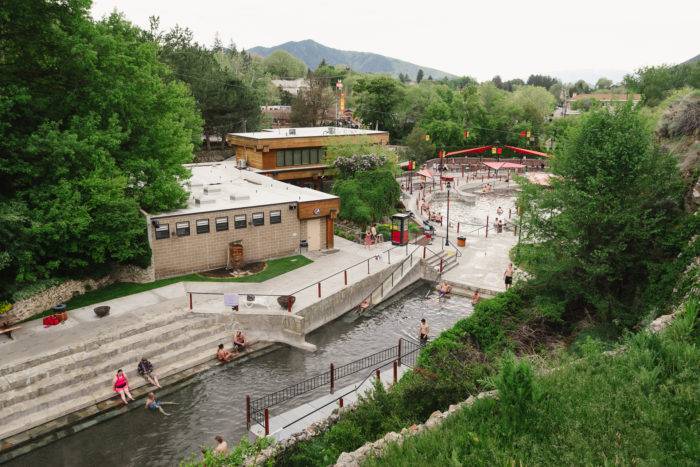 Evening: Arrive in the town of Lava Hot Springs and get settled into your accommodations. Many of Lava Hot Springs' attractions are within easy walking distance of Main Street. For a central stay check out the historic Home Hotel, which has in-suite tubs that fill with mineral water from the nearby hot springs. For a community vibe, book a cottage at Bristol Cabins or pull your RV into one of the riverside spots at Lava Hot Springs KOA Holiday.
Swing into the Riverwalk Cafe for a meal of authentic Thai cuisine before making your way to a late-night dip in the Lava Hot Springs World Famous Hot Pools, which are open until 11 p.m. during the summer. The hot pools fill naturally with crystal clear, odorless mineral water that ranges from 102 to 112 degrees Fahrenheit. Ease into the pool of your choice and feel the stresses of traveling evaporate.
Day 2: All Day Adventure
Morning: Enjoy a hearty breakfast at the Chuckwagon Cafe before jumping into a day of adventure. With a full stomach drive 24 miles north of Lava Hot Springs to historic Chesterfield. Chesterfield is a ​​​​​​​Mormon pioneer village and site on the Oregon Trail that has been lovingly rebuilt and maintained by the ancestors of the original settlers. The town and its colorful history come to life when taking a free tour.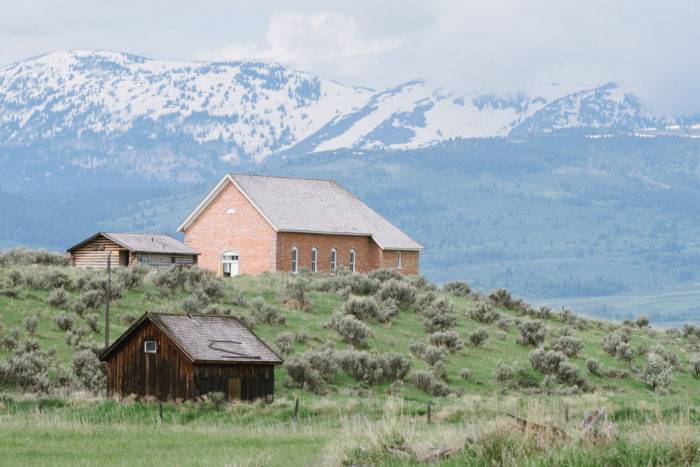 Afternoon: Eat a light lunch before meeting Lava Zipline's open-topped military vehicle on Main Street in Lava Hot Springs (reservations required). After a bumpy ride to a canyon outside of town, you'll spend the afternoon "riding the lines" over an expansive valley, followed by the option to take on "Ninja Warrior"-type obstacles on the high ropes course. Bring your courage, a camera, and your sense of humor.
Evening: Join Rex Baker, whose family first settled near Lava Hot Springs in 1896, for an evening of down-home cooking and entertainment at Baker Ranch. Hop in a horse-drawn carriage for a 35-minute ride to the Baker Ranch on Dempsey Creek, followed by live music and a home-cooked meal featuring ranch favorites like barbecue beef, ranch beans, rolls, corn on the cob, and "frog eye salad." Dessert and a return wagon ride await as dusk falls. Advanced reservations are required.
Late-night revelers will find lively company at local favorite Blue Moon Bar and Grille, where live music and theme parties keep the beat going until early in the morning throughout the summer.
Day 3: Waterslides and Wild Tubing
Morning: Enjoy a morning of watersports at the Lava Hot Springs Olympic Swimming Complex, where water slides with a 60-foot vertical drop, three diving platforms, and a kiddie cove are perfect for hours of family fun. A snack bar is available on-site.
Afternoon: Those looking for a bit of wild fun can rent a tube at any of the roadside stands on Main Street and take a thrilling ride down the Portneuf River. A float from one end of town to the other takes about 20 minutes, and shuttle service is available to return to the beginning and start again. USA Today called the Portneuf River "America's Best River for Tubing" in 2016.
Trip Tips
Lava Hot Springs is a popular family vacation destination year-round, but especially in the summer. Book ahead for the best choice of rooms, vacation rentals, and campsites.
A combination pass is available for the Lava Hot Springs World Famous Hot Pools and Lava Hot Springs Olympic Swimming Complex. If you plan to visit both on the same day, the combination pass is the way to go.
For an upscale meal, make a reservation at the Portneuf Bar and Grille in the Riverside Hot Springs Inn. Chef Alonzo Thomas incorporates local ingredients in his seasonal menu, which he pairs with an impressive selection of Idaho wines.
Sara Sheehy seeks adventure in the mountains of Idaho and beyond. She is the founder of Camp Academy​​​​​​​, an online beginners guide to camping and hiking.

Published on April 9, 2019