This is a sponsored post.
Fall, the often overlooked season between Sun Valley's active summer crowd and winter powder chasers, is the ideal time for a family visit. Sun Valley's unpretentious scene and welcoming attitude will provide the perfect backdrop for an unforgettable weekend in the mountains.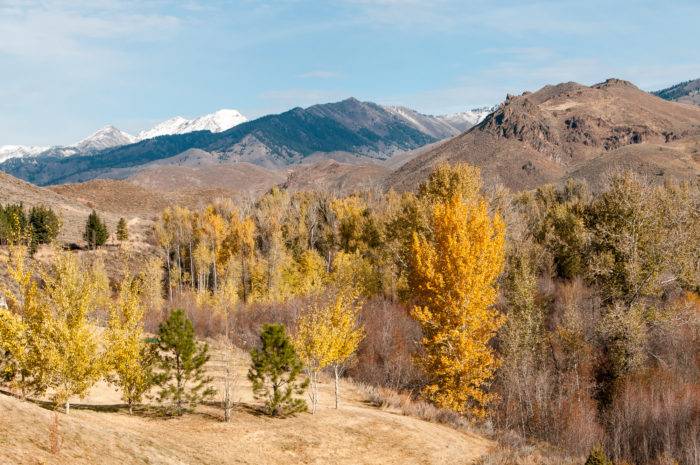 FRIDAY
4:00PM Get acquainted with downtown Ketchum
Stretch your legs after your journey with a walk around Ketchum. Once a mining town, Ketchum became the site of the United States' first destination ski resort in 1936. Coffee shops, stores, restaurants, and galleries line the walkable downtown. Kids will love climbing into the oversized chair in front of the Cellar Pub and seeing the Big Hitch at the Ore Wagon Museum at the corner of 5th Street and East Avenue.
5:30PM Grab a bite at the Burger Grill
The Burger Grill, located on Main Street in Ketchum, serves up comfort food without a lot of fuss. The menu is sure to please even the pickiest eater. Order at the counter and grab your drinks (beer, wine are available) before taking a seat in a stretched cowhide chair.
8:00PM Bowl at the Sun Valley Resort Bowling Alley
When the Sun Valley Resort completed a major remodel in 2015 it opened with an updated bowling alley and game room. Situated in the basement of the resort, the intimate six-lane bowling alley surrounded by 1950's charm will put smiles on kids and parents faces alike.
SATURDAY
8:00AM Breakfast at Java on Fourth
Java on Fourth, located at the corner of 4th and Washington in Ketchum, is a local's favorite for morning beverages and fresh pastries. Grab a table on the deck and watch the town wake up. Try their flagship mocha, the Bowl of Soul. Kids will love the spicy and sweet Mexican hot chocolate paired with a raspberry scone.
9:30AM Hike Adams Gulch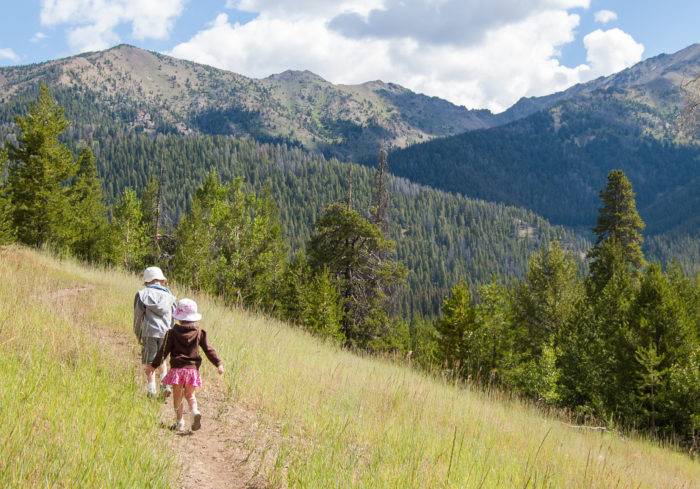 A beautiful fall day begs to be explored on foot. Take a hike at Adams Gulch, just north of Ketchum. Adams Gulch is ideal for families with a mix of easy and intermediate hiking loops. The Sunnyside to Shadyside Loop is a 3-mile loop with rolling hills and mountain views. Bring a camera to capture the family outing, and keep an eye out for moose.
1:00PM Lunch at Bigwood Bread Downtown Café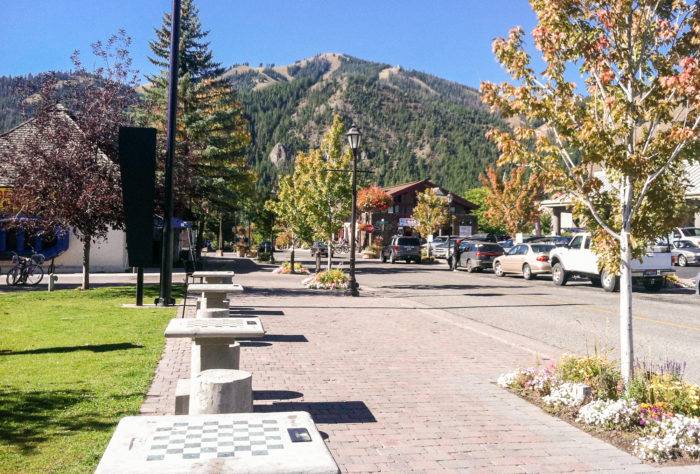 Kids, hungry from hiking, deserve a great big sandwich. Stop by the Bigwood Bread Downtown Café in Town Square for a stern helping of meat, cheese , and vegetables between a length of homemade bread. Salad and soup are also available. If the weather allows it, snag a table on the bakery's lawn and have a family picnic.
3:00PM Ride the Waterslide at the Wood River Community YMCA Splash Pool
Squeals of delight often explode when kids see the Wood River Community YMCA's splash pool for the first time. The pool, with a perfect temperature and zero depth entry for families, includes a two-story twisting, turning waterslide and playful water features. The YMCA also has a climbing wall, bouldering area, saline lap pool and large workout room.
6:30PM Dinner at Rico's
Rico's Authentic Italian, on Main Street in Ketchum, serves pasta and salad dishes in an unpretentious setting. An extensive kids menu with customizable options will be sure to satisfy every member of the family. Don't forget to order dessert.
If you have energy remaining, check out what's playing at the cozy Magic Lantern Cinema in Ketchum, or the historic Opera House at Sun Valley Resort.
SUNDAY
10:00AM Brunch at The Kneadery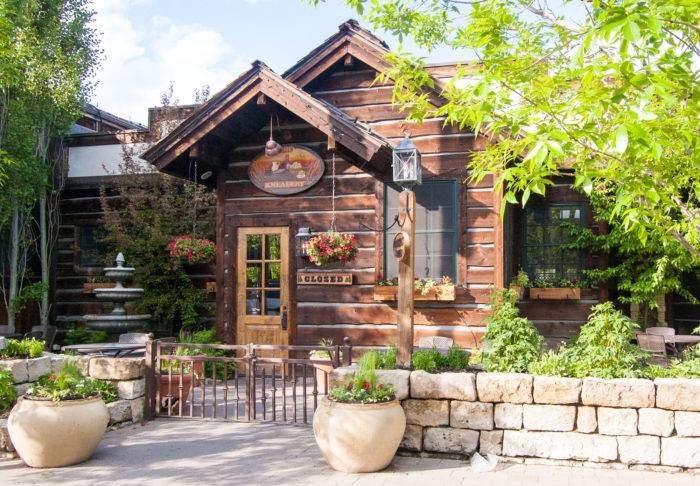 The Kneadery is the place for family breakfast in Ketchum. If there's a wait (which is prone to happen on Sunday mornings) put your name on the list, grab a cup of free coffee, and enjoy the company of fellow diners. Breakfast portions are huge and delicious. Pancakes are a popular meal for kids and adults, but the Kneadery Benedict is also a delight.
1:00PM Ice Skate at Sun Valley Resort
No matter the temperature Sun Valley Resort's outdoor skating rink is always open. Rent from the skate hut and send your kids gliding along to popular tunes played over the rink's stereo system. Sun Valley's outdoor rink is the location of their well known ice shows, where professional skaters put on performances during the summer. If you're lucky, you may skate alongside a 2018 Winter Olympian.
2:00PM Feed the Horses at the Sun Valley Stables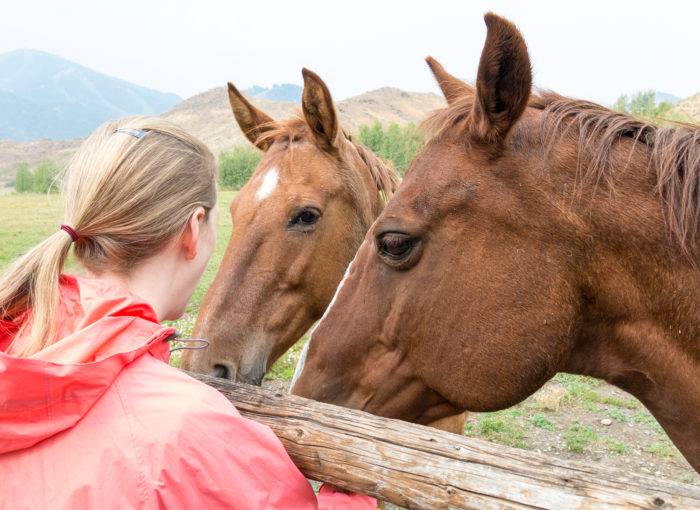 On your way out of town swing through the Sun Valley Stables with a bag of carrots from Atkinson's Market. Stables staff will guide you to the horses that can be fed, typically those not going out on a ride that day. Kids can hold a carrot outstretched in their flat hand and, with a little bit of drooling, the horse will grab the carrot with their lips.
Where to Stay
Limelight Hotel: Newly built in 2016. Offers rooms, suites, and on-site dining. From $230/night for a family of four.
Sun Valley Resort: Variety of lodging from hotel rooms to townhouses. World class spa and outdoor heated pools. From $289/night for a family of four.
Tamarack Lodge: Located in downtown Ketchum across from Town Square. Rooms, suites and an indoor pool. From $208/night for a family of four.
Additional lodging options exist in Hailey, Idaho, 12 miles south of Ketchum.
Sara Sheehy seeks adventure in the mountains of Idaho and beyond. She is the founder of Camp Academy, an online beginners guide to camping and hiking.

Published on October 5, 2017