Sara Sheehy worked in partnership with Visit Idaho to create this Travel Tip.
Located just minutes from the western entrance to world-famous Yellowstone National Park, the town of Island Park is my favorite place to explore when I'm craving the grandeur of the Greater Yellowstone region's sweeping landscapes and volcanic beauty. Island Park's quiet trails, off-the-beaten-path drives and rides, lodging and camping options, and miles of rivers to fish make for an adventurous yet relaxing home base away from the crowds.
If you prefer to explore on foot, as I do, these four trails offer a great introduction to the gorgeous landscape of this unique destination.
Henry's Lake State Park
Aspen Loop | 2.2 miles, easy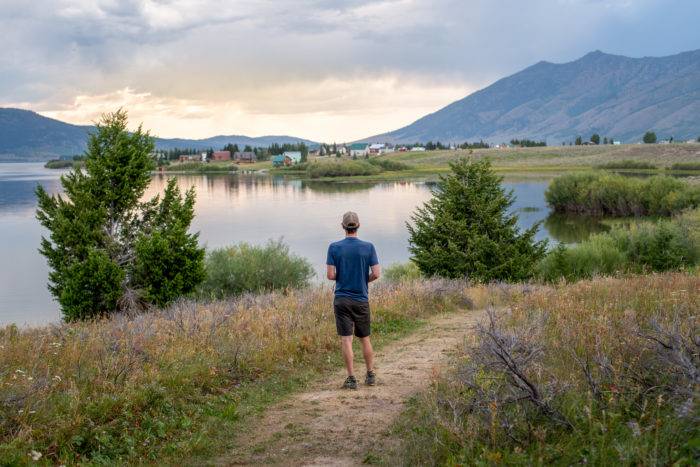 Perched on the shore of 6,000-acre Henry's Lake, Henry's Lake State Park offers camping, boating, fishing, and a small network of trails that are perfect for a late afternoon hike. Stroll side-by-side with your favorite person, or your favorite dog, on the pretty, 2.2-mile Aspen Loop trail. The trail starts along the lakefront and then meanders over sage-covered hills before winding through an aspen forest. Wildflowers are abundant, and the views of Montana's Centennial Valley in the distance are sublime. Return along the Outlet Overlook Trail where, if you time it just right, you can see the sun starting to sink over the lake. Bring bug spray for the mosquitos, and ask at the ranger station about any recent bear activity. There is a $5 entrance fee to Henry's Lake State Park.
Harriman State Park
John Muir Interpretive Trail | .75 miles, easy | ADA Accessible
When John Muir visited eastern Idaho in 1913, he made notes in his journal of the natural beauty surrounding him. "Lovely morning, surely none better in the world," he wrote from the Island Park Land and Cattle Company's historic Railroad Ranch, which is now part of 16,000-acre Harriman State Park. "So cool, so calm, so bright; not a leaf stirring; shimmering ripples, not a cloud or faintest hint of one in the entire blue sky dome."
Experience Muir's wonder with a walk on the ADA-accessible John Muir Interpretive Trail, which leaves from the Harriman State Park's visitor center. Designed for those with limited mobility, this trail weaves through a dense pine forest before emerging along the banks of the Henry's Fork of the Snake River. A wheelchair-accessible fishing platform is available for those who want to cast a line and tempt one of the Henry's Fork's legendary rainbow trout. Be prepared for the $5 entrance fee to Harriman State Park.
Henry's Fork Box Canyon | 4.1 miles, intermediate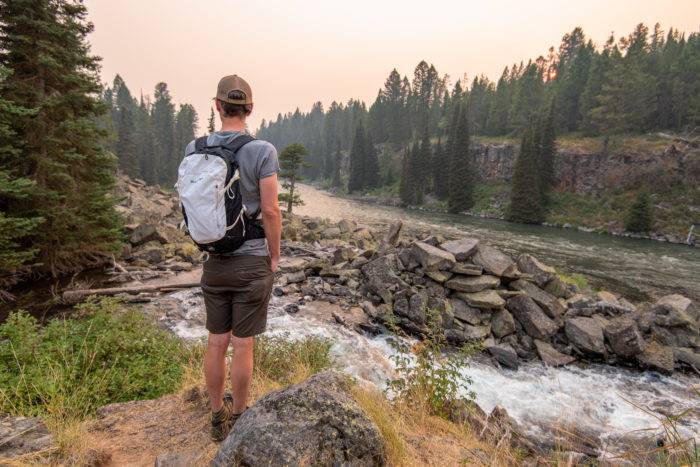 Island Park lies in one of the world's largest calderas, formed during a massive volcanic eruption 2.1 million years ago. The result is a broad landscape, edged in by mountains but largely flat and open. Take a break from the expanse on the 4.1-mile hike through Box Canyon, a section of the Henry's Fork that flows through steep, narrow cliffs and over Class II rapids.
The trailhead is at the confluence of the Henry's Fork and the Buffalo River. Excellent downstream views can be snagged by carefully walking over the Buffalo River's hydroelectric dam (may not be suitable for children) before starting your hike. The Box Canyon trail sits atop the canyon's rim in an evergreen forest, where between breaks in the trees, you can look down into the river below and enjoy the rocky terrain. This is grizzly country, so bring bear spray and keep it easily accessible during your hike.
Flat Ranch Preserve
River Trail | 3.25 miles, easy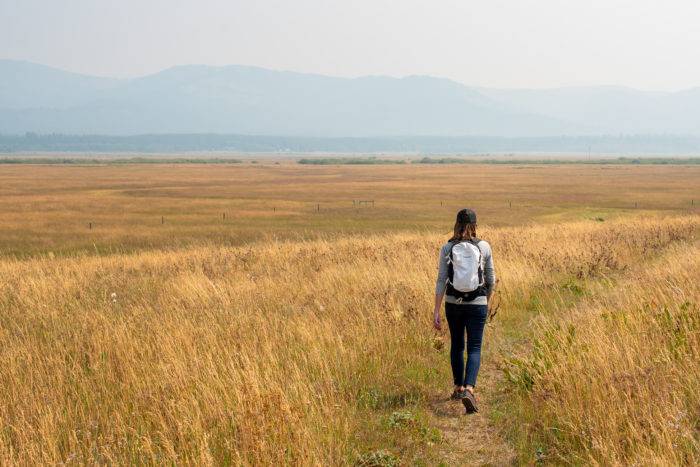 Wander Island Park's beautiful grasslands with a hike on the River Trail at The Nature Conservancy's 1,450-acre Flat Ranch Preserve. A favorite with anglers looking to access the Henry's Fork's twisting length, the 3.25-mile River Trail is also a lovely spot for a morning or early evening walking excursion. Keep your eye open for the pronghorn, elk, deer, and occasional bear that find a safe haven within the Ranch's borders. Enjoy a post-hike picnic or snack on the visitor center's wraparound porch, which offers panoramic views of the Greater Yellowstone region.
Which trail will you explore first? Share your adventures with #VisitIdaho on Facebook, Instagram and Twitter.
Sara Sheehy is a writer and photographer who travels the world seeking wild places and great stories. When she's not on the road, Sara spends her time exploring the mountains around her home base of Sun Valley, Idaho.

Published on October 6, 2020