This is a sponsored post.
When we were gearing up for our yearlong journey back in January, Idaho wasn't at the top of our list of outdoor destinations. To be honest, we thought we'd spend a day in Idaho and continue west from there to a state that's "better" for outdoor activities.
It turns out that there's actually a plethora of fun outdoor activities in Idaho. They're awesome but they don't get the notoriety that they deserve. If you're planning to spend some time in Idaho, be sure to check out these hidden outdoor gems.
Kayak to Shoshone Falls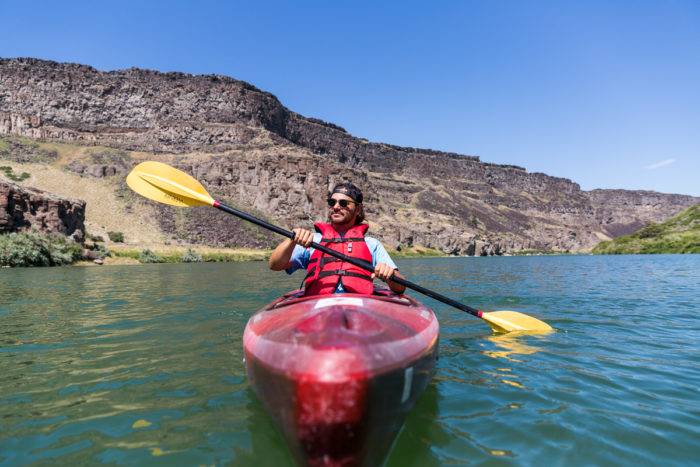 When you think of waterfalls in America, Niagara Falls is probably at the top of your list. The problem is that you can't really have the falls to yourself. Shoshone Falls, which is approximately 50 ft. taller than Niagara, is a waterfall you can get to all on your own. We found the best way to experience the sheer ferocity of the falls is to kayak there. Sure you can get a great view from above, but there's nothing like navigating the turbulent water at the base of the falls in a kayak.
Sandboard at Bruneau Dunes State Park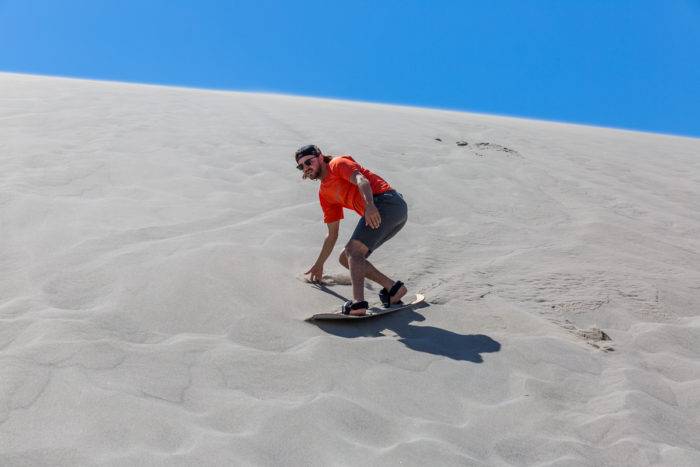 Have you ever looked at a sand dune and thought to yourself "I wonder if I can slide down that on a board?" So have we. And it turns out you can! Bruneau Dunes State Park has some of the biggest sand dunes in North America. Some of them tower close to 500 feet! Those take a while to climb, like 45 minutes, but the smaller sand dunes are a lot easier to climb up and are just as fun to sandboard down. And remember to grab some wax to catch more speed than you can imagine!
Surf the Boise River Park
Surfing in the ocean isn't the only way you can catch waves anymore. The Boise River Park has one of the best river surfing waves in North America. When the water's flowing fast in the spring, be ready to catch a wave like you've never surfed before.
Thanks to a little engineering technology, it's also shapeable. When the wave designer flips a couple levers, the shape of the wave is completely changed by the adjustable man-made dam. If the wave isn't working well, give it a couple minutes for the flows to adjust and you'll be riding your dream wave in no time.
Raft and Jet Boat Hells Canyon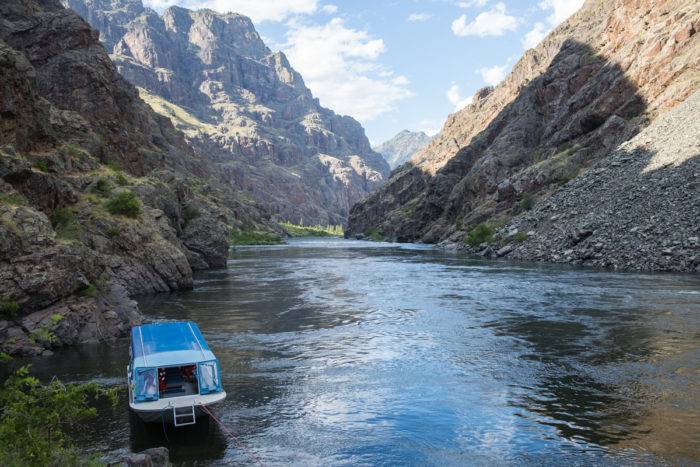 Floating down the river is peaceful, and then all of a sudden you're crashing through Class IV rapids! That's what it's like to go whitewater rafting in Hells Canyon. It's a high flow rafting river and is the perfect way to spend a day out on the water. The rapids get really nutty, but the calm water in between provides time to look around and see the canyon that Mother Nature's been delicately carving for centuries.
Whitewater rafting in Hells Canyon is pretty remote. So the best way to get back to the drop off point is by jet boat. If you think rafting down Class IV rapids is nutty, think about going back over them while traveling upstream in a jet propelled boat! Even with all the power of the boat thrusting you upstream, you can still feel the power of the river moving beneath you.
These are some of the best hidden outdoor gems in Idaho. But Idaho's a big state with a lot more to be discovered. Try out some of these and then go find your own Idaho hidden gems.
All photos, including feature image, are credited to The Bro'd Trip.
Justin Fricke is ½ of The Bro'd Trip. He's dedicated all of 2016 to visit and explore all 50 U.S. states by van with his brother. Throughout the year he's sharing his outdoor adventures through photos, videos, and words. Keep up with Justin on social media (@justinlfricke) and on his website.

Published on July 21, 2016