Scott Marchant worked in partnership with Visit Idaho to create this Travel Tip.
For outdoor enthusiasts seeking to discover the twin jewels of stunning beauty and extensive hiking options, there may be no better choice than the rugged mountains surrounding the small town of Stanley. Stanley is located in the Stanley Basin, surrounded by three diverse and spectacular mountains ranges that are still remarkably unspoiled—the jagged Sawtooth Mountains, the lofty White Cloud Mountains, and the wildlife-packed Salmon River Mountains.
Several large lakes sit in the basin, most being nestled close to the Sawtooth Mountains. All the lakes, including Stanley, Redfish, Pettit, and Alturas, offer neighboring campgrounds and many convenient trailheads. Generally, the closer a trail is to the town of Stanley the more popular the hike is.
Look to hike this area from late June through early October. Wildflower blooms begin in July with fall color peaking in mid-to-late September. Here are four trails that will give you a diverse perspective of this remarkable area. The hikes are listed from easiest to most strenuous.
Marsh Creek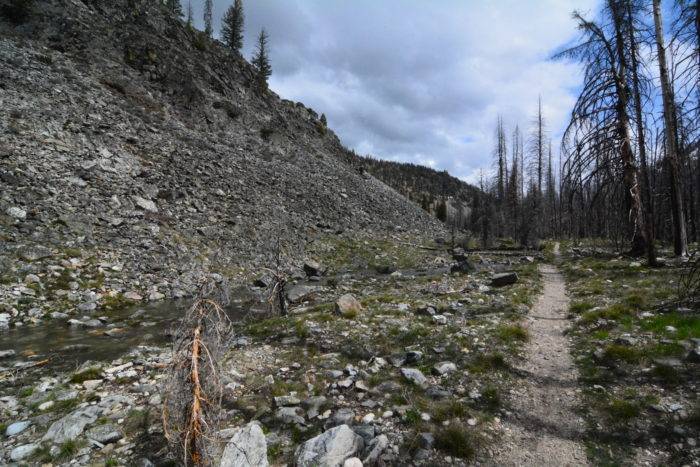 Marsh Creek is located along the southern perimeter of the Frank Church – River of No Return Wilderness in the Salmon River Mountains. The creek—although more like a river in summer—winds through a narrow canyon hemmed by forested hillsides and gray talus. In summer, the canyon comes alive with colorful wildflowers and there is a good chance to see pika, marmot, fox, deer, and elk. An easy and scenic hike destination is to the bridge over Marsh Creek at 1.2 miles. Beyond the bridge, the trail continues another 3.8 miles to the headwaters of the Middle Fork of the Salmon River where Marsh Creek and Bear Creek meet. About a half-mile before reaching the trailhead, you can camp at the wooded Lola Creek Campground.
Out-and-back distance is 2.4 miles with 200 feet of gain.
GETTING THERE: From Stanley, drive west on Highway 21 for 18 miles and turn right on FR 083. Proceed north 1.5 miles to the end of the road and the signed trailhead.
Fishhook Meadow
One of the most stunning meadow-view vistas around unfolds at the end of this short hike. The creek-and-pond laced meadow is nestled on the fringe of the Sawtooth Wilderness and provides outstanding views of several 10,000-foot-plus peaks including Heyburn, Horstmann and Thompson. The wide trail is well-suited for families as the trail's grade is modest and much of the route is shaded beneath lodgepole pine forest.
Out-and-back distance is 4.2 miles with 300 feet of gain.
GETTING THERE: From Stanley, drive south on ID 75 for 4.2 miles and turn right on Redfish Lake Road. Proceed 1.8 miles and turn right into the large parking area. The trailhead (Redfish Trailhead) is located 300 feet northeast of the parking area, on the opposite side of the road that leads to Redfish Lodge.
Fourth of July and Washington Lakes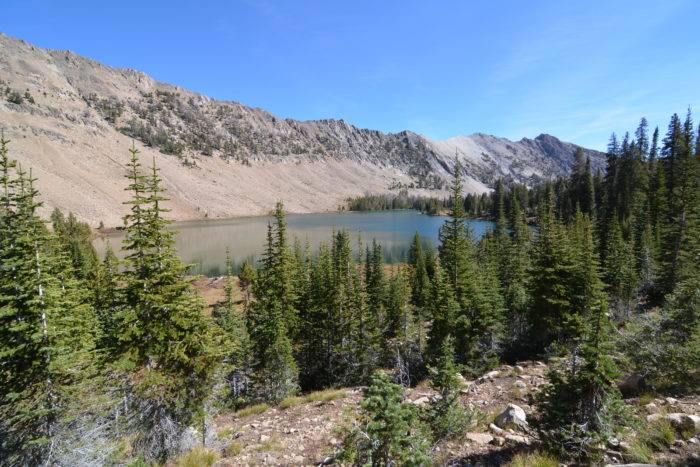 This moderate hike in the White Cloud Mountains first leads to a beautiful U-shaped cirque where Fourth of July Lake is nestled below 10,872-foot Patterson Peak. The lake is hemmed by firs and grassy meadows and provides plenty of prime camping possibilities. From here, the trail continues over a windswept saddle and descends 200 feet to the much larger Washington Lake. Most of the route to the lakes parallels Fourth of July Creek through beautiful open forest. In late September, both lakes offer excellent fall foliage. The trailhead is located at an elevation of 8,750 feet so wait until early July to explore the area.
Out-and-back distance (Washington Lake) is 5.6 miles with a total elevation gain of 1,050 feet.
GETTING THERE: From Stanley, drive south on ID 75 for 14.5 miles and turn left on Fourth of July Creek Road (FR 209). Follow the dirt road for 9.9 miles to its end and the signed trailhead.
Cabin Creek Lakes
The overlooked Cabin Creek Trail is just the hike for those looking to get off the beaten path. The hike begins in the southeastern section of the Sawtooth Wilderness and leads through old-growth, Douglas fir forest. Meadows, wildflowers and impressive views to the distant White Cloud Mountains are a few of the highlights. The trail ends at the lime-colored Lake 8,811 (all five Cabin Creek Lakes are known by their elevation) in a circular basin where you can explore the four other lakes and a handful of ponds.
Out-and-back distance is 7.2 miles with 1,750 feet of gain.
GETTING THERE: From ID 75 in Stanley, drive south for 19 miles and turn right on gravel Valley View Road (FR 207). Proceed 1.1 miles and veer left, continuing another 1.7 miles on FR 207. Turn right at a sign for the Cabin Creek Trailhead and proceed a quarter mile.
Feature image credited to Scott Marchant.
Scott Marchant is a Boise-based guidebook author and landscape photographer. He currently has five hiking guidebooks in print, including his most recent release—Best Easy Hikes Greater Boise. Scott also produces an annual Idaho calendar, Idaho puzzles and other products. Visit hikingidaho.com for more information.

Published on April 30, 2019