The Traveling Newlyweds worked in partnership with Visit Idaho to create this Travel Tip.
Boise is a vibe.
It has everything one would want for rest, relaxation, and adventure. We have been to Boise countless times in the past few years, but always in the winter or just passing through. And while we would rave to you about restaurants (more on that later) and the bustling brewery scene, we recently discovered that Boise has so much more.
The following are the four reasons why Boise is a total vibe.
1. The People
This is an important place to start. We met so many new friends while sitting at restaurants or hanging at parks with Jude. We were consistently blown away by everyone's friendliness. Boise locals are warm, engaging, and extremely proud of their bustling city. Whether it was pushing Bobby to go rent a surfboard and give river surfing a try or letting us know where another great coffee shop was, they wanted us to experience the best of Boise.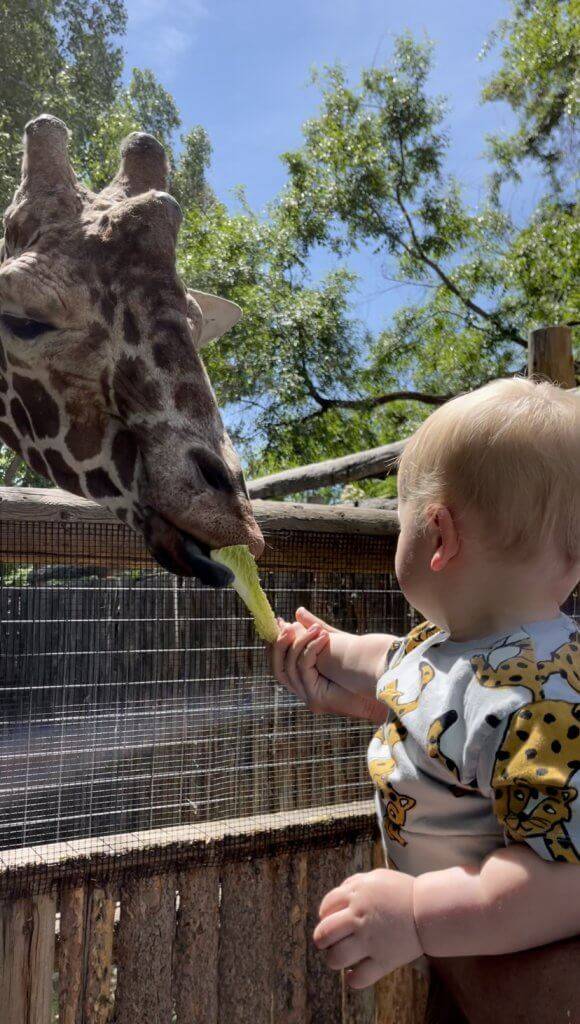 Being new parents, we also noticed how many young families there were at the parks, restaurants, or meandering the downtown. There was no shortage of kids for Jude to play with or parents for us to chat with. We instantly felt at home!
2. The Scenery
Most of our time in Boise had been during the winter months, so we hadn't yet truly appreciated what it's like during the spring and summer. And oh my goodness… it is divine! Staying at The Riverside Hotel, we started and ended each day exploring the Boise River Greenbelt and gawking at how green it is. The lush flora combined with the surrounding mountains makes for a picturesque stroll, and it's a big hit with the locals. Our favorite places to stop were Esther Simplot Park, for Jude to get the wiggles out, and the Boise Whitewater Park to watch the local crew surf the river.
3. The Coffee, Restaurants and Breweries
If you follow our Instagram, it's no secret that we're slightly obsessed with Boise's food and drink scene. What's more, we keep discovering new areas we didn't know about (shoutout to the North End of Boise!). So as of this current writing, the following are our current favorites. For our morning (or afternoon) caffeine fix, you can find us at Slow by Slow tasting their latest batches or at Neckar Coffee for the trendy atmosphere (and tasty coffee). Two new standout restaurants include Certified Kitchen + Bakery for the breakfast sandwich and The Sandbar at The Riverside Hotel, which is set perfectly along the river and has live music and great food. The Wylder continues to impress with their incredible pizzas, so apologies that we never stop talking about it.
Traveling with a child changes our perspective on bars or breweries, as now we're looking for places where we can enjoy a good beer and our little guy can roam free. Western Collective (in neighboring Garden City) was a dream for this very reason—and they have a frosé that's out of this world! Speaking of wine, we also discovered Cinder Wines (also in Garden City) on this trip, and now our trips to the Boise area will never be the same!
4. Beyond Boise
While one could easily spend weeks in the heart of Boise and never get bored, there is so much to see and do just outside of the city! Eagle is an easy 20-minute drive, and it's absolutely beautiful. We explored Eagle Island State Park, where there's trails, a playground, a swimming beach, and more! Just minutes from there is Bardenay, a restaurant and distillery that has the most mouth-watering food—and cocktails!
30 minutes outside of Boise is Caldwell, another picture-perfect town that's worth a visit. They have a splash pad that's a must for kiddos on a hot summer day, and a wide variety of restaurants and boutiques to enjoy! We stopped into Grit 2C for the Grit Dip and some Steak Tacos, and they were absolutely delicious. Amano is on our list for next time, reservations are highly recommended!
When we say that "Boise is a vibe", do you get it now? The people, the scenery, the culinary scene, the surrounding towns… it's all so good. We can't wait to return to Boise and discover new Boise spots, as this city is constantly growing and evolving.
Feature image credited to The Traveling Newlyweds.
Alli and Bobby Talley, AKA The Traveling Newlyweds, are travel and lifestyle writers living in Southern California with their son, Jude, daughter, Reese, and bernedoodle, Sally. Their aim is to inspire families to safely explore the beautiful world we live in, even if that means starting in your own backyard! From road tripping around North America to exploring exotic locations around the globe, they strive to share how traveling is healthy for your family and attainable for anyone. Follow along on their adventures via @Traveling_Newlyweds or on their website.

Published on April 19, 2022