This is a sponsored post.
Eastern Idaho is a landscape of enchantingly clear rivers, thundering waterfalls, and towering lodgepole pine forests. I dive in with a desire for adventure and a full weekend ahead of me.
The journey begins in Idaho Falls, the area's largest city and the best spot to stock up on food, water, and other supplies. Be sure to swing by Marcellar's Vintage Wines and Brews for an excellent selection of libations, and Arugula Deli for an enormous sandwich.
If you've arrived with time to spare in Idaho Falls, which I foolishly have not, stop in at the Museum of Idaho. The exhibits, always carefully curated, switch out every five to six months. The summer of 2017's exhibit is "Space: Journey to Our Future," and opens on June 23.
Island Park is my home base for the weekend. The town stretches for 33 miles and claims the longest Main Street in the world. It lies 80 miles north of Idaho Falls, with the hilly roller coaster of Highway 20 connecting the two.
My plan is to camp for the weekend in one of twenty private and public campgrounds in Island Park (hotels, cabins, and house rentals are also plentiful). I choose Box Canyon, a small Forest Service campground along the Henry's Fork River. The sites are immaculate and, for $15, a steal. I pull in at sunset, set up camp, and wander down to the river. Grizzly bears and other large mammals call this area home, so I whistle loudly as I go. Huckleberry bushes line the riverbank, ripe with fruit.
After a perfect night's sleep under the pines, adventure beckons bright and early Saturday morning. I drive north from town and turn east toward Big Springs, the headwater of the Henry's Fork. 120 million gallons of water, cold and crystal clear, spring from the ground every day. Rainbow trout swim gracefully against the current, easily visible through the water. A small cabin right above the springs, built by homesteader Johnny Sack, is open to the public from June through September. The picnic area at Big Springs is perfect for lunch before cruising south to Harriman State Park.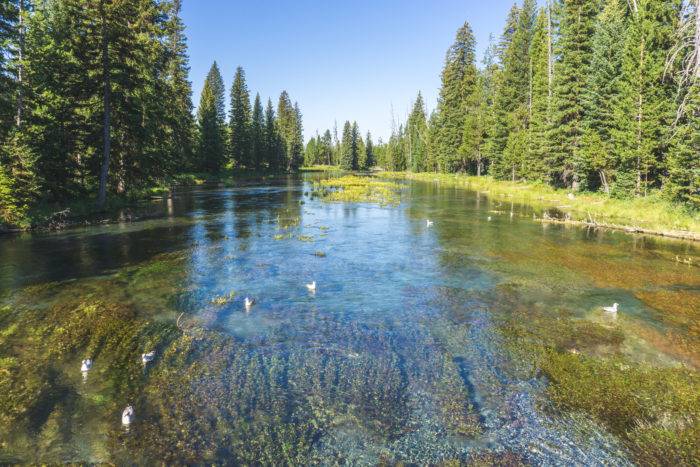 Harriman State Park is nestled within an 11,000 acre wildlife refuge and has a little something for everyone. I choose to hike, but anglers will undoubtedly want to fish the eight world-class miles of the Henry's Fork winding through. Anglers know this stretch of river simply as "the Ranch," in reference to the ranching history of the park.
I learn more while on a three mile loop hike that takes me along Silver Lake, through Harriman Ranch, and down the shore of the Henry's Fork. Ranch buildings dot the landscape, and many can be rented for overnight stays. A few buildings are open to the public for tours, subject to volunteer availability.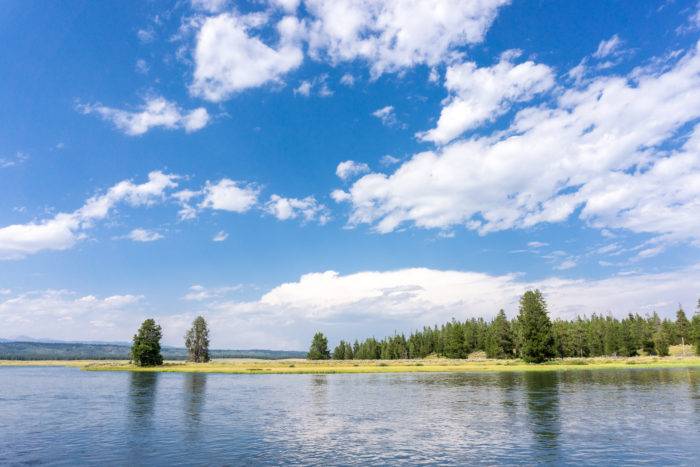 I've spent so much time at Harriman State Park hiking and looking through my binoculars at the abundant shorebirds and waterfowl, that I'm worn out. I return to Box Canyon, build a fire, and watch the sky turn pink before settling in for another night's sleep.
On Sunday morning it's time to head south. Instead of returning to Idaho Falls on Route 20, the Mesa Falls Scenic Byway (Highway 47) is a worthy detour. My husband jumps out with his road bike and promises to meet me at Mesa Falls, fourteen miles down the road. I pass groups of other cyclists and it's no surprise; the road is well paved and the scenery beautiful.
Mesa Falls is a natural wonder. The Henry's Fork flows through the remains of a volcanic super eruption, cascading 115 feet over lava rock to form Upper Mesa Falls. It's a wall of water, thunderously loud, and can be viewed from a well-built walkway that leaves from the Mesa Falls Visitor Center. Upper Mesa Falls is a popular destination, and I find myself wishing for a little solitude in this stunning landscape.
The Mesa Nature Trail is exactly what I'm looking for. The 2.5 mile out-and-back trail slopes gently downhill toward Lower Mesa Falls. Halfway through the hike I stop to admire a panoramic view of forest and river while standing atop a rugged field of lava.
The trail terminates at a small butte overlooking Lower Mesa Falls. Continuing on a narrow, steep path leads me right to the waterfall's edge. The view is spectacular, but not for the faint of heart. There is no protection on this scrambling route, and it's best left for experienced and sure-footed hikers.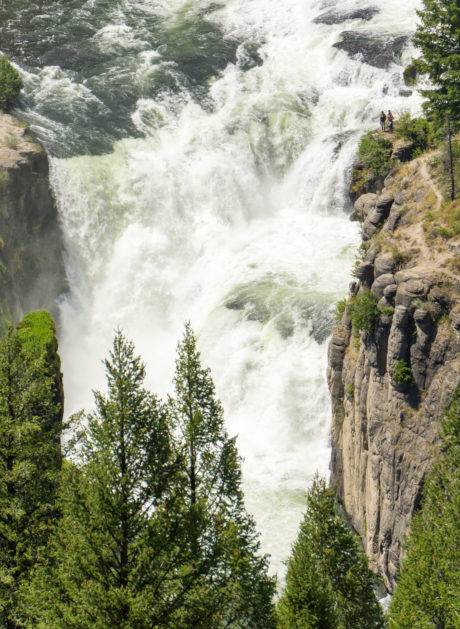 I make my way back to the car and regretfully continue south to wrap up my weekend of adventure. However, there is one more stop to make. The Lower Mesa Falls Overlook, a few miles down the road, provides an eagle-eye view of the waterfall. I spy small figures carrying whitewater kayaks, scouting the 65-foot waterfall for a ride down it's roaring face. I watch, jaw dropped, as a kayaker nudges over the edge.
All photos, including feature image, are credited to Sara Sheehy.
Sara Sheehy seeks adventure in the mountains of Idaho and beyond. Follow her on Instagram at @sarasheehy.

Published on April 20, 2017