Katie Williams worked in partnership with Visit Idaho to create this Travel Tip.
Whether you're a history buff, or just want to learn a bit more about Idaho's past, Boise is a great place to start your journey. The capital city is an outdoor adventurer's dream and is home to a variety of arts, culture, and historical experiences.
After living in Boise for about a year, I figured it was time for me to hit the pavement and take a stroll around the city to see as many historical and cultural sites as possible. Let's just say I learned quite a bit while gallivanting through the city and now have a better appreciation for this great state I live in!
Here is a list of just a few great spots you should visit.
Stop 1: Idaho State Museum
I recommend starting your adventures at the Idaho State Museum. This newly remodeled museum is a great mix of informative and interactive exhibits. Learn about Idaho's landscapes, how and why people settled here, and Idaho's story in a regional and national context. I'd say this is a stop to get a total overall understanding of Idaho's history and is a perfect place to bring the whole family. The museum is open every day.
Stop 2 : Boise Art Museum (BAM)
Adjacent to the Idaho State Museum is the Boise Art Museum. This museum opened its doors in 1937 and holds permanent collections of contemporary realism, ceramics, and the largest public collection of art from famous Idaho artist, James Castle. The museum also has an outdoor sculpture garden and traveling art exhibits that change throughout the year.
My favorite historical piece of the museum was the James Castle exhibit, and my favorite modern portion was the Donut Ever Forget Me exhibit by Jae Yong Kim. Boise has really been focusing on improving its art game, and the Boise Art Museum could be considered its showpiece.
Bonus Stop
The Idaho State Museum and the Boise Art Museum are both located within Julia Davis Park. While you're in the park, stop in at the Idaho Black History Museum, check out the old Boise homes that are preserved next to the history museum, and get a photo with the giant statue of Abraham Lincoln.
Stop 3: Basque Block & Basque Museum
Did you know that Boise has one of the largest populations of Basque people outside of the Basque Country in Spain? Take a walk (just a few blocks) from Julia Davis Park over to the Basque Block on Grove Street between 6th Street and Capitol Boulevard. Here you'll find the Basque Museum along with a Basque market and a handful of authentic Basque restaurants and bars.
Boise has done a great job preserving and showcasing the state's Basque history, and once inside the museum, you'll find numerous artifacts, photographs, and collections of manuscripts and tapes describing the Basque immigration to the American West. While on the Basque Block, look out for the famous Oinkari Basque Dancers that frequent Boise events and dance on the Basque Block!
Stop 4: Old Idaho State Penitentiary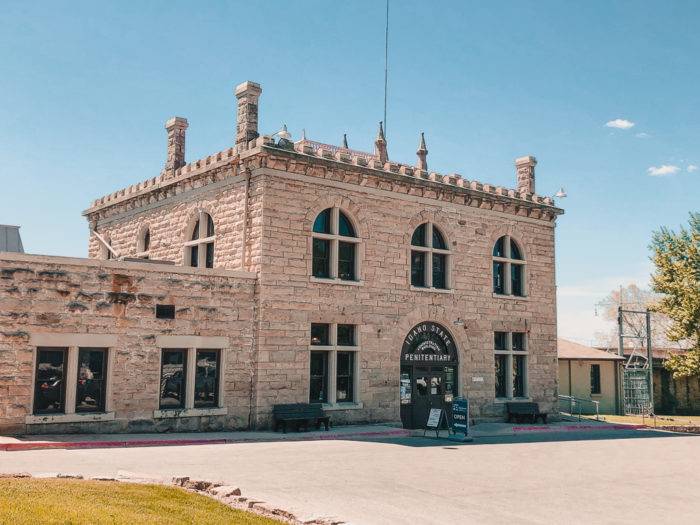 You can't come to Boise without visiting the infamous Old Idaho Penitentiary! I went to this penitentiary long ago when I was in grade school, and it was as spooky then as it was this time around. You can take one of the daily guided tours or do the self-guided tour to explore the grounds that once held some of the West's most desperate criminals from 1872 to 1973. This site features 30 historic buildings and special exhibits. I highly recommend making the stop. After a tour at the penitentiary, walk to the beautiful Idaho Botanical Garden next door.
Stop 5: Freak Alley Gallery
When visiting downtown Boise, make plans to stroll through Freak Alley. It's the Northwest's largest open-air, multi-artist mural gallery, and was started by one man simply painting an alleyway door in 2002. The murals change twice yearly and are all done by local artists spanning from 7 to 35 years of age! Take a walk through the alley and you're sure to be amazed by the creativity and talent of these outdoor artists.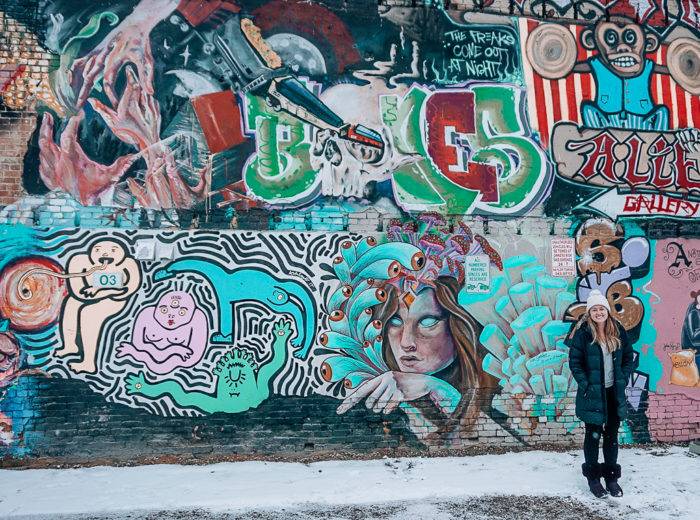 If you're longing for more, don't stop here! Try going to the Idaho Anne Frank Human Rights Memorial, the James Castle House, or take a drive to see the historical homes on Harrison Boulevard and Warm Springs Avenue.
Sometimes Idaho's history can get overlooked, but Boise truly is a fantastic place for a history buff to learn more about this magical state and its intriguing past!
Katie Williams is a world traveler and blogger at Traveling Spud. She documents her adventures around the globe and shenanigans in her home state of Idaho. Follow her on her blog Traveling Spud or her Instagram.

Published on June 18, 2019