This is a sponsored post.
Fall is the perfect season for hiking in Idaho – the temperatures are crisp and cool, the fall colors are popping brilliantly in the sunshine, and the trails generally aren't as busy as mid-summer.
Fall is also a great time to take the family for a day hike – it's a perfect opportunity to take them off the grid, away from the TV, video games and other electronics, even if only for a few hours.
Here are five family-friendly day hikes throughout the state that are guaranteed to please.
Snowslide Lake, McCall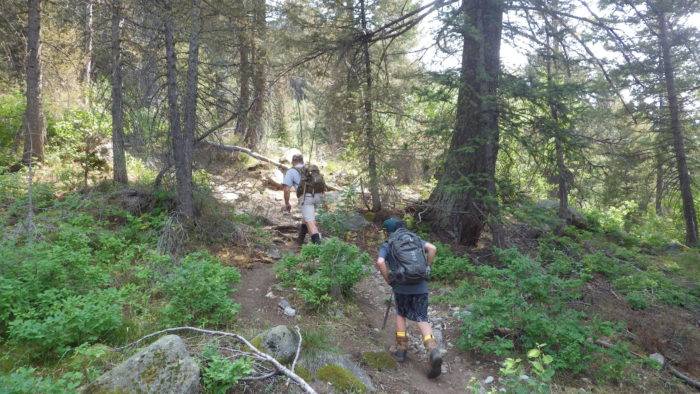 Trail tread: Singletrack hiking trail
Trail length: 4 miles round-trip
Travel time: 2-4 hours round-trip, depending on your pace
It's a steep two-mile hike on a rocky trail to Snowslide Lake from the trailhead, but it's a lovely forested lake teeming with small brook trout, making it easy for the kids to catch fish. It took my son, Drew, and I about an hour to reach the lake from the trailhead at a swift pace. Drew caught a few brookies within the first five minutes.
The trailhead for Snowslide Lake is on the right side of Lick Creek Road, about 20 miles east of McCall. Lick Creek Road can be accessed on the east side of downtown McCall, via Railroad Avenue and Davis Street, following signs to Ponderosa State Park. Turn right at the junction of Davis and Lick Creek Road and follow Lick Creek Road as it climbs into the mountains to the signed trailhead for Snowslide Lake.
Bogus Basin, Boise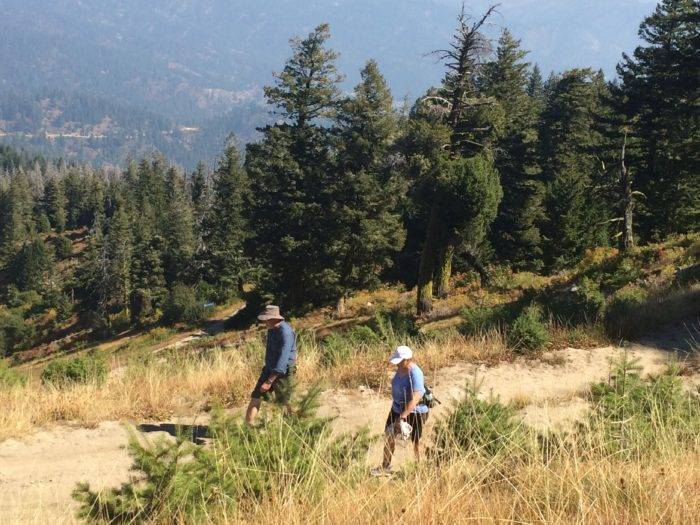 Trail tread: Singletrack hiking trails and two tracks.
Trail length: 2.5 miles (short route Deer Point-Shindig)
Travel time: 2 hours round-trip; 5.75 miles (longer route); travel time: 3-4 hours
Bogus has been adding new trails every year to increase the diversity of hiking and biking trails at the resort. I'd recommend starting from the base area, climb Deer Point Trail to the top of the front side of the mountain, and see how the kids feel. If they're tired, you can return to the base area on Shindig.
If they're still energetic and want to go higher, take them on Elk Meadows around the backside of the mountain, and then climb to the top of Shafer Butte, a perfect lunch spot at 7,580 feet, with a 360 degree, spectacular view. Look for the Sawtooth Mountains off to the east and then see if you can identify any peaks in the Boise National Forest.
Adams Gulch Loop, Ketchum/Sun Valley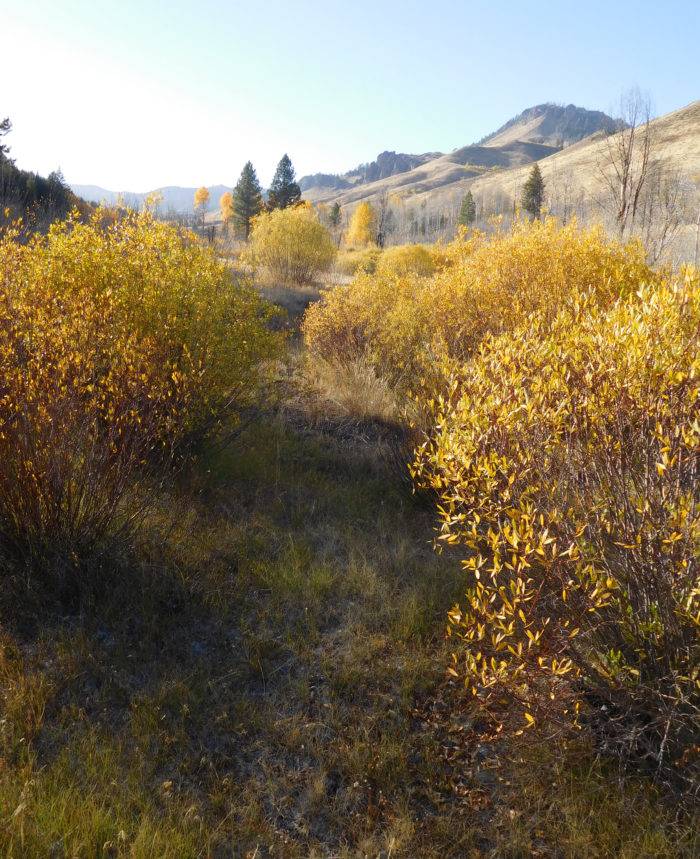 Trail tread: All singletrack hiking trail
Trail length: 6 miles round-trip
Travel time: 2.5-3 hours
Adams Gulch is the local go-to spot for Ketchum and Sun Valley locals in the Sawtooth National Forest because it's really close to town, and it's quite beautiful with the aspen trees shining bright yellow in the sun and the scent of a pine forest above. Take the main Adams Gulch Trail to Lane's Sunnyside Trail and follow that trail about three miles to a junction with the Griffin Butte Connector. Go left and follow that trail to Eve's and then Shadyside and return to the trailhead via Shadyside Trail, traveling in the trees. Watch for animal tracks (elk and deer) and listen for songbirds. Be aware that mountain bikers also use the trails frequently in Adams Gulch.
Look up the interactive trail map provided by the Blaine County Recreation District for a trail map of your adventure. The Adams Gulch Trailhead is reached via Adams Gulch Road, on the west side of Idaho 75, north of Ketchum.
Rapid River Trail, Riggins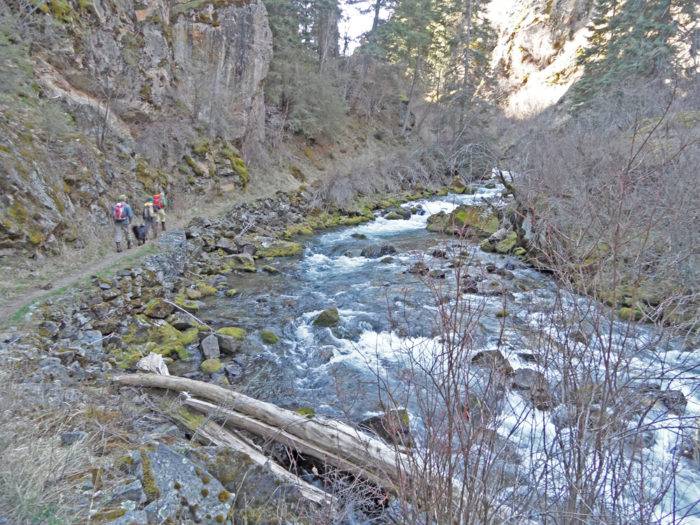 Trail tread: All singletrack
Trail length: up to 8 miles round-trip (you make the call as far as you want to go)
Travel time: 4-6 hours
Rapid River Trail starts near the Rapid River Fish Hatchery in Riggins, so it's possible to double-up on this trip to do the hike and then tour the hatchery afterwards. The trail is beautiful as it slowly climbs the steep-faced granite mountains through shrubs that are flowing red, orange and yellow this time of year. It's about 4 miles up the trail until it gets markedly steeper to reach higher elevations. This is a good turn-around point unless you want to climb to the top and get the full experience.
Priest Lake Navigation Trail, Priest Lake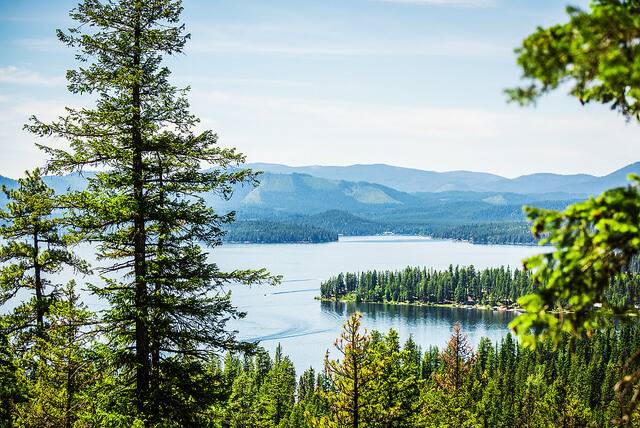 Trail tread: All singletrack
Trail length: Recommend 4 miles out, 4 miles back
Travel time: 3-5 hours
This is a nifty singletrack hiking trail ­that follows the north shoreline of Priest Lake and continues north to Upper Priest Lake along the navigation channel where boats pass through from the lower lake to the upper lake. The trail is dark and shady under the canopy of big old-growth cedar and hemlock trees. Look at the trees closely and take a whiff of the beautiful smell of the cedar wood. Watch for critters in the forest, animal tracks, owls and songbirds. Once at the Upper Lake, you can walk along the shore of the upper lake as far as you want, and come back.
The trailhead is at Beaver Creek Campground. The trail is 8 miles long one-way.
Be sure to pack food, snacks and plenty of water. Bring rain gear if the weather forecast looks questionable.
Suggested gear list:
Dad and Mom should carry a day pack with the day's lunch, water bottles, snacks and rain gear (if needed).
Kids could carry their own smaller day packs or water packs and rain coats (if needed).
Bring fishing poles and fishing licenses if you plan to fish. Make sure licenses are safely secured in a pack or pocket so they don't get lost.
Bring a map of the area, bring a GPS or use apps on your mobile phone for maps of the trails.
The longer Bogus Basin hike is called the "Bogus Basin Contour Trail" in my book Boise Trail Guide: 90 hiking and trail-running routes close to home.
Steve Stuebner writes about hiking, biking, paddling and winter outdoor outings regularly in his blog, Stueby's Outdoor Journal.

Published on October 25, 2016