This is a sponsored post.
Fall is such a fabulous time to go mountain biking in Idaho. The cool temperatures are the big thing – you can scale the mountain in thin layers and barely sweat a drop! Plus, the scenery is enhanced by fall colors, brilliant hues that become even more spectacular in the morning and evening sunlight. Sometimes, it's so beautiful you just have to stop and soak in the view. Woo-hoo! Aren't we glad we're in Idaho!?
As a longtime mountain bike rider in Idaho, I'd like to recommend five of my favorite fall rides throughout the Gem State. These are wonderful rides that you can do over and over again when you're in the area. You'll never grow tired of them because they're so much fun, especially if you bring along your riding buddies.
Around the Mountain, Bogus Basin Mountain Recreation Area, Boise
Distance: 10 miles
Vertical gain: 1,500 feet
Difficulty: Intermediate and up
Tread: All singletrack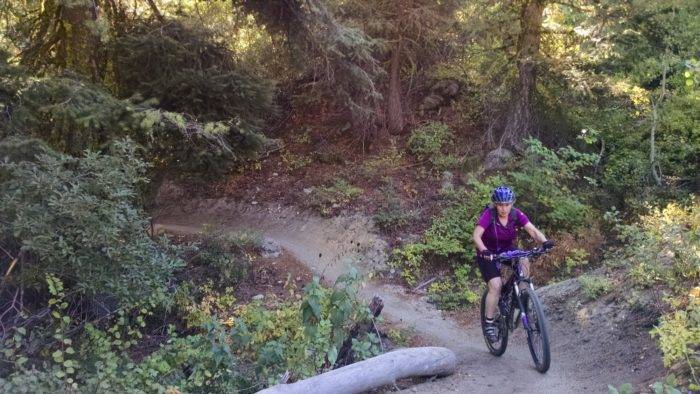 Ridge to Rivers trail bosses combined with mountain bike volunteers to create this super-cool trail at Bogus a couple of years ago. Since that time, it's become a local favorite. It's also rated as the No. 1 mountain bike ride in Idaho by the International Mountain Biking Association (IMBA).
Take Deer Point Trail about a mile to the Around the Mountain trail junction, and then follow Around the Mountain as it circumnavigates Bogus Basin ski area. The trail is well-signed the whole way. After climbing several miles, the trail plunges downhill into a series of banked turns and corners on the backside of Bogus. You'll slowly climb out of that hole and ride through the forest, gradually gaining elevation, as the trail goes by various creeks, springs, and rock features. Be cautious around the rock features and decide what's rideable with your skill set and experience. After completing the circle around the mountain, drop down the Morning Star Trail back to the base area. Bring a cooler with some cold beverages to enjoy after the ride with your friends. Around the Mountain is also a good trail for big-mountain running dogs if you have one. Pack some water for your pet in case the springs have dried up for the season.
Distance: 10 miles (short loop)
Vertical gain: 1,500 feet
Difficulty: Strong intermediate and up
Tread: All singletrack
Loon Lake is one of my all-time favorite rides in Idaho. That's because it's so rare anywhere in the Rocky Mountain West where you can do a 10-mile mountain bike loop to a high mountain lake, where you can have lunch and enjoy the gorgeous setting. Plus, after the ride, you can soak in Burgdorf Hot Springs and soothe your tired muscles.
Start the ride at Chinook Campground, 25 miles north of McCall via Warren Wagon Road. Cross the Secesh River on the trail bridge and climb over to Loon Lake on the Victor Creek trail #081. There will be some steep climbs along the way and some fun downhills. Have lunch at Loon Lake and see the weathered remains of a World War II bomber that crashed there in the winter of 1943. Several crew members hiked 30+ miles through deep snow to get help and everyone survived. Continue down to the Secesh River and go up and down along a rocky trail with steep drop-offs next to the Secesh as you ride 3.5 miles back to the trailhead. Approach technical rocky sections carefully if you're not experienced riding rock features on a narrow singletrack. The section from the Secesh River back to the trailhead is more challenging than the rest of the ride, but not a big deal for advanced riders.
Distance: 17 miles
Vertical gain: 2,000 feet
Difficulty: Intermediate and up
Tread: Two-track and singletrack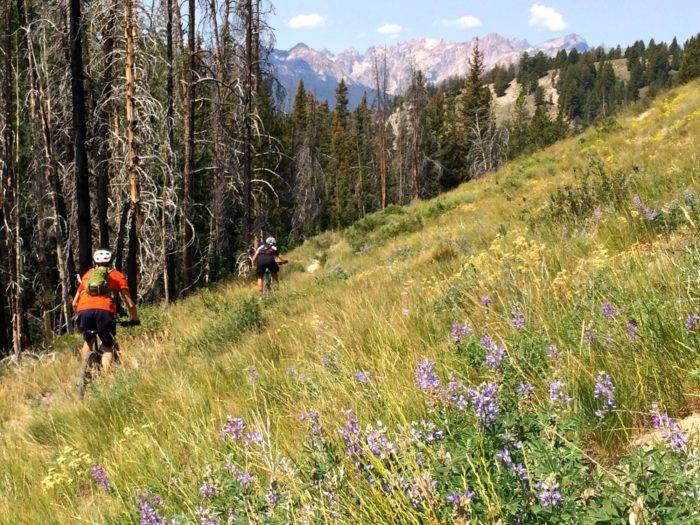 Fisher-Williams is what I call an "Idaho Classic," along with trails like Loon Lake. It's a steep climb on a two-track road along Fisher Creek to reach an initial saddle, where the singletrack fun begins. Then you'll be grinning wide and hooting at the trees as you descend a super-fun singletrack to Warm Springs Creek junction and the Williams Creek Trail. There's a very moderate uphill climb on the first part of the Williams Trail, and then there's a huge 5.2-mile descent to the trailhead below. As you're dropping quickly through the forest, you'll see occasional big views of the Sawtooth Mountains. Stop and enjoy the view.
Start the ride by leaving a vehicle at the Williams Creek trailhead (end point of the ride). Then ride along Idaho 75 to the Fisher Creek Road, turn left and climb the Fisher Creek grade as it gently climbs through a beautiful valley, and then goes straight up to the saddle mentioned above. It's possible to do a vehicle shuttle to avoid riding along the highway if you wish. This is handy if you're taking a dog or young kids.
After the ride, stop in Stanley for a meal and a beverage. Papa Brunee's has pizza and sandwiches, and the Casino Club has a full meal, full bar, salad bar and pool table.
Distance: 10.6 miles
Vertical gain: 1,800 feet
Difficulty: Strong intermediate and up
Tread: 5.5 miles of singletrack, 5.1 miles of double-track
You might get a little dizzy from riding lots of switchbacks to climb to the top of Gold Hill, but the views are spectacular ascending next to big and beautiful Lake Pend Oreille. There are more than 50 switchbacks on the climb, but to be totally honest, I lost track. The good news is the trail is smooth and well-engineered, so get into an easy gear and spin your way to the top.
From Sandpoint, ride or drive 3 miles south on U.S. 95 to Bottle Bay Road. Go left and bear left again at the railroad tracks. Follow Bottle Bay Road 5 miles to a signed trailhead and parking area for Trail #3. Climb Trail #3 to the top of Gold Hill. At mile 3.9, you'll crest the summit as Trail #3 joins Forest Road 2642. Go south on the dirt road, and then you'll climb to a second summit. The trail dumps out on a double-track dirt road. It's a fun and fast descent down to Garfield Bay Road. Once you hit the pavement, go right and ride 5.5 miles over to U.S. 95 and take the bike path back to Sandpoint. You can also return to the trailhead and your vehicle on Bottle Bay Road via paved roads.
Distance: Up to 14 miles
Vertical gain: Less than 500 feet
Difficulty: Beginners and up
Tread: Two-track and singletrack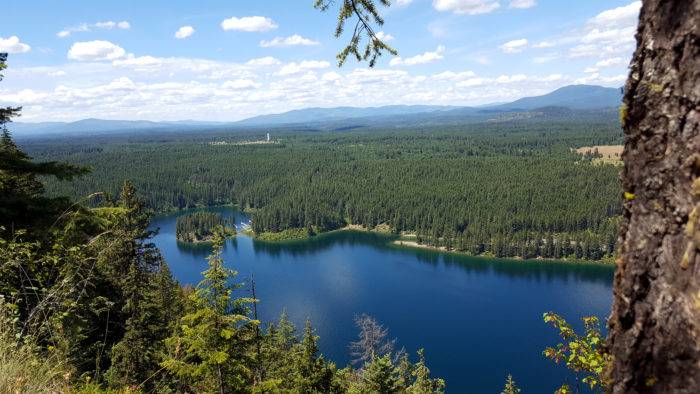 Farragut State Park, an old naval training base that has become one of the crown jewels of Idaho's state park system, offers more than 45 miles of trails inside the forested park. There's the Shoreline Trail that runs next to Lake Pend Oreille, the Lake Viewpoint Trail, and a number of loops in the densely forested portion of the park on the north side. I'm recommending riding the Lynx Trail around the west, north and eastern perimeters of the park. There are connector trails and small loops that you could add for variation along the way so make sure to take the family and kids. Pick up a trail map at the park headquarters for navigation. The trailhead is located near the Park Visitors Center. Cross Highway 54 and ride Lynx Trail and Buggy Trail around the north end of the park. Stop in the little town of Bayview along the way for a snack, beverage or lunch.
You may also camp, boat, fish, swim, hike, ride horses or play disc golf at Farragut State Park. Check out the Coeur d'Alene Chamber of Commerce or Sandpoint Chamber of Commerce websites for information on local accommodations and foodie recommendations.
Steve Stuebner is a widely published outdoor writer based in Boise. Read more at http://stuebysoutdoorjournal.blogspot.com.

Published on November 4, 2016