Scott Marchant worked in partnership with Visit Idaho to create this Travel Tip.
Impressive colors. No bugs. Mild temperatures. Falling leaves. Empty trails. What's not to like about fall hiking? Many people associate Labor Day with the end of mountain play, but veteran hikers know this is the most spectacular time of the year to enjoy nature. Your best bet for peak fall foliage in central and southwest Idaho is late September through early November, depending on the area's elevation and sun exposure. Here are six splendid hikes to seek out for fall colors. Do remember: With autumn comes hunting season. Always wear a bright red or orange T-shirt or jacket to make yourself visible to hunters.
Sawtooth Mountains Near Stanley
FISHHOOK CREEK TRAIL: This easy hike parallels Fishhook Creek and ends in the beautiful Fishhook Creek Meadow. Although a popular hike in summer, the fall sees a fraction of the visitors, and hikers will likely have the trail to themselves. What makes this an exceptional fall hike is the abundance of golden aspen on the neighboring hillsides. Fishhook Creek Meadow is a sensational destination and provides dazzling vistas of the more notable peaks in the Sawtooth Mountains, including Mt. Ebert, Mt. Heyburn and Horstmann Peak. Out-and-back distance is 4.2 miles with 200 feet of gain.
Trailhead Location: From Stanley, travel south on Highway 75 for 4 miles and turn right onto Redfish Lake Road. Continue 1.7 miles to a large parking area on the right. The Redfish Lake Trailhead is located on the north side of the road.
Boise National Forest Near Lowman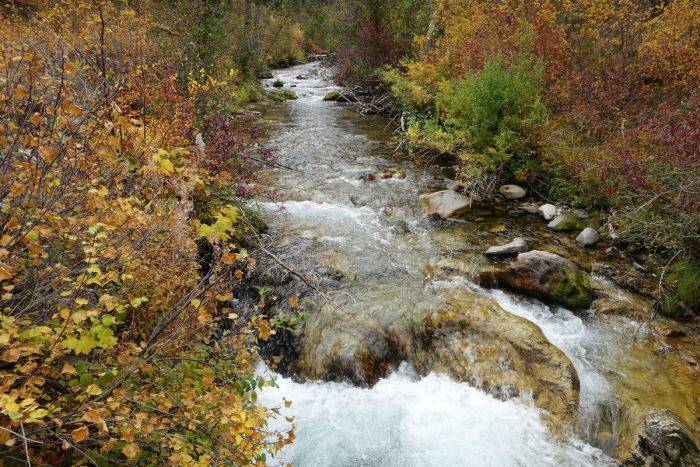 TEN MILE CREEK TRAIL: Located near the small town of Lowman, Ten Mile Creek is an exceptional walk alongside the beautiful Ten Mile Creek. The hike begins near the confluence of Ten Mile Creek with the South Fork of the Payette River and wanders up Ten Mile Creek through an open forest of pines, firs and cottonwoods. The willow and bush-lined creek comes alive with beautiful fall colors usually the first two weeks of October. Out-and-back distance is 4.2 miles with 400 feet of gain.
Trailhead Location: From the junction of the Banks-Lowman Highway and ID 21, drive east on ID 21 for 12.6 miles. Turn right on Ten Mile Road and drive 0.2 mile to a fork in the road. Take the left fork and turn left at 1.0 mile on a short spur road marked with a sign for the Ten Mile Trial. Follow the road less than a quarter-mile to the trailhead.
Boise Foothills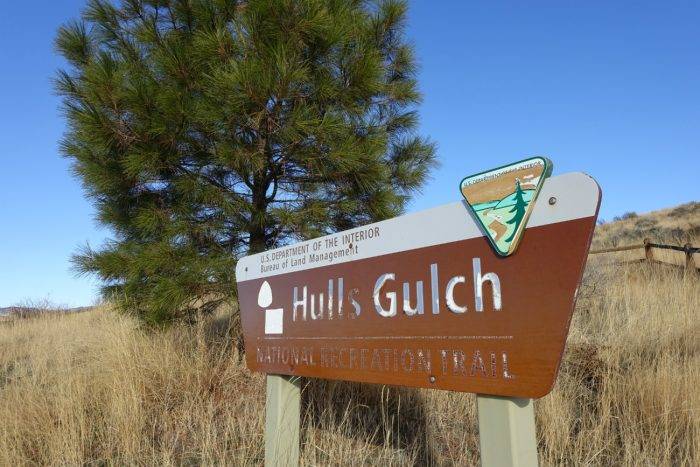 HULLS GULCH INTERPRETIVE TRAIL: It's hard to imagine a better Boise foothill hike during autumn than the Hulls Gulch Interpretive Trail. The trail parallels the lush Hulls Gulch for most of the route, and the drainage supports a rich combination of flora, including chokecherry, Wood's rose, cottonwoods, willows and syringa. In late October and early November, the vegetation transitions to muted yellows, greens and reds. There are many trailside interpretive signs along the way that provide interesting information regarding local vegetation, wildlife and geology. One-way, the trail's length is 4.4 miles.
Trailhead Location: From State Street in downtown Boise, drive north on 8th Street for 4.6 miles to the signed trailhead on the right.
Payette National Forest Near McCall
DUCK LAKE: Arrow-shaped Duck Lake is a visual feast in late September and early October when nearby green foliage transitions to a palette of yellows, oranges, vibrant reds and pale greens. The beautiful lake is surrounded by granite ridges, forest and a serene meadow. The hike's short distance is a compelling outing for families. Out-and-back distance is 2.4 miles with 300 feet of gain.
Trailhead Location: From the junction of Davis Avenue and Lick Creek Road—near Ponderosa State Park—follow Lick Creek Road east for 19.3 miles to the signed trailhead on the left side of the road. The last 12.7 miles is a dirt road passable to all vehicles.
City of Rocks National Reserve Near Almo
BUMBLIE TRAIL: The City of Rocks National Reserve, located near the small town of Almo in south-central Idaho, is a geological wonderland of granite domes, chiseled pinnacles and towering cliffs. There are more than 22 miles of trails weaving between monolithic rock formations. In mid-to-late October, hike to the pinnacle-shaped Lost Arrow to see colorful aspen. Start the hike from the Flaming Rock Trailhead, connect to the Bumblie Trail and follow the signs to Lost Arrow. The out-and-back hike is 2.5 miles with 600 feet of elevation gain.
Trailhead Location: From I-84, take exit 216 to Declo and follow ID 77 south for 38.6 miles to Almo. The City of Rock's Visitor Center and park entrance is less than a mile south of Almo.
Rapid River Near Riggins
RAPID RIVER TRAIL: The Rapid River was designated a Wild and Scenic River in 1975 and for good reason: Exposed bluffs, grassy ridges, steep canyon walls and the boulder-lined river make for breathtaking scenery. The trail parallels the river for nearly 4.5 miles to where it forks with extended hiking opportunities. Look to hike in mid-to-late October for fall's best colors.
Trailhead Location: From New Meadows, travel north on US 95 for 29.7 miles and turn left onto Rapid River Road. (If coming south on US 95 from Riggins, Rapid River Road is 5.7 miles.) Continue 2.9 miles on Rapid River Road to the signed trailhead.
Scott Marchant is a Boise-based guidebook author and landscape photographer. He currently has five hiking guidebooks in print, including his most recent release—Best Easy Hikes Greater Boise. Scott also produces an annual Idaho calendar, Idaho puzzles and other products. Visit hikingidaho.com for more information.

Published on October 9, 2018