This is a sponsored post.
Idaho's unique geological location offers countless geothermal pools to enjoy. Some are well known, others are not. Either way, there's really no better way to "soak up" our state's magic than to soak in it. Below are seven special spots to check out during any season.
1. Boat Box Hot Springs
From the "T" in Stanley, head north up Highway 75 for about three and a half miles. You'll pass through Lower Stanley and by a few campgrounds before you reach the small pull-off on the right side of the road. The pull-off can only fit about two or three cars and is easy to miss so be on the lookout for steam rising from the river area. This particular spring flows into what appears to be an old mining cauldron. There's room for only three or four soakers, and that's a COZY fit. The water running down the pipes and into the unit is scalding. There's usually a white bucket next to the cauldron that can be used to transport cold river water into it. The view of the Salmon River coupled with the easy access of the spring puts this one towards the top of my all-time list.
2. Rocky Canyon Hot Springs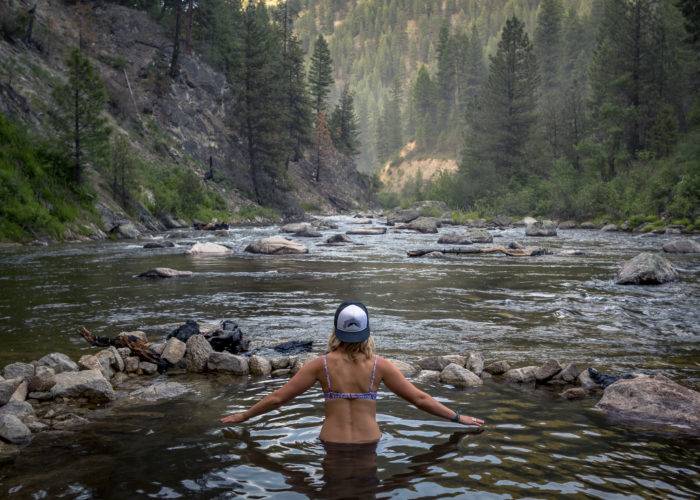 This three-tiered spring requires a river crossing during the summer months when it's safe to wade across at low levels. It sits right above the Middle Fork of the Payette River and is maybe the closest spring to Boise on this list. Take South Middle Fork Road for 12 miles from downtown Crouch. The road will turn to gravel after about 8 miles and a small pull-off on the left side will signal the parking area after the remaining 4. Look for steam across the river and pools on the hillside. There are some unique spots to camp along the road side of the river. On your way back through Crouch, be sure to stop at Two Rivers for a tasty bite.
3. Frenchman's Bend Hot Springs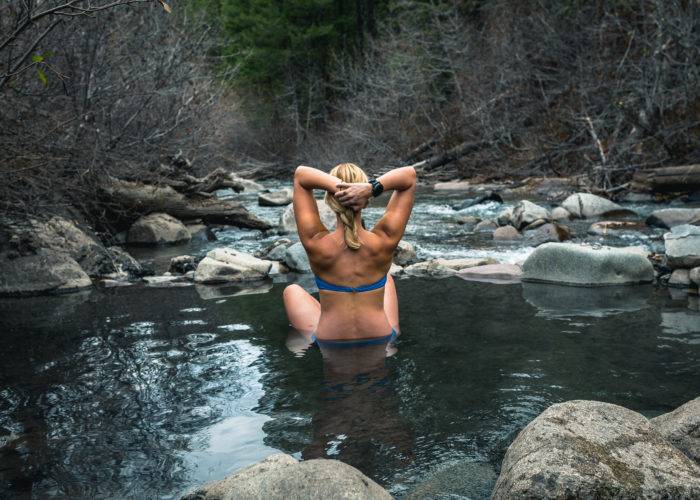 10.5 miles down Warm Springs Road outside of Sun Valley is Frenchman's Bend, a hot spring snuggled up against some large boulders along the gravel road. These are fairly well-known springs and see a lot of traffic during weekends and holidays. Fall is a great time to hit this spot because of the vibrant colors of the surrounding trees. As a general rule of thumb, fall is simply a great time to be in Sun Valley.
4. Kirkham Hot Springs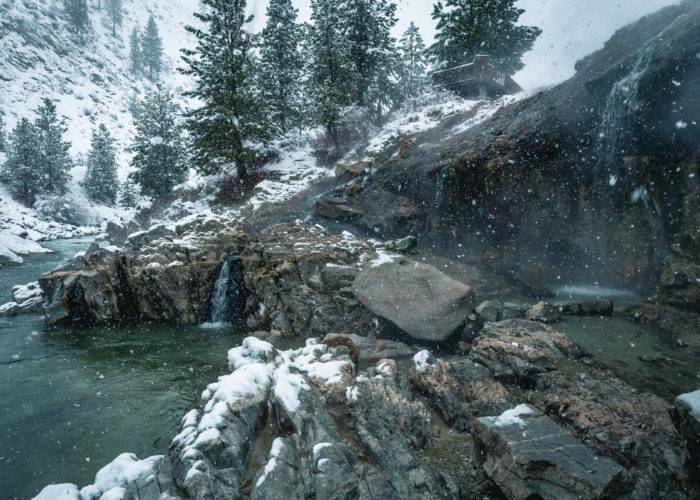 Kirkham Hot Springs is perhaps Idaho's most famous geothermal pool. Located 5 miles north of Lowman on Highway 21, visitors should be ready to socialize while they soak. Kirkham is also a popular campground so this is sure to be a bustling area during the summer months. Although busy, it's famous for a reason: numerous pools of varying temperature await you at the bottom of a wooden staircase. Warm water falls over the cliffside into a pool below that literally feels like a hot shower.
5. Trail Creek Hot Springs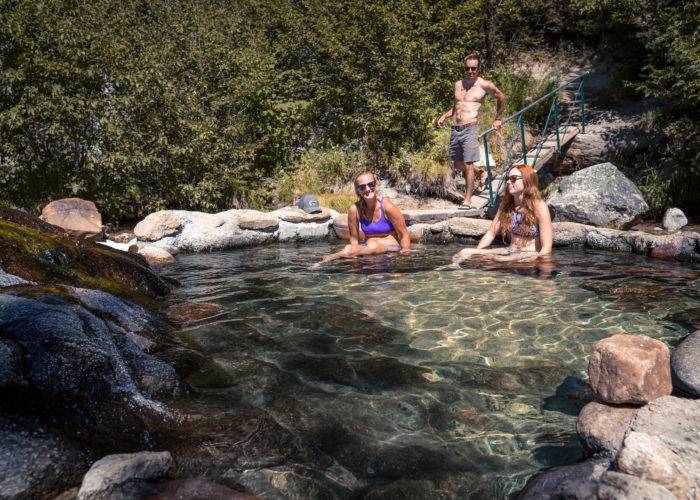 From Cascade, turn right on Warm Lake Road and reset your car's odometer. 18.8 miles later, pull off into the large turn-out on the right side of the road. Hike down to find two immaculate, carefully crafted pools above a storybook creek. It's obvious these springs have seen a lot of love. There's a network of pipes that strategically mix hot and cold water to provide an optimal soaking experience. We've hit these in the winter as well as the summer and can confirm that both seasons are worthy of a stop.
6. Mountain Village Lodge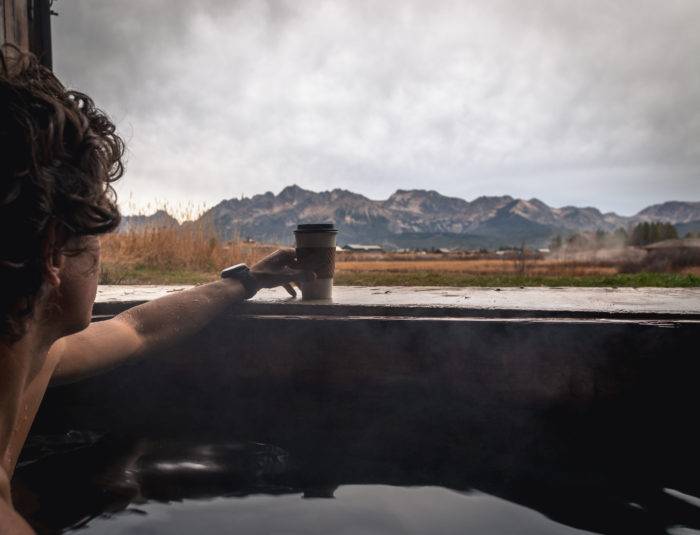 I've stayed at the Mountain Village Lodge in Stanley maybe half a dozen times. Each time I check in I'm sure to reserve a spot the next morning for a sunrise spring. The spring sits about a quarter mile from the lodge in an old barn next to the river and you can open the barn doors to view the Sawtooth Mountains in all their glory. Bring a cup of joe down with you for a flawless morning.
7. Burgdorf Hot Springs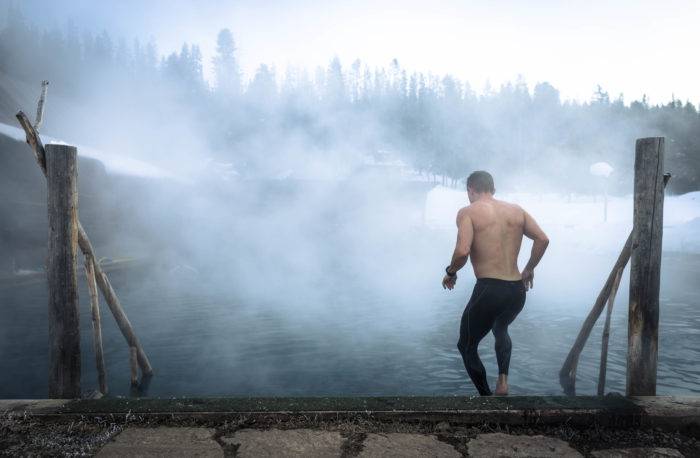 Visiting Burgdorf Hot Springs is like stepping back in time and it is something every Idahoan should experience. You can rent old wood cabins out here, but don't expect five-star accommodations. In fact, don't even expect electricity. In the midst of the historic cabins, you'll find a community hot spring large enough for a full football team, reserves and all. During the winter months, Burgdorf can only be accessed by snowmobile. Last year we rallied up there for a buddy's bachelor party and had the time of our lives backcountry skiing and soaking. The resort has been around for many years and it's awesome to hear my dad talk about his adventures there in the 80s.
The unfortunate truth is not everyone respects our beautiful state or participates in the outdoors responsibly. We like to pack a trash bag in order to leave the springs cleaner than we found them and I encourage you to do so as well! For more information on Leave No Trace principals, click here.
All images, including feature image, are credited to Dusty Klein.
Dusty Klein is a Boise-based outdoor photographer who enjoys capturing moments of his adventures around our beautiful state. Follow his travels on Instagram.

Published on October 6, 2016