Christina McEvoy worked in partnership with Visit Idaho to create this Travel Tip.
It's the middle of winter and the kids are driving you nuts, being stuck inside all the time. You're ready to get out of dodge and think a fun winter trip is in order, but where to go? Surely there's a budget-friendly, less touristy destination suited for families with older kids or teens.
Well, luckily there is. Located on the west face of the Teton mountain range, without all the crowds of ski towns, eastern Idaho is your place. In this guide we will share 7 Best Winter Activities in Eastern Idaho with Teens.
Most people go to eastern Idaho in the summer months. In fact, it's well known that this area of Idaho can be quite cold in the winter! However, that shouldn't stop you from getting outdoors and enjoying all that Idaho winter has to offer.
There are so many great activities to do in winter for families, especially those with older kids and teens.
1. Snowmobiling Tour to Mesa Falls
Snowmobiling is a popular recreational activity in Idaho in the winter and eastern Idaho has some of the best trails for off-roading adventures in the state! I recommend renting snow machines or better yet, going on a guided excursion with Teton Valley Adventures located in Driggs. They offer several different options for full or half day tours, including the Mesa Falls snowmobile tour. This is an all day adventure and perfect for families with older kids and teens.
This particular tour will take you roughly 50-60 miles through snowy forested trails, along rivers, over meadows, and of course, to the majestic Mesa Falls. This waterfall is located in the Caribou-Targhee National Forest and only 15 miles from West Yellowstone. Upper Mesa stands at 114 feet tall, while Lower Mesa is about 65 feet tall.
While these waterfalls are stunning all year long, they are particularly magical in the winter. No crowds and a frozen winter wonderland surrounding these falls, make this place a highlight along the snowmobile tour with Teton Valley Adventures.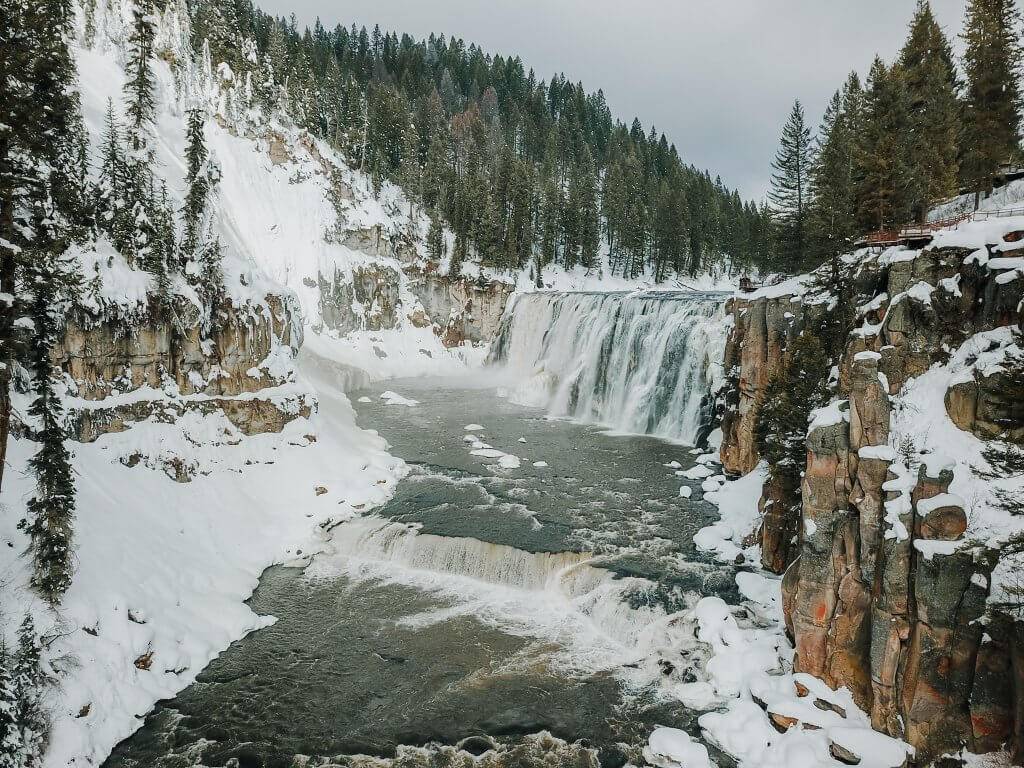 Throughout the Mesa Falls tour, you will also stop at different landmarks in Island Park to include Big Springs, Warm Springs, and lunch along the river at Pond's Inn. Enjoy a hot cocoa and some delicious comfort food before heading back out on the trails. Some other important things to note about all snowmobile tours with Teton Valley Adventures: you will be provided gear which includes a jumpsuit, boots, helmet and gloves. This outerwear is designed to keep you toasty warm in cold temps.
The guide will also provide instructions on how to safely and properly operate and drive the snowmobiles. You must have a valid driver's license in order to operate the snow machines, otherwise they will ride with a driver.
2. Fat Tire Biking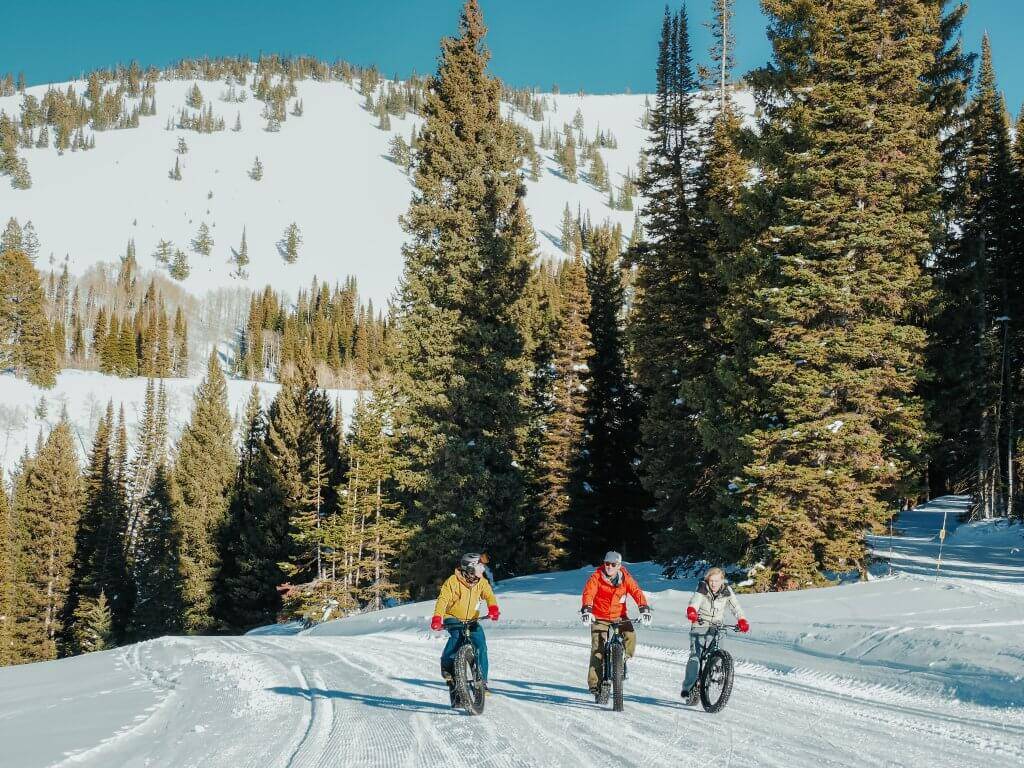 This is another winter activity that you must try! Eastern Idaho is known for amazing mountain biking trails, so of course, fat tire biking is catching on rapidly here. Fat tire biking a.k.a. fat biking, is a fun activity that older kids and teens can especially enjoy. Grand Targhee, Harriman State Park, Horseshoe Canyon, Packsaddle Road, Teton Canyon, and Darby Canyon all have fat biking trails. Remember, not all groomed trails are open to fat tire bikes, so it's wise to check before you try a particular groomed trail.
Grand Targhee, Kelly Canyon, BYU-Idaho Outdoor Resource Center and Fitzgerald's Bicycles in Victor all rent fat bikes if you don't have your own. Keep in mind that you will need to dress warmly in layers (that you can take off if you get too hot), a helmet, gloves, and good boots.
3. Snowshoeing at Harriman State Park
If you're looking to get outside for a day of fun and beautiful vistas, head to Harriman State Park, located just 15 minutes from the heart of Island Park. Harriman State Park lies within a 16,000-acre wildlife refuge in the Greater Yellowstone Ecosystem and is known for its scenery and wildlife. There are 24 miles of multipurpose trails here in all seasons, but in the winter, you can come to Harriman and snowshoe, cross-country ski or fat bike.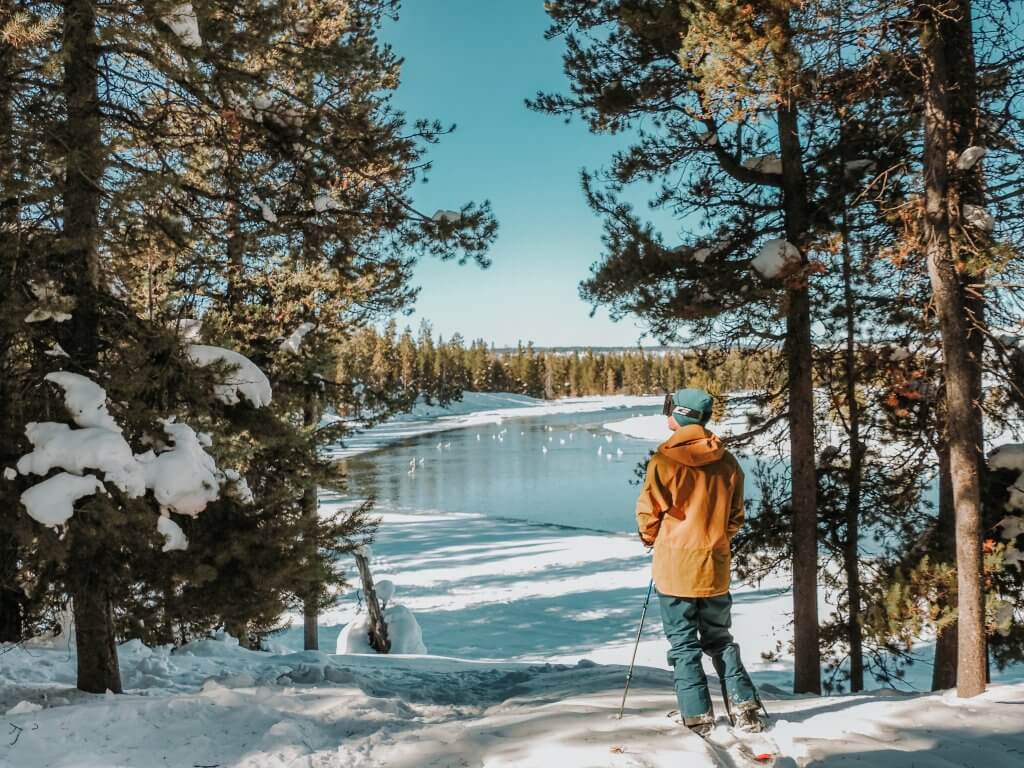 Fun fact: Some of the best fly fishing waters in the U.S. flow through Harriman State Park. And if you love spotting wildlife, Harriman is one of the best places to see moose, elk and Trumpeter swans. All of these species are common sightings here, even in winter.
There are several trails that you can choose from with varying degrees of mileage and difficulty. If you're looking for any easy, short hike that you can do in a few hours or less, check out the John Muir Trail, which is accessed from the main parking lot near the park office. Some other great shorter trails include: Ranch Loop, River Trail, and the Thurman Creek Inner Loop. These trails are less than three miles round trip, making it perfect for families. If you want a slightly longer trail, Harriman Ridge Trail Loop and Golden Lake Loop are good options and also offer stunning vistas.
Note: There is a small vehicle entrance fee and a per person fee when you arrive at Harriman State Park (the per person fee covers the grooming and upkeep of the trail system) at the ranger station. If you have an Idaho State Parks Passport, your entrance fee is waived. As a bonus, the fee or passport also covers a day trip to the nearby Upper Mesa Falls and Henrys Lake!
Snowshoe rentals are available in Henry's Fork Anglers in Island Park, which is the closest rental shop to Harriman State Park.
4. Skiing at Kelly Canyon
If you haven't had your fill of skiing yet and want to try another ski resort in the area that has more of a "local vibe", don't miss the hidden gem Kelly Canyon Ski Resort, located only 30 minutes from Rexburg, in Ririe. Known for their impeccable grooming (which does not disappoint), uncrowded trails and lifts, and homestyle food, Kelly Canyon is full of surprises. It is also one of the best ski resorts in Idaho to learn how to ski or snowboard, and even boasts a terrain park.
What makes this ski resort even better is it's more affordable than most ski resorts. For less than $80 for adults and $59 for kids, you can ski all day here and get your money's worth (kids up to age 5 ski for free with a paying adult). Kelly Canyon also offers ski lessons complete with a "magic carpet", and even has night skiing!
5. Spend the night in a Yurt
Did you know that you can camp in a yurt in the winter? Yep, that's right. As crazy as it may sound, it's actually quite the adventure and something you should consider when planning your winter trip to Eastern Idaho with older kids and teens. If you really want to get away from it all, try yurt camping for an unforgettable mountain experience! One of the best places to go yurt camping in Eastern Idaho is Harriman State Park, where you can stay the night in the rustic, canvas-walled Cygnet and Wyethia yurts.
Photo (via Harriman State Park)
Each yurt is outfitted to sleep up to six people with two bunk beds, and includes a picnic table, wood-stove, propane cooking stove, and lantern. Drinking water, firewood, and a vault toilet are located just outside the yurt. You will want to be prepared to pack in flashlights, sleeping bags, water containers, food, camp cookware, propane, and most importantly, don't forget to pack your snow gear too! You can make reservations online, see pricing, and learn more here.
6. Ice Fishing
Ever tried ice fishing? Ice fishing is a great opportunity for anyone wanting to fish without the need of a boat or specialized gear. And if you're in Eastern Idaho in the winter, you are lucky to be close to some of the best fishing lakes and streams in the entire country. Henry's Lake, located 15 miles from West Yellowstone, is probably the best ice-fishing spot in all of Idaho brimming with big cutthroats, rainbow-cutthroat hybrids and trophy brook trout.
Anglers can fish with minimal equipment and can access the lake easily by foot or snow machine from various public access points around the lake. It's also a great experience for the whole family to get out and try their luck at some trophy-sized trout. At Henry's Fork Anglers, you can hire an experienced fishing guide to take you.
7. Skiing at Grand Targhee
You can't come to Idaho in the winter and not go skiing. Idaho might not be as well known for skiing as the neighboring states of Wyoming, Colorado and Utah, but it doesn't mean that Idaho doesn't offer world-class skiing. If you want to experience skiing deep powder and some of the most beautiful views of the Teton mountain range, without paying an arm and a leg (compared to nearby Jackson Hole), Grand Targhee is your place.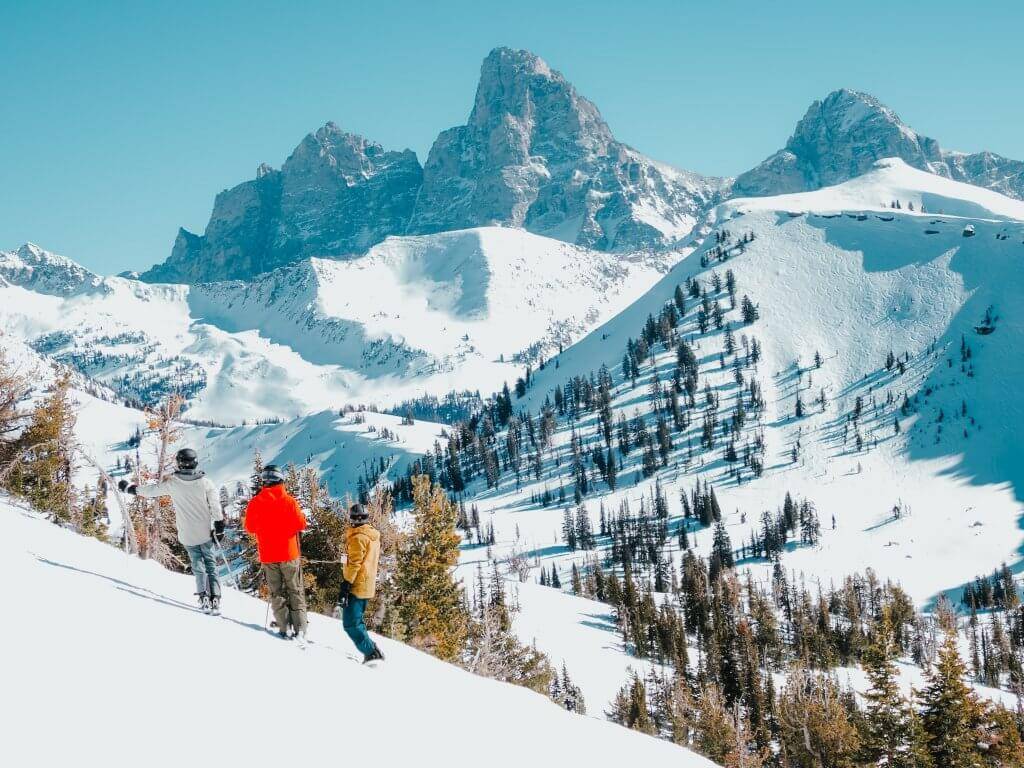 Grand Targhee Ski Resort is technically located in Alta, Wyoming just over the border from Idaho, however Targhee is considered more of an Idaho destination due to lodging. Most people prefer to stay in Driggs, Idaho (versus the ski resort which is more expensive) which is located less than 30 min away from Grand Targhee. Driggs is a quaint, charming town on the backside of the Teton mountain range that is quickly growing in population, due to the accessibility of outdoor recreation here. You can find plenty of accommodation options to suit your budget on Booking.com, and also Airbnb.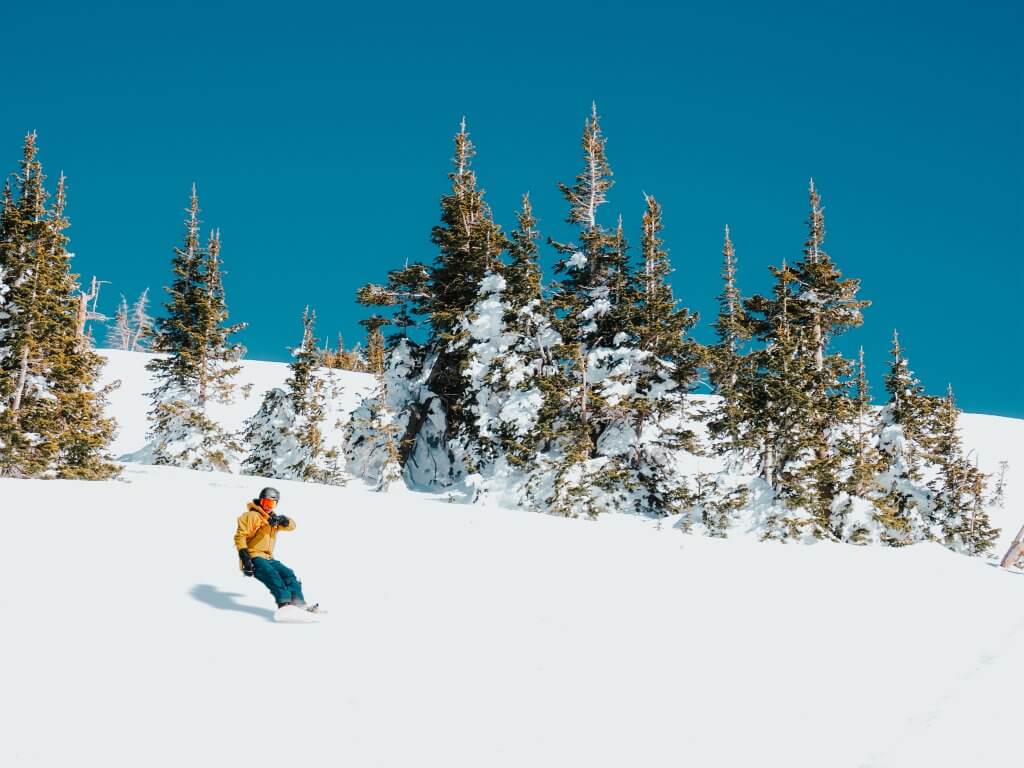 Grand Targhee Ski Resort is a great ski resort for families with kids of all ages and also for new skiers. They offer ski lessons and rentals for all abilities and have great beginner runs. In addition, Targhee boasts terrain parks, awesome off-piste skiing, and breathtaking views of the Teton mountains.
Targhee even offers cat skiing, complete with 600 acres of untracked light, dry powder only accessible by snowcat machines. Please note that cat skiing at Grand Targhee is only for intermediate to advanced skiers and riders with off-piste experience.
If downhill skiing isn't your jam, Grand Targhee also offers other activities at the ski resort. Snowshoeing, cross-country skiing, and fat biking on Targhee's extensive nordic trail system are all activities you can do here. They also offer rentals on equipment and guided tours.
That wraps up the seven best winter activities in eastern Idaho with teens! All of these activities are perfectly suited for families with older kids and teens and will provide memories to last a lifetime!
Feature image credited to Christina McEvoy.
Christina McEvoy is an adventure travel photographer and blogger at Adventure Together. She shares epic destination guides and tips for traveling with teens in off-the-beaten-path places and loves to inspire families to get outdoors. Christina and her family spent a few years slow traveling in Central and South America and now reside in SLC, Utah. For more adventure travel inspiration, follow Macs Explore on Instagram.

Published on December 20, 2022