Melynda Harrison worked in partnership with Visit Idaho to create this Travel Tip.
Picture this: gliding along snow-covered trails past Trumpeter swans gracefully floating on near-frozen waters. Or speeding through the trees on a snowmobile. Maybe you see yourself dipping a fly into the Henrys Fork or spending the night in a cozy yurt.
If any of those scenarios sound like winter fun, Island Park is the place to be.
The town of Island Park in eastern Idaho is more like a string of resorts, restaurants, and lodges laced along Highway 20 for 33 miles. In most places, the town isn't more than 500 feet wide. Because of its unusual shape, Island Park claims the "Longest Main Street in America."
Much of Island Park is in the Henrys Fork Caldera, a large crater created by the "hot spot," or plume of magma, currently beneath Yellowstone National Park (hence the hot springs and geysers) and formerly beneath Craters of the Moon National Monument and Preserve.
The Henrys Fork of the Snake River winds through Island Park and its headwaters arise from both Henry's Lake and Big Springs. There are many ponds, lakes, and streams in the Island Park area, creating opportunities for world-class fishing, even in winter.
The other aspect that makes Island Park such a great destination for winter fun, is the altitude, around 6,000 feet, combined with an unusual amount of precipitation — around 230 inches annually. It snows a lot and that snow sticks around.
Snow Sports
Whether you are interested in cross-country skiing, snowshoeing, or fat biking, you'll find a trail in Island Park.
For outdoor recreation, lodging, photography, and wildlife viewing, Harriman State Park ticks all the boxes. With more than 24 miles of groomed trails, you can cross-country ski (both classic and skate), ride your fat bike, or wander about on snowshoes. Trails meander near the Henrys Fork, around Silver Lake, across meadows, through the trees, and through the surrounding hills.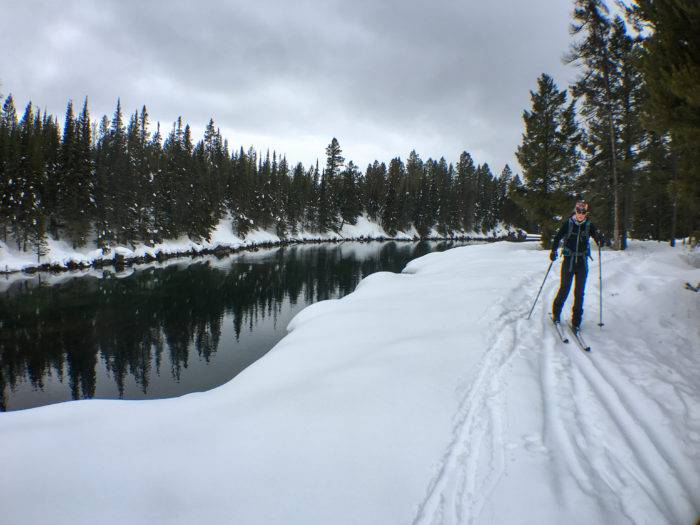 The Buffalo-Brimstone X-Country Ski Trail is comprised of several loops of varying difficulty. The Forest Service grooms the trails weekly for both classic and skate skiing. There is even a 10.8-mile trail leading to Harriman State Park, should you feel especially energetic.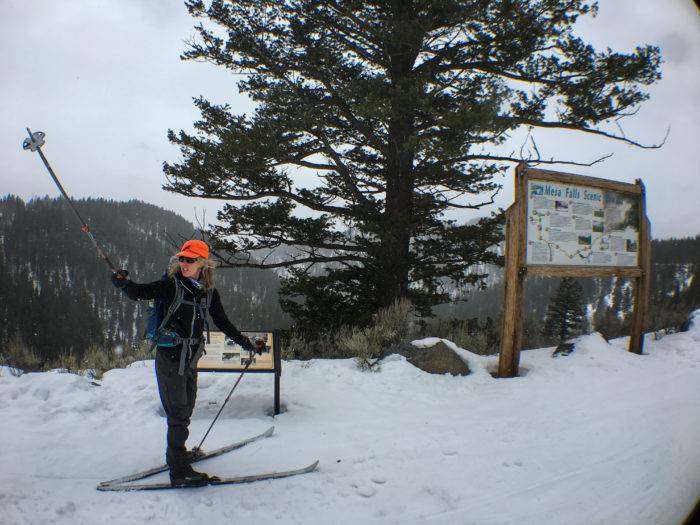 Another great ski, snowshoe, or fat bike ride can be found on the trails to Upper and Lower Mesa Falls along Canyon Rim Trail from the Bear Gulch parking area. Upper Mesa Falls is where the Snake River plunges 114 feet over the edge of the Henrys Fork Caldera in a 200-foot wide spectacle. Parts of the trail are shared with snowmobiles, but most of it winds along the edge of the canyon and is set aside for skiers and snowshoers.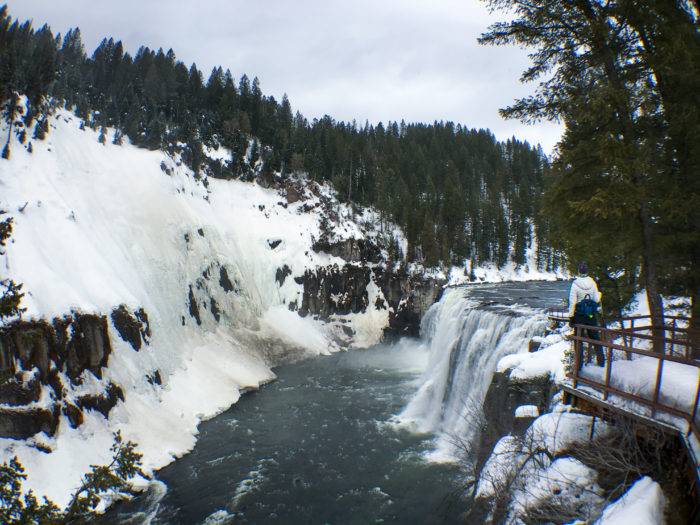 Fall River Ridge Cross-Country Ski Trails are made of three loops totaling nearly eight miles of trail. There is a mix of flat terrain through meadows, and steeper hills, especially in the third loop.
You can find more trail details and maps on the Forest Service's website here.
Snowmobiling
Island Park is probably best known as a snowmobiling paradise in winter. People come from all around the country to ride on the more than 900 miles of groomed trails. Ride out to Big Springs to see the historic cabin built by German immigrant, Johnny Sack, and try and spot the big brook and cutthroat trout that live in the crystal clear pool that forms the headwaters of the Henrys Fork of the Snake River.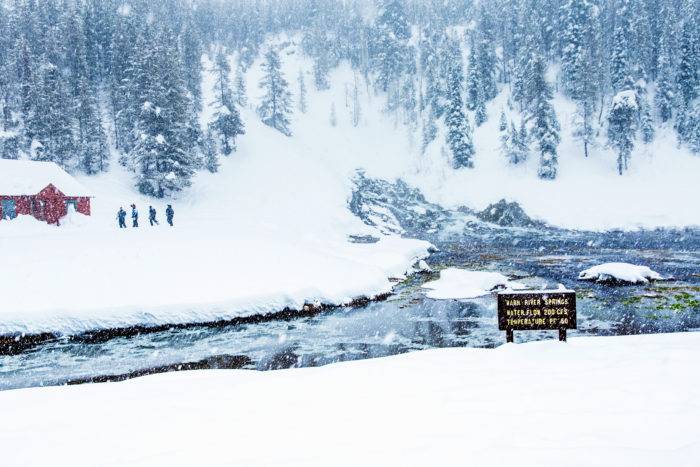 There are so many options for snowmobiling – through meadows, among trees, into the mountains, or to Mesa Falls. Island Park maintains the groomed snowmobile trails with four full-time groomers operating daily to ensure smooth riding. Plus, there is plenty to explore off-trail.
Island Park Cabins and Lodges offers a GPS-guided snowmobile service that will help you pinpoint some of the best places to take your sled. Or download a map and navigate the old-school way. You can bring your own snow machine or rent all the equipment and hire a guide in Island Park.
Fishing
From ice fishing for Kokanee and rainbow trout on the Island Park Reservoir or Henry's Lake, to casting a line into the Henrys Fork, there are plenty of fishing opportunities in Island Park all winter long. Check out the Idaho Department of Fish and Game's website for rules, guidelines, and safety tips for ice fishing.
The Henrys Fork is one of the most famous trout streams in the United States, and while it slows down in winter, the fishing is often still good. Some of the fly fishing shops rent fishing gear along with snowshoes to help anglers access to the best winter fishing spots, including Box Canyon, the mouth of Warm River around Stone's Bridge, and the tailwaters from Ashton Dam downstream to Chester.
Bird Watching
Winter may not seem like the best time for bird watching, but swans, other waterfowl, and birds of prey make Island Park their winter home. Island Park is home to a large population of Trumpeter swans in winter. Look for them in Harriman State Park or anywhere along the Henrys Fork River. Winter is a great time to also spot Gray Jays, Great Horned Owls, bald eagles, Ruffed Legged Hawks, chickadees, and geese.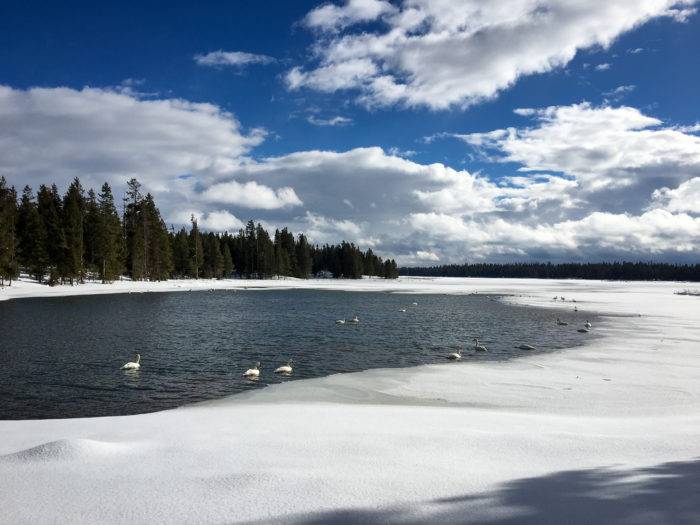 Spend the Night in a Yurt
Harriman State Park has two yurts for rent along with a few cabins and bunkhouses. The Mongolian-style yurts are about 20 feet in diameter and sleep five or six people on two bunk beds (the lower bunk is a double). You'll stay warm and cozy inside with the wood stove blazing, regardless of the weather outside. There is an outhouse nearby.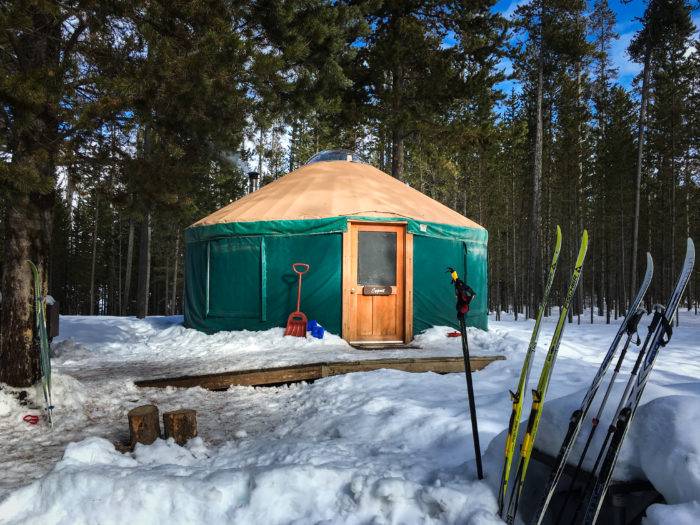 Ski, bike, and snowshoe trails are accessed right out the door. The park hosts educational and experiential programs on Saturdays throughout the winter. The Junior Ranger and Junior Snow Explorer Backpack programs are available to kids every day.
Dog Sled Races
For over 100 years, the American Dog Derby has been mushing through Ashton, Idaho, just south of Island Park. It's the oldest sled dog race in the Lower 48. You can watch five different races each February, including a celebrity race, snowshoe race, skijoring, and a weight pull, which spectators and their dogs can participate in.
Wild West Winterfest
Each January the Wild West Winterfest chooses a theme (its "Zombie Fest" in 2020) to celebrate winter. Enjoy fireworks, casino game night, a parade of sleds, a kids carnival, torchlight parade, snow sculptures, and snocross races.
Feature image credited to Melynda Harrison.
Melynda Harrison writes about travel and outdoor family adventure at TravelingMel.com, YellowstoneTrips.com, and for many local and regional publications. When she's not behind a laptop, you can find her cross-country skiing, hiking, or floating a river.

Published on December 17, 2019