This is a sponsored post.
My legs were burning, my beard was frozen, and I was shrouded in that muffled silence you find in the winter wood. In fact, the only sound I could hear was the whoosh of my breath and the pounding of my heart. Yet I wasn't skiing, I was on a bike … pushing pedals silently up a groomed trail. But like a kid with a new toy, my face was smacked with a crooked smile … and I was loving it.
Whether climbing our foothills or pulling kids to the zoo, Idahoans love their bikes. And with the growing popularity of fat-tired bikes, numerous groomed trails once relegated to skiers and snowshoers are now dabbling with permitting fat bikes on their groomed trails.
Over a long weekend in February, I encouraged my wife to exchange her nordic boards for a fat-tired bike to explore some of the new trail opportunities in Idaho.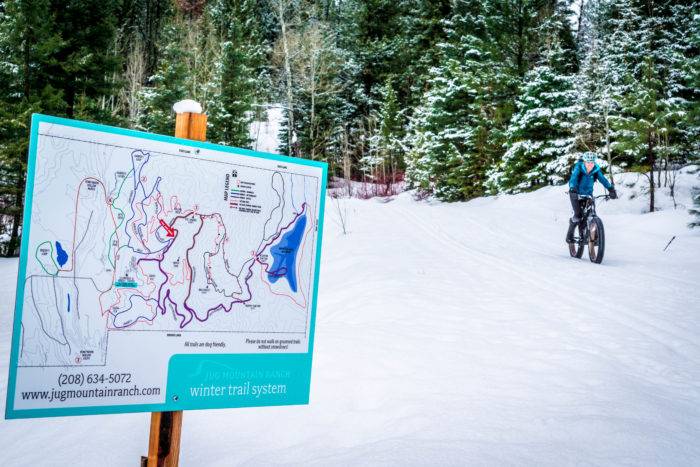 We headed to Jug Mountain Ranch, an early adopter of fat bike friendly trails, for a weekend at their cargo container-turned-cabin, where we'd use the semi-remote digs as our backcountry outpost to explore this (relatively) new sport.
Fortified with a woodstove, kitchen, bunks for six and an outhouse, the alpine cabin sits perched on the edge of Jug Mountain Reservoir … so close, in fact, that in summer you can literally swing open the doors to hang your toes in the water below.
Our kiddie sled was once again bloated with supplies for the weekend for a family of four: food, sleeping bags, clothes, clothes and more clothes. I stuffed a trail map in my shirt pocket, swung a leg over the bike and slowly lead our party up the South Boundary Trail to the alpine cabin.
After a long winter — about as long as most of us can remember — the trails were buffed smooth over a deep base of snow. Take a few steps off trail and you'd easily punch through. So the rules were simple: Pedal, ski or snowshoe. If you gotta walk, or you find your tires cutting through the surface more than an inch, turn around.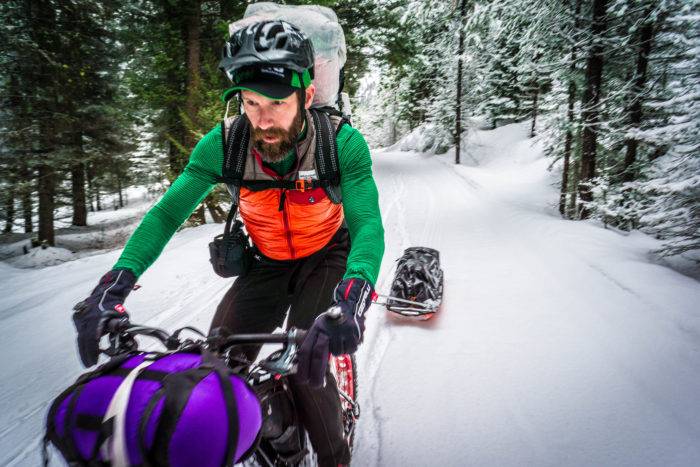 The fat bike is simply a mountain bike with oversized tires, accommodating geometry and an easier gear ratio to make tanking through softer surfaces seem easy. Instead of 2-inch tires, 4 to 5-inch tires are the norm. You feel like you're riding a monster truck … stable, in control, tractoring through terrain that would stop a "narrow-wheeled" mountain bike.
My wife and I rented carbon-framed fat bikes from the Jug Mountain Nordic Center. While kid fat bikes exist, only a handful of companies make them and they cost as much as a full-sized bike, making them somewhat of a unicorn in the rental world. So instead, we put the kids on nordic skis. With our bikes loaded down with gear, we crunched through the snow at a comfortably similar pace.
After we arrived at the cabin, knackered, with gear uncompressed, and sprawled out to dry, I reignited the troops' enthusiasm as I lit the woodstove, "I hear the lodge has inner tubes and a sledding hill!"
That seemed to do the trick, as the following morning the kids were up before we were. Boots on, skis on, they had already stomped out a mini-lopett on the groomed corduroy looping in front of the cabin.
The mid-morning sun had softened the trail surface, causing my wife's bike to scooby-doo in place. "Pull over, let's let some air out," I encouraged. A more experienced rider once told me that reducing the tire pressure widens the tire footprint, buying you more traction. The tires squished under her weight as she saddled back up. She steadily pedaled down the trail with a smile.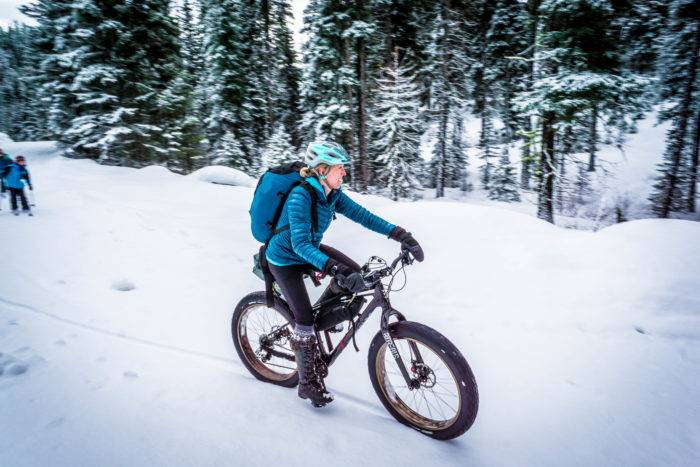 After a day of exploring trails and hauling tubes up the bunny slope, the kids' energy was successfully sapped. To refuel, we hopped in the car and made the short drive to Lake Fork and the Two Sisters Deli and Store. The Deli sports an unexpected yet fantastic selection of wine, spirits and fresh cut meats. We settled on a platter of twice-baked macaroni and cheese and stole a peek at the curation of quilts on display upstairs.
Recharged, the kids were once again ready to tackle the climb back to the cabin. Well…sort of… As a "just-in-case" measure, I had strapped the pair of sled poles to my pack, ready to convert dad into an uphill ski-towing machine. My daughter caught wind of the idea and readily hooked into the rig to experience first hand the joys of bike-skijoring.
After another toasty night and a final meal at the cabin, we packed up and were ready to make our final trip down to the car. What took us an hour to climb the night before, rolled quickly over a fresh top coat of snow. We were back at the car in 20 minutes.
Our trip nearly over, I pulled up on the handlebars and pressed on the pedal to pop the bike up into a wheelie … if only for a few pedal strokes … but still gleefully happy as that boy on his first bike.
Experience It For Yourself
Boise
For its second year, the Bogus Basin Nordic Center has opened 4 km of trails to fat bikes, including the Nordic Highway and Sapper's Return. Monday – Friday: All day. Saturday – Sunday: 2PM to close. $10/day or a valid Nordic/ski pass.
Sun Valley
Bigwoods Sports Park allows fat bikes on the dog and boundary loop of the winter golf course.
Durrance Demo Loop offers 7 km of groomed trail on the narrow slip of land starting out of the Sawtooth National Recreation Area headquarters lot, 5 miles north of Ketchum. A pass will run you $17 a day ($45 for a 3-day pass), but is good at all Sun Valley Nordic ski trails.
The Wood River Trail is the 20-mile bike path that meanders from just north of Ketchum, southward to Bellevue and is open to riders free of charge.
McCall
7 miles before McCall, Jug Mountain Ranch offers 25 km of groomed trails, with dedicated uphill and downhill routes. 10 AM – 3 PM, Monday – Sunday. $10/day.
Targhee area
Harriman State Park in Island Park grooms 24 miles its Nordic trail for fat bikes. $5 per motor vehicle; $5 trail day pass to cover the cost of grooming.
Grand Targhee has 15 km of groomed trail and 7 miles of single track open to fat bikes. Riders are asked to let the trails "set" until 10 AM. Nordic pass: $10.
Where to rent
Boise area
Meridian Cycles. $50 per day.
McCall
Jug Mountain Ranch. $45 for ½ day; $60 for a full day. Cabin rentals can be found here, too.
Gravity Sports. $40 for ½ day; $45 for full day; $50 for 24 hours
Sun Valley
Elephant's Perch. $35 for ½ day; $45 for a full day
Targhee area
Fitzgerald's Bikes. $40 per weekday; $50 per day on Saturday and Sundays.
All photos, including feature image, are credited to Steve Graepel.
Artist, writer, adventurer, father of two, Steve Graepel is in constant pursuit of the balanced life. Living in Idaho, he can pursue it with gusto. Steve's work has appeared in National Geographic Adventure, Patagonia's The Cleanest Line and Gearjunkie.com.
Steve and his wife Kelly live in Boise, Idaho with their two children, Chloe and Ethan.

Published on March 14, 2017