Katie Williams worked in partnership with Visit Idaho to create this Travel Tip.
Sometimes you just need a weekend away. I really didn't want to get on a plane to go anywhere, but I did want a little adventure, some romance, and a cozy place that offered adventures in the snow.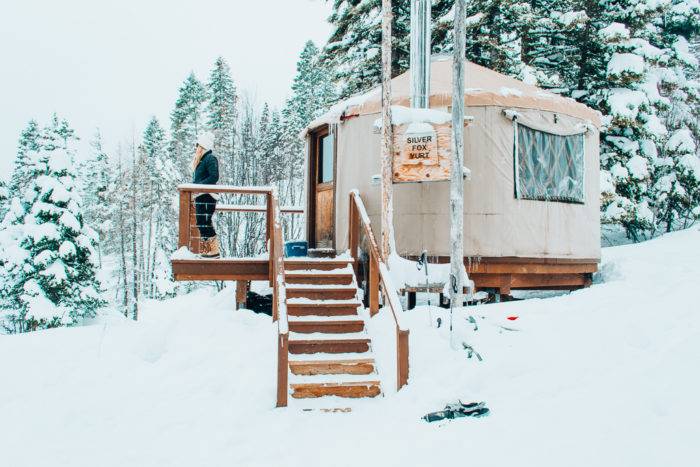 After debating over a few different cabin and hotel options a short trip outside of Boise, I booked us a backcountry yurt. I had cross-country skied into a yurt once before in the Sawtooth Wilderness and loved the adventure, so I thought this would be perfect for us.
WHAT IS A YURT?
A yurt is a circular, portable tent that was used by nomads in Central Asia many years ago. Don't worry, these are much more sturdy than your typical camping tent and are made of wood. Most yurts have canvas walls and a dome-shaped roof that is all designed to keep out cold weather. Many yurts also have a wood-burning stove.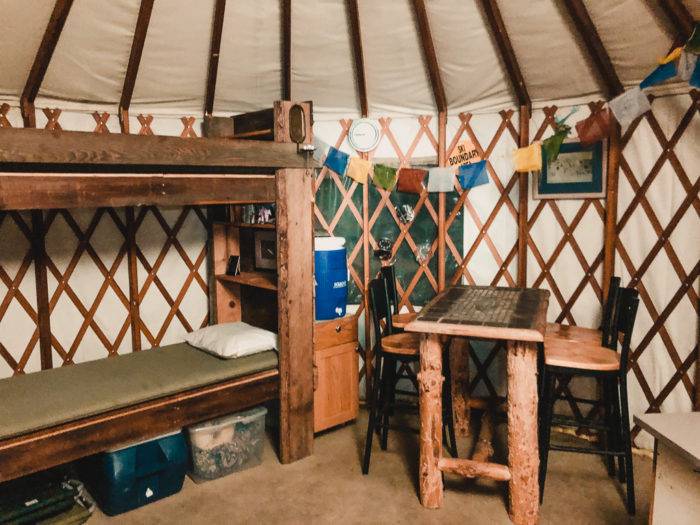 BOOKING THE YURT
I scoured the internet for yurts in Idaho and while there were a lot of options, there weren't a lot of options during our available timeframe (this is mainly because winter is a busy time for yurting in Idaho). My advice would be to book your yurt a few months in advance if you'd like one in the wintertime.
I looked at yurts outside of Sun Valley, Idaho City and McCall because I wanted somewhere less than three hours from Boise. There are actually quite a few yurts in these areas, and a ton scattered all over Idaho! And yes, we've already decided to make this an annual thing!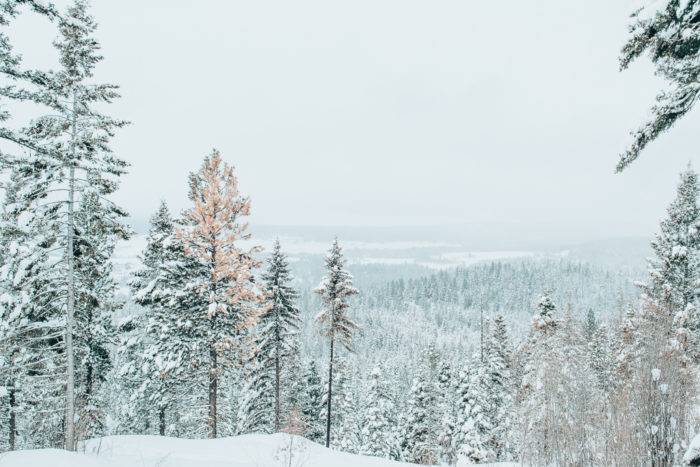 We ended up getting lucky with a free weekend at the end of February and settled on the Silver Fox Yurt located in the Boise National Forest, close to Jughandle Mountain and a short drive from McCall. One twist to this reservation – bunk beds. I booked this particular yurt through Airbnb, but you can also book different backcountry yurts through Idaho Parks and Recreation.
TIPS FOR GETTING THERE
For this yurt and many yurts scattered around Idaho, you have to ski or snowshoe in. This can be a bit of a challenge if you're not prepared, so here are a few tricks we learned on our trip.
Get clear directions. Make sure to get clear directions to the yurt from the owner. Many places in Idaho don't have service, so be sure to print or download your map beforehand and make sure you also have instructions on how to snowshoe or ski in if that's what you're opting for.
Try your best to trek into the yurt in the daylight. We arrived after work on Friday night and while it all worked out, we had to hike for about an hour in deep snow in the dark. I don't recommend this arrangement unless you have clear directions and are properly prepared.
Prepare for heavy snow. If you're in the mountains, prepare for lots of snow from mid-November to mid-March.
Bring a sled. Originally we were going to pack everything we needed in backpacking backpacks and just hike in with them. We realized we might struggle in the snow carrying all the weight of gear, so a sled ended up being really helpful.
THINGS TO KNOW
Like I mentioned above, make sure you read the instructions sent by the yurt ahead of time. Good yurt owners will outline everything you need to know and everything you need to bring within an organized document.
Our yurt owners let us know about the bathroom situation (outhouse), fire and stove situation, light and electricity, water, bedding, and the cooking items provided. We didn't have drinking water provided, so they told us we would have to melt snow for drinking and washing dishes. They also warned us to come prepared for chopping wood, bits of kindling, and starting fires in the stove.
We weren't expecting to have as much fun as we did at the yurt, but it truly was one of my most memorable and favorite experiences I've had in Idaho. I hope this post has given you enough motivation and information to enjoy a yurt for yourself this winter!
Feature image credited to Katie Williams.
Katie Williams is the founder/editor of the 'Traveling Spud' travel blog and owns a freelance marketing company. After quitting her job in San Francisco, she traveled the world solo for 14-months and eventually made her way back to her home state of Idaho. When she's not adventuring around the world, you can find her in Boise, Idaho searching for the next best restaurants, bars, and outdoor festivities. You can follow her adventures on her blog, Traveling Spud or her Instagram @travelingspud.

Published on November 12, 2019