Jasper Gibson worked in partnership with Visit Idaho to create this Travel Tip.
Tucked away in the mountains of eastern Idaho is a snowmobilers' paradise with mountain sledding for the adrenaline junkies, thousands of miles of trails, and plenty of wide-open powder fields that the whole family can enjoy. Eastern Idaho has it all when it comes to winter recreation, especially in terms of snowmobiling. Here's what you should consider checking out on your next visit.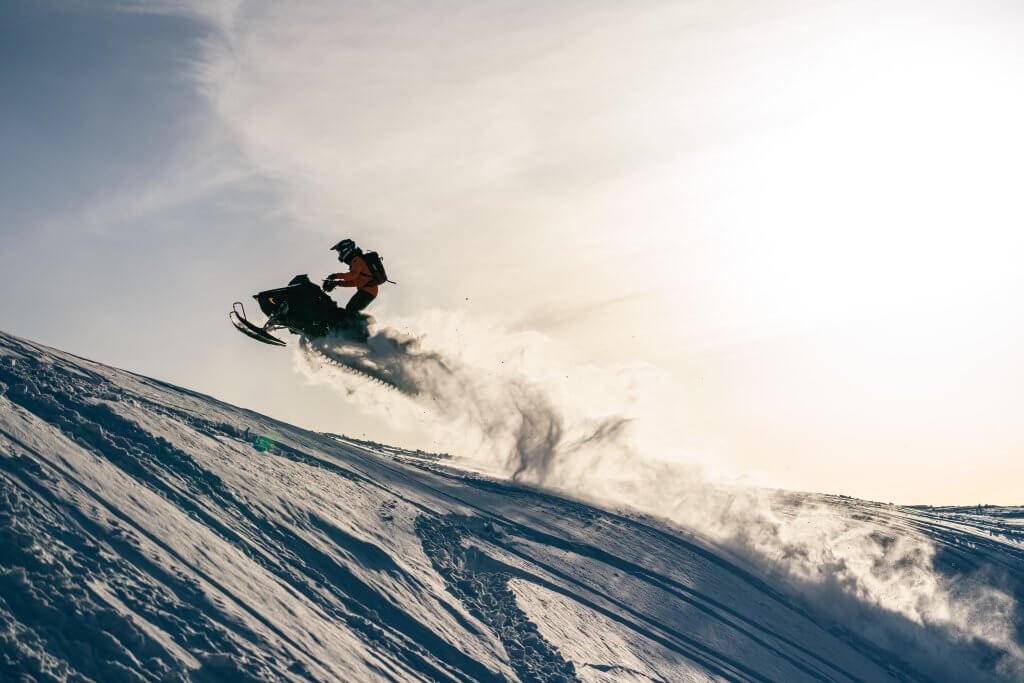 The Big Hole Mountains
The Big Hole Mountains are often overlooked because of their proximity to the heavy-hitting areas such as the Grand Teton Mountain Range, Island Park and West Yellowstone. What people miss out on though is expansive, uncrowded terrain open to the adventurers who wish to explore. Whether you want to boondock, hill climb, weave trees, or ride the 340 miles of groomed trails, the Big Holes have everything that you could want in a sledding destination. And it's all just an hour from Idaho Falls and ten minutes from Driggs.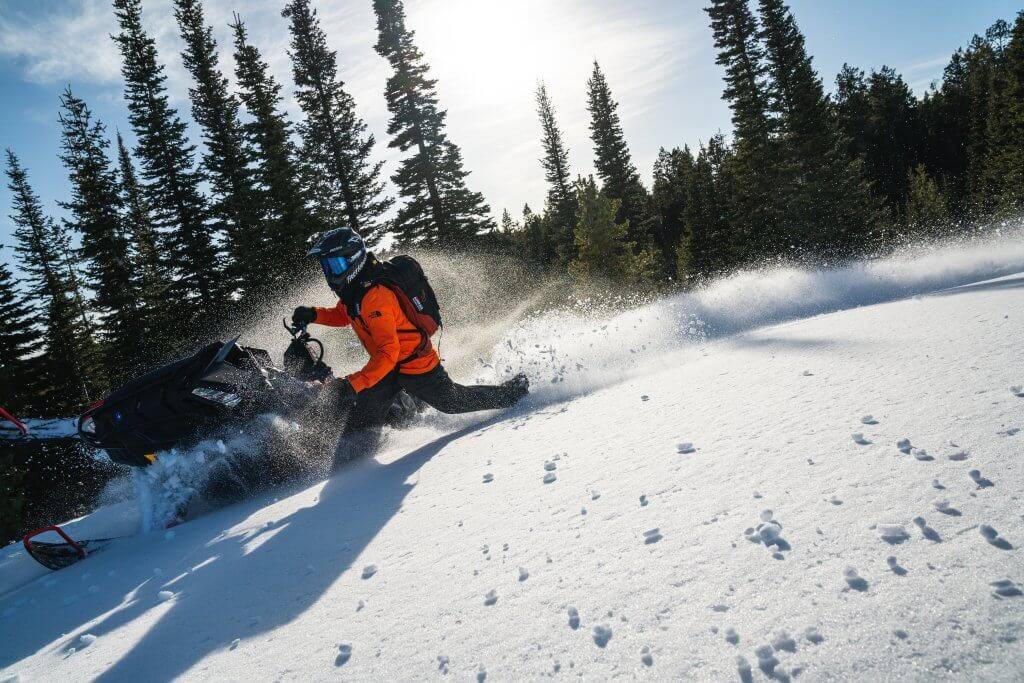 Scattered across three different Idaho counties are trailheads that provide access to the terrain within the Big Holes. You can access the Big Holes via Ririe from the west, Driggs and Tetonia from the east, Highway 31 – aka Pine Creek Pass – from the south, as well as Green Canyon to the north.
Red Butte is a popular destination for hill climbing, mountain riding and boondocking through the creek beds and forests. You can also start from any number of the trailheads and make your way up to the Green Canyon Hot Springs for a relaxing soak.​​​​​​​
Snowmobiling the Big Holes​​​​​​​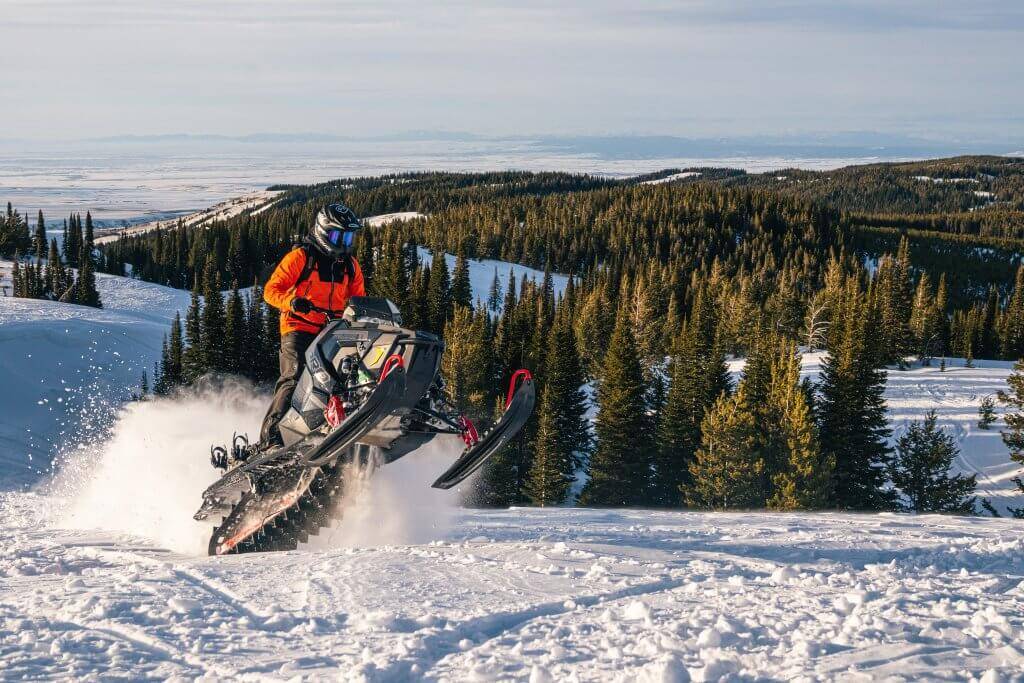 Our crew chose to access the Big Holes just 10 minutes outside of Driggs. On our way out of town, we stopped by the local grocery store for some grab-and-go sandwiches and headed to the trailhead where we linked up with Tetonia locals and frequenters of the Big Holes, Alex and Chris Morelli.​​​​​​​
The sun was shining and a few inches of new snow had piled up from the night before, making for fun riding along the trails and entertaining conditions in the trees and powder fields. Winding trails led us to unbeatable views of the Tetons and playful terrain all the way to the higher reaches of the range.​​​​​​​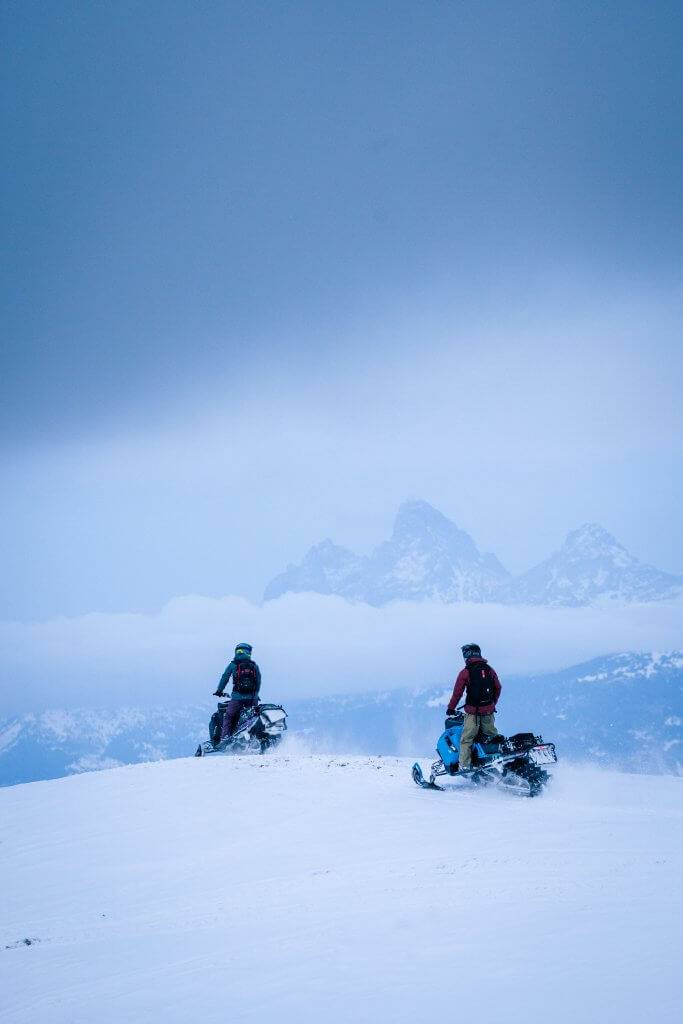 From Radio Tower Junction you can get on top of the ridges and enjoy 360-views that encompass the Big Holes, the Tetons, Teton Valley and rangelands towards Idaho Falls, Rexburg and beyond. On a clear day you can see far across the flatlands and into the Centennial, Lemhi and Lost River Ranges.
Winter in Island Park
The name just about speaks for itself in the snowmobiling world. Island Park is world-renown for its deep snow, 950+ miles of trails, and thousands of acres of accessible terrain. And did we mention it can all be accessed without putting your sled on a truck or in a trailer? Once you drop your snowmobile onto the snow you don't need to touch your vehicle until the end of your trip. It's a true sledders' paradise.
You name it, boondocking, hill climbing, powder fields, or steep and deep, Island Park has it all in terms of terrain. And the town itself is a charming western-style town with everything you need to make a memorable stay in Island Park.
Snowmobiling in Island Park
Experiencing Island Park for the first time on a snowmobile was nothing short of impressive, and the area exceeded all of my expectations. We met up with the Dutcher Family who owns and operates Sawtelle Mountain Resort, High Mountain Adventures as well as Action Motorsports in Idaho Falls. They are your one-stop shop for accommodations, sled rentals and any other snowmobiling needs. Plus, they are conveniently located right next to the trail system that will connect you with anywhere else in Island Park that you would need to go.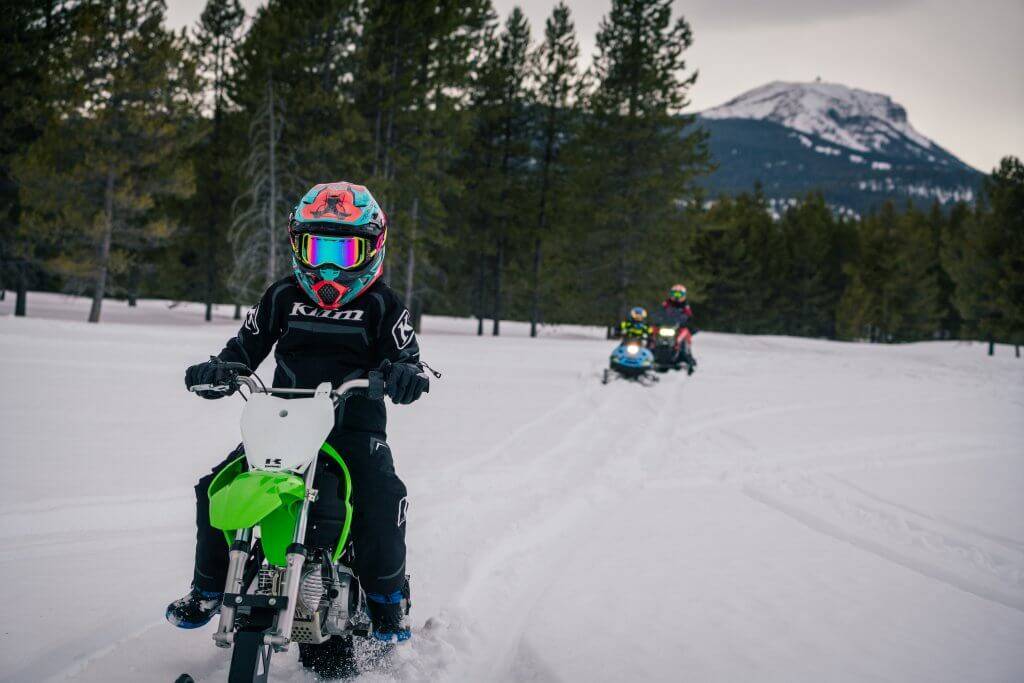 Since we had two of the young Dutcher boys with us, we started out on the flats and the boys were able to get their kicks in, one of them on a mini timber sled and the other on a small snowmobile. Watching them enjoy the winter fun was heartwarming, they'll be off ripping up the mountains in no time. Afterward, our crew and the whole Dutcher family shot across the flats and wound our way up to the top of Two Top Mountain. The vista was incredible and afforded views of the Tetons, the whole Island Park Valley, western Yellowstone, southwestern Montana, and beyond. It was truly breathtaking up there.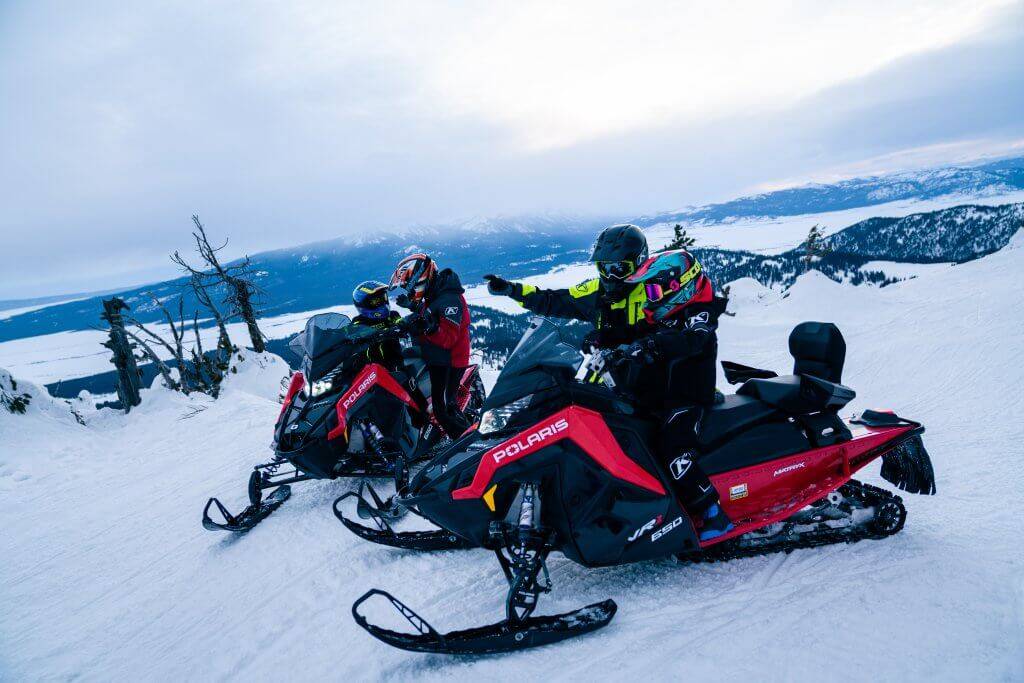 Things to Know
Every snowmobile operated on private or public land must be registered with the Idaho Department of Parks and Recreation on or before November 1 of each year.
Follow the basic rules of snowmobiling: don't ride alone, wear protective equipment, bring adequate supplies, and don't drink alcohol.
The speed limit is 45 miles per hour.
Check Island Park's website for trail maps and conditions.
Feature image credited to Jasper Gibson.
Jasper Gibson is a born and raised Idahoan, growing up in Sandpoint, Idaho. He has worked with major U.S. companies including The North Face, Mountain Hardware, Marmot and Smartwool. His work has been published in Outdoor Magazine, National Geographic's Extreme Photo of the Week and on Redbull.com. Aside from his commercial work, Jasper has been a photographer on multiple expeditions around the world.

Published on February 1, 2022