Some of central Idaho's most awe-inspiring sights can be found in the sky. More than 80% of the US population live in areas with high levels of light pollution, thus obscuring their view of the stars. But not in Idaho.
Idaho is home to the first International Dark Sky Reserve in the U.S. and is only among 17 other reserves worldwide. Over 900,000 acres make up the Central Idaho Dark Sky Reserve which is located in central Idaho and encompasses the cities of Sun Valley, Ketchum and Stanley.
"The fact that you can walk out your back door and see the amazing skies is humbling," said Carol Cole, President of the Idaho Dark Sky Alliance. "The skies make me feel small, but at the same time, connected to everything around me."
The Dark Sky Reserve designation is reserved for areas with an exceptional quality of starry nights and nocturnal environments that are specifically protected and preserved, which is no easy feat.
According to Cole, the two-year designation process included showing efforts to reduce light pollution, an inventory of all the lights within the proposed reserve and measuring the sky quality. In 2017, the International Dark-Sky Association recognized central Idaho as a Dark Sky Reserve with a prestigious Gold Tier status.
Cole points to large urban areas and individual lights that are closer to the core of the reserve as the biggest challenges to combatting skyglow. But, reducing light pollution is something everyone can start doing at home by turning off unnecessary lights, installing fixtures or shields that direct light downwards and advocating for lighting ordinances in their town or area.
The reserve not only promotes a healthy environment for wildlife and ecosystems, but it has also created a sense of culture and heritage.
"For both visitors and residents, sharing the night sky is our human heritage," Cole said.
While astrotourism is constantly growing and attracting visitors from all over the world, residents and artists have been inspired by Idaho's dark skies for years and have shown their star-studded inspiration through photography, poetry and art.
Where to Go
For the darkest and richest stargazing experience, Cole recommends leaving those city lights behind.
Heading north along the Sawtooth Scenic Byway, there are a number of recreation sites and campgrounds perfect for an evening of sky watching. Adams Gulch Trailhead, Sawtooth National Recreation Area-North Fork Visitor Center, Baker Creek Pullout and Sunny Gulch Campground, just to name a few, all provide space to park or camp.
Should your adventures take you into the town of Stanley, Pioneer Park and the Stanley Museum are good spots for in-town dark sky viewing. But, if you're searching for darker skies, head north along the Ponderosa Pine Scenic Byway to Stanley Lake Creek Day Use Site, Park Creek Overlook, or Elk Creek Campground, all within the Sawtooth National Forest.
Knob Hill Park (overlooking downtown Ketchum), Atkinson Park and the Hemingway Memorial are all within the Ketchum and Sun Valley area and are great spots for a picnic under the stars.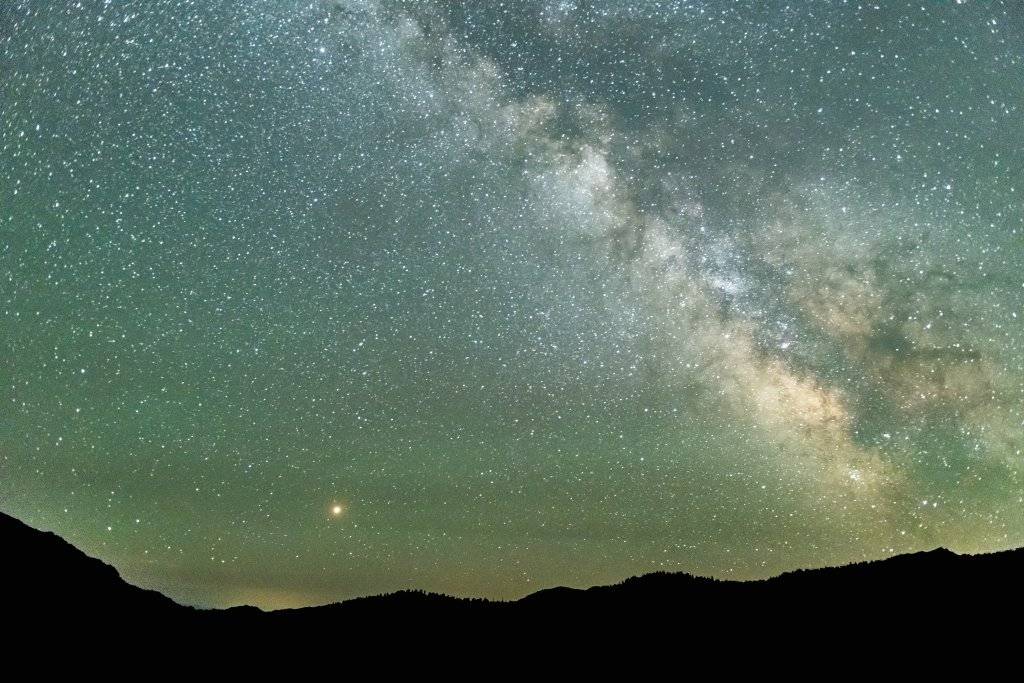 How to See the Stars
In addition to twinkling stars, you might also spot the Milky Way Galaxy, constellations, planets, satellites (including the Space Station) and other curiosities in the night sky with the naked eye. Using binoculars or even a small telescope can boost your viewing, but you can still admire these celestial marvels without any tools.
Using star charts to recognize constellations or an app to maneuver the night sky can come in handy if you're new to the stargazing realm, or just need some brushing up.
If you plan to stay in or near your car, be sure to turn it completely off— headlights included. Small amounts of light will distract your eyes from seeing the stars. On average, it takes about 20-30 minutes for your eyes to adjust to the darkness. Reducing your phone use and using a red flashlight or headlamp will also help keep your eyes adjusted.
Whether you plan on hiking or staying near your car, always plan for the weather and dress accordingly. Blankets or a beach towel are perfect for laying down and watching the cosmos above. And as always, please follow the Leave No Trace Principles.
When to Go
When possible, try to plan your stargazing adventure around the phases of the moon. In the days surrounding a new moon, the sky will be at its darkest.
The most popular meteor shower, The Perseids, are active from late July to late August. Their peak is usually during the second week of August, depending on the year.
Now is the time to leave daily routines behind and escape to Idaho for a magical, star-studded summer adventure.
From sandy dunes to deep canyons, discover more natural attractions and break away in Idaho.

Published on March 30, 2021