Jasper Gibson worked in partnership with Visit Idaho to create this Travel Tip.
If you're looking for a true northern Idaho backpacking adventure, set your sights on the Selkirk Mountains north of Sandpoint. The 70-mile-long range that extends from Lake Pend Oreille to the Canadian border offers pristine alpine lakes, fishing, ridge scrambling, huckleberry picking, rock crawling, and breathtaking vistas.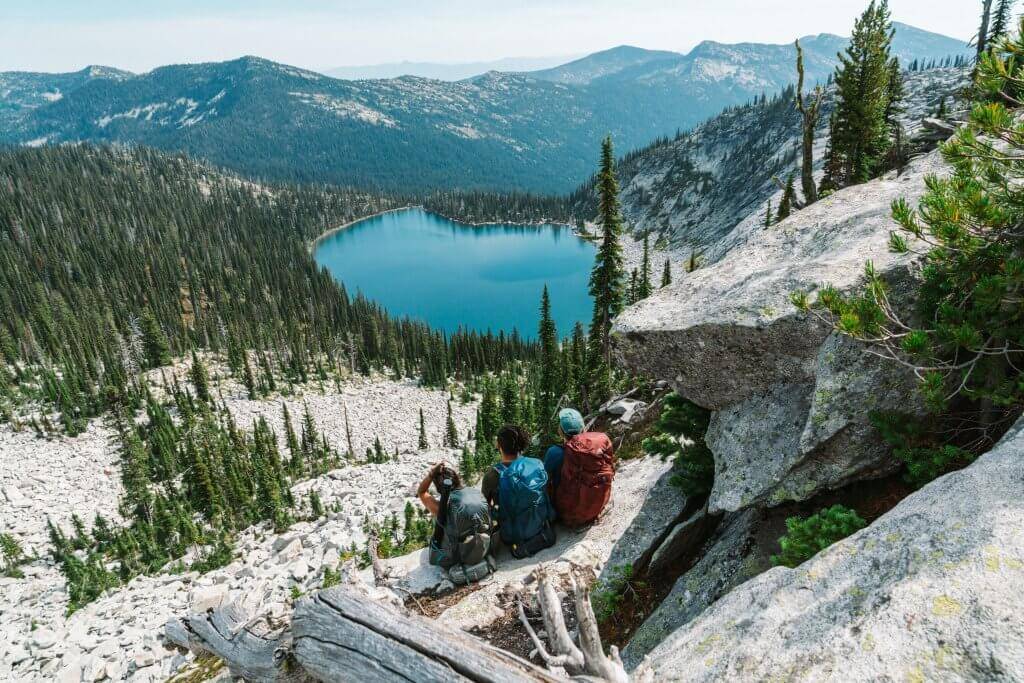 Some old friends and I reunited to backpack from the Harrison Lake Trailhead across the rugged Selkirk Crest and down to the Beehive Lake Trail over two nights and three days, traversing eight miles through the serene mountain wilderness.
We struck off from the Harrison Lake Trailhead #217 with heavy packs towards our night's destination, Harrison Lake. We wound our way up through the forests while catching up, picking huckleberries, and swapping stories of our respective lives while taking in the area's scenic beauty. After a few hours of hiking, the crystal clear waters of Harrison Lake were a welcome sight.​​​​​​​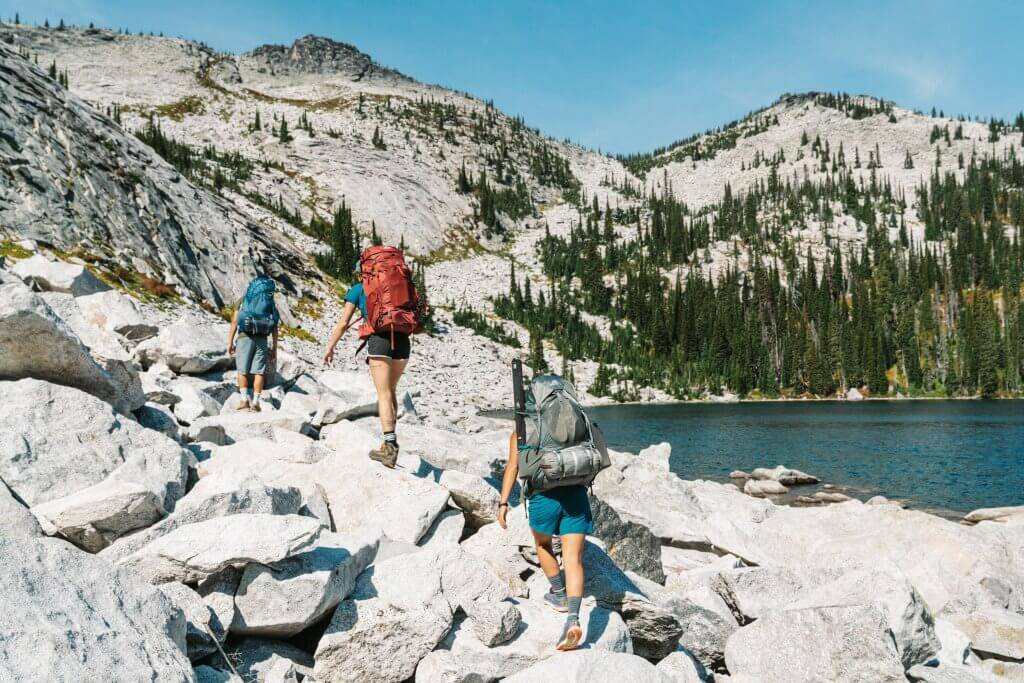 The lake is nestled under a towering amphitheater of grey granite and surrounded by hearty, resilient evergreens. Fish were rising on the lake as the sun dipped below the horizon, turning the sky into a canvas of pastels.
Harrison Lake is a popular day hike up the Pack River Road but is also a great spot to spend a night or two. There are several campsites around the lake but make sure to get there early if you are going on a busy weekend, and don't forget to camp 200 feet or more from water sources. From the campsites, you can scramble up a granite scree slope to the ridge, take a relaxing hike along the lake, hang out at camp, and enjoy your time in nature.
The sun's first orange and red rays awoke us the following day, birdsong danced throughout the basin, and Harrison Lake lay placid. Steam wafted off of the oatmeal and coffee in the cool morning air.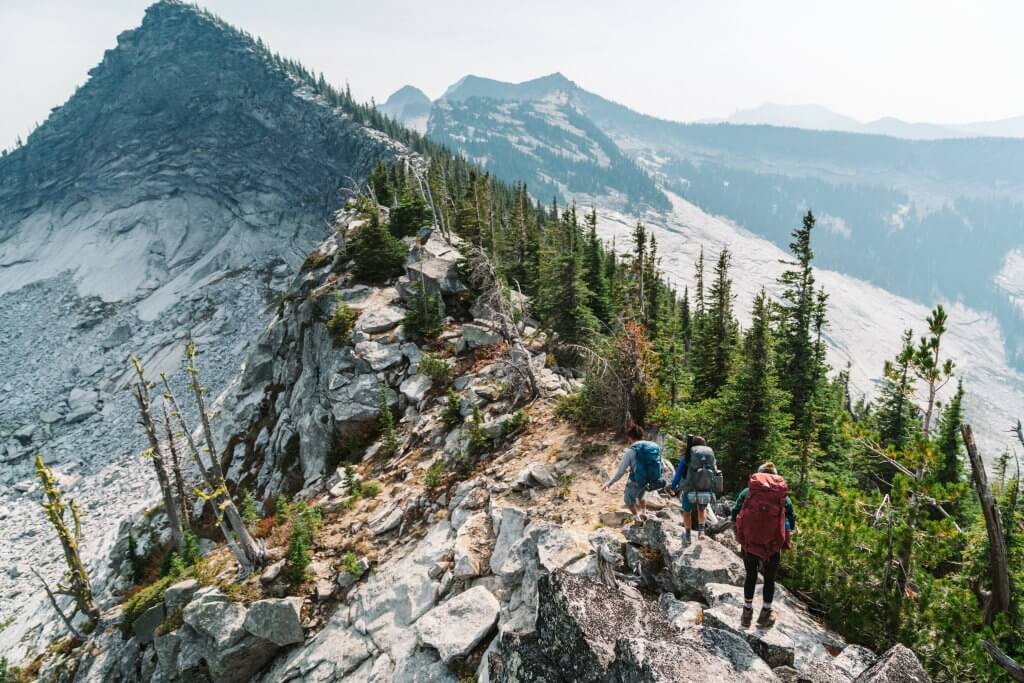 With tents back in our packs and boots laced to our feet, we ascended a scree slope to gain the ridgeline that separates Harrison Lake from Two Mouth Valley on the other side. The ridgeline is only 20 to 30 feet wide at its broadest and narrower in spots. This hike isn't for the faint of heart as it is off-trail and relatively arduous. After skirting around the summit of a lesser peak above Harrison Lake, the tree line opened up to reveal a view of the Seven Sisters, Chimney Rock, and even Lake Pend Oreille peaking out miles in the distance.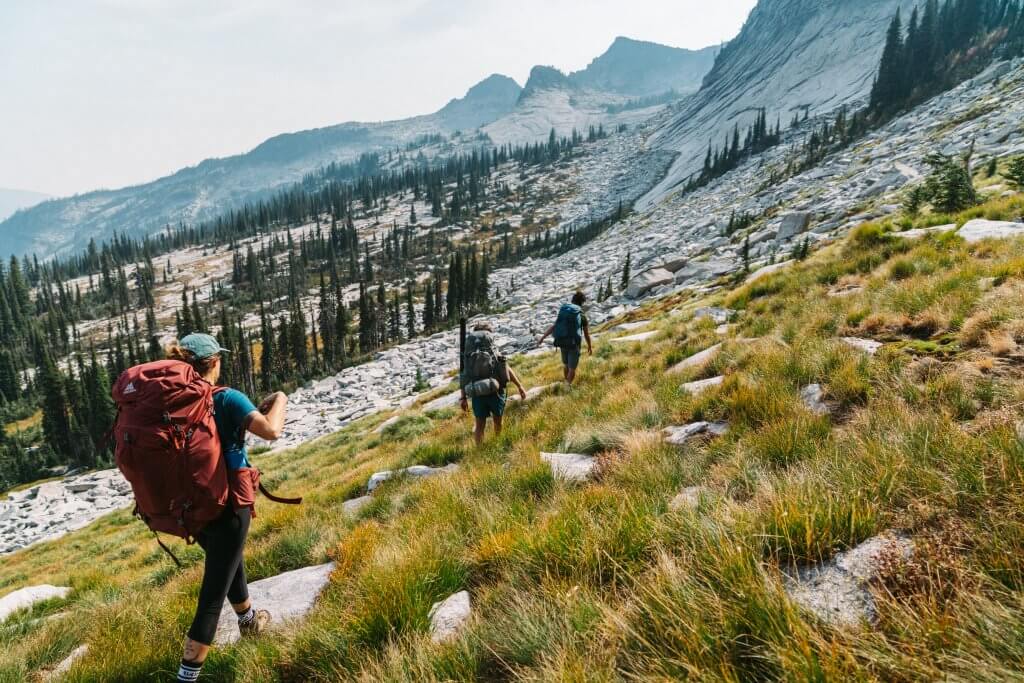 Making our way down a granite slab, we traversed toward a subalpine meadow with creeks gurgling through it. Our camp for the night was Little Harrison Lake, a less popular lake in the Selkirks because it is harder to get to. We were the only campers there aside from one other party. Similar to Harrison but smaller, the lake again sits at the base of a stunning granite amphitheater. We soaked our weary feet in the cold water, and a few of us caught fish. As the sun sank behind the ridge, we made dinner and swapped stories around a small campfire before a light pitter-patter of rain lulled us to sleep.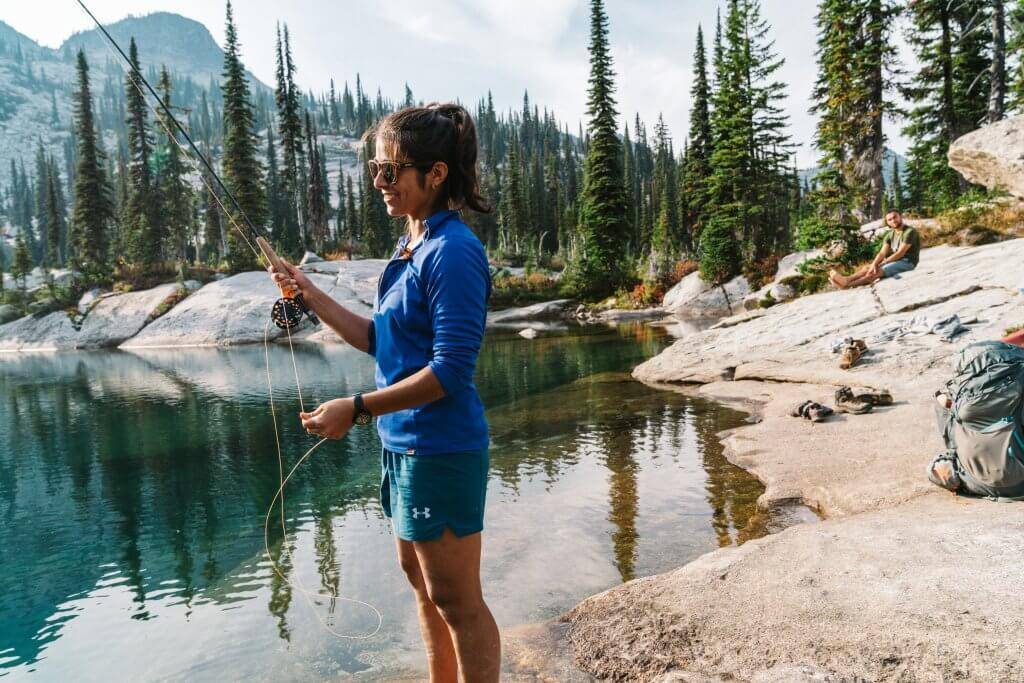 It was up and out the next morning after a pancake breakfast. We crossed along the ridge that separates Little Harrison and Beehive Lakes and joined the Beehive Lake trail which we followed back down to the Pack River Road and our cars.
The Selkirks are filled with a natural mystique and a feeling that they are still largely wild. They make you feel "out there" and provide a reprieve from the everyday routines that often guide our lives. The Selkirks are a perfect place for reflection, reunion, connection with nature and laden with adventures.
Feature image credited to Jasper Gibson.
Jasper Gibson is a born and raised Idahoan, growing up in Sandpoint, Idaho. He has worked with major U.S. companies including The North Face, Mountain Hardware, Marmot and Smartwool. His work has been published in Outdoor Magazine, National Geographic's Extreme Photo of the Week and on Redbull.com. Aside from his commercial work, Jasper has been a photographer on multiple expeditions around the world.

Published on May 24, 2022