This is a sponsored post.
"This is a fishy spot, get those lures in the water!" our guide Mark Troy whispers on the Salmon River. I cast a ¾-ounce "Wobbler" blue-and-silver spoon 200 feet across the river and slowly reel it in as it pendulums across the current.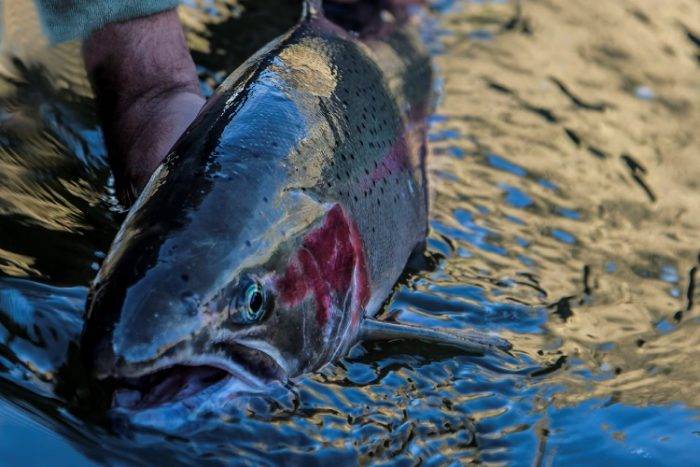 We're on a 5-day fishing trip on the Salmon River, River of No Return section, from Corn Creek to Mackay Bar in Central Idaho with Idaho Adventures, based in Salmon. We're drift fishing in float boats. It's a great way to fish for steelhead because you can fish just about every patch of "fishy" water as you float downstream. The key is to get your lure on the very bottom of the river column because that's where the elusive steelhead can be found.
I watch the tip of my spin-cast pole bounce up and down as the lure cruises over the tops of the rocks. Suddenly, I feel a snag, and my rod tip bends over big-time and I hold on tight … am I caught on a rock or do I have a fish on? Then I watch my line go upstream and the mighty fish pulls line out of my reel.
"Fish on!" Troy yells with delight and I hang on to the steelhead, trying to reel in when I can! But this fish isn't ready to come in anytime soon. It runs upstream and makes a big leap into the air! Whoa baby! And then it does it again! I keep the rod tip up and play the fish for what seems to be a lifetime. Maybe 10 minutes. I bring it up next to the boat and Troy nets the fish. It's a beautiful wild steelhead, maybe 12-15 pounds, and nearly 3 feet long.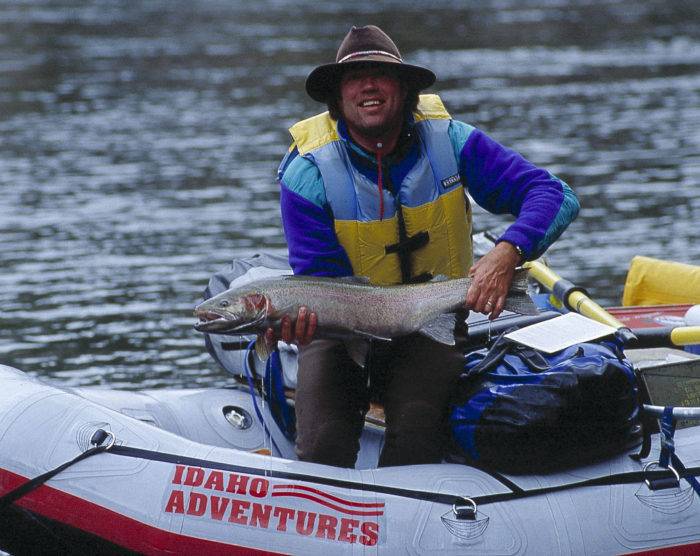 We know it's a wild fish because its adipose fin isn't clipped. This is known as a B-run steelhead, an ocean-going rainbow trout that's spent two or three years in the ocean before it returns to its natal waters to spawn. I caught eight of those gorgeous big fish on that Salmon River trip, the most I have ever caught on a multi-day steelhead fishing trip.
Beginning in October, steelhead season kicks into high gear in Idaho! The fish are moving upstream into the Snake, Salmon and Clearwater rivers as we speak. Now is the time to book a steelhead trip with an outfitter in Riggins, Lewiston, Orofino, Kamiah, or Salmon and go fishing with your friends and family.
The highlight this year, according to experts, is an abundance of B-run steelhead (i.e. big fish) to catch, but not as many A-run fish (smaller fish that only went to the ocean for one year) in the river.
"The good news is that we've got a great run of B-run steelhead this year," says Jess Baugh of Mountain River Outfitters in Riggins. "These are some of the best-lookin' fish we've seen in years. There won't be as many fish in the river this year, but the quality of the fish is so high they'll be wall-mounters."

Indeed, the fish counts, according to Idaho Department of Fish and Game, are down, compared to the five-year, average. But so far, more than 66,000 steelhead have passed Lower Granite Dam, and they're headed to the Snake, Clearwater and Salmon rivers for anglers to catch. The catch-and-keep season on the Clearwater starts on October 15 and runs through the spring.
"We usually get four or five pushes of fish coming up during the steelhead season," says Mel Stottlemyre, owner of Stotts Adventures in Lewiston. "We'll get an early push of fish coming up river right now, and then another push in January and February.
People are catching fish in Riggins and in Central Idaho on the Salmon River as well right now. "The whole river system will be full of fish by mid-October," Baugh says.
Anglers can choose from booking day trips with guides on float boats or jet boats, or they can choose a more deluxe option and book a multi-day trip and stay in riverside lodging accommodations. That's what we did with Idaho Adventures on the Salmon River, staying in a different lodge every night where you can look forward to a hearty hot meal. That's a welcome treat after a full day of fishing on the river in cold-weather conditions.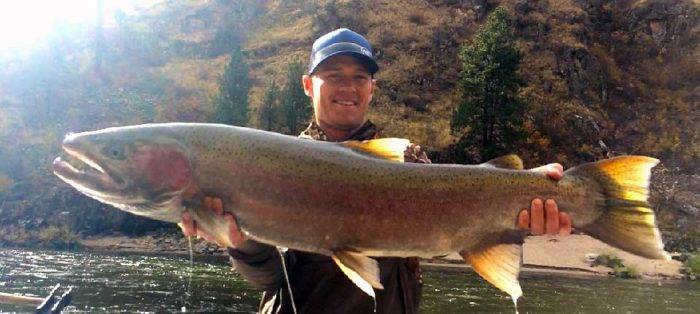 Mountain River Outfitters has a fishing lodge at China Bar on the Salmon River and at Mackay Bar. Stotts Adventures partners with Little Canyon Lodge on the banks of the Clearwater. Guests can fish for steelhead or hunt pheasants at that lodge. Similar trips are available with the Flying B Ranch near Kamiah, where you can drift fish for steelhead, then go bird-hunting or deer hunting on their vast private hunting preserve. That's quite a full-meal deal for the fishing and hunting enthusiast!
For the most fun, gather up some friends or family members for a memorable steelhead fishing adventure. Day trips typically range from $195 to $250 per person (minimum two people) for drift boats or jet boats, and trips with overnight lodging (including meals) range from $450/night to $1,800 to $2,500 for a 5-day trip with lodging.
Steve Stuebner writes about outdoor adventure topics on a regular basis for VisitIdaho.

Published on November 8, 2016