Did you know that Idaho offers its guests the opportunity to dash through the snow in an open sleigh? Bring your holiday spirit on a unique adventure as you laugh your way across the fields and marvel in the wonder of the festive season and Idaho's magnificent outdoors.
There are plenty of places for a sleigh ride in Idaho where you can get cozy under a blanket as you glide along to the merry sound of sleigh bells.
Enjoy Fun for All Ages in Garden Valley
​​​​​​​​​​​​​​For a fun family outing, head to Garden Valley, home to Idaho Sleigh Rides. Bring along the whole gang—they have several teams and sleighs to accommodate larger groups, or if you would like some alone time with a special someone, there are smaller sleighs for a more romantic ride. The majestic draft horses definitely "know the way" since they were raised right on the ranch. After the ride, warm up with a hot drink or opt for a ride that offers a complete Dutch oven meal.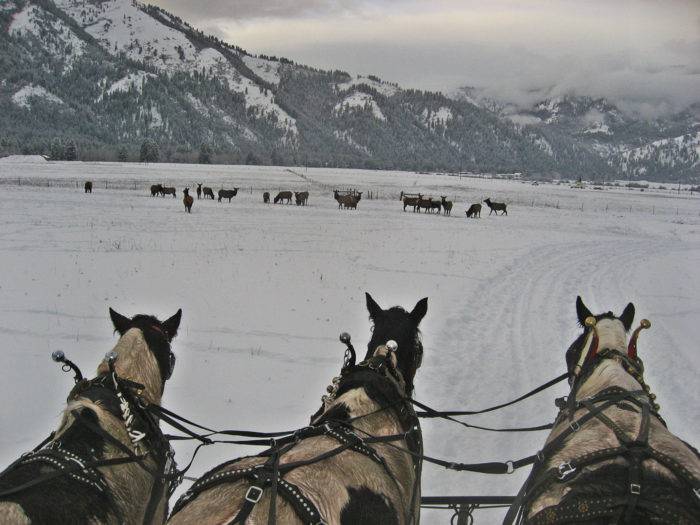 Encounter Elk Near Donnelly
If you've never been within a few feet of a wild elk, you need to take a ride with Hap and Florence Points Sleigh Rides, outside of Donnelly, to see Rocky Mountain elk and other wildlife that winter along the Gold Fork River. The elk dine on hay provided by your hosts, so they're happy to hang around while you admire them in their natural habitat, on their terms. It's an experience like no other. A camera isn't required, but you might kick yourself if you don't bring one!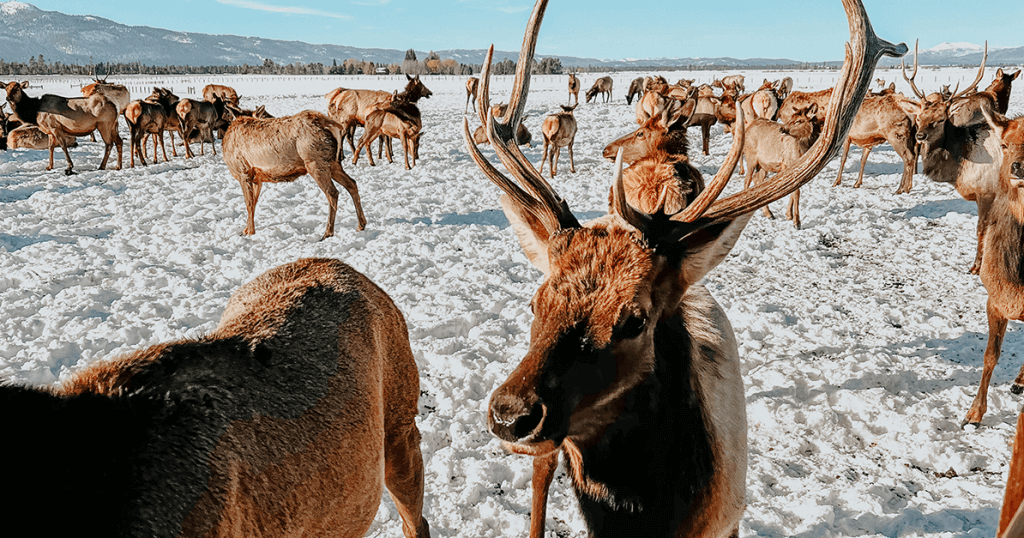 Trot Through the Snowy Hills of Sun Valley
A visit to Sun Valley is already magical, but when you add a classic horse-drawn sleigh ride through the snowy hills, the experience is even more enchanting. The Sun Valley Resort offers scheduled half-hour tours, or for a longer, more memorable night, take a sleigh ride to Trail Creek Cabin for dinner with family and friends.
Get Cozy While Spotting Wildlife in Victor
Located in the Victor area, Linn Canyon Ranch offers horse-drawn sleigh rides and dinner at the ranch through March. Traveling at dusk, riders frequently spot elk and other wildlife that call the canyon home. Bundled under warm blankets, you will glide around the ranch in a sleigh pulled by the ranch's Percheron draft horses.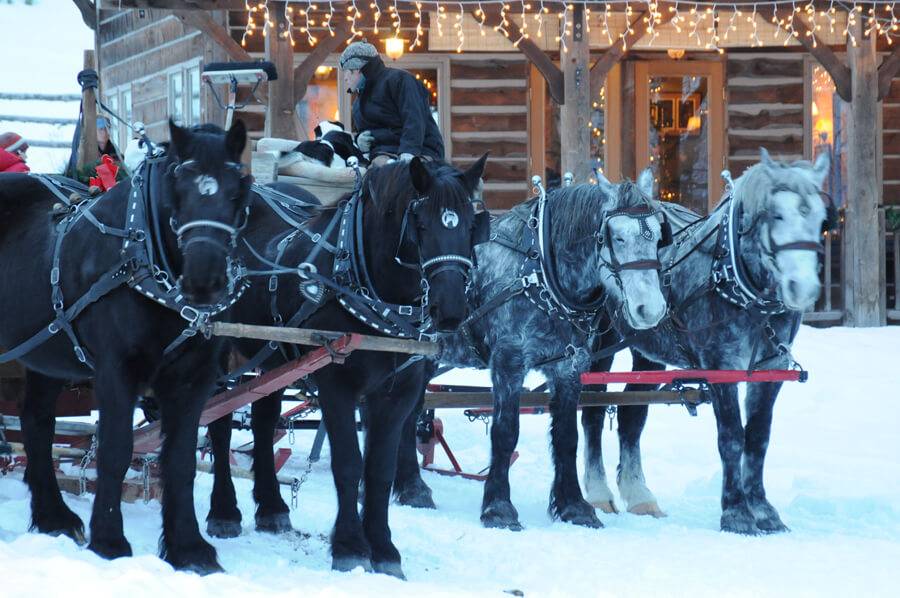 Make Memories During a Winter Sleigh Adventure in Sandpoint
At the Western Pleasure Guest Ranch in Sandpoint, beautiful draft horse teams are ready to pull sleighs through the Selkirk Mountain trails. The ranch sleighs can accommodate large groups, small groups or even a couple looking for a special romantic adventure. Enjoy a horse-drawn sleigh ride and country gourmet dinner served in the lodge, or complete your nostalgic winter experience with hot drinks and popcorn served by the lodge's grand fireplace after picking out your Christmas tree.
Know Before You Go
Many outfitters allow or require advance purchase of tickets.
Wear appropriate winter clothing as sleigh rides operate in peak winter conditions.
Plan for ample travel time as winter road conditions may impact your drive. Fi​​​​​​​nd real-time road conditions at 511.idaho.gov.
Feature image credited to Visit Idaho.
Andrea Rayburn
Updated on October 21, 2022
Published on January 24, 2017