Dashing through the snow; In a one-horse open sleigh
O'er the fields we go; Laughing all the way….
"Jingle Bells" is one of the most commonly sung American Christmas songs in the world since being published under the title "One Horse Open Sleigh" in the autumn of 1857. Although it is now associated with the Christmas and holiday season, it was initially written to be sung for American Thanksgiving.
The problem is that there isn't always enough snow on the ground at Thanksgiving for Ol' Dobbin to get up any speed as he's pulling a load of happy passengers, but by Christmas, there are plenty of places you can get cozy under a blanket as you shush along to the merry sound of sleigh bells. Reservations are often required so plan ahead.
For a fun family outing, head to Garden Valley, home to Idaho Sleigh Rides. Bring along the whole gang; they have several teams and sleighs to accommodate larger groups, or if you would like some alone time with a special someone, there are smaller sleighs for a more romantic ride. The majestic draft horses definitely 'know the way' since they were raised right there on the ranch. After the ride, warm up with a hot drink or opt for a ride that offers a complete Dutch oven meal.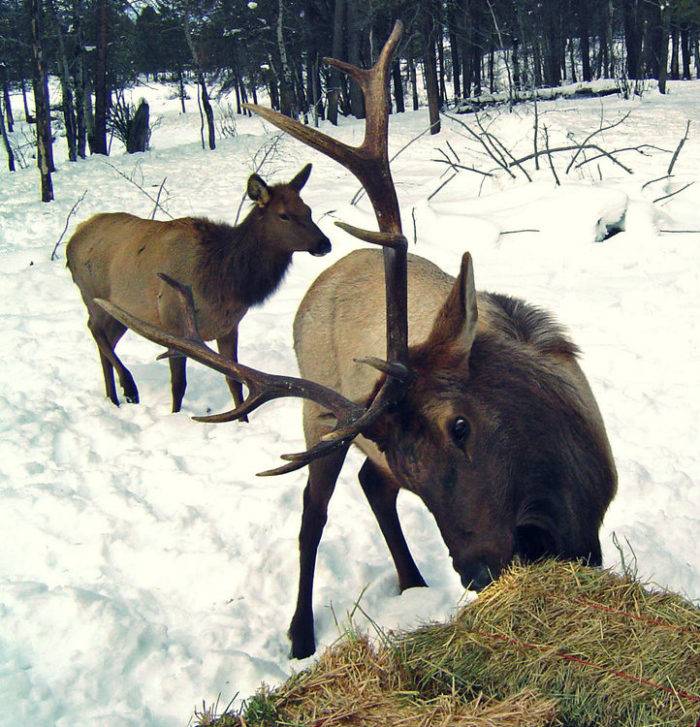 If you've never been within a few feet of a wild elk, you need to take a ride with Hap and Florence Points Memorial Sleigh Rides outside of Donnelly to see Rocky Mountain elk and other wildlife that winter along the Gold Fork River. The elk dine on hay provided by your hosts, so they're happy to hang around while you admire them in their natural habitat, and on their terms. It's an experience like no other. A camera isn't required, but you might kick yourself if you don't bring one!
A Winter Dinner Theater experience at Mountain River Ranch, northeast of Idaho Falls, promises fun for all ages. A pork loin or prime rib dinner, accompanied by an Idaho baker (of course) is being prepared as you kick back, sing songs, and sip cider on the sleigh ride to the Meadow Muffin Theatre. Enjoy the "Live Old West Holiday Show" complete with singing and performance skits.
A visit to Sun Valley is already magical, but when you add a classic horse-drawn sleigh ride through the snowy hills, the experience is even more enchanting. The Sun Valley Resort offers scheduled half-hour tours, or for a longer, more memorable night, take a sleigh ride to Trail Creek Cabin for dinner with family and friends. Round-trip scenic rides are available Tuesday through Saturday and nightly during the Christmas holidays and Presidents' week.
Located in the Victor area, Linn Canyon Ranch offers sleigh rides and dinner at the ranch through March. Traveling at dusk, riders frequently spot elk and other wildlife that call the canyon home. Bundled under warm blankets you will glide around the ranch in a sleigh pulled by the ranch's Percheron draft horses.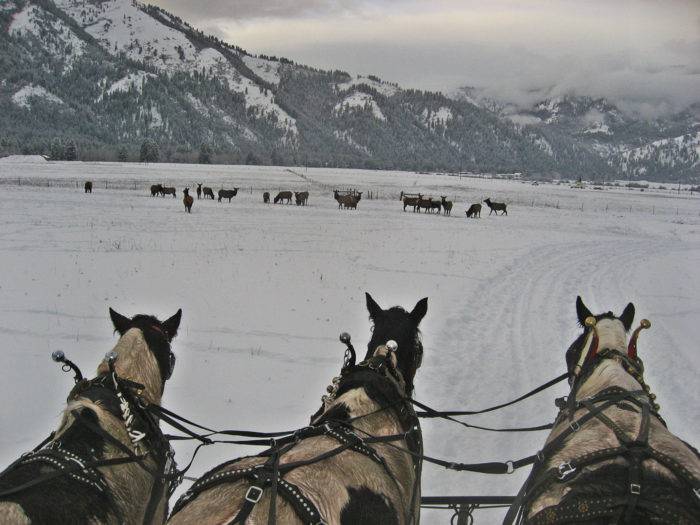 At the Western Pleasure Guest Ranch in Sandpoint, draft horse teams Louie and Lonestar, Jake and Julie, Queen and Justice, Lady and Fancy or BC and Albert are ready and willing to pull sleighs through the Selkirk Mountain trails. The ranch sleighs can accommodate large groups, small groups, or even a couple looking for a special one-horse open sleigh romantic adventure. Enjoy a sleigh ride and country gourmet dinner served in the lodge, or complete your nostalgic winter experience with hot drinks and popcorn served by the lodge's grand fireplace after picking out your Christmas tree.
Here's one final bit of "Jingle Bells" trivia: a sleigh ride gave an unescorted couple a rare chance to be together, unchaperoned, in distant woods or fields, with all the opportunities that afforded. Sleigh rides were the nineteenth-century equivalent of taking a girl to a drive-in movie in the 1950s and early 1960s, so there was a somewhat suggestive and scintillating aspect to the song.
Trip tip: Many of these sleigh ride experiences do not allow cancellations. Make sure you know what your specific trip allows if you find you need to make changes.
Feature image credit: Idaho Sleigh Rides

Published on January 24, 2017