Steven Andrews worked in partnership with Visit Idaho to create this Travel Tip.
Idaho is nicknamed "The Gem State" for the abundance of rare minerals that have been found in all corners of the state. For those who really know their trivia, you might also know that the state gem is the Star Garnet. Although the garnet itself is rare, Idaho is one of only two places in the world (the other is in India) where the star garnet can be found, making this particular variety exceptionally special.
The "star" formation is created by diffracted light hitting trace minerals within the stone. The stone must be cut a very specific way for this to be revealed, but when it happens you will find a brilliant pattern that has an almost 3D effect when you move it around in the light.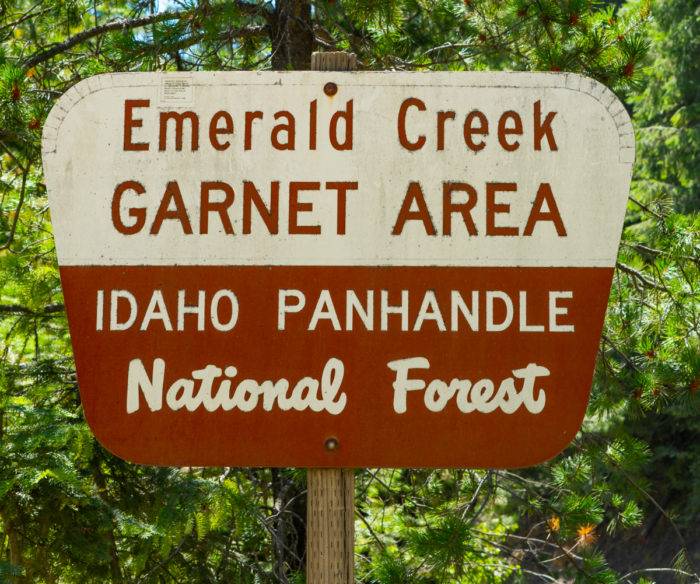 The Emerald Creek Garnet Area near St. Maries in northern Idaho, offers rockhounds the chance to dig up their own star garnet. A permit to dig costs $10 per day and allows you to keep up to five pounds of stones. Kids 6-12 are only $5, and kids under 6 are free; meaning that the whole family can enjoy this memorable activity.
The Experience
The 7-mile dirt road leading in can be a bit bumpy, but my Honda Civic made it there and back without any issues, which means most cars should be able to handle the journey. Just before the dig site is the Emerald Creek campground, which offers 18 campsites, potable water, and plenty of shade. For those who come from afar and the most passionate rock hounds, this campground provides the perfect base camp for an overnight or multi-day adventure for digging in the dirt.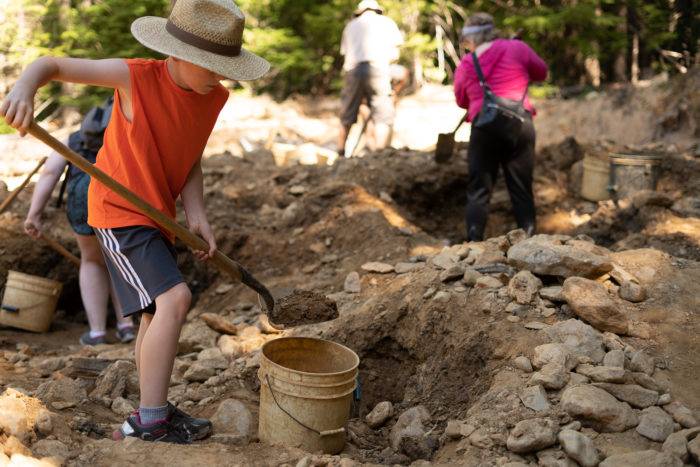 At the site, we met two friendly rangers who brought us up to speed on the process. While it seemed intimidating at first, I quickly developed a good system. There are three stations to help you find the gems: The first is the dig site where you shovel dirt into a bucket.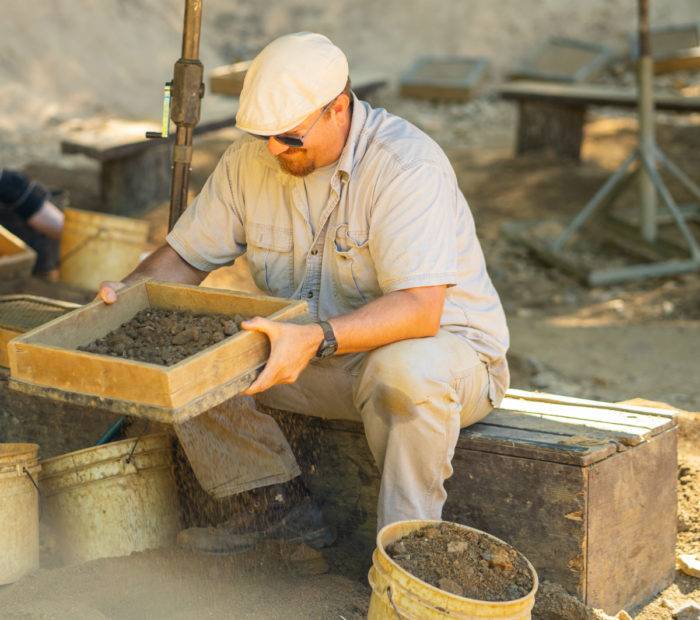 You then take the bucket to a sifting area where you pour the dirt through a screen, leaving only larger rocks and pebbles.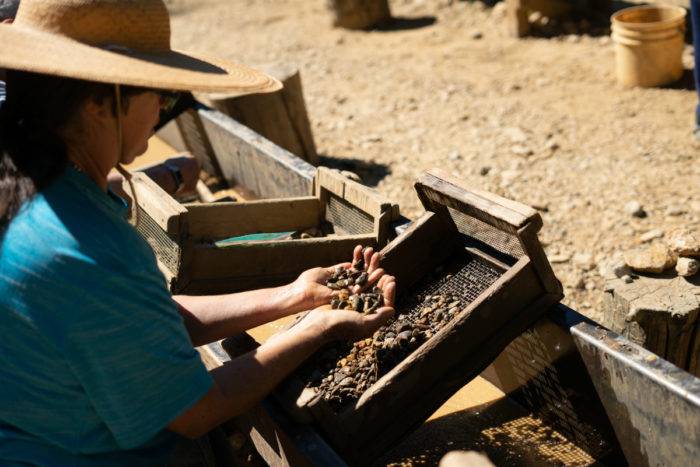 From there you go to a sluice where the running water exposes the possible gems. This is where the magic happens: Once the water cleans the rocks, you can pick out the garnets, which have a distinct dark purple hue. Then repeat the process all over again until you're either too tired or gathered your daily five-pound limit (which is quite a lot!)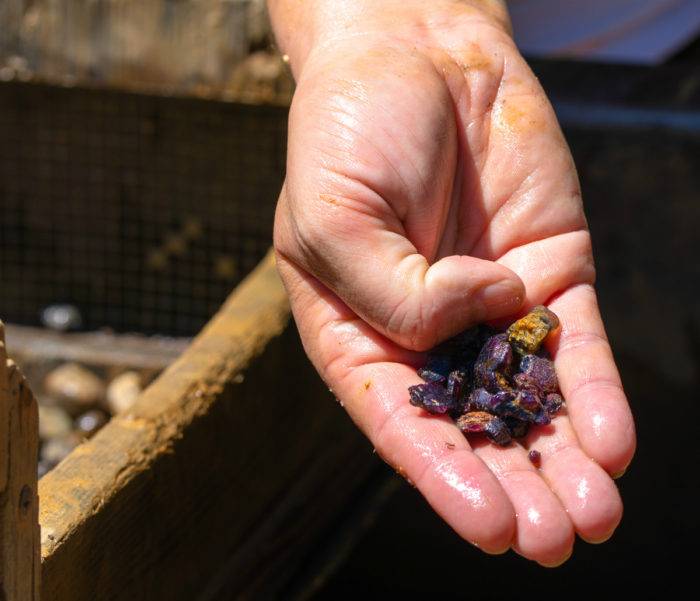 The best part of this process is that you can go at your own pace. The massive pile to dig through leaves plenty of room for everyone, so there is no race to be first. Pretty much everyone I saw during the day had gathered an impressive amount of garnets. We are lucky to have these in abundance in the small area, and even luckier that the National Forest Service has provided the public with an easy, fun, and entertaining method of finding these gems.
Making Your Rocks Shine
Once you've gathered your bounty, you'll likely have at least a few dozen garnets that are keepers. The raw minerals are something special as is, but the big appeal is in unveiling the star pattern. Not all stones will have the "star" so you'll want to see someone with experience cutting these stones. I found great advice and service from Stewart's Gem Shop in Boise. This family business has been around for decades and has cut many of the Emerald Creek garnets to showcase the star pattern. There is a specific method involved where expertise is essential. Although it can be pricey depending on the size of the stone, what you end up with is a rare and beautiful memento.
For more information on visiting the Emerald Creek Garnet Area, visit the Forest Service website.
Feature image credited to Steven Andrews.
Steven Andrews uses multiple mediums to share stories, whether through written or spoken word, or visual imagery. Steve enjoys exploring the world while interacting with nature and exploring diverse lands. He loves Idaho for its world-class outdoor activities, friendly people, and an easy-going lifestyle. You can find more of his tales at whererusteve.com or on Instagram@whererusteve.
This story was originally published in August 2018. It was updated in May 2020.

Published on May 28, 2020