I love the first snowfall of winter, it brings a sense of peace and quiet to the world. Watching the big white flakes gently float by, you are compelled to step outside to feel the crunch beneath your feet.
You don't have to be a snowboarder, skier, or snowshoeing enthusiast to enjoy snowfall in Boise, you just need some warm clothing, a pair of boots, and an adventurous spirit. Magnificent parks and never-ending trail systems make the City of Trees a perfect place to take a winter stroll. Read on to discover three gorgeous hikes in Boise that you must try before the snow melts. Pick a hike, bundle up, and get out there!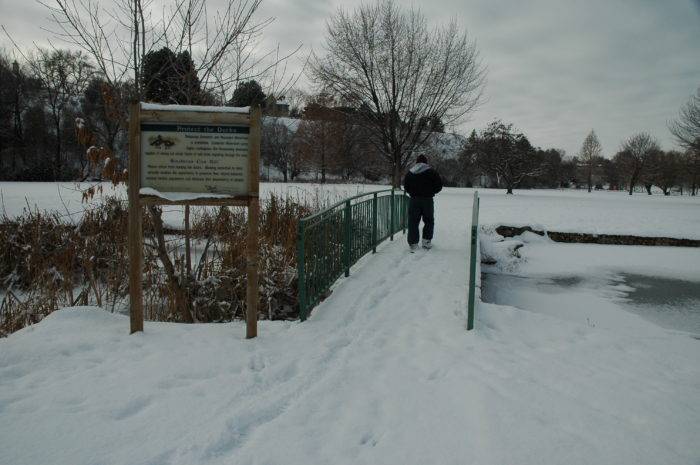 Bethine Church River Trail
This trail was named in honor of the late Bethine Church, who played a large role in the effort to conserve and preserve public lands. This is a gorgeous walk on an unpaved path south of the Boise River and is one of the parks near the riverside in the "Ribbon of Jewels." You'll stroll 1.8 miles from the Cottonwood Apartments off Parkcenter Boulevard through 24-acres of picturesque terrain with Boise River overlooks, wildlife nesting spots, and several small streams that you can stop and see along the way. Once you reach the East ParkCenter Bridge by Bown Crossing, take a right and follow East ParkCenter Boulevard past Baggley Park and back up towards the river and your starting point.
Ridge to Rivers Trail System
The Ridge to Rivers trail system is one of the more scenic winter hikes on this list and it can also be the most demanding. But no need to fear, there are a wide variety of trails for every skill level. Some paths are challenging and require more stamina, while some are more level and low-key. The diversity of the land, plants, and animals vary on every path, and a short 5-minute drive will take you from downtown Boise to any trail of your choosing. Pick your path here, and get started. Once you breathe the cool winter air out in the foothills, you may forget to count down the days until spring.
Julia Davis Park – Municipal Park Greenbelt Loop
This walk happens to be my personal favorite, however, it's true that I may have a biased opinion because I live in this area. For this hike, you will start in Julia Davis Park on the South Capitol Boulevard Bridge and head east on the Greenbelt on the south side of the river. You will pass Boise State University's beautiful campus and continue alongside the river on a paved pathway through towering trees. You'll walk roughly two miles until you come to the Baybrook Court Bridge where you'll cross the river and head west (the direction from which you came) on the opposite side of the river. On this stretch of the walk, you will pass by Municipal Park and the MK Nature Center. Continue walking west until you reach your starting point, Julia Davis Park. Keep a lookout while you walk – this area of the Boise Greenbelt is teeming with wildlife including many amphibian, mammal, and reptile species. The chances are pretty high that you will see a deer bounding through the snow or a beaver hard at work.
The winter hikes listed above are only three of the many options that the Boise area has to offer. To view more Boise Greenbelt hiking options click here.
This author is a paid content writer for Idaho Tourism.

Published on December 8, 2015