This is a sponsored post.
Idaho's long history of railroads, many built to serve the mining industry, has an impressive legacy: a vast collection of rails-to-trails across the state.
Rails-to-trails are retired railroad lines converted to multi-use trails. These trails are either paved or have a surface of gravel, dirt or mulch. They are excellent recreation spots due to their wide width and gentle grades.
There are over 400 miles of rail trail throughout Idaho. Here are a few to check out on your next trip to the Gem State.
Ashton-Tetonia Trail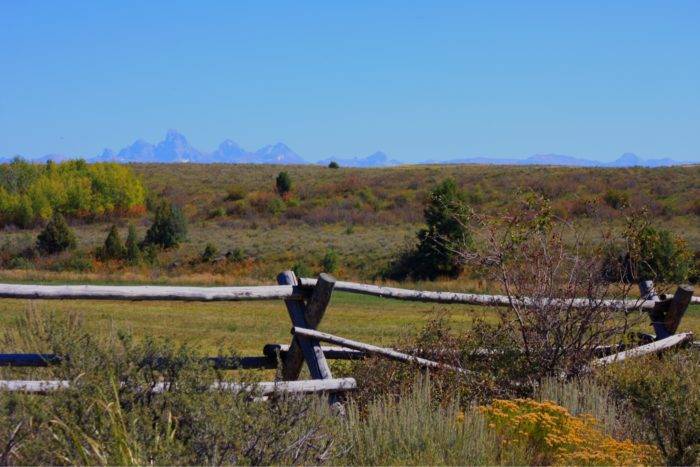 The Ashton-Tetonia Trail travels 20 miles through the Teton Valley in eastern Idaho. The gravel surface trail is great for walking, running, and mountain biking. In the winter it is open for cross-country skiing and snowmobiling.
Once part of the Oregon Short Line, this section of trail has great views of the Teton Mountains and crosses over multiple bridges and trestles. Trail parking can be found in Marysville and Tetonia.
Wood River Trail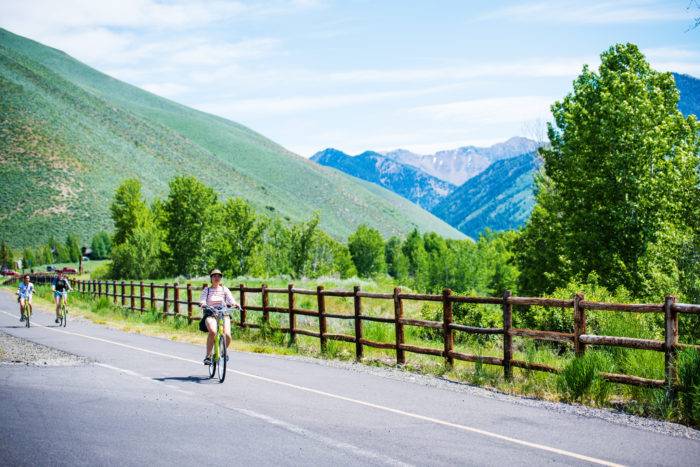 The paved Wood River Trail winds 33 miles between the towns of Ketchum and Bellevue with spurs to the Sun Valley Resort. The trail is excellent for biking, running, walking, and skateboarding. In the winter it is groomed for cross country skiing.
The trail is popular for both recreation and travel between the towns. There is ample trail parking along the path, as well as a few swimming spots to take a dip on a hot summer day.
Boise River Greenbelt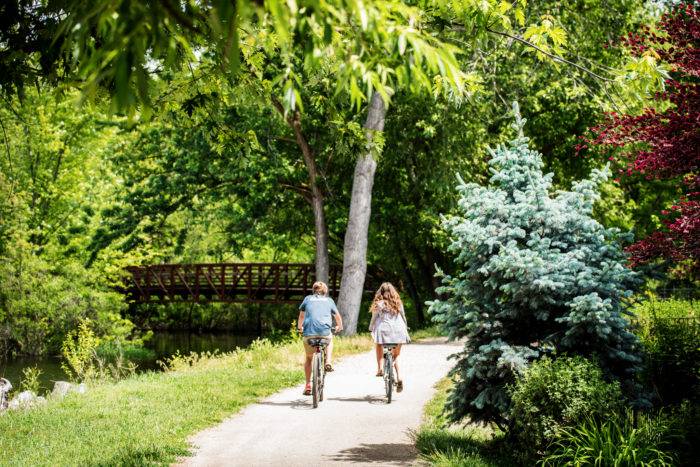 The Boise River Greenbelt is a mixed surface trail along the Boise River. Running for 25 miles between Eagle and Lucky Peak Reservoir, the Greenbelt is a popular spot for bikers, runners, and dog walkers. It is also used frequently for running races.
The Boise River Greenbelt is open year round, though may sometimes close in areas during high water years. Many attractions lie along the Greenbelt including Ann Morrison Park, Zoo Boise, and Julia Davis Park.
Trail of the Coeur d'Alenes
Sixty-nine spectacular miles of paved rail trail connect Plummer and Mullan in northern Idaho. While great for walking, running and skateboarding, the Trail of the Coeur d'Alenes is best known for its smooth and gentle grade for biking.
You'll encounter plenty of scenery along the route. There are opportunities to see wildlife and birds, to learn about mining history, and to experience forests, prairies, and lakes.
Route of the Hiawatha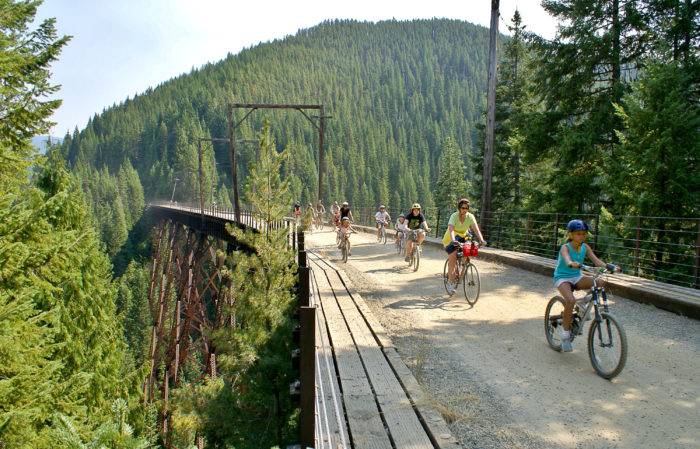 The Route of the Hiawatha is a 15-mile gravel path with a notable feature: it passes through a 1.6 mile tunnel cut through a mountain.
While the other rail trails listed above are free for use, the Route of the Hiawatha is operated by Lookout Pass Ski Area and requires a trail pass ($10 for adults, $6 for children 6–13 years old). The ski area also operates a shuttle, allowing bikers to cruise the path downhill without needing to climb back to their car.
The Route of the Hiawatha and the Trail of the Coeur d'Alenes have both been inducted into the Rails-to-Trails Conservany Hall of Fame.
Whether on foot, bicycle, or ski, Idaho's rails-to-trails are perfect for your next adventure.
Sara Sheehy seeks adventure in the mountains of Idaho and beyond. She is the founder of Camp Academy, an online beginners guide to camping and hiking.

Published on July 11, 2017