Sara Sheehy worked in partnership with Visit Idaho to create this Travel Tip.
It's no secret that the volcanic hotspot under Yellowstone National Park has created, and continues to create, a stunning landscape that draws visitors from around the world. What is less known, perhaps, is the natural beauty that lies just over Yellowstone's western border in Island Park, Idaho.
Island Park's beautiful forests and stunning rivers sit in the largest caldera in the world. This nearly 50-mile hollow was formed 2.1 million years ago during the eruption of a supervolcano. This unique landscape serves as a home for wildlife like moose, elk, deer, pronghorn, and wolves, alongside a small population of year-round residents who stay for the spectacular summers and adventure-filled winters.
Located only 20 minutes away from the western entrance to Yellowstone National Park, Island Park is the perfect place to get away from the crowds while reveling in the area's natural wonders.
Where to Stay
One of my favorite places to stay in Island Park is Henry's Lake State Park. Located on the shores of 6,000-acre Henry's Lake, this state park features 44 serviced campsites and three cabins in the heart of Island Park. It's a popular spot with fishermen and families, both of whom will find plenty to do right within the park borders.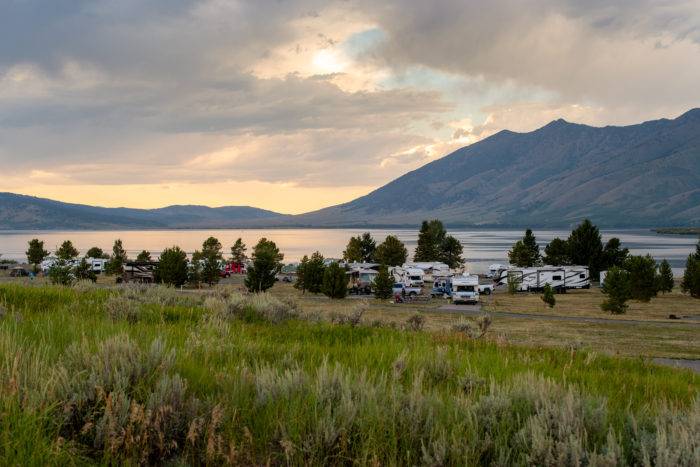 If camping or cabin life isn't for you, don't fret. The area has a variety of hotels and specialty lodging options, including riverside and lakefront accommodations.
Explore by Water
Island Park is a town defined by its water. From Henry's Lake down to Island Park Reservoir, and from the Buffalo River to the Henrys Fork of the Snake River, it's a haven for watersport lovers and fishermen.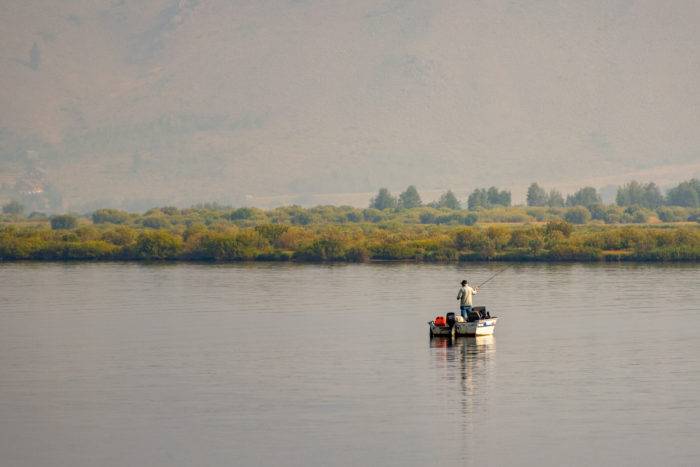 The Henrys Fork is known as one of the best fly-fishing rivers in the country. Living in its clear waters you'll find rainbow trout, brown trout, cutthroat trout, and mountain whitefish. Anglers can wade, float, or cast a line from the bank in spots like Box Canyon and Harriman State Park.
Boating is a beloved pastime on Henry's Lake, for both pleasure cruisers and anglers. Powerboating, waterskiing, and swimming are rare on the lake due to its relatively shallow depth and aquatic vegetation, though all three are allowed. Kayak rentals are available from Henry's Lake State Park, and you'll find many paddle boarders and canoers on the water, as well.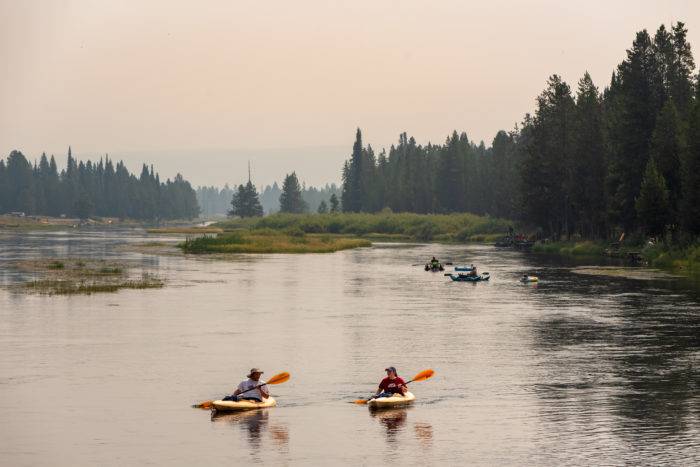 There's no better place to cool off on a hot summer's day than on a tube, float, or paddle down the Henry's Fork. The cold, clear, slow-moving water is ideal for a lazy day of relaxation. Macks Inn Resort offers shuttle service and float rentals, so all you need to think about is looking for bald eagles on the bank and making shapes out of the clouds overhead.
Explore on Foot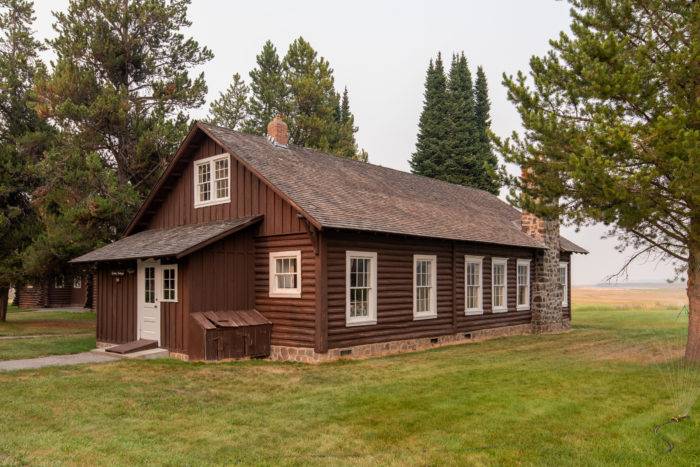 Hiking and sightseeing are popular activities in and around Island Park. Make your way to beautiful Harriman State Park to hike on their 20-plus miles of trails and check out the remains of the historic Railroad Ranch. "The Ranch," as it's locally known, was once owned by such illustrious families as the Guggenheims and the Harrimans, who were Union Pacific Railroad tycoons. Eight miles of the Henrys Fork meander through the park.
Just south of Island Park lies Upper Mesa Falls, a ten-story waterfall that plunges over the edge of the caldera. The scenic drive to the falls includes glimpses at the towering Tetons in the distance.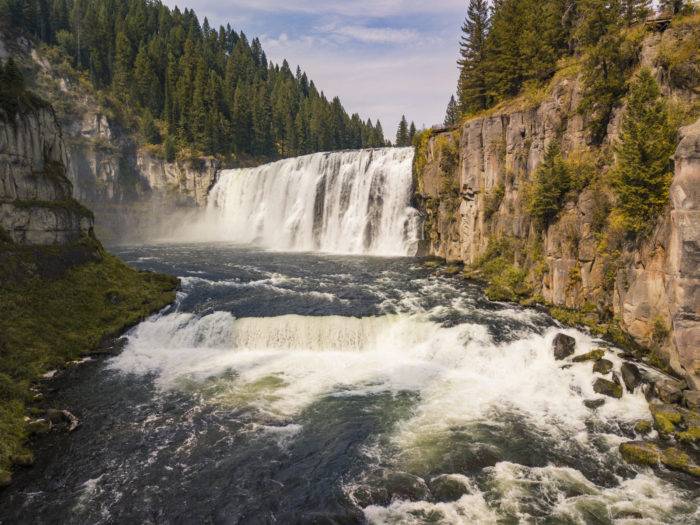 No trip to Island Park would be complete without a stop at Big Springs, where you can watch the 120 million gallons of crystal-clear water that flow out of the ground each day to form the headwaters of the Henrys Fork. Trout glide gracefully just under the surface of the water and can be easily viewed from the bridge near the parking area.
Explore by Wheel
If you prefer to do your adventuring by ATV, dirt bike, or side-by-side, you'll find no shortage of backcountry routes in and around Island Park. Bring your own off-highway vehicle (OHV) or stop at one of the many rental businesses that line Route 20. Escape into the Caribou-Targhee National Forest on the Railroad Right-of-Way trail, or to get some elevation, ride to the top of 9,884-foot Sawtell Peak for views across the caldera and down into Montana's Centennial Valley.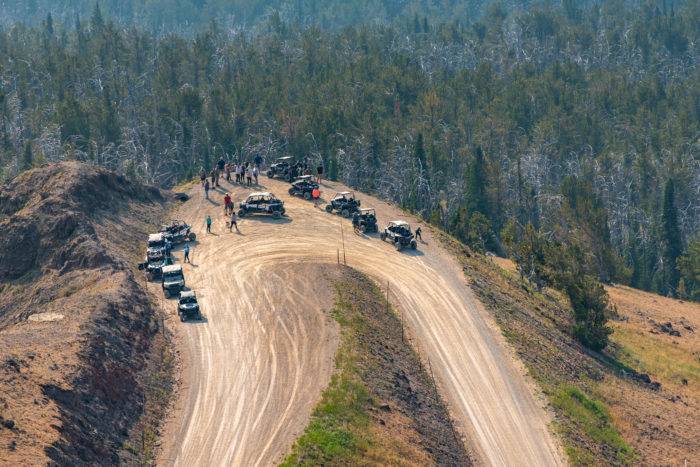 Those who like to pedal under their own power can hop on the Continental Divide Trail, which runs for 3,100 miles from Canada to Mexico. The bike-friendly 30-plus mile section that curves around Island Park is particularly beautiful. For a ride that's a little less intense, the unpaved Island Park Community Trail runs for 23 miles between Henry's Lake and Harriman State Parks.
Feature image credited to Sara Sheehy.
Sara Sheehy is a writer and photographer who travels the world seeking wild places and great stories. When she's not on the road, Sara spends her time exploring the mountains around her home base of Sun Valley, Idaho.

Published on September 1, 2020