Kristen Pope worked in partnership with Visit Idaho to create this Travel Tip.
See wagon ruts over a century old and learn about the history and heritage of Idaho by exploring the state's National Historic Trails. 2018 was the 50th anniversery of the National Trails System which created National Scenic Trails and National Recreation Trails. Just 10 years after its creation, National Historic Trails were added to the list.
Idaho is home to several of these treasured historic trails, including the California and Oregon National Historic Trails, the Nez Perce (Nee-Me-Poo) National Historic Trail and the Lewis and Clark National Historic Trail. Enjoy a road trip to explore these locations and reflect on the state's heritage and history.
Note that access to many of these sites involves traversing backcountry roads, which are often unpaved gravel or high-clearance four-wheel-drive roads. Before attempting any route, be sure to check road conditions and weather and make sure you have the appropriate vehicle, equipment, skills and knowledge to safely reach your destination. Always bring proper navigational tools and supplies such as food and water and be sure to let someone know where you're going.
California and Oregon National Historic Trails
Witness wagon ruts left by settlers on their journey west along these fabled routes as well as a variety of other landmarks and sites. The Oregon-California Trails Association offers a virtual trail tour online and highlights a number of sites on a detailed website with in-depth site descriptions.
Additionally, the National Park Service offers an Auto Tour Route Map and Auto Tour Route Interpretive Guides for both California and Oregon to help people find their way and learn as they explore. A few spots to explore include:​​​​​​​​​​​​​​
Fort Hall Replica: While the original Fort Hall, an important trading post along the Oregon and California trails, was dismantled in 1863, a replica remains nearby today. Visitors can explore the site and learn about life along the trail. The Fort Hall Replica is open from Memorial Day to Labor Day and a small admission fee is charged.
Soda Springs: Early travelers often stopped near Soda Springs, where they marveled at the abundant collection of springs nearby with unusual properties. According to the National Park Service's website, a traveler named Sarah White Smith noted in 1838, "The water tastes like soda water, especially artificially prepared. The water is bubbling and foaming like boiling water." Several springs remain in the area, including Hooper Spring, and a couple areas nearby have still-visible wagon ruts.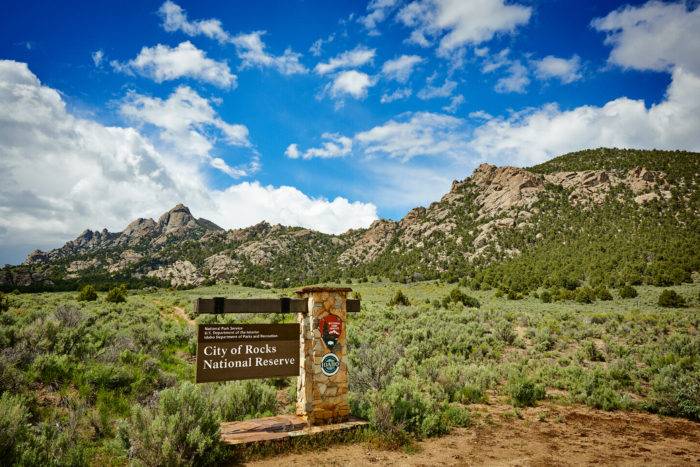 City of Rocks National Reserve: This 24-mile auto tour route begins at Almo, Idaho's City of Rocks Visitor Center and highlights a number of trail highlights, including the famous Register Rock at mile 4.6. This hulking rock bears the axle grease signatures of a number of different travelers who reached the rock in 1850 along with their oxen teams, cows and horses. This gravel route is often impassable during certain times of year and conditions can be treacherous at times. Be sure to check both road and weather conditions before setting out. The National Park Service advises people to zero out their trip odometers at the start of the route and then carefully watch their mileage to locate each of the highlights along the route.
Nez Perce (Nee-Me-Poo) National Historic Trail
This trail follows the route used by the Nez Perce people in 1877 when they were fleeing U.S. military forces. The trail extends from Oregon to Montana, with many locations in Idaho. An auto tour route, which includes every road type from rough gravel to major interstates, brings travelers to many important sites along this route. A variety of area-specific Auto Tour Guides are available from land management agencies, including one which explores numerous Idaho locations.
The Nez Perce National Historical Park includes numerous sites along the trail. The visitor center, which is located 10 miles from Lewiston, is a good place to start. From there, explore a number of sites around the state, including:
Weippe Prairie: This prairie is located around 60 miles from the visitors center and is still an important place for Nez Perce families today. Many of these families still gather to connect with one another in the prairie and collect camas bulbs, a traditional food, to eat. The site includes interpretive signs and educational information for visitors and a popular time to visit is May and June when the camas typically bloom.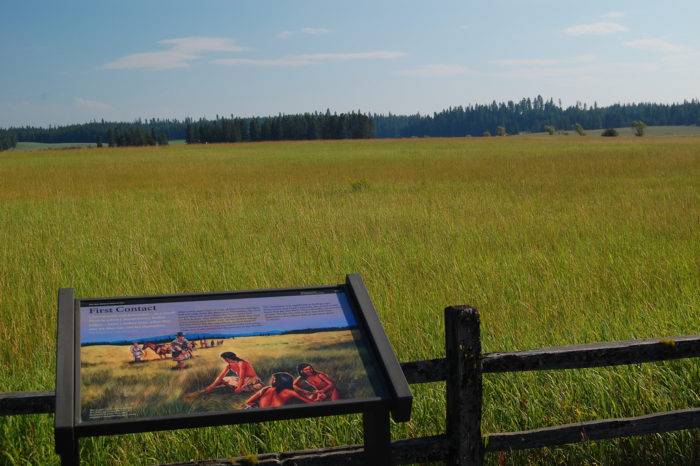 Fort Lapwai: This fort was constructed for the U.S. Army, and soldiers used it from 1863 to 1885. Today, the Nez Perce Tribe owns the remaining buildings, such as the officers' quarters, which is also used as an interpretive site.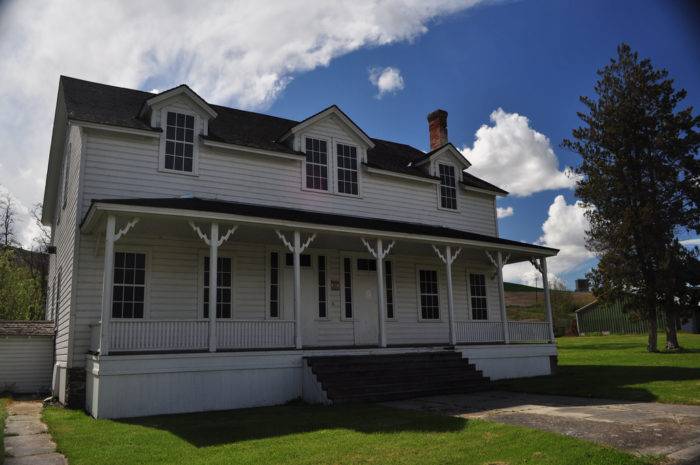 Tolo Lake: In 1877, over 700 Nez Perce people met at Tolo Lake to congregate and spend time together. They represented five different Nez Perce bands and they took advantage of their time at the lake to stock up on food for the winter, like camas. Gravel roads bring visitors to the lake today where they can imagine the gatherings of the past.
Lewis and Clark National Historic Trail
The Lewis and Clark National Historic Trail highlights the route the "Corps of Discovery" used as they sought to find a route to the Pacific Ocean via river. The group traveled from 1804 to 1806, and the Lewis and Clark Trail Heritage Foundation honors a number of sites along the route today. A few of the sites along the trail include:
Weippe Prairie: In addition to being a location along the Nez Perce (Nee-Me-Poo) National Historic Trail, Weippe Prairie is also an important stop along the Lewis and Clark National Historic Trail. When several of the explorers reached the prairie, they were warmly received by the Nez Perce people, and they stayed several days. On the group's return trip, they stayed a few more times as they were delayed by the weather.
Lemhi Pass: Located along the Idaho-Montana border, the two-mile-long Lemhi Pass is where the travelers made their way across the Continental Divide in 1805. Today, the pass is located in two national forests, including Idaho's Salmon-Challis National Forest.
These National Historic Trails are a great way to learn more about Idaho's heritage and history. And, with numerous stops along the way, they make for great road trips.
Kristen Pope is a Jackson, Wyoming-based freelance writer and editor who writes about outdoor adventure, science, conservation, and travel for NationalGeographic.com, Backpacker, Audubon.com, Western Confluence, and Discover, just to name a few. Visit her at www.kepope.com.

Published on June 26, 2018