Fishing Getaways in Southwest Idaho
This author is a paid content writer for Idaho Tourism.
One of my favorite things to do in the spring and fall is fishing – it's by far one of the most accessible outdoor sports and nearly anyone, regardless of your age, fitness level, or income can do it. Whether you grew up fishing with your grandpa every weekend or are just looking to get outside with the kids and try something new, casting a line is a great activity. Check out two of Southwest Idaho's most angler-friendly fishing locations and learn how you can master your first time out on the water.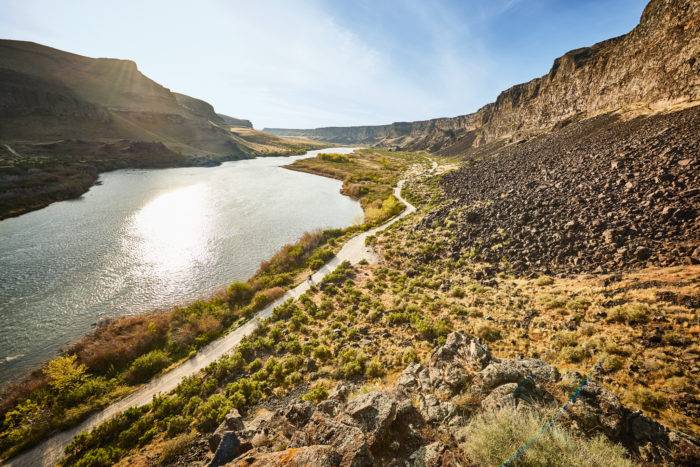 What to Pack
Fishing rod
Water sandals or shoes
Bathing suit or swim trunks
Bug Spray
Jeans (or lightweight zip-off pants)
Hat
Sunscreen
Fishing at Swan Falls
If you've never been bass fishing in Idaho, Swan Falls is your golden ticket to crushing spring and fall fishing. I first heard about Swan Falls through a friend – he frequents the area and always has success catching bass. It wasn't long after he told me about his experiences that I was begging him to take me. So we planned a short trip to Swan Falls Dam located just outside of Kuna.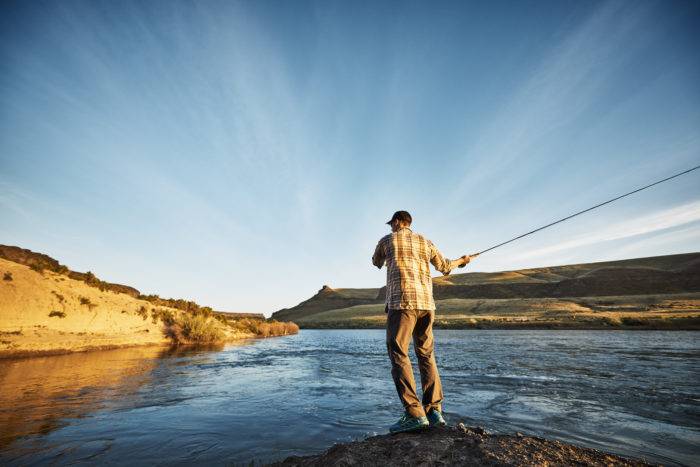 When we first arrived at the dam, we drove around for a short while scouting out locations. Many families were fishing from the docks located right on the reservoir. Neither of us own a boat, so we stuck to shore fishing, in hopes of catching the "Kraken." This location is perfect for parents with little ones because there is a park directly behind the docks – ideal if the kids get bored.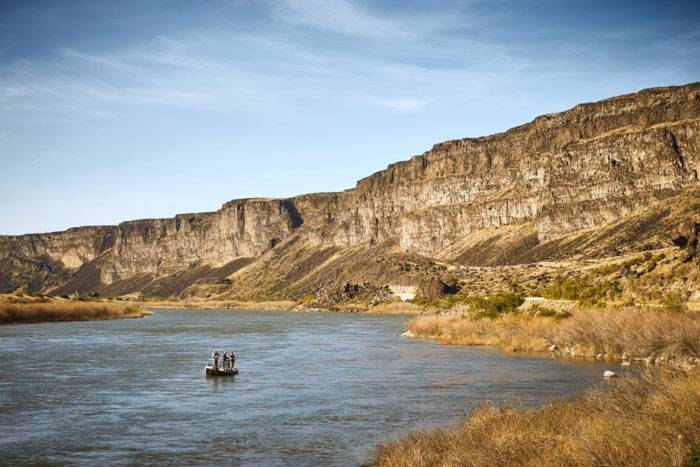 An hour after our arrival, we ended up driving south alongside the Snake River for 5 miles or so before we found a quiet and secluded spot. We pulled up right next to the river and set up camp – my friend, David, pitched the tent while I got the fishing gear from the back of the car. It didn't take long before we had our lines in the water and it was only 15 minutes before I had my first catch – a 9-inch smallmouth bass.
We continued to fish until the sun set behind the towering canyon walls – the views were spectacular and only got better the lower the sun sank in the sky. What I love most about spring and fall fishing in Idaho is the weather. Typically days sit between 70 and 80 degrees, and the evenings sit somewhere in the 60's, making for the perfect fishing experience.
As the night sky darkened, more people were arriving for night fishing. Some hoped to catch the mighty sturgeon; others just wanted to be in the canyon as the sun set in hopes of catching a view like this…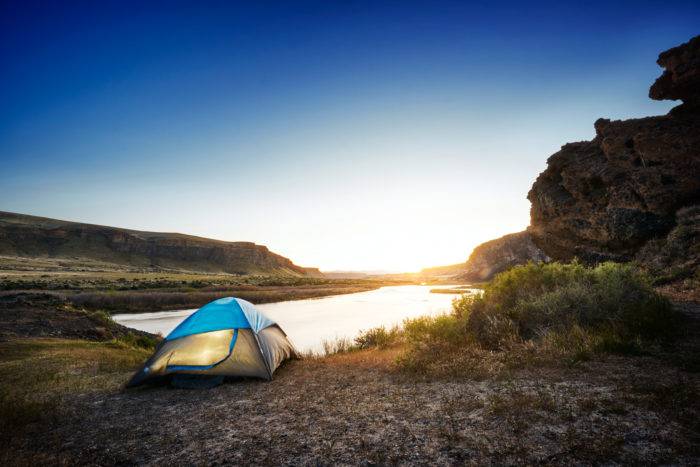 Tackle Box and Fishin' Tips for Swan Falls
In general, the Snake River around Swan Falls Dam offers outstanding fishing for a wide variety of species. Just below the dam, anglers can catch catfish and smallmouth bass. Most fishermen can snag channel catfish using crank baits, live worms, crayfish imitations, and cut bait. David and I had the most success with live worms on this particular trip. If you're feeling adventurous, you can venture down the Snake River for a couple of miles like we did and attempt to catch sturgeon. Just make sure that if you are attempting this massive feat (literally), you use proper tackle and abide by Idaho regulations for handling, targeting and releasing these six-foot-long fish.
For the average fisherman, you'll be going after smallmouth bass, largemouth bass, bullheads, channel catfish and the occasional crappie and perch. Be sure to pack various lures – the most successful for this area include jigs, grubs, tubes, crank baits, jerk baits and plastic worms.
Getting to Swan Falls
Take Meridian Road south all the way through Kuna and take a left on Swan Falls Road. This road eventually ends at the dam about 25 miles down.
Fishing at C.J. Strike Reservoir
C.J. Strike Reservoir is one of the most easily accessible, family-friendly fishing locations in the state. Swan Falls may have better views, but C.J. Strike has the edge when it comes to catch rate. We ended up leaving the reservoir at the end of the day with over 30 fish in our cooler.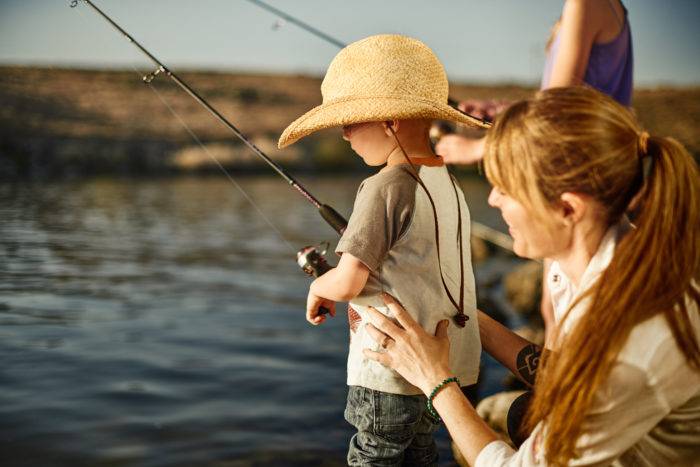 The live bait we grabbed from the gas station worked like a charm. We couldn't believe how stacked up the fish were along the northeast side of the reservoir – there were two other families within close proximity to us and everyone was having outstanding luck, even the little girl next to us with the toy rod was reeling in fish after fish.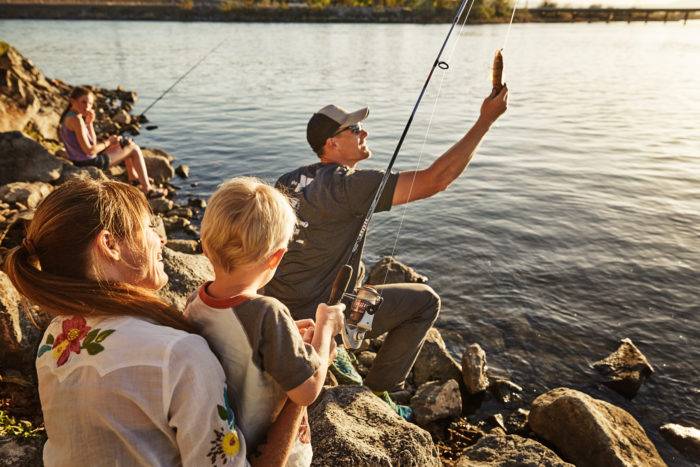 We started out on the southwest shore of the reservoir and worked our way around the bank for hours with no nibbles. But once 6 o'clock rolled around we switched banks and couldn't get bait on the line fast enough. I'm not sure if it was the bank we were on, the sun setting (cooler weather) or both, but we're glad it picked up because we're now stocked with fish in our freezer for the next month!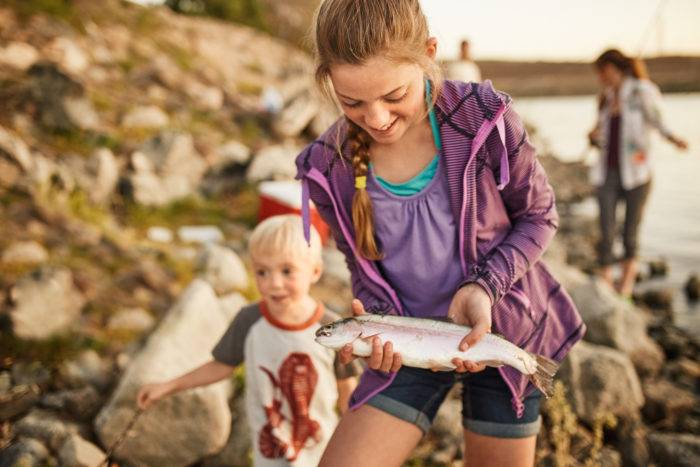 There were several boats trolling the reservoir with rooster tails and flies, and most everyone was having success with crappie, smallmouth bass, perch, and trout. The spring and summer months are bountiful here, just be sure to pack jigs, lures, plastic grubs, and live bait (which you can buy at most gas stations). As we quickly learned, you'll be most successful in the shallow areas and rocky banks. You'll want to cast toward the covered areas and keep your lure moving, jerking it along slowly – this tricks the fish into thinking that the bait is alive.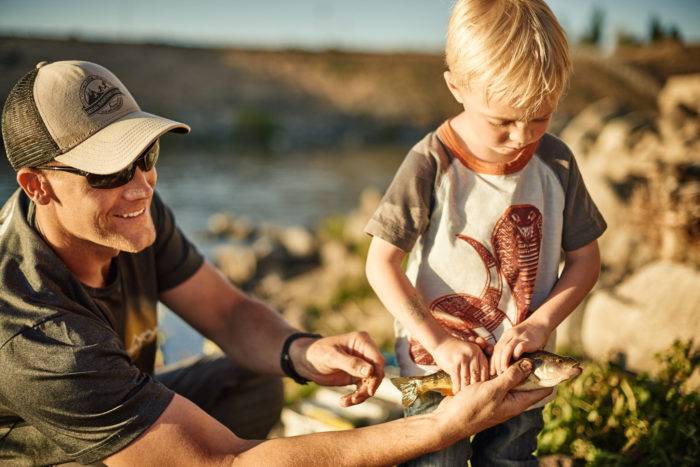 Tackle Box and Fishin' Tips for C.J. Strike Reservoir
Every section of the reservoir (there are three total) offers unique fishing. The main, which is near the dam where we fished, offers easy access for bank and boat angling. Perch, bullheads, trout, and crappie are often caught in droves if you use the right bait. Worms, eggs, and marshmallows were our go-to in the evening – judging by the bounty of fish we reeled in, I'd say you're safe sticking with these three options.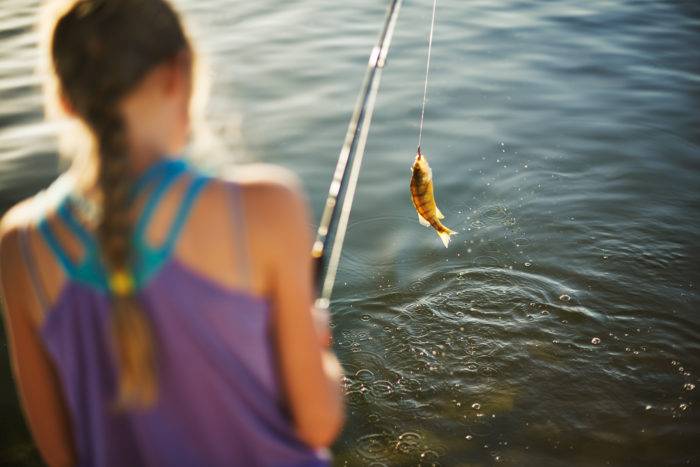 Getting to C.J. Strike Reservoir
Head to Mountain Home, once you arrive, follow the signs to the Mountain Home Air Base. To get to C.J. Strike Dam, continue through Bruneau and watch for signs for C.J. Strike Wildlife Management Area, which is about 4 miles past Bruneau on Highway 78. Take the road below the dam to access the launch below the dam.
Trip Tips
Be sure to get your Idaho Fishing License prior to your trip. Visit Idaho Fish and Game online here for purchase information, requirements, and frequently asked questions.
A common mistake that first-time anglers make is bringing too much of what they don't need. Stick to the basics listed above for your tackle box and you'll be sure to find success.
Bring a pocket knife. It comes in handy if your line gets snagged in the water.