This is a sponsored post.
Every year when winter arrives, many people hole up indoors and cozy up by the fire until spring makes its grand appearance again.
Well, we aren't most people.
Like every season, we appreciate getting outdoors and taking advantage of whatever Mother Nature gives us. In the summer, we do a lot of camping, paddleboarding, kayaking, and backpacking in the beautiful mountains and lakes of Idaho. Spring and fall are our favorite seasons for hitting the trails and hiking and mountain biking because of the cooler temps. In the winter, we are all about snow skiing and snowshoeing and will take any opportunity we can to ditch school/work on the powder days and hit the slopes.
Every once in awhile we branch out and try something new and normally what we find is another outdoor hobby that we love. When we first heard about riding "fat bikes" on the snow, we knew we had to give it a whirl.
If you're still in the dark as to what fat bikes are, let me give you a brief explanation. A fat bike is an off-road bicycle with oversized tires, designed for low ground pressure to give you better traction on soft unstable terrain, such as snow, sand, and mud. Did you know that fat biking is the fastest growing winter sport in the country? Now you see fat bikes used on trails all year long regardless of conditions because the technology continues to improve and bike frames are lighter, much like regular mountain bikes.
Living in Idaho, where mountain bike opportunities are plentiful, we did a little research on the best winter fat biking trails in the state. We quickly learned that we have some great trails right in our backyard! Jug Mountain Ranch located in McCall, Idaho has gained notoriety all over the country for fat biking and was even voted as one of the best fat biking trails by Outside Magazine.
Thanks to lots of Nordic ski trails that are also for fat biking, along with fat-bike specific singletrack trails, Jug Mountain offers about 14 total miles of trails for fat biking. Not only that, but plenty of the trails are kid or beginner-friendly. We knew this would be our spot for trying fat biking for the first time!
You can rent fat bikes at a variety of bike shops in Boise (about 100 miles away) and haul them up, or make it easier, and rent them at Jug Mountain. Because Jug Mountain doesn't currently have fat bikes for kids, we called some bike shops in McCall and got lucky–McCall Sports Exchange had a few kids' fat bikes to rent out!
On a beautiful sunny Saturday in February, we got up early and headed to McCall, about a 2-hour drive from our home in Boise. We first picked up our bikes at McCall Sports Exchange and then headed over to Jug Mountain. We paid for a Nordic trail pass, got a trail map and asked the kind lady who worked there where we should start to get used to riding fat bikes.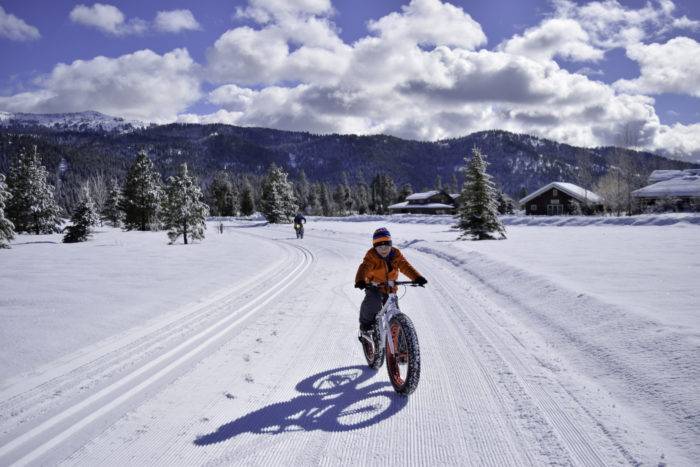 She recommended we try South Elk Loop first (check out the full trail map), which is a flat, wide groomed trail that is mellow and perfect for kids or beginners. The kids caught on fast and had no problem figuring it out, as to be expected. We decided that this trail was the perfect warmup for some of other trails, so soon after we conquered South Elk, we decided to head up North Elk Loop (another wide, fairly easy trail) and wind through Rolling Rock, a groomed singletrack.
Let me tell you, the kids were all smiles the entire day! Riding through the beautiful snow covered pine trees, it was so peaceful and serene as we were the only ones on the trail for most of the day. All you could hear was our whooping and hollering as we raced each other downhill and our laughter when we fell off. (The great thing about fat biking on the snow is it doesn't hurt when you fall!)
Along the way, we stopped for a quick bite of our packed lunches that we brought with us and had a snowball fight. Even the dog seemed to enjoy the adventure, as he happily galloped alongside us on the trails! When we finished the day, we all agreed that fat biking was just as much fun as snow skiing. We loved that you could go at a nice easy pace if you wanted and enjoy nature, but also experience the adrenaline rush of speeding down the hills!
We finished the day off with a cup of hot cocoa and shared a giant cinnamon roll at The Pancake House in McCall before heading home. You know it's been a good day when the kids are asleep within minutes of being in the car, exhausted from the day's adventure!
Helpful Tips:
If renting fat bikes, call ahead to reserve if you can. Besides McCall Sports Exchange and Jug Mountain Ranch, you can also rent bikes at Gravity Sports in McCall or Meridian Cycles in Meridian. Rentals typically range from $40-50/day for adult bikes for a full day.
Trail passes at Jug Mountain Ranch are $10/day.
Wear layers since you might get hot working up a sweat, but also be prepared for cold weather too. You don't need any special shoes, but snow boots are recommended.
Dogs are allowed on the trails at Jug Mountain Ranch.
Pack snacks and water if you plan to be on the trails for more than a couple of hours.
Make sure to stop and get a trail map at the Jug Mountain Nordic Center.
Feature image credited to Christina McEvoy.
Christina McEvoy is an outdoor travel blogger, photographer and content creator at Adventure Together and can also be found on Instagram where she documents her family's outdoor adventures and travels. She and her family live in Boise, Idaho.

Published on December 7, 2017