Tara Morgan worked in partnership with Visit Idaho to create this Travel Tip.
Garden City—once a sleepy industrial alcove peppered with warehouses, used car lots and trailer parks—is now in the midst of a riverfront renaissance. With the frames of urban condos dotting the horizon, the 36th Street corridor is steadily morphing into a drinking and dining destination. To sample some of what the area has to offer, saddle up your cruiser for a ride through the new Esther Simplot Park and across the 36th Street pedestrian bridge, where you can while away the day at a number of urban riverside hideaways.
Start your morning with a pick-me-up at Push and Pour, a minimalist coffee shop with an array of indoor and outdoor seating. Queue up for a cortado and watch as the barista packs locally roasted Maps coffee into a portafilter fashioned from an old skateboard. Saddle up to the long bar and marvel at Kyler Martz's tattoo-influenced wall mural featuring a vintage vixen sipping a cup of coffee while surfing a giant fish. Feeling peckish? Don't pass up Push and Pour's Instagram-worthy avocado toast, loaded with smashed avocado, sprouts, pickled watermelon radish roses and a poached egg.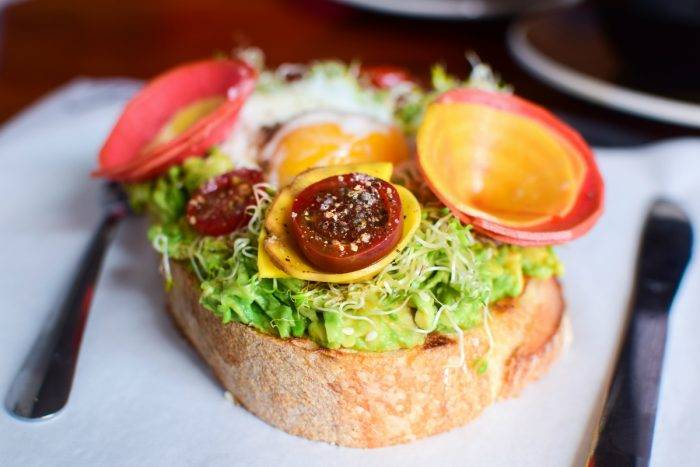 Once you've caffeinated, take it down a notch at Telaya Wine Co., a local winery housed in a sprawling riverside retreat. Whether you snag a seat at one of Telaya's long interior wood tables or a shady patio perch, settle in for relaxing stretch of sipping and people watching. Telaya's tasting flights allow you to sample an array of the winery's offerings—everything from the inky Petit Verdot to the crispy and minerally Viognier.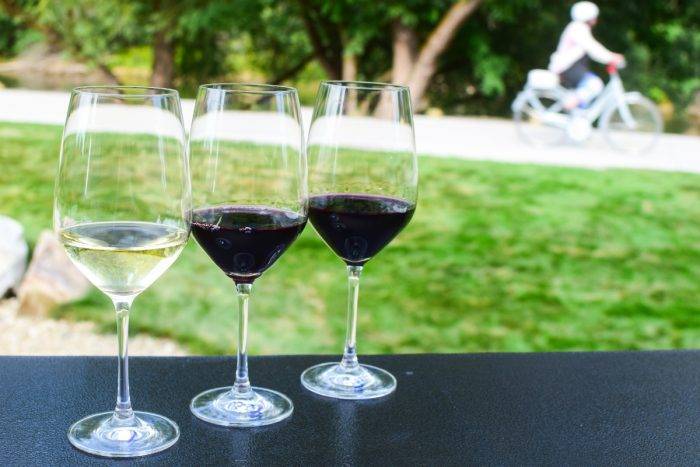 Looking for lunch? Meander over to Caffe Luciano's, a Garden City outpost of the popular Italian-American eatery. The shaded patio is a popular spot to kick back with a brew and watch folks amble down the Greenbelt. Luciano's lunch menu includes lighter options like the pear, goat cheese and candied pecan salad, along with more hearty choices like the ricotta-stuffed manicotti or the Italian sub, loaded with salami, capicola and mortadella. For something in between, try the seared salmon sandwich with bacon, arugula and a creamy caper remoulade. Need a caffeine kick after lunch? Luciano's offers a full espresso menu, including the decadent Whitewater Fix—a double shot with sugar and a hearty glug of cream, shaken over ice.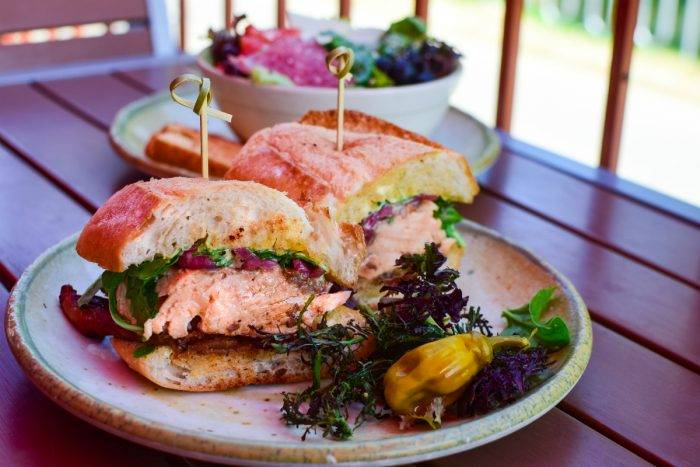 To get a real whitewater fix, pedal across the adjacent 36th street bridge and watch as river surfers and kayakers battle waves at the Boise Whitewater Park. Want to join in on the action? The nearby Corridor Surf Shop rents surfboards, wetsuits and stand up paddle boards in two hour increments. Lack balance but dig surfy vibes? Kick off your flip flops nextdoor at The Yardarm, a beachy bar housed in an old shipping container. Whether you're in the mood for a local brew—like Lost Grove's IPA or Bear Island's Pale Ale—or a local wine, like Split Rail's dry rose, The Yardarm has you covered. The seasonal open-air bar also features a food truck parked on-site—Gem Street Kitchen—which serves up everything from cotija-dusted Mexican street corn to crunchy mahi-mahi fish tacos drizzled with garlic lime crema. With sand under your feet and a fine cloud of mist hanging in the air, you'll feel transported to a tropical locale in no time.
Keep the beach party going at The Sandbar, a seasonal restaurant and bar sandwiched between the Boise River and the Riverside Hotel. Open from Mid-May through October, The Sandbar serves an assortment of snacks—like fresh Caprese skewers and crunchy housemade potato chips—along with meatier options like the Kobe brisket sandwich with chipotle horseradish sauce and the Idaho classic: Fried finger steaks with cocktail sauce. Wet your whistle with a classic blended cocktail, like a Pina Colada or a curacao-licked Blue Hawaiian, or keep it classy with a sessionable Sandbar Sangria, loaded with fresh fruit. With live local music playing most nights, The Sandbar packs in locals looking to kick back at a misty riverside oasis.
Still have a fire in your belly? End your evening at The Stagecoach Inn, an OG Garden City steakhouse that specializes in Mad Men-worthy fare. Keep it classic with an ice cold gin martini and one of the joint's famous jumbo bar prawns. Filleted, flattened and fried to a golden brown crisp, The Stagecoach's massive prawns are a legendary snack that harkens back to a bygone Garden City era.
Feature image credited to Tara Morgan.
Tara Morgan is a freelance food + booze writer and co-owner of Wild Plum Events. She loves an epic dinner party, good design, bad puns and pretty much every French rosé ever made. Follow her on Instagram at @boisefeed.

Published on September 20, 2018