Melynda Harrison worked in partnership with Visit Idaho to create this Travel Tip.
When my younger son turned 13-years-old, I knew we needed to do something special. We planned a birthday trip to Silverwood Theme Park since thrill rides and water fun are right up his alley.
With Silverwood as the main course, we wanted to add a few other fun activities and make a mini vacation of it, and I always like to sneak some (fun) culture and history in with our recreation. We concluded that Finn's three-day party would interlace learning, playing, and eating and drinking among the forests, rivers, and mountains that have been drawing people to northern Idaho for years.
Day 1 | Wallace
Wallace is a charming town, the entirety of which is listed on the National Register of Historic Places. That means nothing in the town can be changed and buildings can't be added. Wallace will remain the same size in perpetuity. We learned that on our trolley tour to the Sierra Silver Mine.
The Western fronts, cute boutiques, and quirky history drew us in and made us wish we had planned to spend more time there.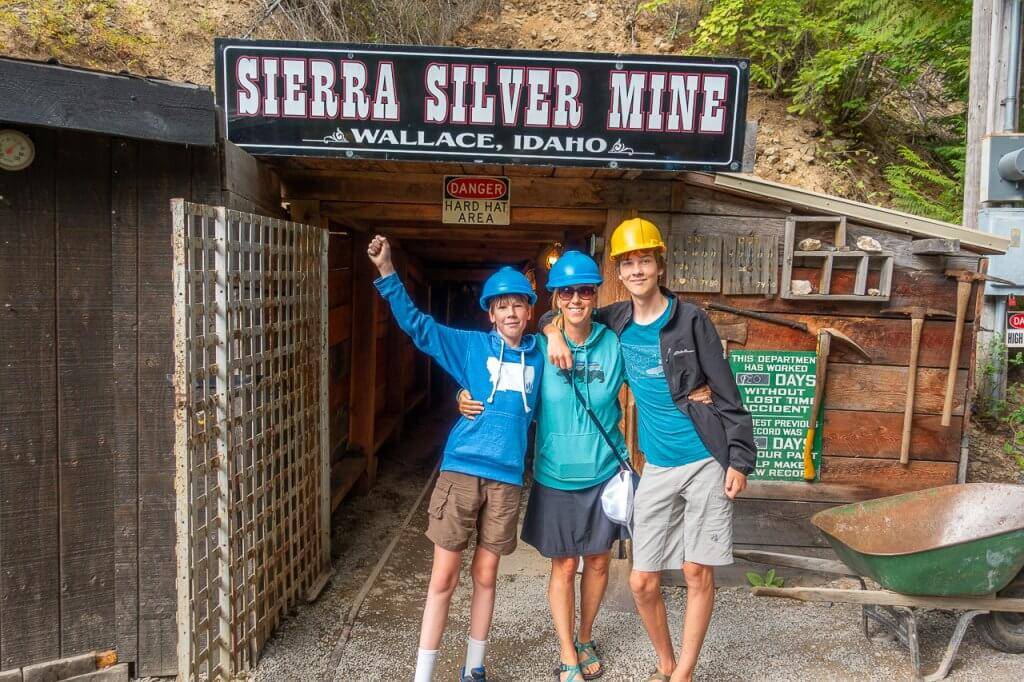 LEARN: Wallace was founded as a mining town and we wanted to dig into that history, so we booked our Sierra Silver Mine tour. We boarded a trolley in downtown Wallace and learned about the town and the mining history of the area en route to the silver mine.
At the mine, we donned hard hats and learned a little more about the specific mine we were about the enter. Once inside, our tour guide — a former miner — filled us in on what life was like for miners, how mining equipment works, and how mining changed over the years. It was entertaining and educational and my kids and I loved being able to ask questions of someone who actually worked in a mine. Be sure to make a reservation online as spots fill up.
In addition to the mine tour, there are several engaging historical museums in Wallace. Just walking around the downtown area is like walking through history.​​​​​​​​​​​​​​​​​​​​​​​​​​​ ​​​​​​​​​​​​​​​​​​​​​​​​​​​​​​​​​​​​​​​​​​​​​​​​​​​​​​​​​​​​​​​​​​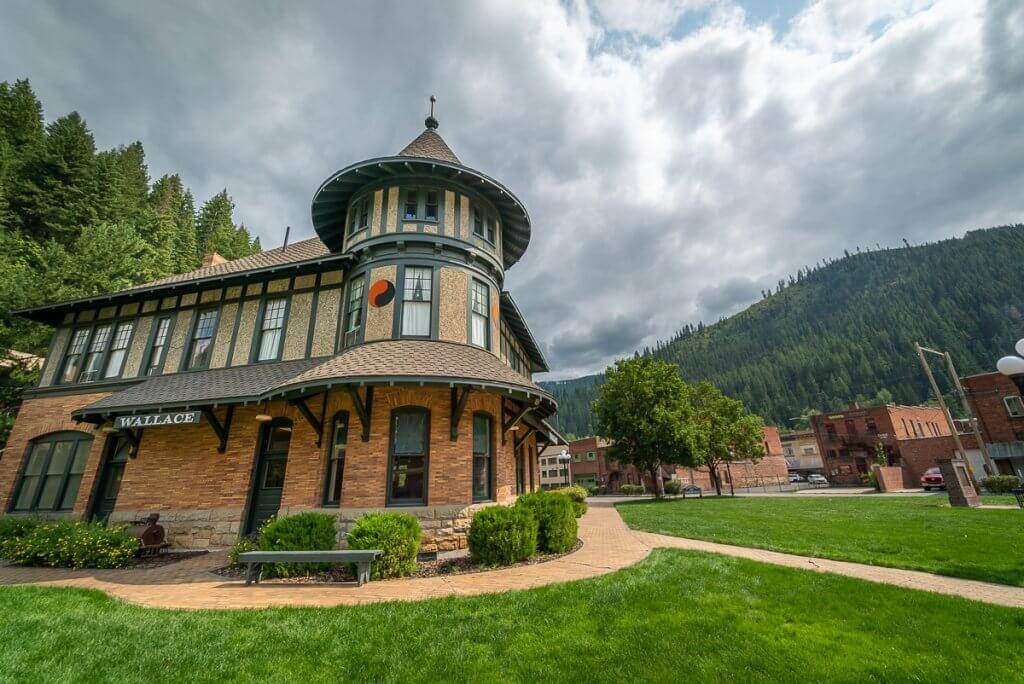 PLAY: We took the word "play" literally and went to a play at the Sixth Street Melodrama. Every summer, the historic theater puts on a melodrama that will make you laugh, cheer, and boo!
EAT AND DRINK: Family-friendly breweries and wineries always top our list when it comes time for a meal or a snack. We stopped in at City Limits Pub and Grill for beers from the northern Idaho Mountain Brewery, huckleberry lemonades, and comfort food.
I also recommend The Fainting Goat Wine Bar and Restaurant for drinks and casual-fine dining.
Day 2 | Silverwood Theme Park
Silverwood Theme Park, about 15 minutes north of Coeur d'Alene, has been a place we've wanted to get to for years.
One side of the park is a traditional theme park; think roller coasters and an assortment of rides. The other side, called Boulder Beach, is a water park with waterslides, a lazy river, and wave pools.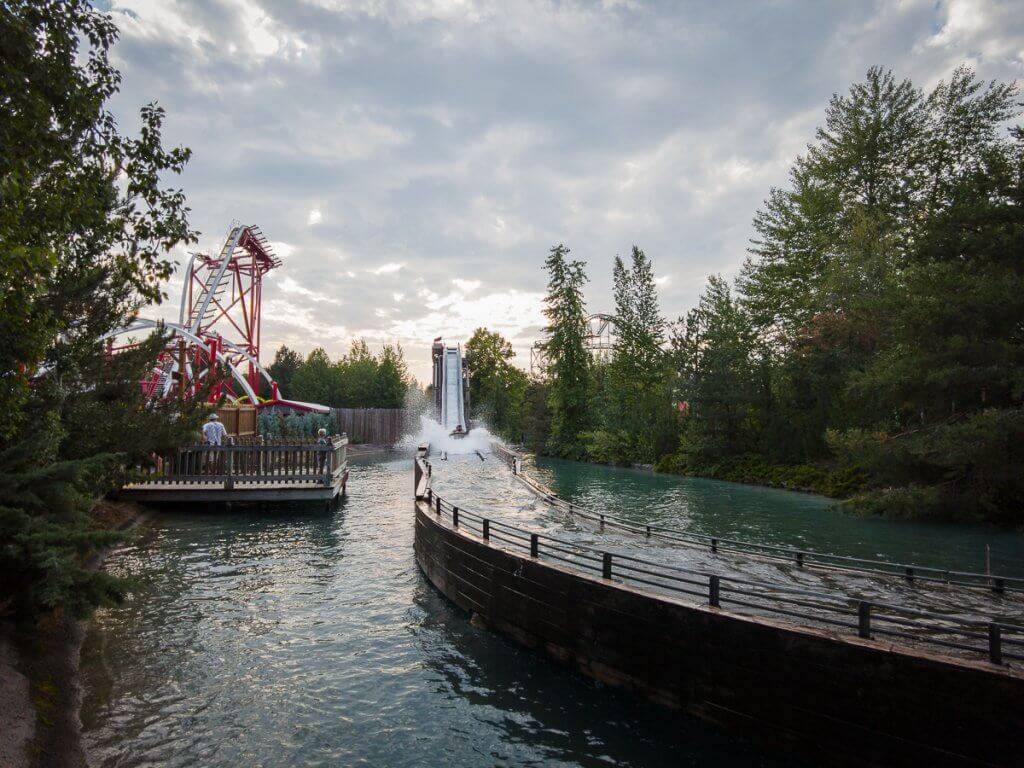 You could easily spend two days here and dedicate one day to each side, but we had just one day and split it between the two sides. We visited with teenagers but appreciated that both sides of Silverwood had attractions for younger kids too.
LEARN: Honestly, I am not sure we learned a lot here, except that we really love theme parks and visiting them as a family. And that the "Famous 1-Scoop Ice Cream Cone" has five scoops of ice cream.
PLAY: It's all about "play" at Silverwood. We started the day at Boulder Beach. After renting a locker and stashing our stuff, we climbed the stairs to Rumble Falls where we flew down a dark shoot on double inner tubes.
All the slides were a blast and I wouldn't have minded spending the whole day here, but we were in it to do it all. We left Boulder Beach when we got hungry, ate lunch, and then wandered into the theme park.
We had just as much fun on the theme park side of Silverwood. There are rides rated "high intensity" for thrill seekers, as well as "Medium" and "Low Intensity." My birthday boy's favorite part may have been the ability to spray water at unsuspecting guests on the Roaring Creek Log Flume and Thunder Canyon whitewater rafting ride.
Buy tickets online for some savings and a quick entrance at the gate.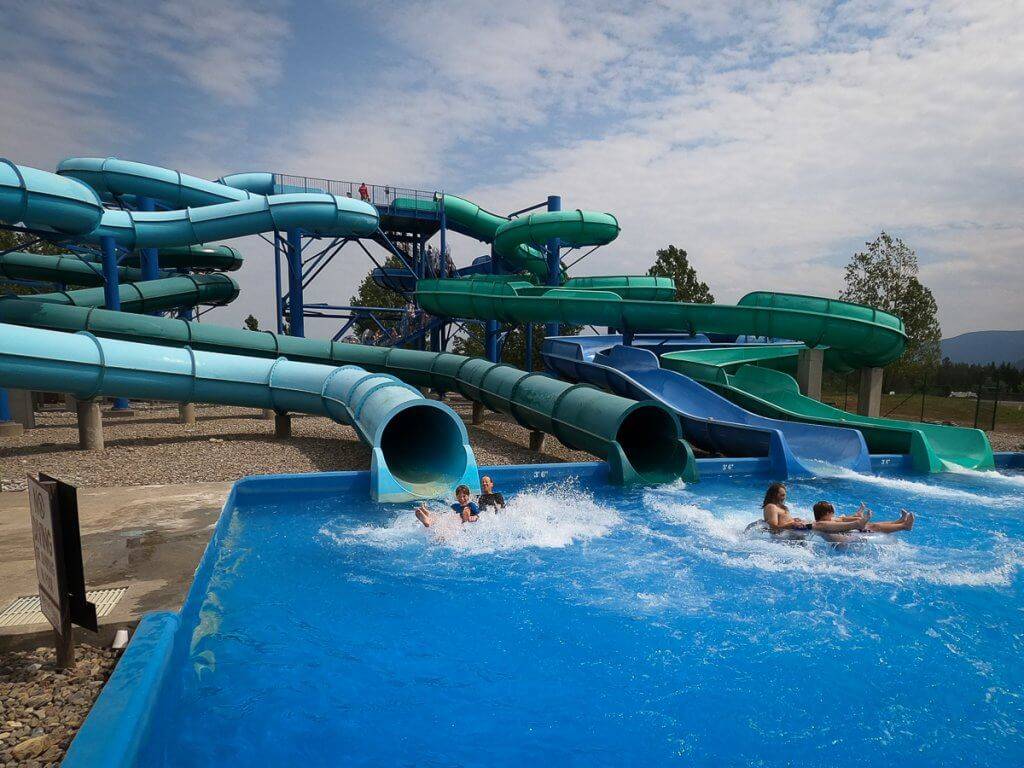 EAT AND DRINK: We lunched at the High Moon Saloon while watching a magic show and toasting with root beers. This sit-down café is decorated in an Old West style.
Many of the food carts and restaurants were closed while we were there, so there was a long wait at the open places. A lot of people bring their own food, which is what I would do next time while saving the shorter lines for treats like ice cream or caramel apples.
Day 3 |Coeur d'Alene
People come to Coeur d'Alene from all around to play in the lake, hike local trails, and enjoy the restaurants, breweries, and wineries.
We like to park our car once and walk, and Coeur d'Alene is great for this. We could paddleboard, hike, shop, and eat and drink within walking distance.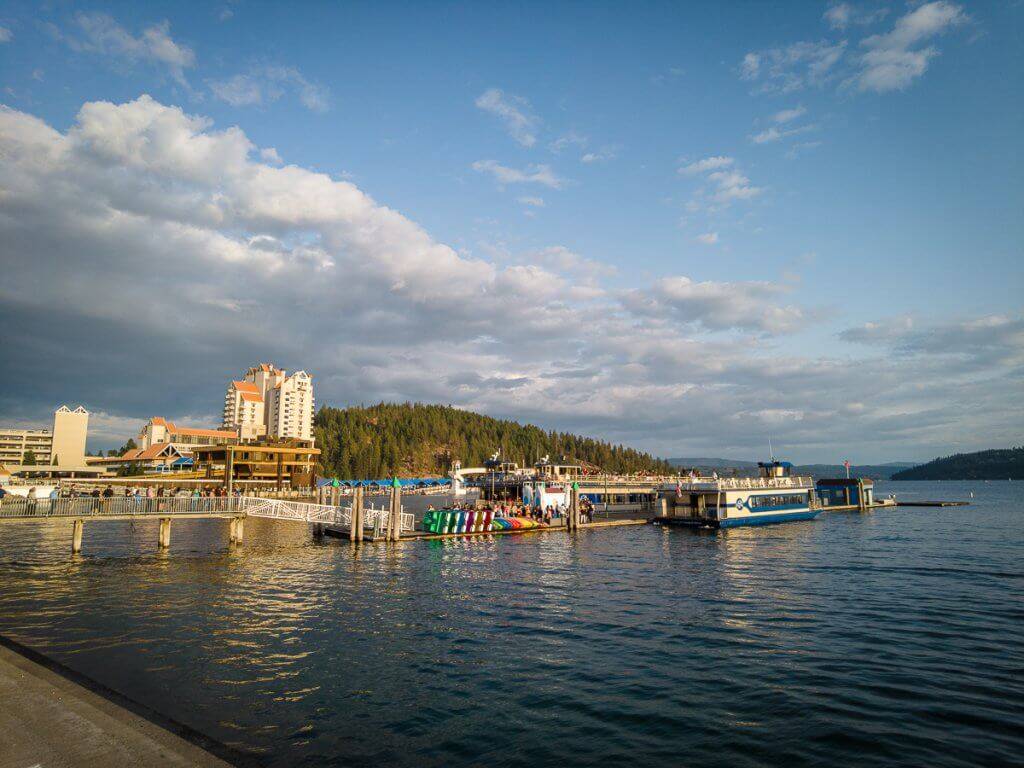 LEARN: Like much of the Pacific Northwest, Coeur d'Alene has a rich history. You can learn about it through a cultural tour with the Coeur d'Alene Casino Resort. They offer several opportunities to learn about the tribal traditions of this land's native people.
The Museum of North Idaho offers two walking tours in the summer with a local historian. You can learn about the early history of the town on a downtown walking tour or about Fort Coeur d'Alene (later renamed Fort Sherman).
PLAY: There are so many options for play in Coeur d'Alene that we had a hard time narrowing it down.
Standup paddleboarding is something we all love to do. Paddleboards and kayaks can be rented from Coeur d'Alene Watersports on the dock right next to the beach and you can paddle out from there. Sometimes the lake is pretty choppy, so wait for a calm surface before paddleboarding if you are new to it.
There are trails all over the surrounding national forest area, but we really enjoyed the Tubbs Hill Trail, which leaves from McEuen Park. It's an easy two-mile loop around the hill with views across the lake and of downtown Coeur d'Alene.
EAT AND DRINK: For local beers and easy fare, we chose Taphouse Unchained. It's a bike-themed bar and restaurant with year-round outdoor seating. Next door is one of the best toy stores I've experienced – Figpickels Toy Emporium.
For coffee, tea, and breakfast, we enjoyed Vault Coffee. For fine dining with a view of the lake, try Beverly's.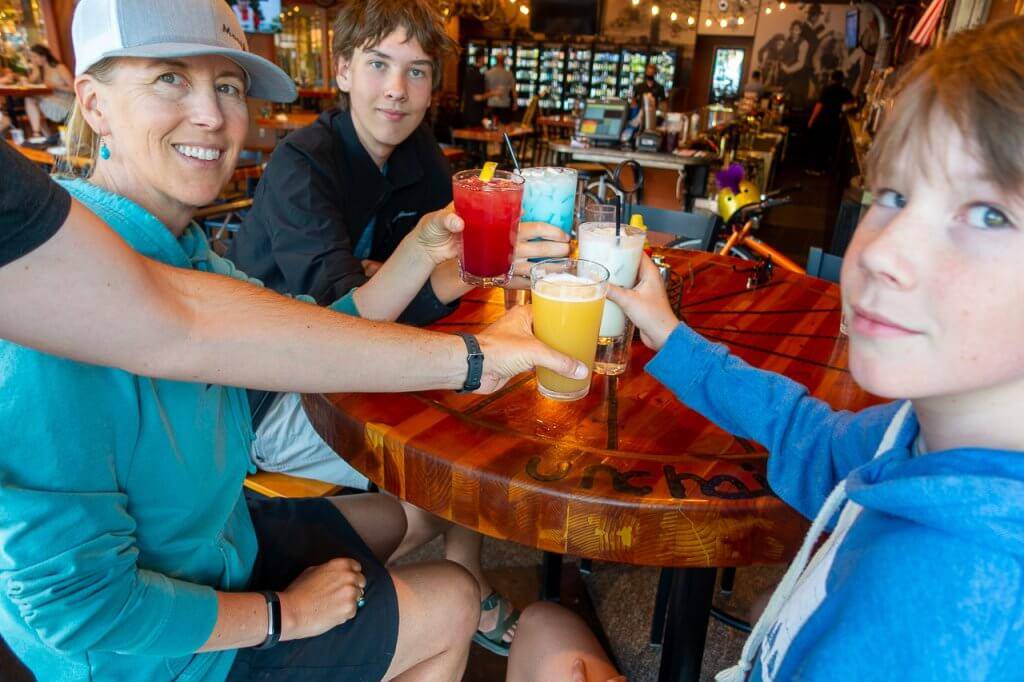 Northern Idaho keeps beckoning explorers of all ilks. We barely scratched the surface of all the recreational opportunities available. It's an ideal location for learning, recreating, and enjoying food and drink — all the things that make for a memorable vacation whether you are turning 3, 13, or 93.
Feature image credited to Melynda Harrison.
Melynda Harrison writes about travel and outdoor family adventure at TravelingMel.com, YellowstoneTrips.com, and many local and regional publications. When she's not behind a laptop, you can find her cross-country skiing, hiking, or floating a river.

Published on April 5, 2022