Riggins, Idaho is home to about 413 people on most days. But not during race weekend. During the Salmon River Jet Boat Races the population of Riggins increases five-fold.
The Salmon River Jet Boat Races, held the third weekend in April, are legendary in this quaint little canyon town that sits at the confluence of the Salmon River and the Little Salmon River. Known as Idaho's whitewater capital thanks to the Salmon, or "River of No Return", the churning whitewater on this river has been giving jet boat racers a run for their money for more than three decades.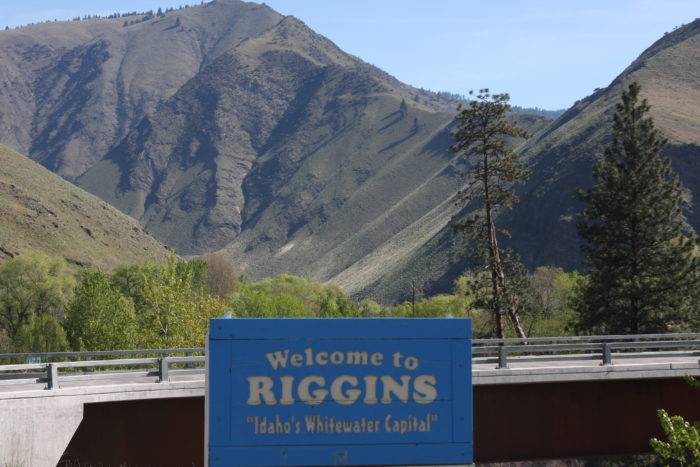 The jet boats that take on these waters are not your standard models. There are four boat classes that race and depending on the class, boats fly through the water traveling anywhere from 80 to 130 miles per hour. Yes, 130 miles an hour, powered by a jet engine.
This weekend of wild racing action kicks off on Friday night with a BBQ in the heart of town. The "Show and Shine" event is your chance to get an up close look at these amazing machines. The racers let you check out the view from the driver's seat and you can play 20 questions about the sport and the boats. Looking at these awesome jet boats might just make you hungry, which means you're in luck.
For a $10 donation ($5 for kids), you can step on up to a delicious barbecue buffet. Pork, chicken, barbecued beans, coleslaw, and potato salad are piled high on a plate — and don't forget your dessert! Live music sets the tone for a beautiful evening in beautiful country. Mountain air, music, the sound of the river, and a glorious sunset are sure to put a smile on your face.
Saturday is the official start of racing. Each leg of the race course is eight miles long with racers going up and back on the river. Crews race the clock ten times over the course of the weekend running 80 miles total. To be clear, there are no bad seats to this show. While racing doesn't actually start until 10 a.m., fans start showing up around 8:30 a.m. to pick their favorite viewing spots along the river bank. Time Zone rapid, located at the Time Zone bridge,where yes, you guessed it, the time zone changes from Mountain to Pacific, on the north end of Riggins is probably the most sought after spot.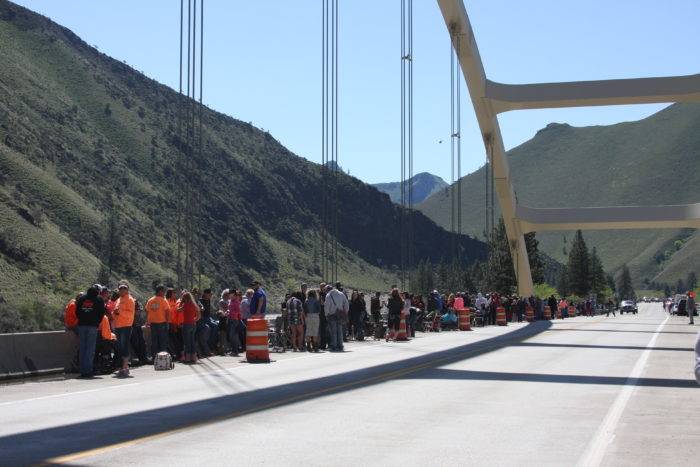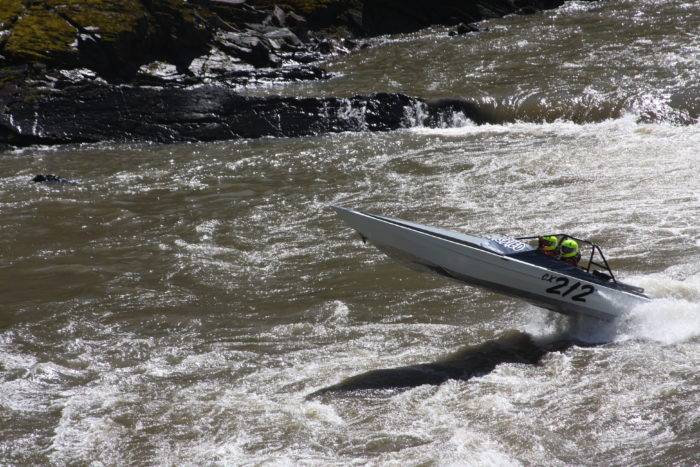 You have a great vantage point from the bridge and if you're curious enough to wander to the designated viewing area on the shoreline you won't be disappointed. This year, 11 racers and their boats braved the higher than normal whitewater to test their skills and what a show they put on!
Separated by only a minute or two, these racers scream down the canyon, carefully picking their lines on the water. In each boat, a driver and a navigator work to read to the water and hopefully steer clear of any potential disasters. On the shore, spectators add to the excitement with cheers, whistles and camera clicks. You can't help but get caught up in the fun of it all as the boats speed by, somehow managing to stay on the water despite the fact that at certain times only inches of the boat are actually touching the water.
There is a lunch break between the two legs of the race on Saturday and I'll warn you, most people don't leave their posts along the river. You'll see a long line of coolers and even BBQs going up as fans put together sandwiches and hamburgers. Plan to pack your lunch and snacks for the day – it will make your life much easier instead of trying to deal with the traffic back in town during this break. After lunch, racing resumes and it's more rip roaring good times along the water.
In the evening, the atmosphere in downtown Riggins changes to something more like a street party. You can stop in at any of the local restaurants to grab a bite to eat. I recommend Bert and Kate's Cattlemen's Family Restaurant and Shellys Back Eddy Grill to get you started. You can also check out any of the food trucks that make the drive in for race weekend and enjoy a drink at the local watering holes. Once your belly is full, you'll want to pick a comfy spot to watch the fireworks show in the Riggins City Park. The sound of the rushing river and the cool, crisp mountain combined with brilliant fireworks make for a perfect end to an amazing day of jet boat racing.
Sunday is the final day of racing filled with back to back runs for everyone to enjoy. The boats take off at 10 a.m. and zoom up the river and back down, twice. Again, there's not a bad seat around. Enjoy the sights and sounds of these amazing machines and talented racers in one insanely gorgeous area before calling it a weekend and heading home. You won't regret your visit to the Salmon River Jet Boat Races.
Trip Tips
Reserve your room early! The popularity of this event means rooms go quickly. Call as soon as you know you're going up and don't hesitate to put your name on a waiting list if need be. To check out lodging options click here.
Prepare to dress in layers. Idaho weather can change quickly during this time of year. Dress for chilly mornings and hope to take a few layers off to enjoy the afternoon sun.
Parking and seating is competitive along the race route. Be patient and plan to get to your preferred viewing location at least 30 minutes before race time to snag a seat you love. Make sure to bring a chair to help stake your area and give your legs a break later in the day.
Prepare to make friends. It's hard to find a stranger in this crowd, so don't be surprised if you find yourself making plans to meet up with your new friends at next year's races.
Bring a cooler. You'll likely stay at the same viewing spot all day, so pack enough drinks, snacks and lunch goodies to keep you full and hydrated for the day. If you need to refill by the end of day one, you can hit the general store in town.
Cash can be helpful. Some parking areas charge a fee so keep some cash on hand to make sure you score the perfect spot.
Make sure you can recognize Poison Oak. It's prevalent on the river banks. I almost climbed right into it, but a kind stranger warned me just in time. Here's a photo for reference.

Published on April 6, 2017