Mike McKenna worked in partnership with Visit Idaho to create this Travel Tip.
There are a lot of great places to fish in Idaho, but none of them are more famous amongst fly-fishing fans than Silver Creek in central Idaho.
Its gin-clear, blue ribbon waters are home to trout that beckon anglers from across the globe, while its brown drake hatch is the stuff of legend and is something even non-anglers can enjoy.
What makes Silver Creek so special isn't one single thing. Instead, it's a combination of elements that make it an ideal trout stream. Big and wild fish, clean and protected water, stunning views, amazing aquatic insect hatches, the slopes and action of America's first destination ski resort, Sun Valley, just a short drive away—they are all part of the equation.
"Silver Creek is an iconic Western trout stream," Chad Chorney said. "It's one of those streams that if you're a trout fisherman, you should fish it in your lifetime."
Chad is a fisheries biologist by trade, but after years of working on the science and policy side of fishing and water quality issues, he now works as a fishing and bird hunting guide for Picabo Angler. While Chad has been blessed to fish all over the Americas, from Alaska to Chile, there's no place he'd rather spend his time on the water than Silver Creek.
Trout live in pretty places. And they haven't picked many locations that can top Silver Creek for beauty as it snakes its way through the Picabo Valley. One of the most beautiful aspects of Spring Creek is that it doesn't look much different than it did back when Ernest Hemingway was working its banks decades ago.
Thanks to The Nature Conservancy, 476-acres of Silver Creek was preserved in 1976 in what became the first spring creek restoration project of its type in North America. The Silver Creek Preserve now covers almost 900 acres with an additional 10,000 acres protected through conservation easements—prime trout, waterfowl and moose habitat—to name a few of the species who thrive at "The Creek."
"The history here is pretty impressive, too. You get to cast where Hemingway used to cast," Chad said. "It's easy to see why this place means so much to people."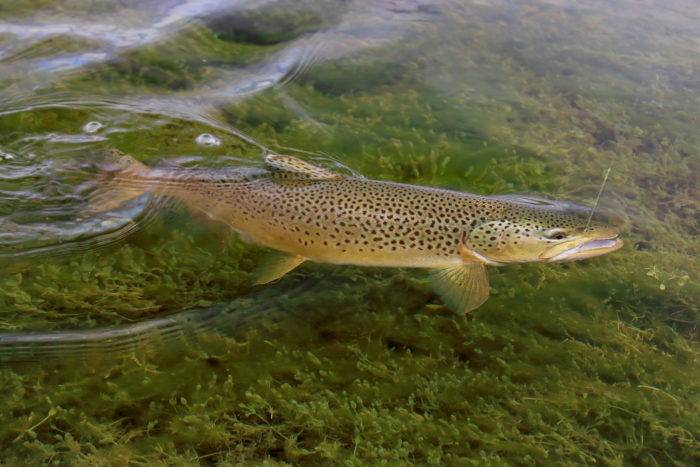 While the scenery at Silver Creek is impressive, fishing is what it's famous for. Big and wily brown and rainbow trout are primarily what you find in Silver Creek. But just because there are a lot of them doesn't mean they're easy to catch. Dumb trout don't get very big.
From the season-opening celebrations during Memorial Day weekend to the closure of the Preserve's section in November and the other stretches in February, The Creek sees a lot of action. That's why most seasoned anglers will tell you that Silver Creek is like the graduate school of fly fishing.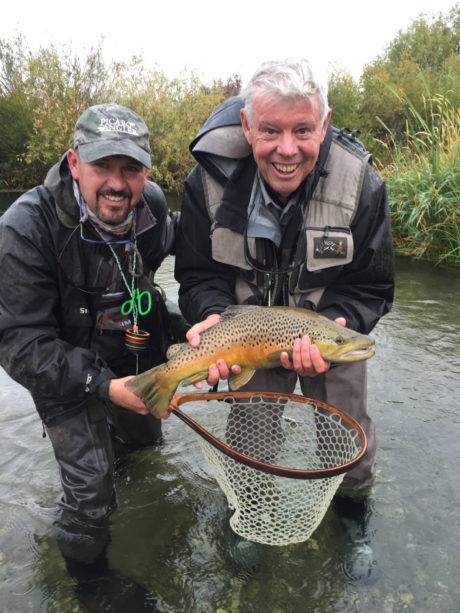 "People come from every state and all over the world to fish Silver Creek. It tests your skill, your patience, your fortitude, your will. It makes you a better angler," Chad said, adding a classic line about the fly fishery. "If you can catch fish at Silver Creek, you can catch fish anywhere."
What makes the trout at Silver Creek so big and strong is its remarkable insect populations. Heck, the really big browns in The Creek are even known to eat voles and mice!
Silver Creek has one of the highest populations of aquatic insects in the West. As Chad explained, "the sheer abundance of insects is incredible. Something is hatching every day of the year here."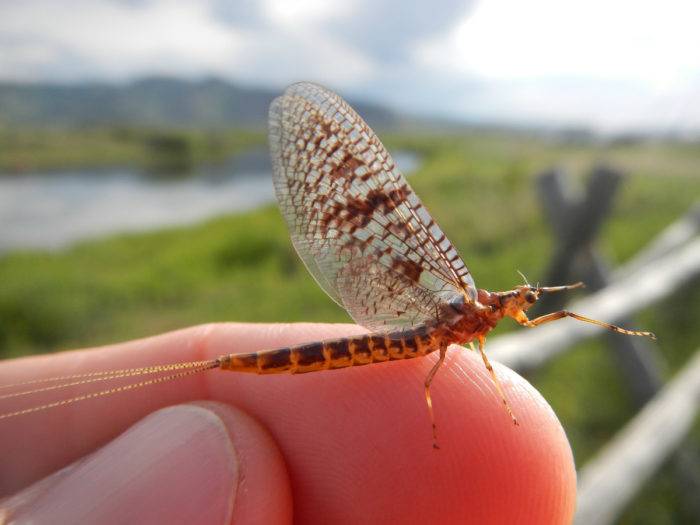 The most notable hatch of the year is the brown drake. It is one of the most impressive insect hatches on the planet and even non-anglers will flock to The Creek to experience it.
"It's not so much a hatch as a phenomenon of nature," Chad said. "I've seen a lot of hatches but I've never seen anything like the brown drakes on Silver Creek."
Just before dusk for a couple of weeks in late spring, the brown drakes will appear and turn the dusk to darkness, washing out the last light of day. The fishing during the brown drake hatch can be extremely challenging and success is often more a product of blind luck than skill. But angling takes a backdrop to the impressive display of nature—and the party.
There's something about the impressive insect action that turns the brown drake hatch into a celebration. Or as guide and artist Brian Richter says, "The biggest annual party this side of the Georgia-Florida football game."
Whether you want to just enjoy the beauty or try to catch the trout of a lifetime, Silver Creek is pretty tough to top.
To find out more about fishing Silver Creek or its seasonal hatches, check out the weekly fishing reports from Picabo Angler or Silver Creek Outfitters.
Feature image credited to Mike McKenna.
Originally from New England, Mike McKenna has been calling Idaho home for more than 20 years now. An award-winning journalist, blogger and magazine editor, McKenna's first book, Angling Around Sun Valley, was named Best Book of the Year by the Northwest Outdoor Writers Association. When not writing, he can be found enjoying all the Gem State has to offer with his wife and two young sons.
Updated on October 21, 2022
Published on June 5, 2018