Elisabeth Brentano worked in partnership to create this Travel Tip.
After biting off more than I could chew on a backpacking trip in the Cecil D. Andrus-White Cloud Wilderness in 2019, I wanted a tamer adventure when I returned. I found just that with the 21-mile trek to Big Boulder Lakes, which includes some off-trail hiking, but on stable ground with minimal exposure. This route is not recommended for inexperienced backpackers, but it is a wonderful multi-nighter for intermediate and advanced hikers keen on exploring alpine lakes and even tackling some of the high peaks surrounding them.​​​​​​​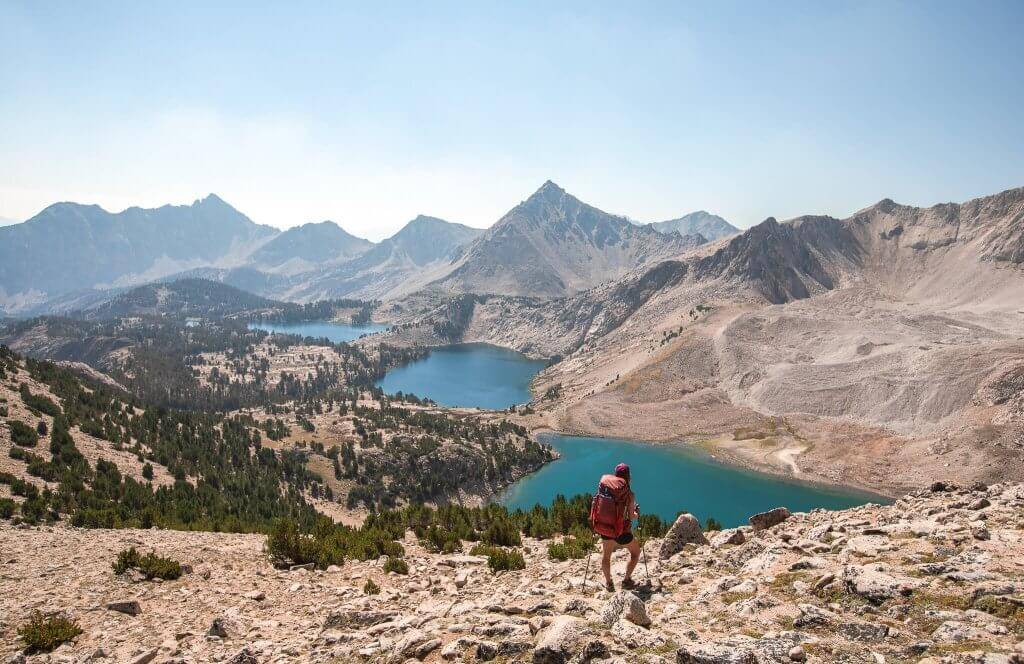 Preparing for the White Clouds
​​​​​​​Since our route involved bushwhacking and light scrambles at or near 10,000 feet, I wanted to make sure my hiking partner and I were not only prepared, but confident and excited. I read a handful of trail reports online, chatted with a friend who did the hike the previous year, and I spent hours studying maps. In addition to a paper map and the Gaia app, I used Google Earth to digitally scout for campsites — and areas to avoid. I also called the local ranger station to check prior to our trip, which I strongly encourage hikers of all abilities to do.
In addition to staying up-to-date on fire restrictions and area closures, it is imperative to store food properly and pack out all trash. This is bear country, which means food, trash and scented items (sunblock, chapstick, etc.) should never be left unattended, and if those items are not within arm's reach, they should be kept in a bear canister or appropriately high bear hang. In addition to bear spray and a first aid kit, my partner and I each had Garmin satellite devices, plus routing apps on our phones and a paper map. I consider all the items above (plus the amount of time we spent planning and researching) essential to exploring these areas responsibly.
Day 1: Steady Gain to Walker Lake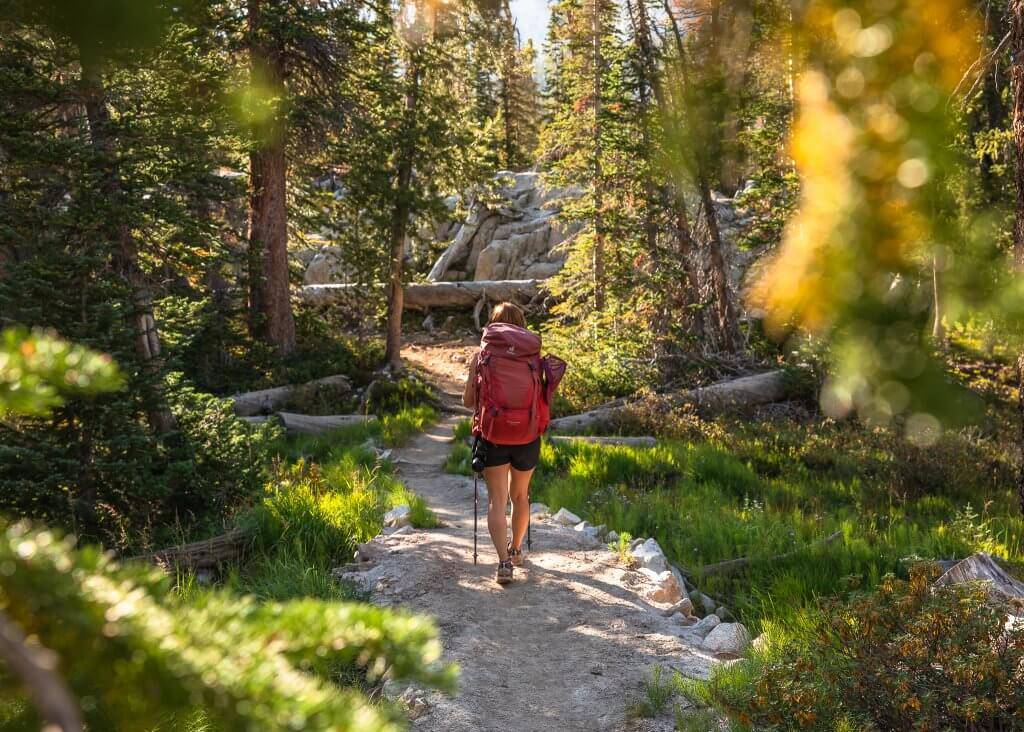 The night before hitting the trail, we stayed at the Pioneer Motel & RV Park in Challis, which has a laundromat on site and is walking distance from a number of eateries. From Challis (via Idaho State Highway 75 and East Fork Road), the drive to the Walker Lake trailhead was about an hour and a half, and while the last four miles is a narrow dirt road carved into the side of a hill, a 4×4 vehicle is not necessary.
The trail to Walker Lake is well-marked, and all creek crossings have bridges or log piles. Around the halfway mark, the craggy mountains begin to emerge, and around the five-mile mark, we walked right past a cascading waterfall, which was especially lovely in the afternoon light. Around the seven-mile mark, we arrived at the east side of Walker Lake, but we continued for three-quarters of a mile before finding a campsite on the northwest corner. From the trailhead to Walker Lake, we ended up logging approximately 2,300 feet of gain in just under eight miles.
Day 2: Soaking up the Sun at 10,000 Feet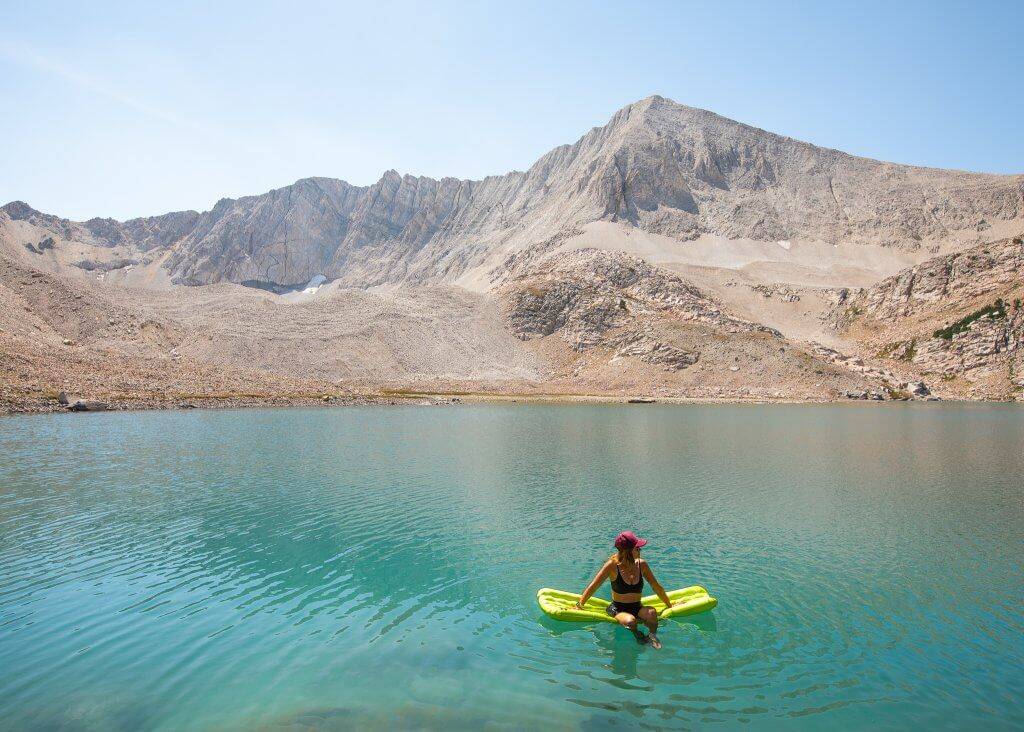 We initially considered the Class 2 scramble to White Cloud Peak 9 (WCP 9) for day two, but after getting a late start, we abandoned the idea. We'd get a better look at WCP 9 at Cirque Lake, so we'd reconsider it for our third day. The hike to Cirque Lake took around two hours, ten minutes of which was spent trying to figure out where the "trail" started. We spotted cairns a few hundred feet from our campsite, but earlier that morning fellow hikers told us those led to Sheep and Slide Lakes. Based on multiple trail reports, the route to Sheep and Slide Lakes ran alongside Bighorn Creek, while the path to Cove, Sapphire and Cirque Lakes split to the northwest and climbed several hundred feet through the trees. We had a light bushwhack for half a mile before finally spotting a rocky trail that led to Hook Lake. From there, we stuck to the north sides of Cove and Sapphire Lakes, and though the trail kept disappearing, getting to Cirque Lake was fairly straightforward. However, had we not studied a topo map and constantly checked our routing apps, it might not have been as obvious, hence why this trail is not advised for novice hikers. From Walker Lake to Cirque Lake, we logged approximately 1,000 feet of gain in just over two miles.​​​​​​​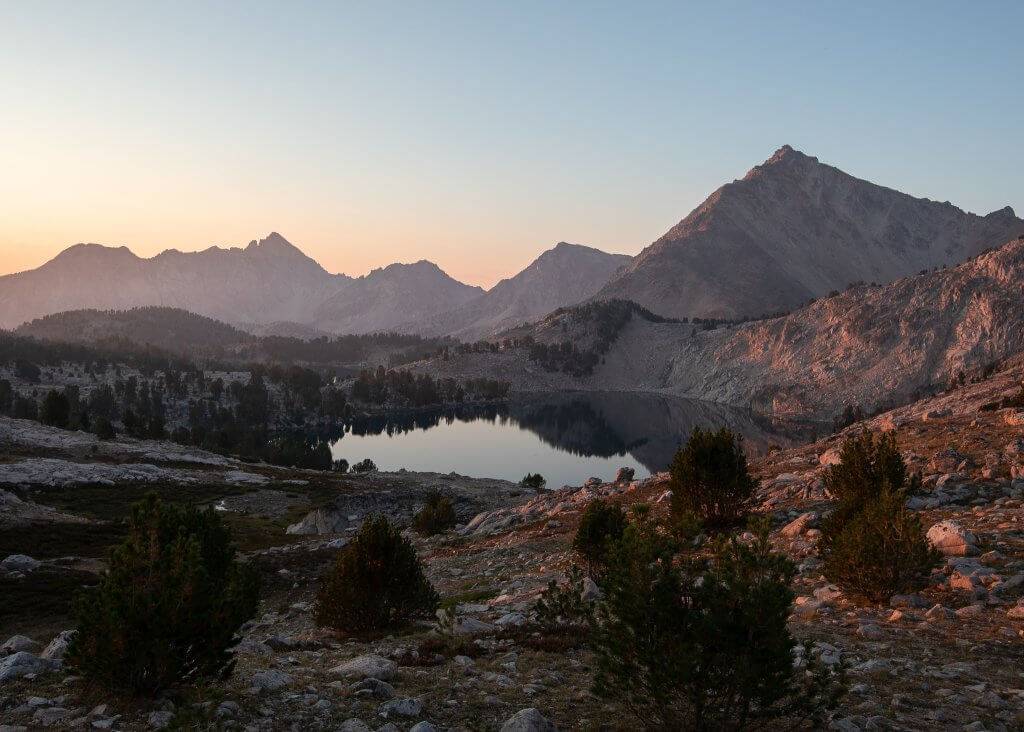 As soon as we saw the sparkling waters of Cirque Lake, we dumped our packs and went for a swim. The weather was perfect, and by mid-August, there were hardly any mosquitoes. After lounging by the lake for several hours, we set up camp and embarked on a sunset adventure, working our way up a hill to the south. There was no trail, but it was a gradual half-mile climb up a talus field which gave us a different perspective of D.O. Lee Peak and the mountains beyond Sapphire and Cove Lakes.
Day 3: More Lakes, More Off-Trail Travel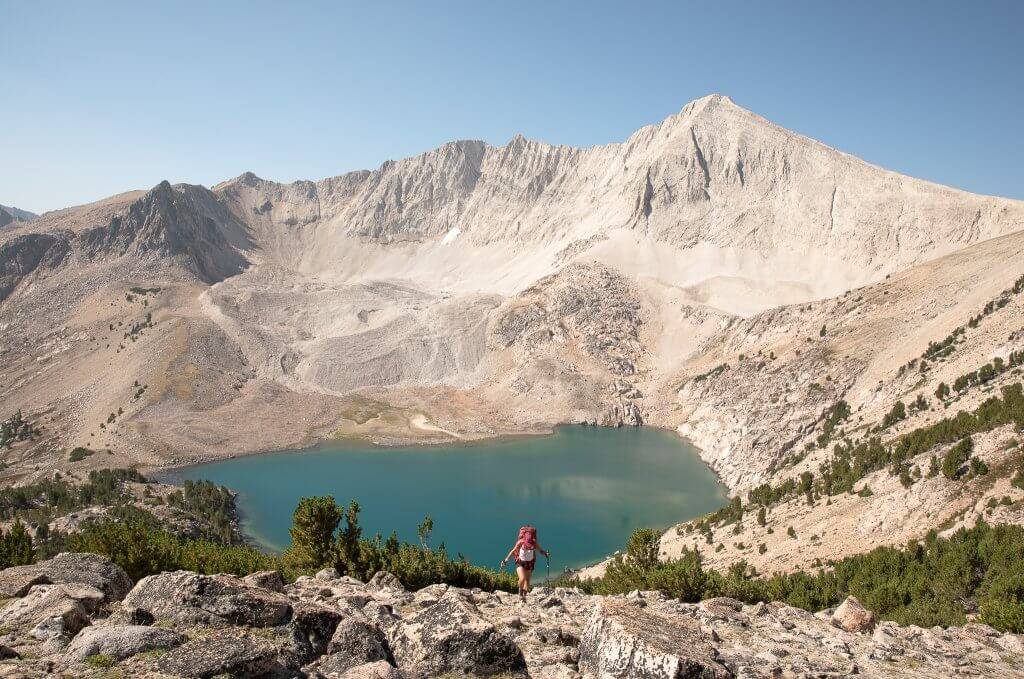 There is no trail from Cirque Lake to Slide and Sheep Lakes; you simply work your way up a drainage and then cut to the west on the ridge that divides the lakes. Once the vegetation above the drainage grows sparse, the route gets even steeper and slippery in spots, as there are patches of dirt and scree among the boulders. The views, however, are well worth the half-mile slog. Cruising partway up the east ridge of WCP 9 offered even better views of the basin, but my friend and I once again decided we weren't ready to tackle the summit.​​​​​​​​​​​​​​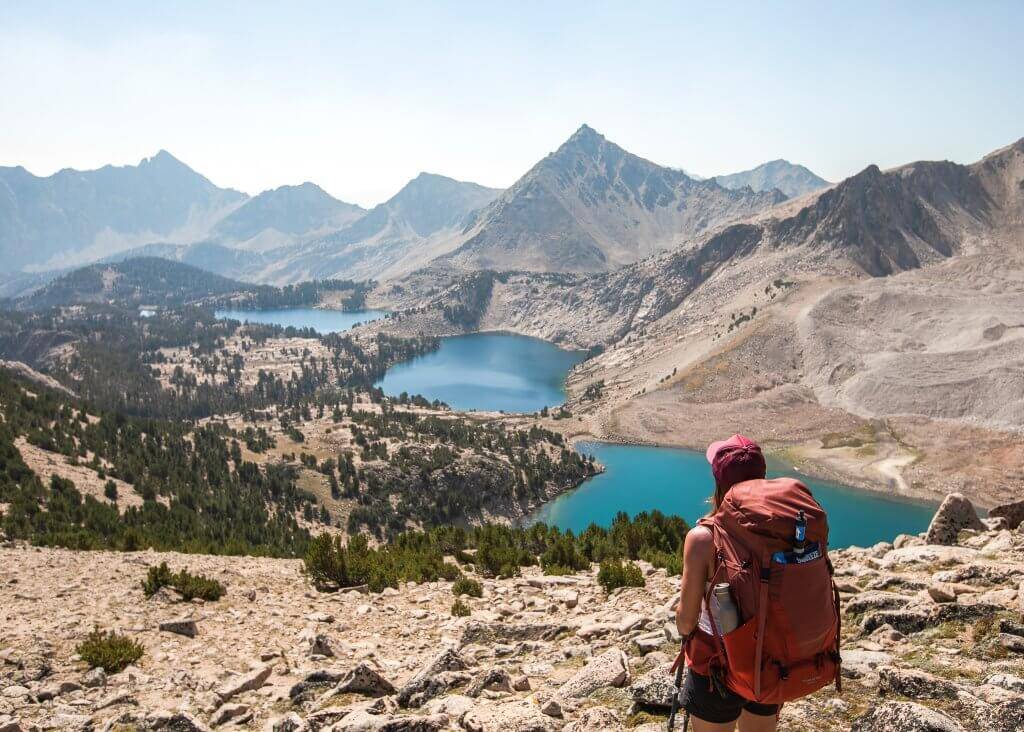 After our brief adventure on WCP 9, we headed to Slide Lake and Sheep Lake, logging a total of a mile and a half with over 500 feet of descent. While there was a trail to Slide Lake, and hints of it between the two lakes along Bighorn Creek, by the time we arrived at Sheep Lake, we lost it completely. We found an amazing campsite at Sheep Lake but decided to push on to Walker Lake, to make the hike out easier. We ended up finding a spot on the east side of Walker Lake, shaving off even more distance for the following day. From Cirque Lake to Sheep Lake, we logged approximately two miles with approximately 500 feet of gain and descent, and from Sheep Lake to Walker Lake, we logged under a mile with over 600 feet of descent.
Day 4: Closing Thoughts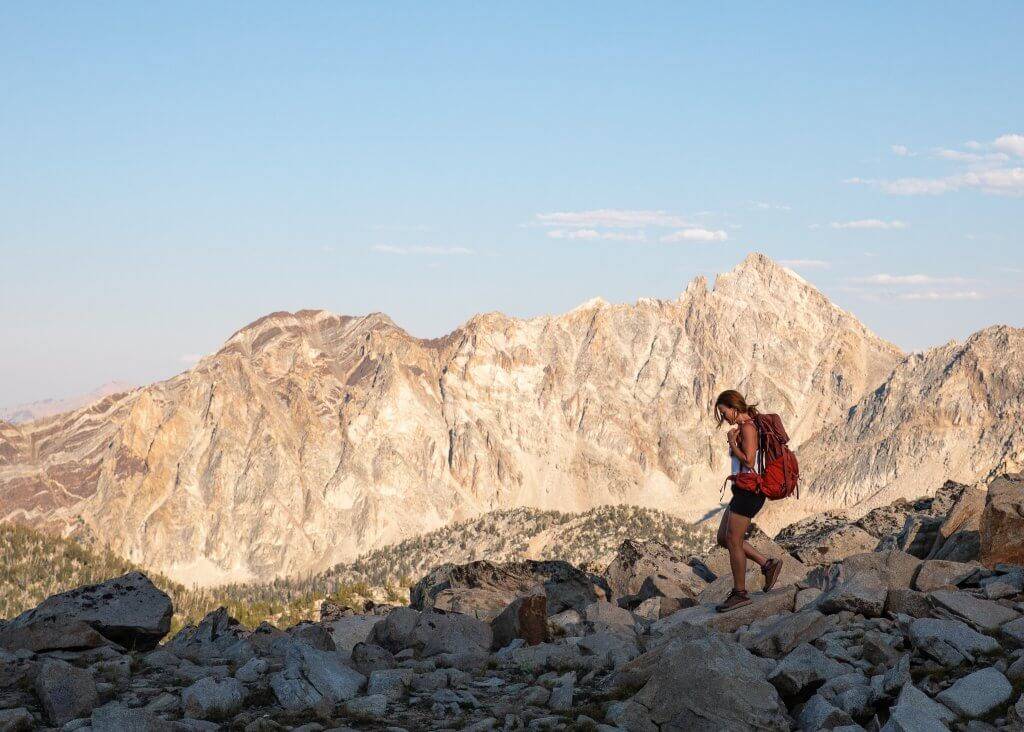 As I plodded along back towards the trailhead, I had plenty of time to think about my next trip to the White Clouds. From side trips to WCP 9 and Island Lake, and even spending more time at Sapphire Lake, I could easily do this trek again as a five-night adventure — and that's exactly what I'm planning this summer .
While the Big Boulder Lakes route is not technical, it is not something I would have attempted on my first backpacking trip, or even my fifth. If you're new to backpacking and really want to try this hike, consider going with a more experienced partner and making Walker Lake your base camp, with day trips into the Big Boulder Lakes. From there you can get a feel for what it's like to navigate through stretches of alpine terrain with no trail. I always want to encourage folks to enjoy the outdoors, but I also want to provide a realistic account of my adventures, so as not to lead anyone down a path (or in this case, a lack thereof) that then becomes a safety concern. Idaho's backcountry is just as beautiful as it is wild, and in addition to respecting nature, it's important to know your limits when venturing deep into the wilderness.
Feature image credited to Elisabeth Brentano.​​​​​​​
Elisabeth Brentano is a writer and photographer based in California but her passion for nature takes her all over the world to produce travel and environmental content. You can follow her at @elisabethontheroad on Instagram.

Published on July 26, 2022