This is a sponsored post.
A few short years ago Sun Valley was the hidden gem of the mountain biking world, with miles of empty singletrack just waiting to be ridden. Now, with a flurry of trail construction and the advent of the Ride Sun Valley bicycle festival, the area is taking its place on the podium next to Moab and Fruita as a top mountain bike destination.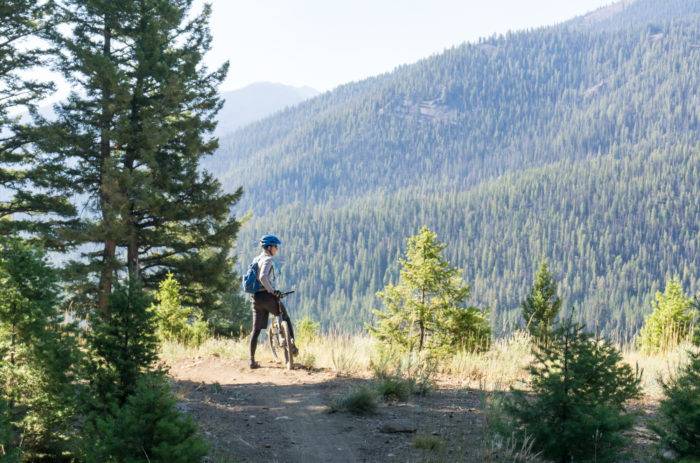 Whether you're a die-hard downhiller, a cross country rambler, or a mountain biker novice, Sun Valley has a trail for you. Heck, Sun Valley has a whole lot of trails for you. Grab a bike and we'll see you out there.
Sun Valley's Buttery Singletrack
Sun Valley's singletrack is legendary. Singletrack is a dirt trail that is approximately the width of a mountain bike. Sun Valley's singletrack is buttery smooth and lacks the dense root systems of trails elsewhere in the country. It is fun to pedal up, and even more fun to ride down. Sun Valley's numerous flow trails take advantage of these perfect conditions.
Trails for Beginners
New mountain bikers will enjoy cutting their teeth on one of Sun Valley's easier trails. These trails may be light on difficulty but are long on scenery. They are great trails for any rider new to the valley.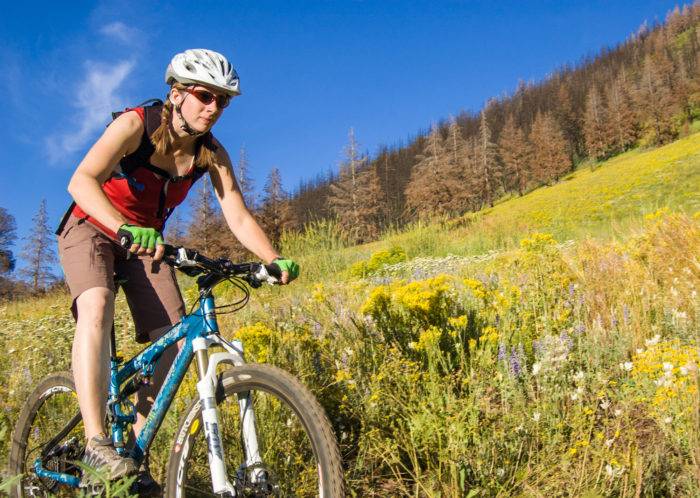 White Clouds Loop: The White Clouds trail is conveniently located across the street from the Sun Valley Resort. This four-mile loop shows off a great view of Ketchum and the Boulder Mountains.
Corral Creek: Corral Creek is a perennial favorite and one of the first Sun Valley trails to open each spring. The seven-mile out-and-back trail passes through wildflower filled meadows, airy forests, and ends with a thrilling descent.
Two Dog: Located in the Croy Canyon trail system near Hailey, the seven-mile Two Dog loop is a great cruise. Ride this loop clockwise to enjoy banked turns on the descent.
Cross Country Trails
Cross country trails are for cruising. Filled with rolling hills and gentle grades, cross country trails are perfect for a long ride through the mountains.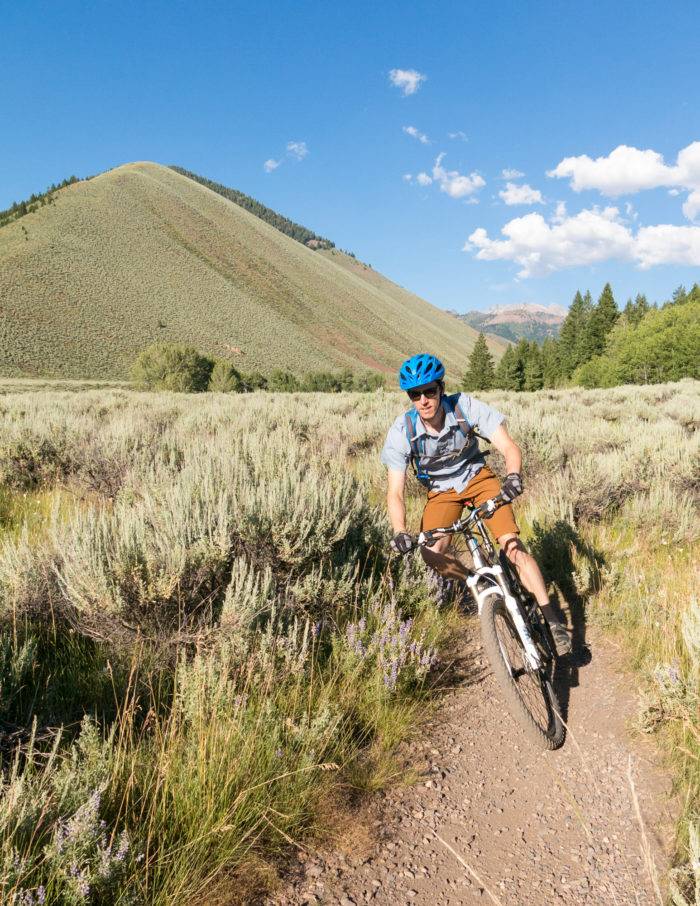 Potato Mountain: Potato Mountain is a varied and scenic cross-country trek that takes you into the backcountry near Stanley. The 14-mile trail is best done clockwise.
Fox Creek: Fox Creek is where you'll find the locals taking a lunch or post-work ride. It's popular for it's moderate, wildflower-filled ascent followed by a whoop-inducing descent.
Osberg Ridge Trail: When the newly cut Osberg Ridge trail burned in the 2013 Beaver Creek wildfire local mountain bikers mourned. Newly reopened in 2016, this trail is an epic journey with big views. The Osberg Ridge trail is best done with a shuttle.
Downhillers Dream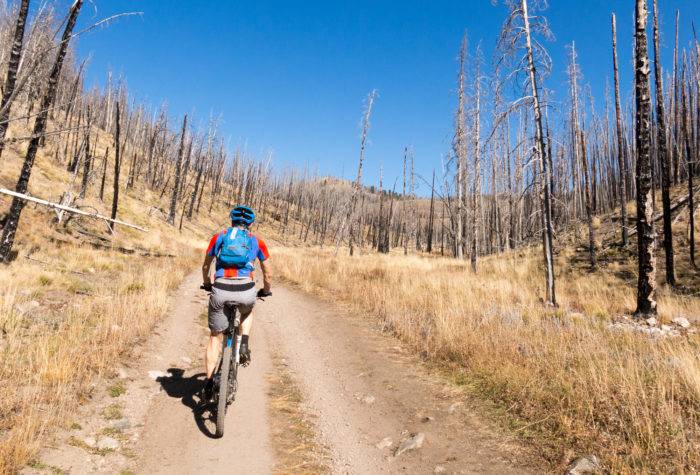 Downhill trails are adrenaline-fueled roller coasters. Whether you earn your turns by pedaling up or hop on Bald Mountain's gondola, you're sure to enjoy the heart-pounding descent.
Warm Springs Trail: Warm Springs trail is a hair-raising downhill on Bald Mountain at Sun Valley Resort. The trail descends 2500 feet over nine miles and is accessible via Sun Valley's summer gondola service. If you're buying a lift ticket for the day, be sure to check out the new flow trail, Saddle Up.
Fisher Creek Loop: The Fisher Creek Loop, located near Stanley, is a quintessential Sun Valley-area ride. The 18-mile trail has spectacular views and a near endless downhill.
Spring Creek Trail: Located north of Ketchum, the Spring Creek trail is one of many fun rides at Galena Lodge. This six-mile trail is connected in with an extensive trail network, and has a fun, fast downhill through the forest.
When to Visit
Mountain bike trails open after the snow has melted and the trail surface dries out. In Hailey, the town south of Sun Valley, this is typically in late April. Trails around Ketchum open in June, and high elevation trails often open in early July. The riding is spectacular in the fall, with the trails staying open until the first snowfall.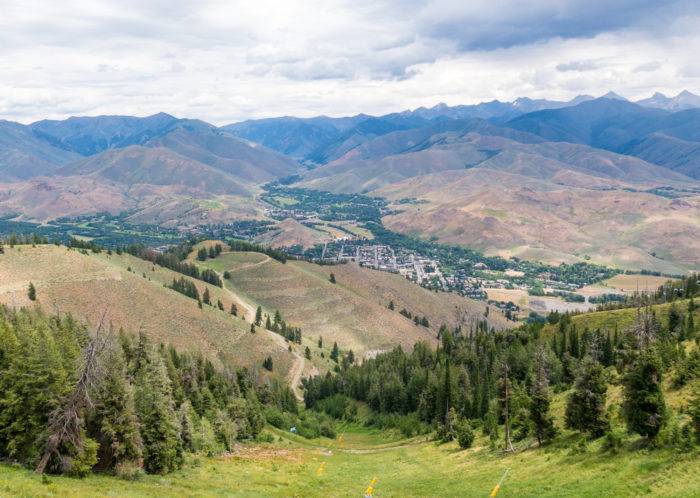 The Blaine County Recreation District updates the list of open and closed trails throughout the year.
Local Resources
Don't have a bike with you in Sun Valley? Need a tune up? No problem. Local gear shops rent everything you need to hit the trails.
Bike rentals and service are available at:
All photos, including feature image, are credited to Sara Sheehy.
Sara Sheehy seeks adventure in the mountains of Idaho and beyond. She is the founder of Camp Academy, an online beginners guide to camping and hiking.

Published on July 27, 2017