This author is a paid content writer for Idaho Tourism.
You typically stay in a tent or in an RV when you go camping, right? Think again! What if I told you that there is a more unique way to experience the outdoors? You may be thinking you've tried it all, but there is an outdoor obsession sweeping the Northwest that combines the ideas of comfort and convenience with rugged backcountry experiences. These hidden getaways are known as yurts, and they're scattered throughout Idaho just waiting to be discovered and enjoyed.
What is a yurt?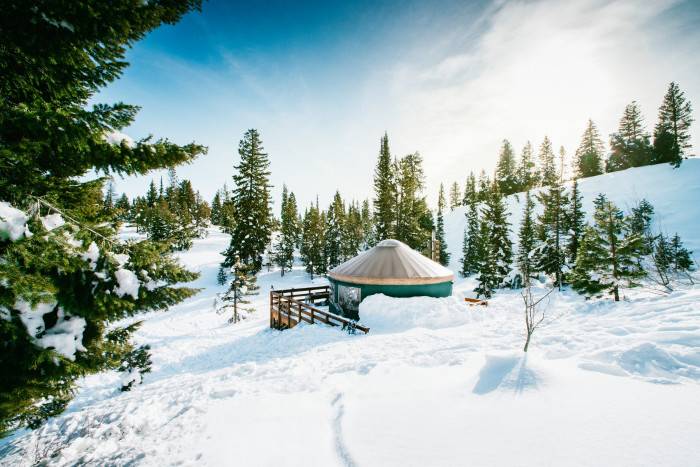 A yurt is a contemporary adaption of the ancient shelter used by nomads and is typically round, waterproof, and semi-permanent. Most yurts are roughly 20-feet in diameter and have a wooden floor, hardwood walls, a skylight, and a canvas for weather protection. Yurts combine relaxation, convenience, and top-of-the-line materials. They bring the coziness of home to your outdoor experience. Inside nearly every yurt, you will find a cooking area, pantry, tables, chairs, bunks, and plenty of space for you to hang your gear.
What's inside, should I bring anything?
In the winter, it's very common for people to pack food into the yurt location on a sled. In the summer, many people split the load between several backpacks.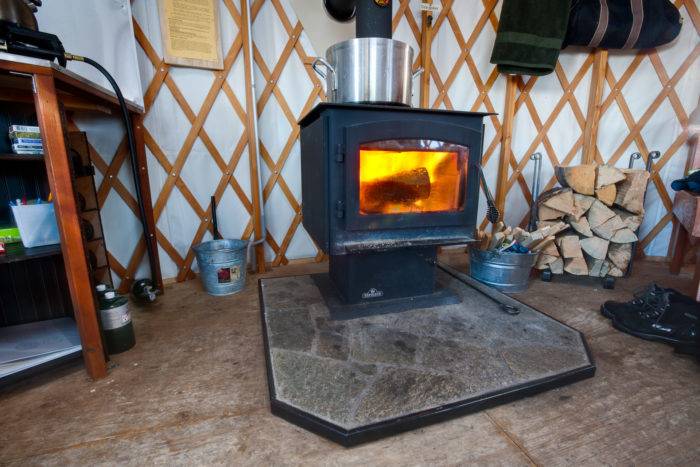 While you should check on included amenities for your specific yurt, yurts typically include futon beds, sets of twin bunk beds, wooden benches, mattresses with sheets, a dining table and chairs, a propane stove, propane lanterns, led solar lights, newspapers and matches, plates, bowls, cooking pots and pans, a coffee pot and paper filters, cleaning supplies, toilet paper, garbage bags, towels, and a fire extinguisher.
Why do people like staying in yurts?
Picture this; you wake up to the sound of crackling embers in the wood stove and roll over to see the sun breaching the crest of the mountains. You wrap your blanket around yourself and make your way to the stove to get a pot of coffee going. You then walk over to the window and watch the sunlight stretch across the valley, you take a deep breath, and the rich smell of freshly brewed coffee awakens your senses. You've found your paradise.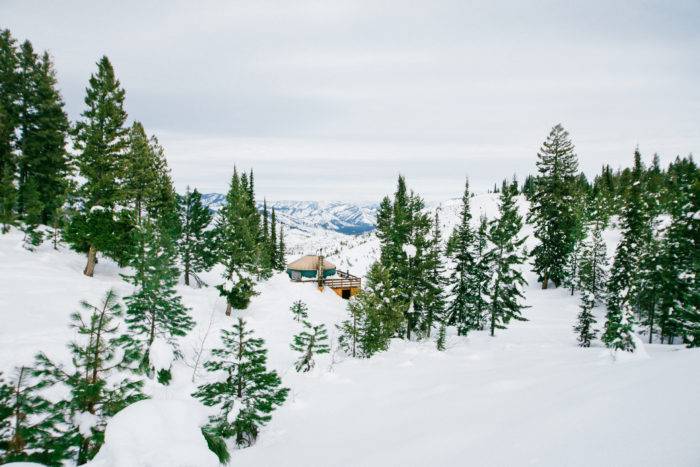 Yes, yurting is as relaxing as it sounds. Most yurts are decked out with gas stoves or wood-burning stoves, making sleeping and meal preparation simple and convenient.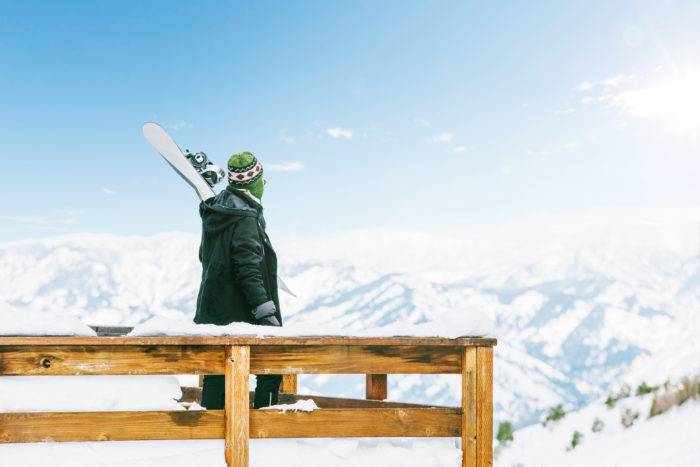 And if you are concerned about accessibility, don't worry, a majority of the yurts in Idaho are reachable by well-groomed cross country and snowshoe trails.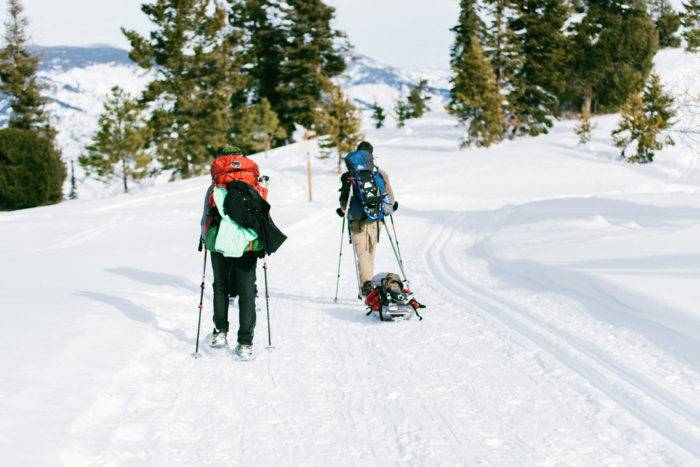 If you are an outdoor enthusiast, you must be wondering about activities and adventures that you can do while staying in a yurt. Not to worry! A yurt stay isn't just about sipping coffee and peering through frosted windows at beautiful landscapes; you can get your adventure-fix, too. There are many opportunities for you and the kids to have a good time outside all year long. If you want to get out and stretch your legs you can go mountain biking, hiking, horseback riding, picnicking, and bird watching.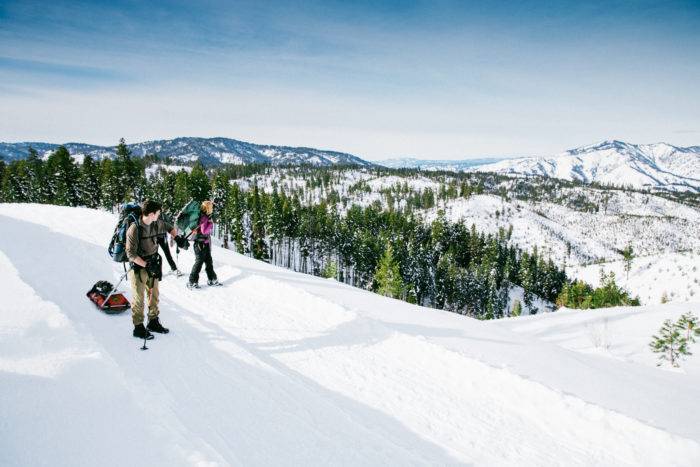 The surroundings are different in every yurt location, so you will always have somewhere new to explore. In the winter, grab some snowshoes and go trekking through the hills, or try some backcountry skiing. In the summer, explore miles of pristine trails that wind through the phenomenal scenery. No matter what activity you choose, they are all easily accessible and not too far from the comfort of your cozy yurt.
Where can I find a yurt to rent in Idaho?
Fortunately for you, there are countless options to choose from when looking for a yurt in Idaho, each having their own unique qualities. You can opt to stay on top of a ridge and overlook a valley as the sun rises, or you can be tucked away safely with the kids on your own little unique grassy knoll.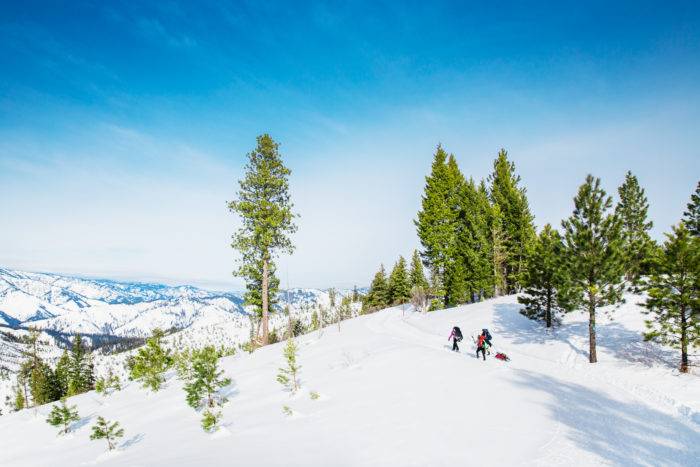 You can stay in yurts ranging in locations from the top of Idaho's panhandle, such as the Twin Rivers Canyon Resort, down to Castle Rocks State Park in southern Idaho. Yurts in Idaho State Parks are administered by the Idaho Department of Parks and Recreation. You can easily view all available options and make reservations on their website. If you are looking to rent a yurt, you will want to keep a close eye on availability because many weekends are booked six months in advance.

Published on January 3, 2017