Marissa Lovell worked in partnership with Visit Idaho to create this Travel Tip.
The first sip of Idaho cider is like plucking a crisp, round apple straight off the tree and immediately taking a crunchy, juicy bite. The apple is Idaho's leading fruit crop, and many of Idaho's apple orchards have been producing fruit for decades. Most orchards are family-run too, a value that has spilled over to the region's cider-makers.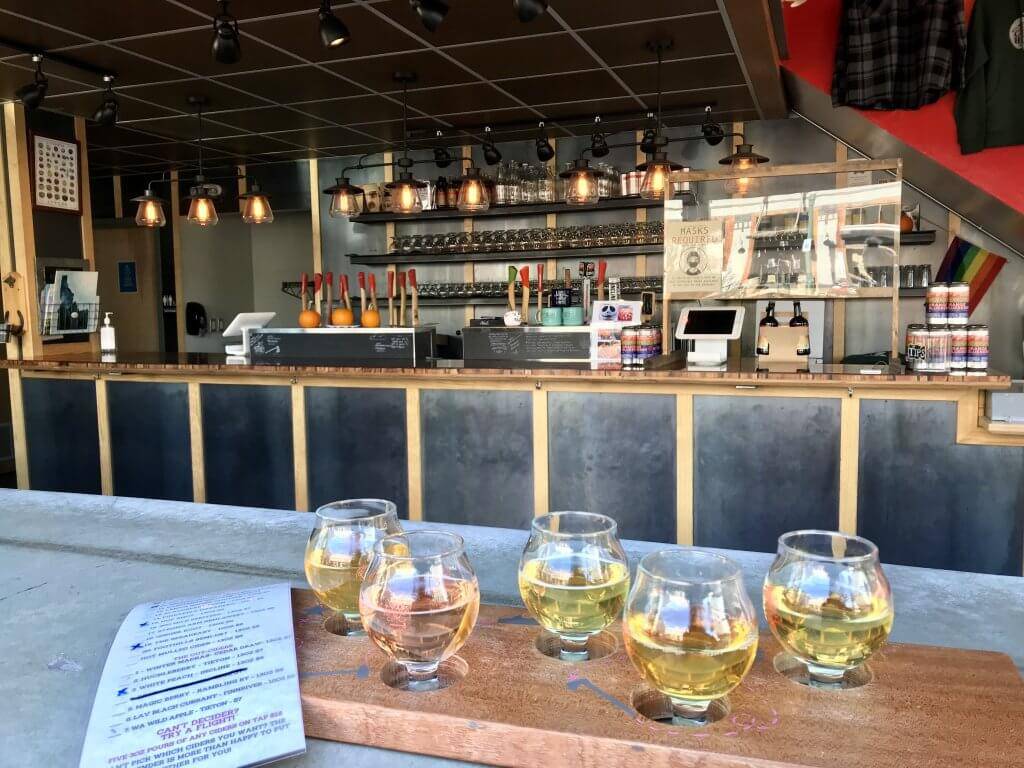 Cideries and tasting rooms in southwest Idaho prioritize close proximity to family-run farms and fresh produce. The result is hard cider that pushes boundaries and tempts taste buds—the kind of beverage that will captivate cider-lovers and convert staunch beer drinkers.
​​​​​​​Whether you're on the hunt for a place to find your favorite or looking to try something new, here are some of the best places to grab cider in southwest Idaho.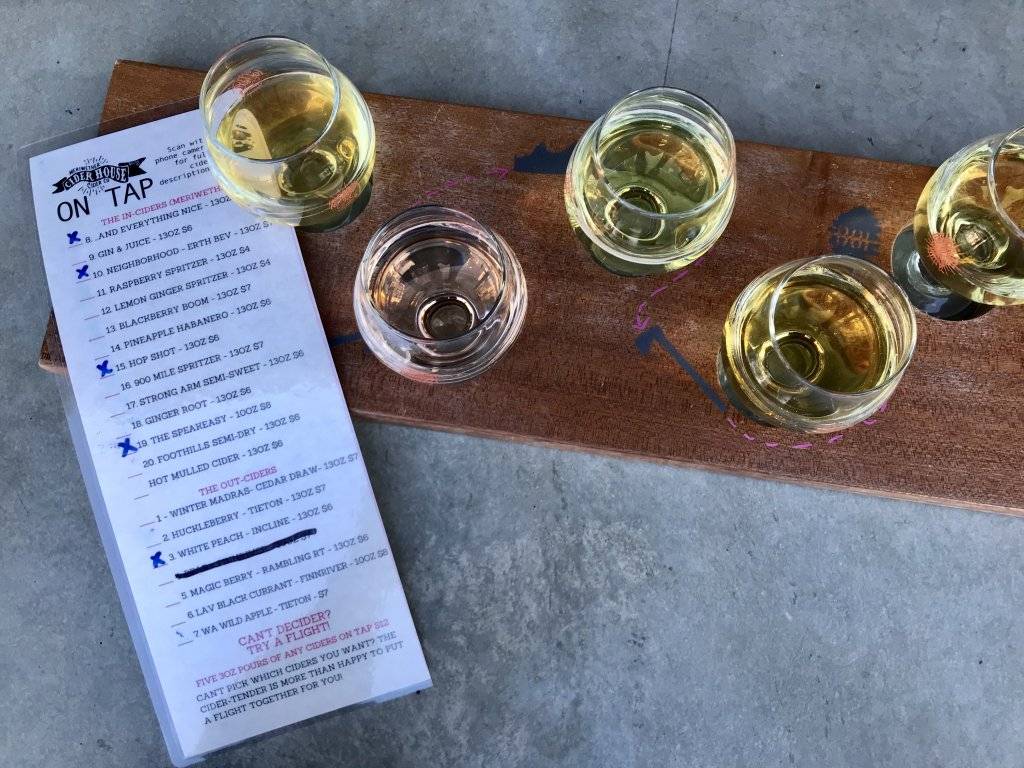 Meriwether Cider​​​​​​​​​​​​​​ ​​​​​​​​​​​​​​​​​​​​​​​​​​​​​​​​​​​​​​​​​
Garden City & Downtown Boise
One sip of Meriwether Cider is really all you need to become a die-hard fan of the DIY cidery. Owned and operated by an adventurous and community-minded family of four, Meriwether Cider isn't afraid to get creative, try something new and collaborate with others. Meriwether is known for its phenomenal flagship lineup and interesting experimental ciders that roll out with every season.
In the summer, you can sip on a spicy, yet refreshing Pineapple Habanero cider or enjoy a lemony cider-based spritzer under the sun. Once autumn sets in, enjoy rich cider aged in bourbon barrels, spiced semi-sweets or a warm mug of perfectly spiced hot apple cider.
While you can find Meriwether Cider on tap all over southwest Idaho, your best bet is to go straight to the source. Meriwether's hand-crafted taproom and production building is located in Garden City and offers 14 rotating ciders on tap. Meriwether Cider House is located in downtown Boise and has 20 rotating ciders on tap—most are Meriwether with a few regional ciders mixed in. Both locations are dog-friendly. If you find your new favorite, feel free to stock up—Meriwether ships to 39 states and offers local pickup.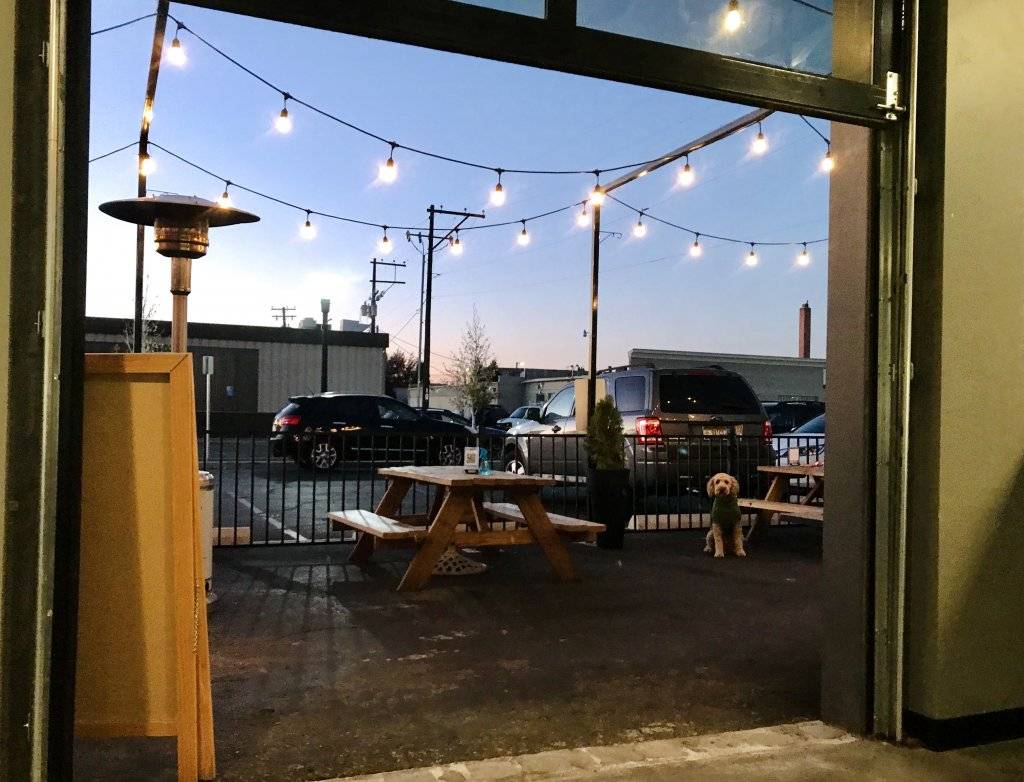 Hops & Bottles
Downtown Boise
Don't let the name fool you, Hops & Bottles has one of the best cider selections in town. This open-air taproom in downtown Boise's Linen District is the place to go to try something new, pet cute dogs and enjoy a great patio. Upon stepping inside Hop & Bottles, you will likely be greeted by one of the co-owners: Barley, a wise, old Golden Retriever who takes his job very seriously, or his younger brother Louie, a handsome Bernese Mountain Dog who has no idea how big he actually is. ​​​​​​​​​​​​
The main wall within this taproom is actually a wall of side-by-side coolers, brimming with more than 300 bottles and cans of cider, seltzer and beer. Cider has a dedicated cooler and is stocked with local, regional and hard-to-find ciders. This premier bottle shop and beer bar typically has at least one cider on tap as well. Whether you grab a pint on tap, pop open a can to drink in the taproom or take a DIY 6-pack to go, you can't go wrong with Hops & Bottles.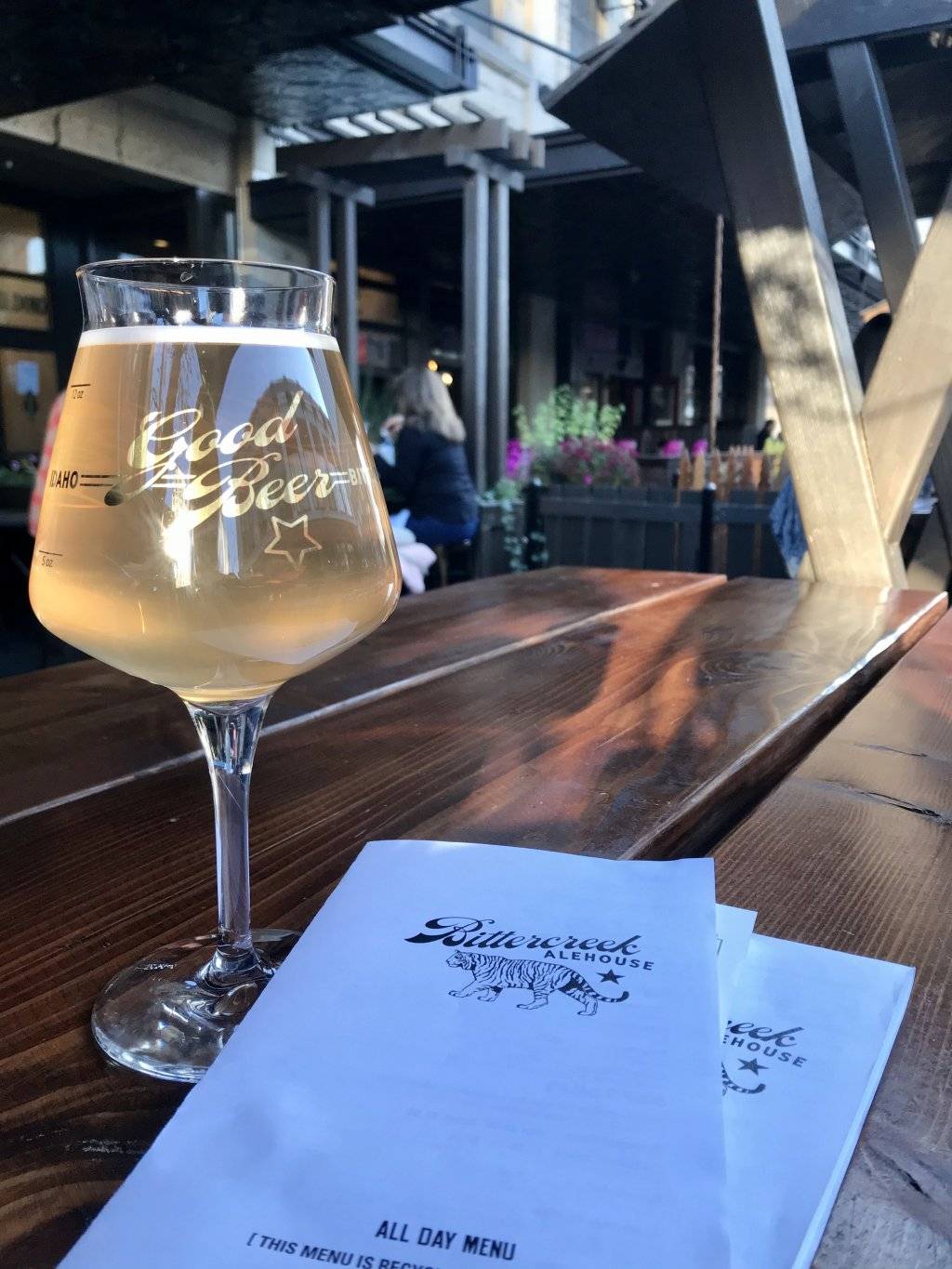 Bittercreek Alehouse
Downtown Boise
Bittercreek is a go-to for good food and great drinks (and a happy hour menu that has both). Known for its commitment to sustainability, the ever-changing food and drink menus feature seasonal ingredients sourced from local and regional farms and producers.
While the cider and beer list change by the day, you can always count on a couple of seasonal ciders on tap from cideries that aren't too far away. If you're in the mood for food, pair your cider with a tasty appetizer or meal. It won't take long to see why locals love Bittercreek.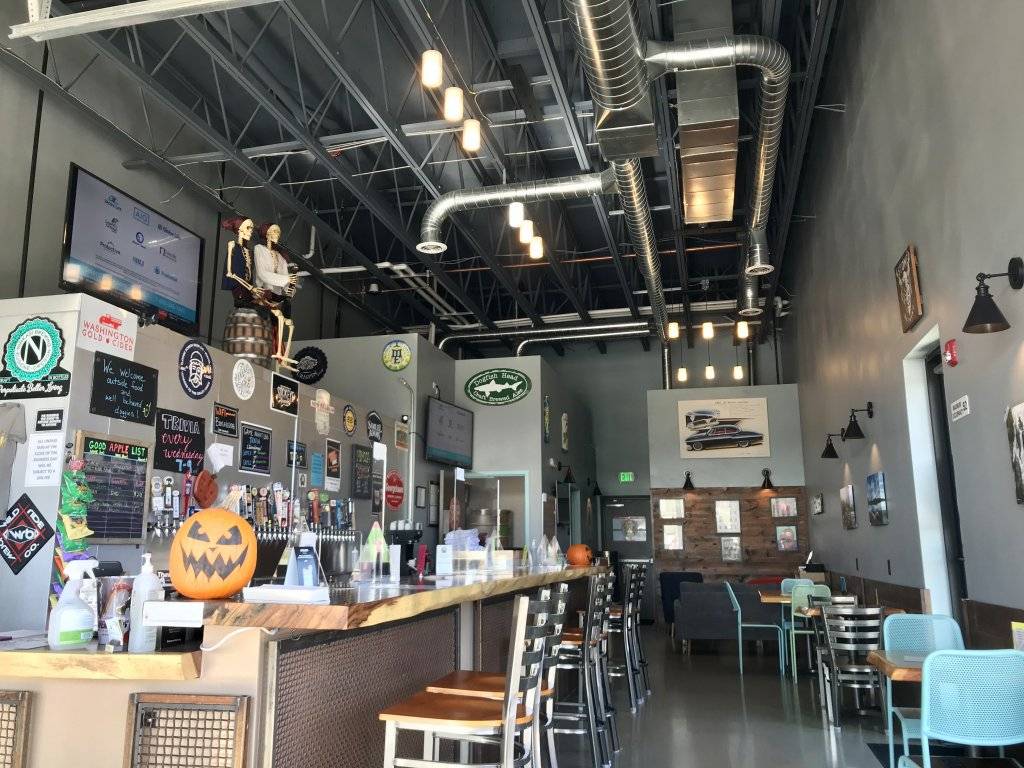 Good Apple Taphouse
Meridian
Good Apple Taphouse is very much a neighborhood bar—it's friendly, comfortable and quieter than your average watering hole. With nearly 30 ciders and beers on tap, plus more options in cans and bottles, it's a lovely place to have a drink. The sunny taproom has garage door walls, two patios, yard games and a fire pit. You'll also find a nice mix of seating including picnic benches, patio tables, Adirondack chairs, rustic farm tables, café seating and a cozy living room-style nook.
Good Apple Taphouse is 21+, but you are more than welcome to bring in well-behaved dogs. Nearly every day of the week, a food truck is parked out front and every Wednesday the taphouse hosts trivia nights. Good Apple also offers crowlers to go and allows outside food.
Vine & Branch Ranch
Caldwell
Located on Peaceful Belly Farm in a transformed fruit packing house, Vine & Branch is a true farm-to-table experience. The small family running the farm also operates Stack Rock Cidery and Snake River Winery, both of which are worth sampling. Simply put, Vine & Branch Ranch is the place to go to indulge in farm-fresh creations.
There are at least seven Stack Rock Ciders on tap at Vine & Branch Ranch. Taste them by the glass, the bottle or get a flight of six tasters for just $5. The food menu consists of small plates made with seasonal ingredients straight from local family-run farms. To top it off, the rustic taproom overlooks Peaceful Belly Farm and the quiet surrounding countryside, making it a serene spot to enjoy an afternoon or evening.​​​​​​​​​​​​​​​​​​​​​​​​​​​​
Get a true taste of Idaho and discover the best local spots to get your sip on.
Marissa Lovell is a writer, reader, and fresh air seeker. She maintains sanity by spending as much time outside as she can manage, catching live tunes whenever possible, and living the good small city life in Boise, Idaho.

Published on December 3, 2020