Mike McKenna worked in partnership with Visit Idaho to create this Travel Tip.
Idaho may be best known for its rivers and mountains, but the high desert also carves its way across the southern part of the state, offering lots of solid fishing options along the way.
Even though the lower part of the Gem State doesn't look like much more than a sea of sagebrush, the high desert of southern Idaho is actually full of lakes of all sizes. These lakes are home to healthy populations of bass, sunfish and even trout in some places. Most lakes in Idaho's high desert are open to angling year-round and are especially enjoyable to fish in the spring and fall when higher elevation fisheries are often closed for the season or are inaccessible.
Since fishing is a big part of the Idaho lifestyle, many of the small communities in the southern part of our state have small, family-friendly lakes nearby, like Carey Lake in Carey, Clear Lakes in Buhl or Dierkes Lake in Twin Falls.
While these small lakes can be fun, large man-made lakes or reservoirs loaded full of healthy populations of large fish are what the Snake River Plain is best known. To help you make the most out of it all, here's a rundown of five of the best high desert fisheries in Idaho.
Lake Lowell
Arguably the best warm-water fishery in the state, Lake Lowell is the place in Idaho to chase after largemouth bass. Part of the Deer Flat National Wildlife Refuge, Lake Lowell covers approximately 9,000 acres when full. Located just outside of Nampa, the warm, shallow lake is famous for producing trophy-sized bass, both small and largemouth. It's also home to lots of bluegill, crappie and catfish. Besides great fishing, Lake Lowell's 28-miles of shoreline are known for offering gorgeous views, especially during the seasonal migrations of over 200 bird species. Lake Lowell is open year-round, although the bass fishing is primarily considered catch-and-release.
CJ Strike Reservoir
One of the most popular fisheries in the region, CJ Strike Reservoir covers 7,500 acres and is a bit unique as it offers good fishing for both bass and trout. Located just outside of Mountain Home, CJ Strike is forked into two sections: the Snake River Arm and the Bruneau River Arm. Small and largemouth bass can be found along the shallow sections and coves, while trout can be caught in the deeper water where the arms converge. CJ Strike is open to fishing year-round and offers lots of quality camping options to boot.
Oster Lakes
It's not a stretch to call the Hagerman Valley the "Trout Capitol of the World." Idaho is the largest producer of farm-raised trout in the country, and the majority of it is raised in the Hagerman Valley. Besides the commercial operations, the area is also home to both National and State Fish Hatcheries. Scattered in between the two is where you can find Oster Lakes. The half dozen or so small lakes are regularly stocked with trout, bass and bluegill. Open year-round to fishing, there's even a show pond off State Fish Hatchery Road that features sturgeon and carp as well as brown, rainbow and the rare yellow rainbow trout species.
Magic Reservoir
Surrounded by some of the most famous fly fishing streams in the state, it's easy to overlook Magic Reservoir. Located about a dozen miles south of Hailey, Magic Reservoir has impressive populations of brown and rainbow trout, perch and bass. Covering 3,700 acres when full, Magic is fed by the Big Wood River and is home to many of the monster brown trout that run up the river each fall to spawn. Magic is a popular spot year-round, from ice fishing in the winter to trolling its depths in the summer. Spring is often the best season on Magic. The moving waters of the region are still closed and the water skiers and party boaters haven't shown up yet, but the fish are feisty after another long, cold winter in the high desert.
American Falls Reservoir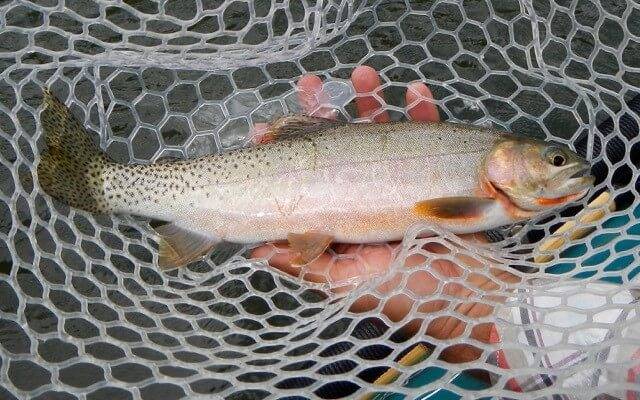 One of the largest reservoirs in Idaho, American Falls Reservoir covers about 56,000 acres when full. Located a short drive west of Pocatello, the reservoir is considered one of the best and most consistent fisheries in the region because its size assures consistent water temperatures. American Falls offers lots of bank access and a few boat ramps. Bass, perch and large brown and cutthroat trout can be caught in the reservoir, but it's best known for producing big rainbows. Landing five to six-pound fish is somewhat common, while the Idaho state record rainbow came out of the Snake River just above American Falls Reservoir in 2009—a 20-pound, 34-inch monster.
Originally from New England, Mike McKenna has been calling Idaho home for over 20 years now. An award-winning journalist, blogger and magazine editor, Mike's first book, "Angling Around Sun Valley," was named Best Book of the Year by the Northwest Outdoor Writers Association. When not writing, Mike can be found enjoying all the Gem State has to offer with his wife and two young sons.

Published on May 1, 2018