Melynda Harrison worked in partnership with Visit Idaho to create this Travel Tip.
We are driving down the snow-packed road out of the town of Cascade in southwestern Idaho and into the mountains. Pines, with snow delicately balanced on their branches, pass the window. Forest Service roads and trails covered in snow depart from either side of the road. We climb up hills and down before arriving at a pullout about 19 miles from Cascade.
My husband, Henry, asks, "Is this it?" I think so, but after reading reports about its popularity online, I figured there would be other cars here. I hop out, peek over the snow berm and see a trail, more luge course than something you could walk upright on, leading to steaming water. This is it – Trail Creek Hot Springs.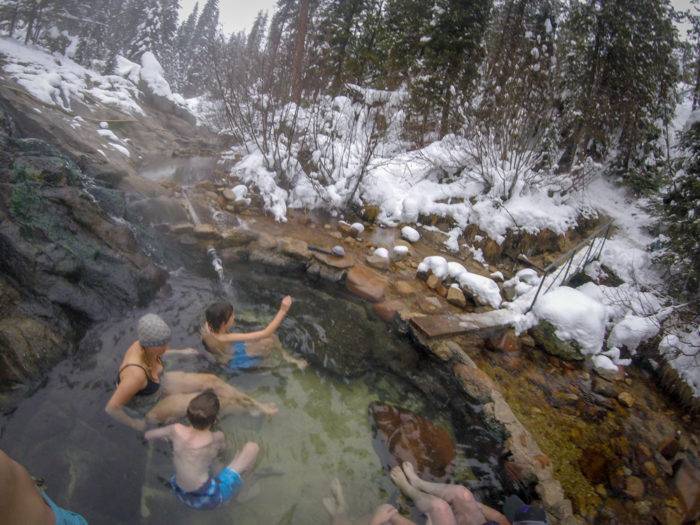 My family lines up at the top of the shoot and then Anders slides down to a place where he can grab a rope for balance. Finn is next. Then me, with all our towels and water bottles, and finally, Henry. It only takes a minute to reach a flattish spot above the river where we can quickly take off our clothes and shoes and gingerly sprint over snow and across the cold creek to the hot pools below. (We wore swimsuits underneath so we wouldn't have to deal with totally changing on the side of a hill in the snow.)
There are a few pools for soaking. Over the years, they've been fortified with concrete and other building materials, but it still looks mostly natural. Pipes allow cold creek water into a couple of the pools and can be used to regulate the temperature for a perfect Goldilocks soak.
As we sit there, soaking in the hot water and taking in the snow-covered scenery, I am reminded how lucky our family is to enjoy places like this. There is something magical about sitting in hot water in the middle of winter. A few other people join us, but it never gets very crowded. Midweek after the holidays seems to be the time to go.
We spend more than an hour relaxing, chatting, and repeating "it's so beautiful here," before climbing out of the pool, dressing in the snow, and scrambling back to the car.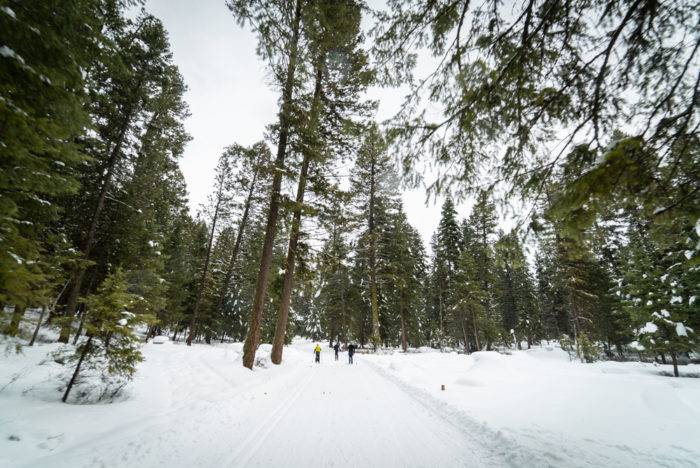 Our next stop on this magical winter tour is Ponderosa State Park on the edge of McCall. We park at the Activity Center and have a quick tailgate picnic while watching little kids slide down snow piles.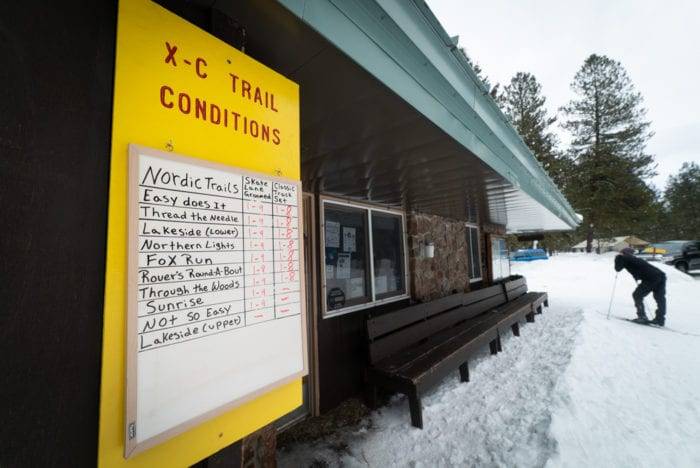 Ponderosa State Park covers a peninsula that juts into Payette Lake. In winter, there are Nordic Ski trails for both classic and skating, and snowshoe trails looping around the peninsula. In total, there are 12 miles of cross-country ski trails and 3.4 miles of designated snowshoe trails.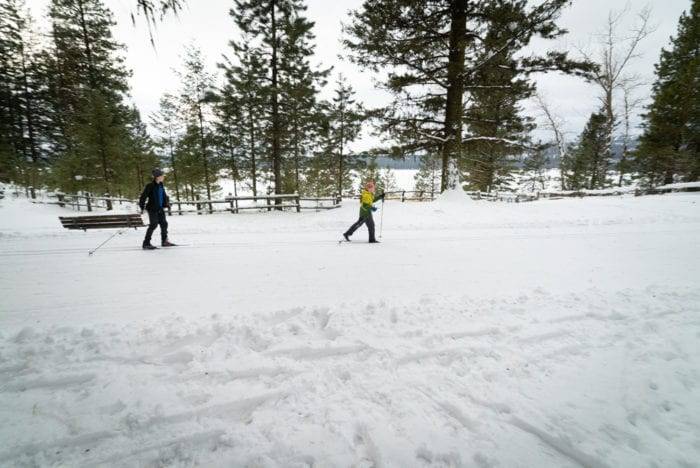 We don our cross-country skis and kick and glide our way into the Ponderosa pine forest for which this park is named. The trail winds and rolls a little bit before we get our first glimpse of Payette Lake. We follow trails along the edge of the peninsula, stopping to take photos and admire the view. Locals buzz past us getting in their afternoon workout and an older couple stops to chat. From the highest point in the park, at the end of the peninsula, we take in the spectacular views of the lake and McCall.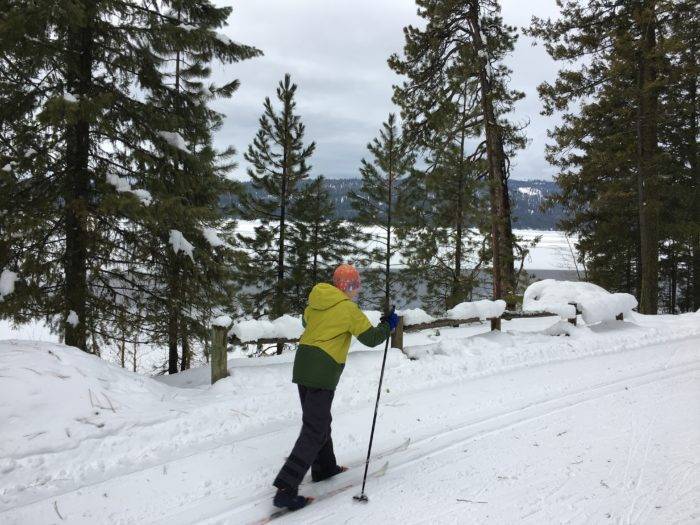 There is a multitude of ways to mix and match some skiing with well-deserved hot springs soak in southwest Idaho. Check out the details below to plan your perfect paring.
Hot Springs Near McCall
From undeveloped hot springs tucked into the mountains to resort-like natural hot spring pools, there are plenty of ways to soak your cares away near McCall.
Burgdorf Hot Springs
This rustic resort is surrounded by Payette National Forest and offers a large (100-degrees Fahrenheit) swimming pool and two smaller hot pools (113-degrees Fahrenheit). Extra adventure comes from the fact that it can only be accessed by a 23-mile snowmobile trail in winter. Check out the website for details on soaking or an overnight stay.
Gold Fork Hot Springs
Gold Fork Hot Springs, located between McCall and Cascade, is great for families with small children. This soaking destination offers six mineral pools and a small kiddie pool. There are heated changing rooms and you can bring your own picnic (no glass). It's important to note that this is a cash only facility.
Nordic Skiing Near McCall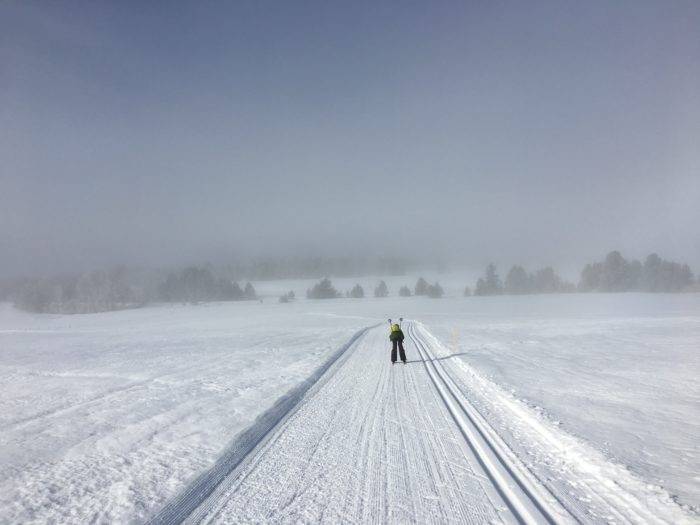 Ponderosa State Park isn't the only place for cross-country skiing near McCall. We loved the rolling hills at McCall's Activity Barn. The five-kilometer groomed trail is open to skiers, snowshoers, snow-bike riders, and dogs. It's free, and if you time it right you can go snow tubing or make a reservation in advance to take a sleigh ride while you are there.
The ski trail at McCall's Activity Barn connects with the North Valley Rail Trail – a former Union Pacific Railroad track converted into a recreational trail. The 5.9-mile trail ends at Park Street and North 3rd Street (McCall) and West Lake Fork Road and Mathwig Road (Lake Fork). The trail is free and groomed for cross-county skiing, snowshoeing, and snow-biking.
30 kilometers of groomed cross-country ski trails winding through meadows and mature Ponderosa pine forests and a biathlon range make the trails at Little Ski Hill's Bear Basin worth a visit. There are also 10 kilometers of snowshoe trails and dogs are welcome.
Feature image credited to Melynda Harrison.
Melynda Harrison writes about travel and outdoor family adventure at TravelingMel.com, YellowstoneTrips.com, and for many local and regional publications. When she's not behind a laptop, you can find her cross-country skiing, hiking, or floating a river.

Published on February 5, 2020