Sofia Jaramillo worked in partnership with Visit Idaho to create this Travel Tip.
Until a few years ago, I'd spent most of my winters at ski resorts, riding lifts and looking for untracked snow. But that all changed when I discovered the joys of backcountry skiing in Idaho. I took my first backcountry ski course and Avalanche 1 certification with Sawtooth Mountain Guides in Stanley, and after a weekend full of learning, practicing snow safety and some good powder turns, I was hooked!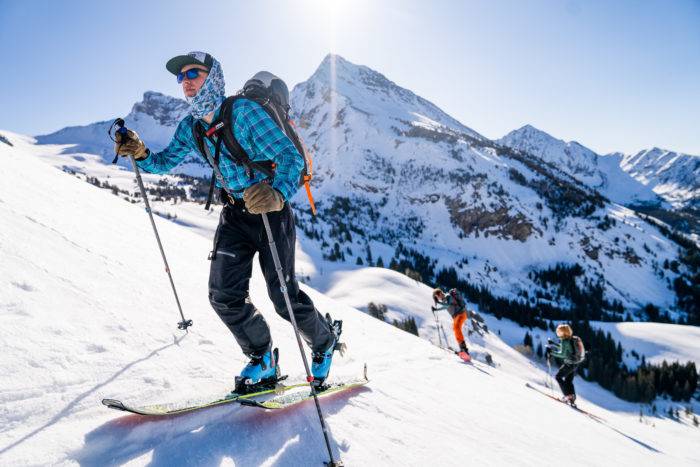 Soon after, I began going on backcountry ski trips to yurts. Yurts are portable round tents that have a collapsible wooden structure and fabric or canvas coverings. These structures were originally designed by ancient Mongolian tribes, but have been adapted all over the world. There are a variety of yurts in Idaho that offer different levels of ski terrain for everyone.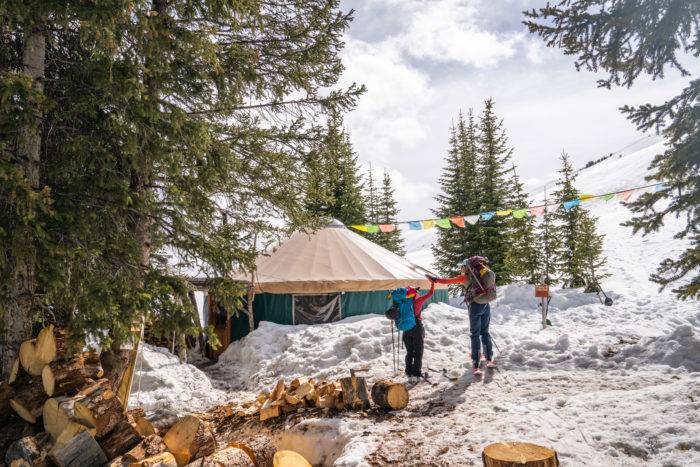 Last year, I visited the Pioneer Yurt outside of Hailey with a group of friends. This yurt sits in a stunning mountain meadow surrounded by large open bowls and steep mountains. It has bunk beds that sleep up to 16 people, a full kitchen, wood and propane stoves, solar-powered lanterns, a library, and a wood-fired sauna! These simple accommodations were a perfect welcome after a full day of skiing the high and wild slopes of Idaho's second tallest mountain range. Admittedly, it's a bit rustic, but you will never feel the same sense of achievement or unbridled freedom staying at a resort and skiing inbounds.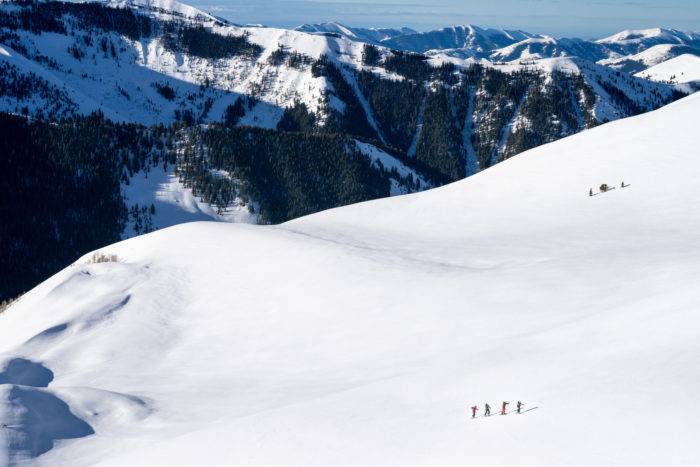 On the last evening at the Pioneer Yurt, my friends and I cooked a delicious elk taco meal. We played a few games and then started scheming. We wanted to do something special for one of our yurt partners who was a birthday boy. Most yurts don't have ovens, so we snuck up some shelf-stable Little Debbie's birthday cakes, threw some candles on them and sang a few raucous rounds of happy birthday. Little efforts like this make yurt experiences unforgettable.
Later we crawled into our sleeping bags, I took a moment to appreciate the magic of the yurt. There we were… dozens of miles away from civilization, in the middle of Idaho, in a cozy yurt surrounded by nothing but snow and mountains. The only sound was the crackling of the fire. Moonlight spilled into the yurt from the window up top and the orange glow of firelight danced across the wood floors. Through the skylight, I could see the stars twinkling in the night and I was thankful to be experiencing this adventure with a close group of friends.
Skiing is just half of the enjoyment you can have on a yurt trip. What makes a yurt trip exceptional is not only good planning but also the people you choose to experience it with. With these tips and tricks in mind, anyone can organize and enjoy a backcountry yurt trip!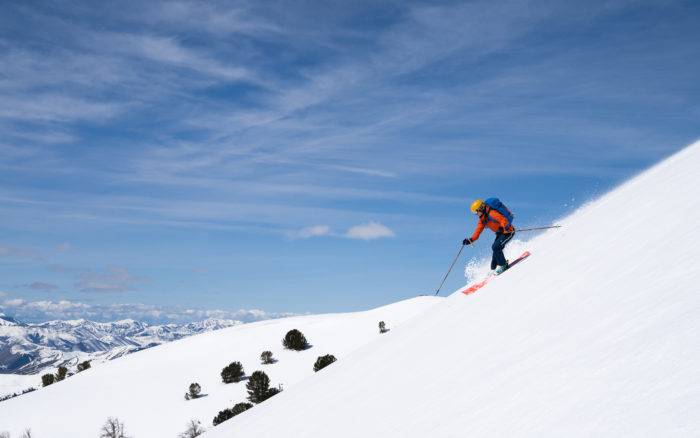 How to Book a Backcountry Ski Trip
If you haven't taken a backcountry trip before, it can be challenging to figure out where to start. There is a lot of logistics and planning that needs to happen. Here's what you should know to make the most out of any backcountry ski trip.
First, figure out where you'd like to go. If time is limited, Sun Valley Trekking and Sawtooth Mountain Guides have yurts that are accessible with a drive from Boise. There are a variety of backcountry ski cabins, huts and yurts all over Idaho, but here are a few yurts in central Idaho I recommend.
Sun Valley Trekking has about six winter huts and yurts, each offer different terrain. The Boulder Yurt is suitable for skiers with less backcountry experience as it is located just off the highway and is only a 1.5-mile ski to get there. The Pioneer Yurt is one of my favorites in Idaho and is best for more advanced backcountry skiers. It offers a little bit of everything from low angle glades to steep chutes. The approach is strenuous, roughly six miles, and better suited for people who are in excellent physical condition and who have backcountry experience.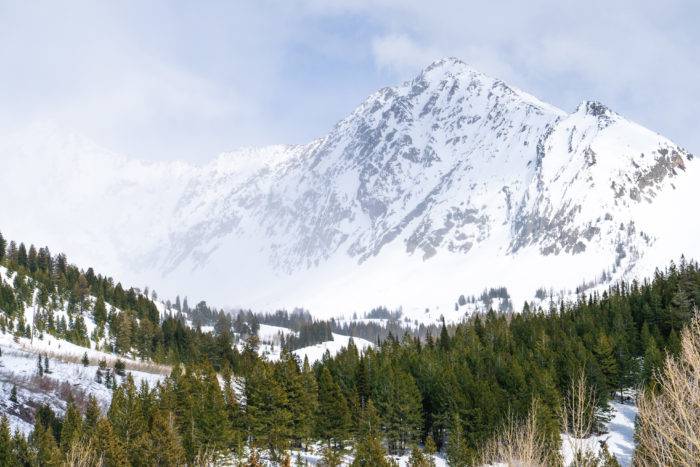 Sawtooth Mountain Guides offers one of the most popular yurts in Idaho called the Williams Peak Yurt. The guiding service recommends intermediate to advanced downhill ski ability to enjoy the variety of terrain around the yurt. The approach is a 5-mile ski in with 1,600 feet of elevation gain.
For beginner backcountry skiers, I suggest booking a guide on your trip. If no one in your group has been to the yurt, most companies require that you hire a guide. Guides will show you around and help keep you safe in unfamiliar terrain. While an Avalanche 1 certification is not always required to go on these trips, I highly recommend taking a course as its the best way to keep yourself and others in your party safe.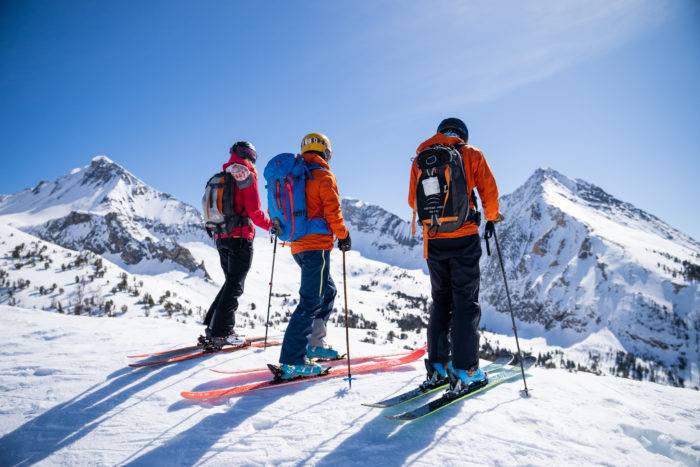 Before heading out on the yurt trip, do some research on what areas to ski. Sometimes you can find information online by searching your yurt location or you can call the guiding company to get more information. Most yurts have a route book at the yurt. These are super helpful for planning ski routes once you get there. You can take pictures of the maps in the route books, but it's also helpful to download a navigation app like Gaia before you leave cell service.
Backcountry skiing has become increasingly popular over recent years, and more people are going on yurt trips. If you want to go on one of these trips, it's essential to book in advance. Depending on which company you are going with, you should check availability on their website six months to a year in advance. Yurts cost about $400 per night. The maximum amount of people allowed at each yurt varies, but if you split the cost with others, it can become more affordable.
What to Bring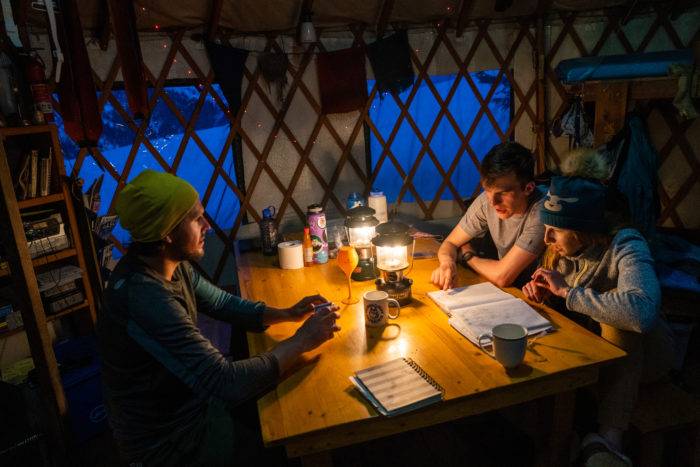 Being prepared for a backcountry ski trip can make or break your first experience. Yurts usually have standard amenities like kitchens, dishes, utensils, beds, bathroom options, lights and stoves, and companies typically provide a list of recommended equipment to bring.
Check the guiding company's website and make sure you have everything you need on their list, but also, don't forget to customize your list. Trips are more fun if you bring along items you can share and make you feel comfortable.
Here are a few ideas and personal items to make your trip even better:
Extra shoes are nice to have so you can put on dry footwear after skiing all day. I like to bring a pair of slippers, tennis shoes or down booties.
If you are new to backcountry skiing it can take some time to break in your boots. Bring some blister tape or bandages for yourself and others. The last thing you want is to end up with a bunch of blisters and no way to take care of them.
If you are musically talented, bringing an instrument can liven up the mood and music can be a fun post-ski activity.
Bring your favorite type of tea! A soothing tea will quickly warm you up after a cold day of skiing.
Break your group into pairs and have each couple or pair be in charge of one meal. This is fun because you get some variety in cooking and it's always easy to impress friends with delicious food after skiing.
If you are going on a yurt trip with people you don't know and want to make friends quickly, bring some chocolate! Most people love a little nibble of chocolate during or after skiing.
Games! There are plenty of small packable games that don't add too much extra weight to your pack but add a lot of fun after skiing. Farkle is one of my favorite games to bring as its light and easy to play.
Feature image credited to Sofia Jaramillo.
Sofia is an outdoor adventure and documentary photographer based in Jackson, Wyoming. A few of her clients include National Geographic, The North Face, and Outside Magazine. To see more of her work go to www.sofiajaramillophoto.com or follow her on Instagram.

Published on February 6, 2020